Updated on February 6, 2020
Stopping to explore nearby reefs and grab a quick bite of lunch, sailors often take for granted the safety and security an anchor provides. But if you've ever had to ride out a storm—or dragged anchor at night—you'll soon learn the importance in choosing the best sailboat anchor for your vessel.
To determine how strong your anchor needs to be, we must first understand the differences between old guards versus new generations. Choosing an anchor takes many factors into consideration, some of which tailor to personal sailing habits, your vessel's size and even the body of water you frequently sail.
While encouraging you to challenge your seafaring skills, we at The Adventure Junkies want beginner sailors and liveaboards to find safe anchorage during rough seas. Below, you'll find a breakdown of common anchor types and when to use them.
For more of our top sailing gear recommendations, check out the Best Sailboat Winches.
QUICK ANSWER – THE BEST SAILBOAT ANCHORS
SAILBOAT ANCHOR REVIEWS
MANTUS
BEST FOR: Sailors who anchor in all seabed types
MATERIAL: Galvanized steel
BOW ROLLER: Yes
PROS: Self-righting roll bar, new generation anchor, sets in hard and grassy seabeds, lifetime warranty
CONS: Less affordable
MANSON SUPREME
BEST FOR: Larger sailboats who sail in all types of seabeds
MATERIAL: Galvanized steel
BOW ROLLER: Yes
PROS: Self-righting, new generation anchor, narrow shank with 2 slots for day use and anchor trip
CONS: Less affordable, comparable to Rocna
MANSON BOSS
BEST FOR: Sailors who want their vessel to be both functional and aesthetically pleasing
MATERIAL: High tensile galvanized and stainless steel
BOW ROLLER: Yes
PROS: Self-launching curved fixed-shank, strong surface area to hold ratio, adjustable shackle for fixed eye and sliding shank for anchor trip
CONS: Narrow shank, no self-righting roll bar
ROCNA ORIGINAL
BEST FOR: Vessels that frequent strong winds and tide shifts
MATERIAL: Galvanized steel
BOW ROLLER: Yes
PROS: New generation, self-righting roll bar design, plow-style wide fluke, sharp chisel, fits most bow rollers
CONS: More expensive than fluke-styles
SPADE S80
BEST FOR: Vessels under 40 foot that frequent strong winds and tide shifts
MATERIAL: Galvanized steel
BOW ROLLER: Yes
PROS: Corkscrew plow design that digs deep, holds strong in every seabed condition, ballasted tip
CONS: More expensive
LEWMAR CQR
BEST FOR: Vessels that sail in marshy areas with grassy sea bottoms
MATERIAL: Galvanized steel
BOW ROLLER: Yes
PROS: Good for bow rollers, pivoting hinge shank, quickly resets
CONS: pinches fingers, hard setting in rocky bottoms
LEWMAR DELTA FAST-SET
BEST FOR: Vessels that sail in sand and grass
MATERIAL: Galvanized manganese steel
BOW ROLLER: Yes
PROS: Performs well in grass and sand, one piece construction, performs well on bow roller
CONS: Fixed shank underperforms in mud
FORTRESS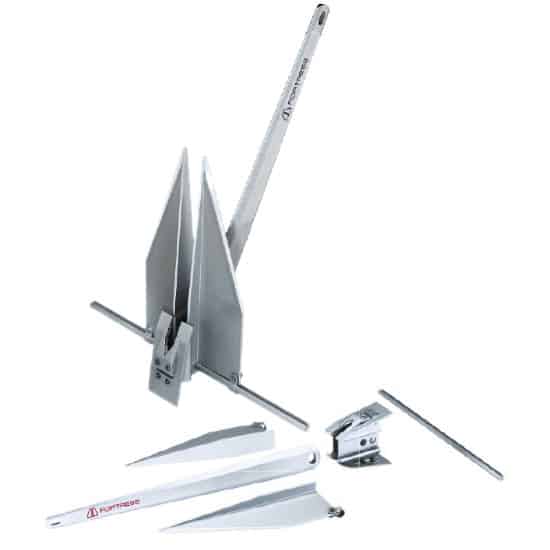 Check out the latest price on:
West Marine
BEST FOR: Sailors who need a fast-setting anchor in mud or sandy seabeds
MATERIAL: Aluminum
BOW ROLLER: Yes
PROS: Similar to Danforth, lightweight, easily stored, good hold to weight ratio, fast-setting
CONS: Does not perform well in rocky and grassy seabeds
LEWMAR BRUCE-STYLE CLAW
BEST FOR: Budget-conscious sailors with sailboats larger than 30 feet
MATERIAL: High tensile steel
BOW ROLLER: Yes
PROS: No moving parts to break, lighter than plow, holds well to grass seabeds
CONS: Heavier than most anchors, low holding power, not easy to store, drags in storm conditions
DANFORTH S-600
BEST FOR: Smaller sailing vessels who sail in mud and sandy sea bottoms
MATERIAL: High tensile steel
BOW ROLLER: No
PROS: Good general anchor for smaller vessels, lightweight, easily stowable
CONS: Doesn't reset well, not compatible for most bow rollers, pinches fingers
COMPARISON TABLE – THE BEST SAILBOAT ANCHORS
8 THINGS TO CONSIDER TO FIND THE BEST SAILBOAT ANCHOR
MONOHULL VS. MULTIHULL VESSEL TYPES
A beginner sailor might question which anchor is better for their vessel's hull type. But to be clear–when it comes to choosing an anchor for either monohulls or multihulls (like catamarans), the type of anchor you choose depends more on your vessel's size and weight. Vessel types are rarely–if ever–a deciding factor.
LAKES VS. COASTAL WATERWAYS
Lakes and rivers do not require the same strength you would need for coastal waters and open seas. But take your sailboat on the Great Lakes, ICW (Intracoastal Waterway) or to brave a transatlantic journey, and you'll need something more adequate. All anchors listed here are for coastal waterways, but may also be efficient for smaller bodies of water.
CHOOSING THE CORRECT ANCHOR WEIGHT FOR VESSEL LENGTH
To choose the correct anchor weight for your vessel, you need to know your vessel's weight and length. Always verify the anchor manufacturer's specifications and suggested vessel length, but know the numbers are typically inflated. I suggest to always bump up to the next size and sail with a heavier anchor than your vessel requires.
CONSTRUCTION MATERIALS
Anchors are forged from a variety of materials; some metals more modern than others. Keep in mind when you purchase that manufacturers may carry anchor styles in a variety of materials.
ALUMINUM
Aluminum anchors are lightweight by comparison, but come at a cost. Less affordable than steel anchors, they are also not as strong. But sailor prefer them because–when set correctly–they have high holding power.
GALVANIZED STEEL
Galvanized steel is a very strong and inexpensive metal. This material is perfect for sailors who don't much care how shiny their anchor appears on the bow roller. But although galvanized metal is corrosive, it can wear over some time. Be sure to look for hot-dipped galvanized steel or plan for it to be re-galvanized.
STAINLESS STEEL
If you want your anchor to appear more aesthetically pleasing, stainless steel is the material of choice. Stainless steel is also more resistant to rust and corrosion, but keep in mind it scratches easily and can make anchors more costly.
HIGH TENSILE STEEL
With nearly 3 times the holding power strength as regular steel, making most anchors with high-tensile steel relatively stronger–as long as the anchor sets well.
MANGANESE STEEL
A newer material offered for anchors is manganese steel. Manganese combines the strength of mild steels with high-impact durability for setting repeatedly in rocky seabeds.
SEABED CONDITIONS
Beneath the water's surface, you can encounter a variety of seabeds. This is one of the most important deciding factors in choosing a sailboat anchor. For liveaboards who find themselves sailing in a variety of seabeds, a plow style anchor or scoop is universal, whereas fluke anchors are perfect for flat sands and muddy bottoms.
ROCKS, REEFS AND CORAL
Rocky seabeds can secure anchors quite well, if not a little too well. Sometimes, sailors find themselves needing to dislodge anchors which become stuck. In these cases, it's wise to use anchors with slotted shanks, making it easier to release trip lines.
MUD, SAND AND GRASS
Muddy bottoms and sandy seabeds require fluke-style anchors with wide surface areas. And because mud can disguise underlying sediments, it also helps if the anchor can penetrate. Fortress anchors are great for these seabed conditions.
Sandy seabeds grab anchors very well, but challenges arise during shifting tides. Hinged-shank fluke anchors allow pivoting and non-hinged scoop anchors rotate under the sand.
Grass tends to be slippery, making it difficult for certain anchor types to grasp. In these seabeds, heavier anchors outperform engineered designs.
WEATHER CONDITIONS
Even if you have a nightwatch partner, sudden storms overtake vessels and send them off course. If you want to set anchor without the worry, many new generation anchors have been tested in hurricanes and outperformed old guard anchors in extreme weather.
HOW WELL DOES IT SET?
If an anchor lacks a way to position itself, it may not set as optimally as intended. You want to assure the anchor is engineered to self-right itself into position when it falls on the seabed. Anchors can set by using a combination of factors from roll bars to tip ballasts to chiseled fluke styles.
ROLL BARS
The new generation anchors are designed with roll bars, reacting to flat seabeds by self-righting and rolling itself over. Originally engineered by Rocna, the design has been further adopted by more anchor manufacturers like Manson.
TIP BALLASTS
In place of roll bars, tip ballasts are simply weighted on one end. It will naturally tilt toward the tip ballasts edge, allowing the anchor to set when it's dragged. Anchors can have both roll bars and tip ballasts.
DOES IT MOVE WITH CURRENT & TIDE CHANGES?
One challenging skill in dropping anchor is, in fact, getting it out again to reset. With some anchors, setting it on the first try is a matter of luck, especially when you're unsure of your seabed condition. It's important to be able to quickly reset, or you may find yourself strapping on a wet suit and goggles to retrieve it in frigid waters.
Sailors should always carry two anchor varieties. This way, after reading a sonar signatures to determine your depth and seabed conditions, you can choose which anchor will best hold as well as the scope needed to reach.
HINGED SHANKS
Hinged shank anchors are needed for sailing in waters where there are tidal changes. If the sailboat turns about, a hinged shank can pivot itself without having to be reset. But moving parts pinch so watch those fingers!
FIXED SHANKS
Fixed shank anchors are fine anchors if you aren't worried about tidal changes and currents. You may also rely on fixed shanks in muddy seabeds if they are also scoop-styles.
READ MORE
For more of our top sailing gear recommendations, check out these popular buyer's guides: