Updated on February 6, 2020
Boats are extraordinary vessels that allow us to truly connect to nature. But they live in harsh environments and many of their components have to take enormous loads just to sail. Winches are one of the key parts of a boat that take the strain so it's important that you choose the best sailboat winches for you.
Just by closing your eyes it's easy to feel the wind on your face as your sailboat begins to heel over. As the sails catch the wind and the boat accelerates forward, it's time to ease the sheets a little. This is where the winch takes over. Weak, undersized or seized winches can spell disaster. If yours are getting old, it could well be time to replace them.
We'll help you sort out what's good, what's not, and what the difference is. Keep reading to find your perfect sailboat winches.
For more of our top sailing gear recommendations, check out the Best Sailboat Anchors.
QUICK ANSWER – THE BEST SAILBOAT WINCHES
SAILBOAT WINCH REVIEWS
LEWMAR TWO-SPEED
BEST FOR: Lightweight primary winches
SELF-TAILING: Yes
MATERIAL: Anodized aluminum
PROS: Lightweight for those who want to keep weight down, sleek in black, long warranty, very simple to take apart and put back together for maintenance
CONS: Not as hard-wearing as bronze, black winch gets very hot in the tropics
HARKEN RADIAL
BEST FOR: Heavily used primary winches
SELF-TAILING: Yes
MATERIAL: Chromed bronze
PROS: Very durable and long-lasting, easy to maintain and take apart, upgrade/convert to electric with ease, grippy surface lessens friction
CONS: Quite pricey, short warranty, much heavier than the Lewmar Two-Speed
ANDERSEN TWO-SPEED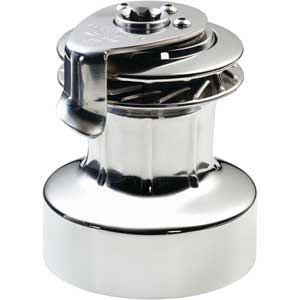 Check out the latest price on:
BEST FOR: Primary winches looking to impress
SELF-TAILING: Yes
MATERIAL: Stainless Steel
PROS: Extremely beautiful to look at, lightweight, durable
CONS: You're paying extra for the impressive full stainless steel look, not as durable as bronze
HARKEN TWO-SPEED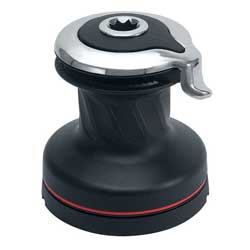 Check out the latest price on:
BEST FOR: Primary winches using different size lines
SELF-TAILING: Yes
MATERIAL: Anodized aluminum
PROS: Spring-loaded self-tailing jaw secures different size ropes, shaped drum holds rope without friction, very simple to maintain and put back together, easy to mount, lightweight, convertible to electric
CONS: Very expensive for added extras that may not be necessary
LEWMAR EVOLUTION ELECTRIC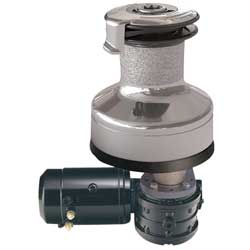 Check out the latest price on:
BEST FOR: Older sailors wanting easy-to-use primary winches
SELF-TAILING: Yes
MATERIAL: Anodized aluminum
PROS: Easy to install below-deck motor, choice of finishes in alloy black or chrome, long warranty
CONS: Quite heavy including the motor, pricey if you don't absolutely need electric
ANTAL TWO-SPEED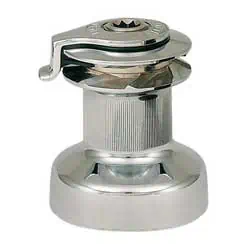 Check out the latest price on:
BEST FOR: Hard-wearing primary winches
SELF-TAILING: Yes
MATERIAL: Chromed bronze
PROS: Very durable in chromed bronze, reasonably light for bronze, spring-loaded jaws to take different size ropes, easy to maintain
CONS: Paying extra for chromed look yet still lacks the wow factor of Andersen's full stainless steel winches, short warranty
LEWMAR TWO-SPEED NON-SELF-TAILING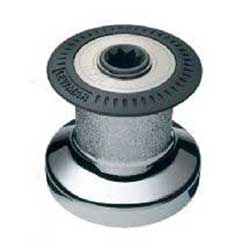 Check out the latest price on:
BEST FOR: On-mast or racing winches
SELF-TAILING: No
MATERIAL: Chromed bronze
PROS: Bronze construction offers exceptional longevity and durability, grippy drum, two speed offers greater flexibility for use
CONS: A little pricey for non-self-tailing although great materials, short warranty
ANDERSEN ONE-SPEED
BEST FOR: Eye-catching racing and on-mast winches
SELF-TAILING: No
MATERIAL: Stainless Steel
PROS: Looks incredible, smooth drum allows rope to pass easily, easy adjust sheets while racing, aluminum and bronze plates inside for extra durability, great price
CONS: Short warranty, some sailors will prefer a grippy or shaped drum as opposed to smooth
LEWMAR ONE-SPEED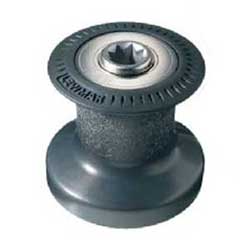 Check out the latest price on:
BEST FOR: Bargain on-mast or racing winches
SELF-TAILING: No
MATERIAL: Anodized aluminum
PROS: Very affordable, good for older yachts with on-mast winches, excellent Lewmar construction
CONS: Not as hardwearing as Lewmar's bronze version, short warranty
HARKEN SINGLE-SPEED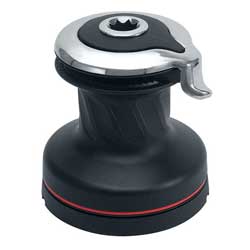 Check out the latest price on:
BEST FOR: Primary winches for smaller sail areas
SELF-TAILING: Yes
MATERIAL: Anodized aluminum
PROS: Great price for a self-tailer, radial drum gives grip on rope with needing friction, very easy to maintain and put back together, spring-loaded jaws for holding different size ropes
CONS: One-speed is ideal for smaller sail areas but you may struggle with larger sails, lightweight but not as durable for primary winches as bronze
COMPARISON TABLE – THE BEST SAILBOAT WINCHES
HOW TO CHOOSE THE BEST SAILBOAT WINCHES
1. HOW MANY WINCHES DO YOU NEED?
Well made winches can last for many decades but can need replacing for several reasons. Winch technology has moved on and you may want to replace non-self-tailing winches for self-tailing ones. Or your winches may simply be corroding or weakening through age.
It's often easy to find out how many winches you need by simply counting the existing ones on your sailboat. Rarely used winches may be in much better condition than the same age highly used winches. This allows you to retain rarely used old winches and put the saved money into buying better quality new winches. While that liveaboard boat you hung out on may have had ten winches, chances are, a small yacht will only have two to seven.
Knowing how many winches you need allows you to stick to your budget more closely. You probably won't need every winch to be the same either. With self-tailing winches ideal for cockpit primary winches, winches on the mast often don't need to be self-tailing. Further savings can be made from understanding what type of winches you need.
2. DO YOU WANT SELF-TAILING WINCHES?
For short-handed sailors, self-tailing winches are all but essential. In fact, having primary self-tailing winches regardless of your crew size will make the cruising sailboat an easy place to be. Of course, if you have a really big yacht, you can use two-way radios to give winchman instructions!
On sailboats where some lines are lead back to the mast and not to the cockpit (i.e. many older sailboats), you don't need self-tailing winches on the mast. Often you can just get away with a non-self-tailing winch and a cleat nearby.
Sheet winches should ideally be self-tailing while halyard winches can be non-self-tailing.
3. GEARS
Winches give you leverage with which to pull in the sails but in particularly strong winds or racing conditions, extra leverage is required. Geared winches provide this extra leverage. With one to four gears, geared winches are also excellent for taking the load for hobby sailors, older sailors and even enthusiastic children!
For an ordinary cruising sailboat (even those who do a spot of club racing), you'll be choosing between one-speed and two-speed geared and non-geared winches. Three- and four-speed winches are only used by powerful racing boats.
ONE-SPEED
One-speed winches that aren't geared are the cheapest type of winch and only suitable for small sailboats or as on-mast winches.Each turn of the winch handle equals one turn of the drum, making these unsuitable for large loads.
Geared one-speed winches offer greater mechanical leverage and the handle is ratcheted when turning in the opposite direction. This gives you more power for less movement when cranking up that sail to windward.
TWO-SPEED
Two-speed winches allow the handle to travel in either direction at different speeds. This is great for fast winching with one speed and then switching winching direction for a lower speed as the sail comes in. Two-speed winches typically are geared in one direction and not in the other.
Geared two-speed winches are the same except they are geared in both directions. For the average cruising sailboat or daysailor, geared two-speed primary cockpit winches are the best option. This is especially true for single- or double-handed sailing.
4. MATERIAL
Winches come in different materials. The differences are primarily based on weight, quality, and price.
ANODIZED ALUMINUM
Super lightweight and affordable, anodized aluminum winches are a popular choice on sailboats.
CHROMED BRONZE
Bronze is extremely hardwearing, making it a good choice on sailboats. Bronze was the traditional material for winches but it looks outdated on modern yachts. Chromed bronze makes the most of the durable bronze but adds a modern look with a chrome outer layer. These are pricey but excellent winches.
STAINLESS STEEL
If you're looking for the best and most durable winches, stainless steel is the way to go. It also looks great and it's extremely strong. If you look after your stainless steel winches, you may never need to replace them.
COMPOSITE
Composite boat parts are increasing every year although many traditional sailors prefer metal. Composites are actually very strong, very durable and are impervious to corrosion. The main composite material used in winches (and seacocks) is Marelon. Expensive, but you'll probably never need to replace them.
5. ELECTRIC WINCHES
Manual winches work by human strength combined with mechanical leverage. For small sailboats, the average sailor will be perfectly happy with manual winches. However, electric winches are becoming more popular and can certainly be of benefit.
Electric winches have a motor placed above-deck or below-deck. Using buttons, electric winches grind the rope for you and some will even release it for you as well.
The main downside of electric winches is their power consumption. As a sailor, you obviously don't want to be forced to run your engine often just to charge the batteries for your winches! Always check your house battery capacity and work out how much power the winches will use on your typical sailing trips.
Electric winches also have the capacity to act as manual winches in combination with a standard winch handle. This is important because if your batteries or electrical system fails, it's imperative that you are able to still operate your winches if you're under sail.
CONVERSION OPTION
Some sailors want manual winches but would like to have the option to convert those winches to electric. Winches can last many decades and as sailors age, having the option of electric conversion can be reassuring.
6. SIZE
Size is another important consideration and is based on boat size and sail area. You can often determine your winch size merely by your existing winches but the main providers also provide charts. Lewmar winch size chart is an excellent resource as is the Harken winch size guide.
READ MORE
For more of our top sailing gear recommendations, check out these popular buyer's guides: