Updated on October 1, 2020
When you're headed to the crag, one of the most important pieces of gear you don't want to forget is your rope. So how do you prevent that from happening? With a great rope bag, of course! Whether it's a separate bag just for your rope or made to hold more of your stuff as well, a rope bag will keep you from getting tangled in a mess of climbing gear. Here at The Adventure Junkies, we'll help you find the best rope bag to take to the crag (or the gym).
For more of our top climbing gear recommendations, check out the Best Climbing Backpacks.
Quick Answer

-

The Best Rope Bags
Black Diamond Super Chute

Black Diamond Full Rope Burrito
Comparison Table

-

Best Rope Bag

For the best experience turn your device horizontally
Reviews

-

The Best Bags for Climbing Ropes
Metolius Speedster
Specs
Material

:

Nylon

Closure

:

Zipper & Drawcord

Dimensions

:

52 in x 58 in

Strap Style

:

Backpack Straps
Features
Padded Shoulder Straps
Exterior Zippered Pocket
Grab Handle on Top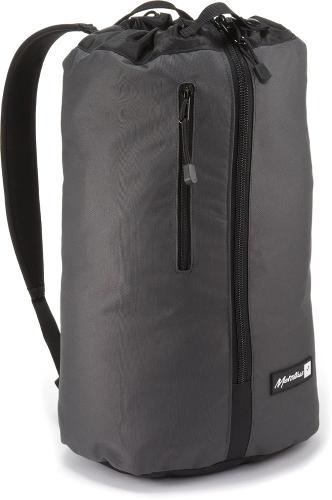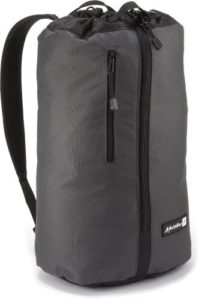 BEST FOR: LONG APPROACHES
The Metolius Speedster is a backpack-style rope bag that is extra comfortable to carry on long approaches, thanks to the padded shoulder straps. The center zipper makes is simple to stuff a 70m rope and large integrated tarp inside, along with your other necessary gear, including shoes and a harness. The exterior zippered pocket gives you easy access to smaller items, like keys and crag snacks.
Because the Speedster is designed to be carried on its own, it is a little unwieldy to stuff inside another pack. You might be able to make it fit with some effort, but there are better choices if you plan to carry your rope bag in your pack.
Black Diamond Super Chute
Specs
Material

:

Nylon

Closure

:

Drawcord & Compression Straps

Dimensions

:

52 in x 58 in

Strap Style

:

Shoulder Strap
Features
Large Volume for Carrying Long Ropes and All Your Gear
Durable Steel Buckles on Compression Straps
Funnel Shaped Tarp to Quickly Pack up Rope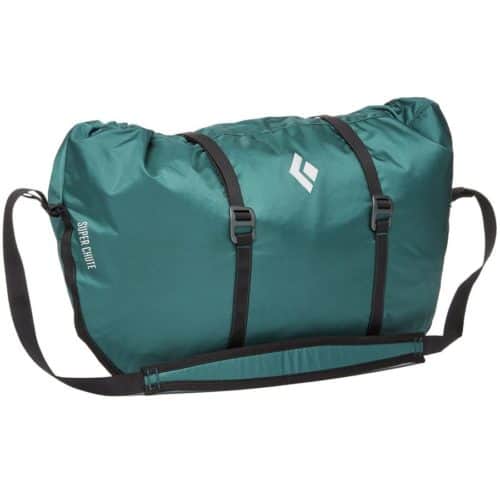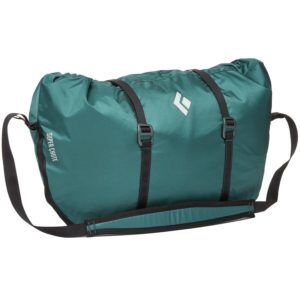 BEST FOR: EASY PACKING
The Black Diamond Super Chute is designed with the ease of packing and unpacking your rope in mind. You can roll it all up in the burrito-wrap style, or use the tarp as a funnel to stuff the rope back inside the bag. Either way, it's simple to quickly pack and carry your rope to your next climb with this bag.
The Super Chute also has an extremely large carrying capacity, so you can haul your 70m rope, shoes, a harness, and a rack of quickdraws without a problem. However, the tarp of the Super Chute is on the smaller side, so you have to be a little more aware to keep your rope off the ground when you're using it.
Metolius Ropemaster HC
Specs
Material

:

Polyester

Closure

:

Compression Straps w/ Buckles

Dimensions

:

58 in x 52 in

Strap Style

:

Padded Shoulder Strap
Features
Clear Window to Easily Identify Rope
Padded Shoulder Strap for Comfortable Carrying
Tie-In Loop for Finding End of Rope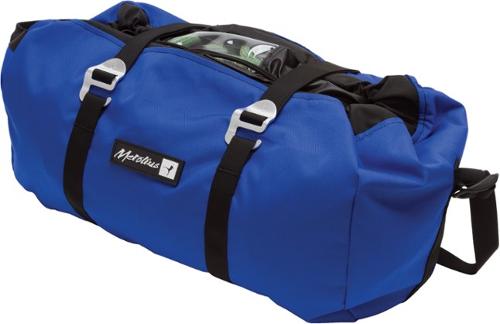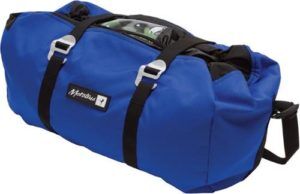 BEST FOR: ALL-AROUND
The Metolius Rope Master HC is a classic rope bag that doesn't offer a lot of extra features, but does its job extremely well. The Ropemaster HC is a burrito-style bag with an integrated tarp, so to pack up your rope, you simply roll it up and stuff it inside.
The "HC" stands for "High Capacity, allowing it to easily fit a 70m rope along with some miscellaneous gear, such as shoes. Plus, the padded shoulder strap makes it quite comfortable to carry the bag on a long (or short) approach.
The one special feature the Ropemaster HC has is a clear vinyl window, which might not seem like much at first, but is the perfect simple way to quickly identify which rope is in the bag without having to open or unpack it.
Black Diamond Full Rope Burrito
Specs
Material

:

Nylon

Closure

:

Elastic

Dimensions

:

40 in x 40 in

Strap Style

:

Carry Handles
Features
Elastic Opening is Incredibly Easy to Use
Lightweight and Pliable for Fitting in Another Bag
Integrated Rope Tarp with Color-Coded Tie-In Points for Ends of Rope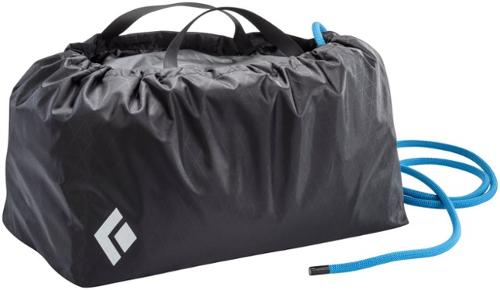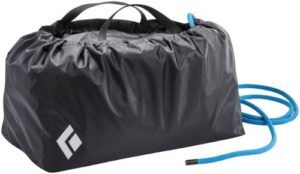 BEST FOR: STUFFING IN YOUR PACK
The Black Diamond Full Rope Burrito Bag is a simple, lightweight rope bag that is perfect for stuffing in your regular pack. The elastic closure makes it very easy to roll out your rope on the included tarp, then stuff it back in when you're ready to move to the next climb or head home.
Other than fairly standard color-coded tie-in points to keep track of your rope ends, the Full Rope Burrito Bag doesn't have any special features. Also note that the carrying handles, while nice for moving from climb to climb, are not comfortable for transporting long distances. But that simplicity is what makes this rope bag fit well inside your actual pack. So if you have a large pack and want to consolidate all your gear on the approach, the Black Diamond Full Rope Burrito Bag is an excellent option.
Deuter Gravity
Specs
Material

:

Polyamide

Closure

:

Drawcord & Compression Straps

Dimensions

:

55 in x 55 in

Strap Style

:

Sling / Backpack Shoulder Straps
Features
Separate Rope Tarp
Color-Coded Corners to Keep Track of Rope Ends
Durable Abrasion & Weather Resistant Fabric
BEST FOR: DURABILITY
The special proprietary fabric of the Deuter Gravity is made to withstand the elements, from wet weather to sharp rock. It's also quite lightweight, making it a good choice for alpine or multi-pitch missions, and it's great for a day of cragging, thanks to the handles on the rope tarp, which make it easy to move. Another nice feature is that the rope tarp is not fully integrated into the bag so you can take it out and use it separately.
TRANGO Antidote
Specs
Material

:

Nylon

Closure

:

Drawcord & Compression Straps

Dimensions

:

48 in x 60 in

Strap Style

:

Removable Backpack Straps
Features
Tarp Window to Clearly See and Identify Rope
Small Exterior Zippered Pocket to Hold Essentials
Removable Straps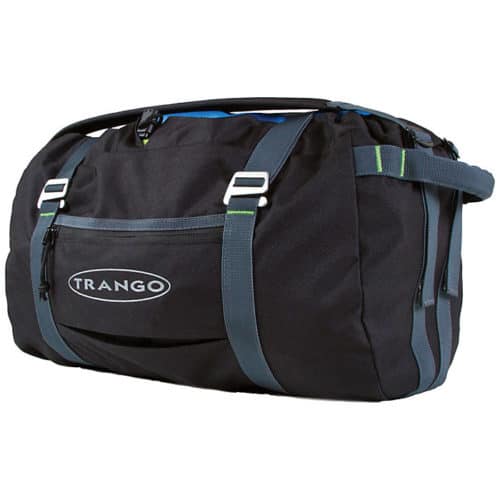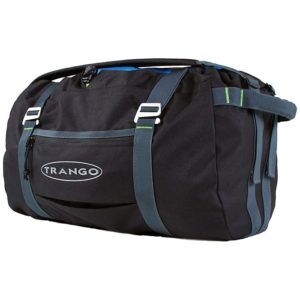 BEST FOR: VALUE
The Trango Antidote offers a lot of useful features at a really good price. An extra large integrated tarp keeps your rope clean and out of the dirt, and it's easy to wrap up and stuff back inside. A clear window on the bag helps you identify which rope is packed away, and a small zippered pocket on the outside of the Antidote is the perfect place to securely stash your essentials.
The padded straps on the Antidote are convertible, so you can carry this bag like a backpack or over the shoulder like a sling, and you can even completely remove them if you'd rather stuff the whole thing inside another pack.
Black Diamond Gym 35
Specs
Material

:

Polyester

Closure

:

Drawcord & Flap

Dimensions

:

None

Strap Style

:

Sling Strap
Features
Elastic Pocket to Separate Rope from Other Gear
Colored Interior to Help You Easily Find What You Need
Waterproof Exterior Keeps Everything Dry When You're Running to Your Car in the Rain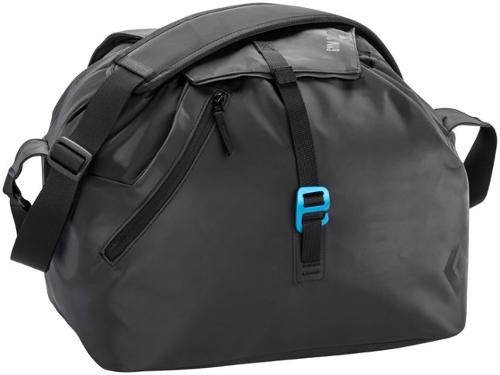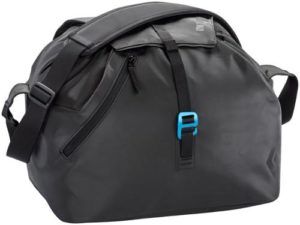 BEST FOR: GYM CLIMBING
The Black Diamond Gym Solution 35L is exactly what it says it is – an ideal rope bag for gym climbers. It's a tote-style bag that can hold your gym rope and has a separate elastic pocket in the main compartment to keep your shoes, harness, water bottle, and more. A large exterior zippered pocket can store the essentials, such as a phone, wallet, and keys.
Made of durable waterproof fabric, the Black Diamond Gym Solution will keep your stuff dry in the rain when you're commuting to the gym, but this bag is not meant to be an outdoor climbing bag and won't function well at the crag.
Mammut Magic
Specs
Material

:

Polyester

Closure

:

Zipper

Dimensions

:

18 in x 16 in

Strap Style

:

Shoulder Strap & Carry Handle
Features
Converts from a Rope Bucket to a Mat
Large Zippered Interior Mesh Pocket
Internal Strap for Racking Gear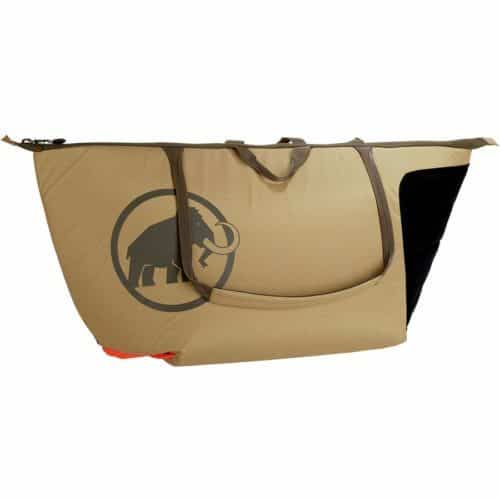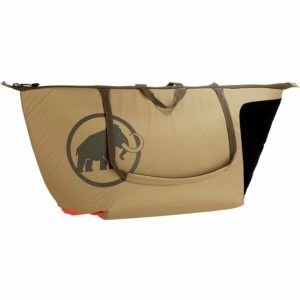 BEST FOR: SPECIAL FEATURES
The unique features of the Mammut Magic Rope Bag are the reason this bag is dubbed "magic." Not only does it convert from a rope bucket into a mat for lounging at the crag, it even has a shoe cleaning patch, so it keeps both your rope and shoes free from dirt.
The Mammut Magic easily enfolds your rope in its bucket-style design, but it is pretty bulky for long approaches – this is not a rope bag for alpine climbing. However, the internal zippered pocket keeps your stuff secure, and you can rack all your gear on the internal straps, so if your approach is short, this is a fantastic rope bag.
Petzl Bolsa
Specs
Material

:

Polyester

Closure

:

Zipper

Dimensions

:

55 in x 55 in

Strap Style

:

Backpack or Bandolier Straps
Features
Funnel-Style Loading Makes It Simple to Slip Your Rope Inside
Large Tarp That Lays Flat to Keep Rope Clean
Grab Handles on Each Corner of Tarp to Easily Move from Climb to Climb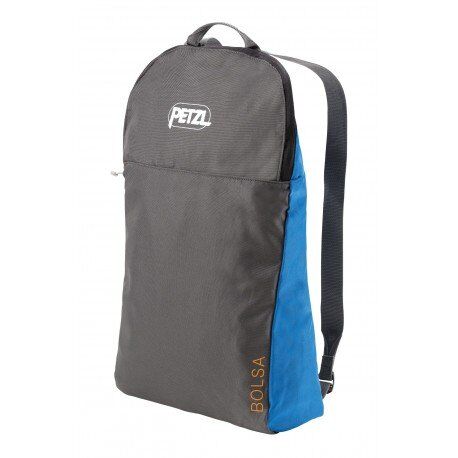 BEST FOR: SERVING AS A DAYPACK
Designed in a backpack style, the Petzl Bolsa can be your only pack for a day of cragging when you don't need to carry much gear. The Bolsa can fit a 70m rope, as well as shoes, a harness, and quickdraws, which is all you need when you're heading out for a light day. Though the shoulder straps aren't padded, it's still more comfortable to carry on long approaches than a sling style bag.
The tarp of the Bolsa is quite large, and it's easy to get your rope back inside the pack thanks to the funnel-style design that directs the rope right where is should go. Along with tie-in points for rope ends, the tarp also has handles on each corner so you can quickly scoot the tarp to a nearby climb without completely packing up.
EDELRID Caddy Lite
Specs
Material

:

Ripstop Nylon

Closure

:

Drawcord

Dimensions

:

57 in x 57 in

Strap Style

:

Shoulder Strap
Features
Flexible Cylinder Contains Rope
Extremely Lightweight Construction
Four Tie-In Points to Manage Rope Ends and Anchor Tarp When Necessary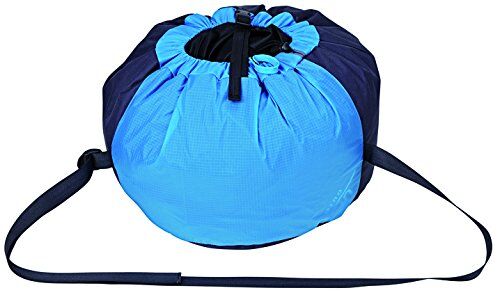 BEST FOR: EASE OF USE
The center cylinder of the Edelrid Caddy Lite is like a magnetic force that pulls the rope into it, making it incredibly easy to pack up your rope when you're ready to go. The tarp itself is extra large, and the bag can easily handle an 80m rope. With four tie-in points, you'll never lose track of your rope ends, and you can also use these loops to secure the tarp in place in windy conditions.
The Caddy Lite is made of super lightweight ripstop nylon, so it will barely add any extra weight on long approaches. However, in order to keep it so light, the shoulder strap doesn't have any padding, which can be uncomfortable.
THINGS TO CONSIDER WHEN BUYING A ROPE BAG
When you're choosing your rope bag, you have a few different features to consider. The biggest one is whether you plan to carry the rope bag on its own or stuff it into another pack. Some rope bags are designed with shoulder straps that make it easy to carry like a backpack, but more difficult to fit inside another bag.
CARRYING STYLE
Think about how you plan to use your rope bag. Are you going to be carrying your regular pack, so you want something you can sling across your shoulder? Or do you want a rope bag that's like a backpack, because you don't have any extraneous stuff to bring? Some rope bags only have small carry handles so they will need to be put in another pack for approaches.
TARP
Almost all rope bags (except those just for gym climbing) have an included tarp to protect your rope from the ground during climbs. In most bags, the tarps are integrated, so you can't use them separately without bringing the whole bag. Sometimes, as with the Deuter Gravity, the tarp is included, but separate, so you can use it on its own as well.
Also, check out the dimensions of the tarp, because some are bigger than others, so you have to worry less about wrangling your rope to keep it off the ground.
POCKETS
If you're just using the rope bag for rope, then pockets aren't necessary. But if you need a space for other stuff you don't want to lose, you'll want to choose a rope bag with zippered pockets to keep your essentials secure. Interior pockets keep your things hidden and out of the way, while an exterior pocket provides easier access without fully opening the rope bag.
FEATURES EXPLAINED
BURRITO
A method of packing the rope where you wrap the tarp around the rope then stuff it inside the bag.
FUNNEL
The tarp and bag are designed with a taper to funnel the rope into the bag for packing.
TARP WINDOW
A clear plastic window in the bag so you can see the rope inside without having to unpack it.
READ MORE
For more of our top climbing gear recommendations, check out these popular buyer's guides: