Updated on October 27, 2020
Whether you're headed out for a day on the water with family and friends or you're planning a multi-day excursion to explore further down the coast, you're going to want to bring your music with you. There's nothing better than enjoying your favorite album or artist while cruising out on the ocean or your hometown lake. A marine subwoofer can enhance your sound experience ten-fold, including amplifying the bass tones in whatever piece of music that you're listening to. If you're an angler, you're in for an added treat when you install a subwoofer: it's said that fish are attracted to low-frequency sounds, so by amplifying the bass in your music, you can bring the fish to you! We've put together this guide to help you choose the best marine subwoofer for you and your sailboat. Check it out, and see you out there, sailor!
For more of our top sailing gear recommendations, check out the Best Marine Stereos and Receivers.
Quick Answer

-

The Best Marine Subwoofers
Fusion SG-SL101SPW 10" 450 Watt

Fusion MS-SW10 Marine Grade 400 W

JL Audio M6-10IB-S-GwGw-4 10"

JL Audio M12IB6-CG-TB 12"
Comparison Table

-

Best Marine Subwoofer

For the best experience turn your device horizontally
Reviews

-

Best Marine Subwoofer
Fusion SG-SL101SPW 10" 450 Watt
Specs
Color

:

White

Cutout Size

:

8.75"

Diameter

:

10"

Saltwater Rated

:

N/A

Wattage

:

450 W

System Efficiency

:

88 dB

Impedance

:

4 ohms
Features
Features An Elegant Sport-Style Grille On The Front Of The Speaker
Two Options For LED Lighting Options To Set The Party Mood
Features 450 Watts Of Peak Power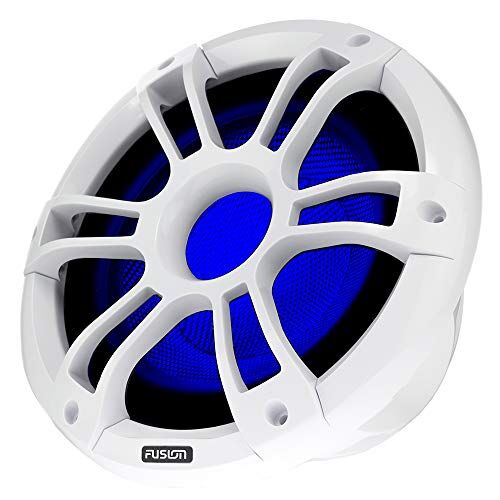 BEST FOR: PREMIUM SOUND
If you're looking for premium sound quality above almost anything else when choosing your subwoofer, this Fusion marine subwoofer beats out the rest of the competition in its class.
Its signature feature is a large diameter voice coil and a 10" high tensile fiberglass-paper composite cone that produces an impressive 450 Watts of peak power. This combination of exceptional mechanical design and brilliant acoustic engineering makes the difference between a decent sailboat sound system and a truly incredible one.
Finally, this subwoofer is built with dual-color diffused LED light options that can set a more subdued mood for a quiet dinner on board or a party when you're hosting friends for the evening or a longer cruise.
Fusion MS-SW10 Marine Grade 400 W
Specs
Color

:

White

Cutout Size

:

N/A

Diameter

:

10"

Saltwater Rated

:

N/A

Wattage

:

400 W

System Efficiency

:

N/A

Impedance

:

N/A
Features
Designed To Be Water Resistant And UV Stable
Produces Crisp, Accurate Bass Sound To Complement Your Existing Sound System
Also Includes Salt And Fog Resistance To Ensure High Performance, Even With Long Exposure To The Elements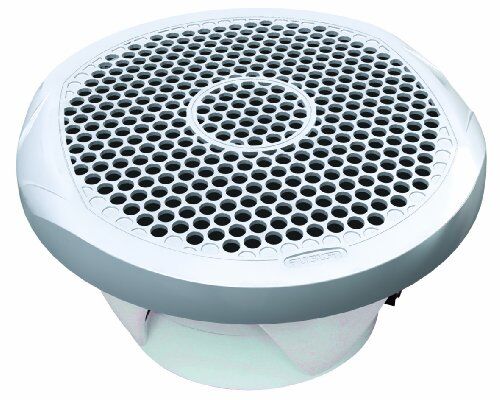 BEST FOR: PERFORMANCE MEETS VALUE
If you're a long-time sailboat owner, you know that owning a boat is one of the most expensive hobbies you can have. So, if you're looking to upgrade your sound system while still staying under budget, then this Fusion marine subwoofer might be the right one for you.
This subwoofer is engineered for marine environments with a water resistant design and UV stability. It also has salt and fog resistance, which will ensure high performance for many years to come even with prolonged exposure to the elements.
Its sound quality is also incredibly high. With 400 watts of peak output, the lower bass tone sounds are sure to be crisp and accurate, a characteristic that will truly enhance your sound experience on board your sailboat.
JL Audio M6-10IB-S-GwGw-4 10"
Specs
Color

:

White

Cutout Size

:

8.875"

Diameter

:

10"

Saltwater Rated

:

Yes

Wattage

:

250 W

System Efficiency

:

86.7 dB

Impedance

:

4 ohms
Features
Utilizes Corrosion And UV Resistant Materials Throughout The Design For Longlasting Durability
Designed To Produce Deep, Powerful Bass That Will Transform Your Sailboat's Audio System
Built-In Suspension System To Protect Against Excessive Movement On The Water
BEST FOR: LONG LASTING DURABILITY
If you're looking for a marine subwoofer that can stand up to the test of adverse weather, sun, and time, then this JL Audio subwoofer might be the right addition to your sailboat's sound system. It's rated for use on saltwater bodies of water and it's built with corrosion resistant and UV resistant components and materials throughout its construction.
It also has a rugged suspension system, which is designed to withstand long excursions and lots of time spent on the waves in the ocean. Finally, this subwoofer also delivers superior sound performance. Its 75-250 Watt range of amplified power is optimized to operate with a large volume of air behind it (i.e., on board a ship which is open to the air above deck).
JL Audio M12IB6-CG-TB 12"
Specs
Color

:

Black

Cutout Size

:

N/A

Diameter

:

12"

Saltwater Rated

:

Water resistant

Wattage

:

600 W

System Efficiency

:

N/A

Impedance

:

N/A
Features
Designed Specifically To Amplify Low Frequency Sounds
Built To Withstand Marine Environments Year After Year
Allows Your Amplifier And Main Speakers To Work With Less Distortion
BEST FOR: AMPLIFYING BASS TONES
Bass tones are the parts of songs that make us move and dance, and the bass lines are the parts that make songs unforgettable. This low-frequency subwoofer reproduces and emphasizes deep bass notes that basic sound systems can't handle.
With less distortion and a full range of sound (even at lower volumes), your favorite playlists will rock even harder and your favorite songs will sound even better than you remember. This subwoofer is also designed to live in a marine environment, which means that it's designed for open-air use. It'll sound great both below and above deck.
Finally, this subwoofer is designed to last, so you won't have to worry about corrosion or salt damage to the components, even if you spend most of your boat time on saltwater.
THINGS TO CONSIDER WHEN BUYING MARINE SUBWOOFER
POWER CAPACITY
Though bigger is generally better when it comes to power handling capacity, it's super important to make sure that the speakers, subwoofer, and receiver are all rated for the same power wattage output. If your power is mismatched, you run the risk of blowing out the speakers when you crank up the volume looking for that deeper subwoofer bass.
For more information about choosing the right marine subwoofer for your sound system, check out this article from West Marine.
WATERPROOF AND WEATHERPROOF?
You're installing your subwoofer on your sailboat, and so you're going to want to make sure that it can withstand a marine environment, even if you're just cruising around on your local lake. Salt air is the main concern when you're on the ocean, so make sure that you're installing water-resistant, marine-rated components both above and below deck.
FREE-AIR RATINGS
Most subwoofers that you find in your home are mounted inside of boxes that contain and also optimize the sound. A free-air or infinite baffle subwoofer doesn't need a box and thus allows you to install it on your boat in a tight spot. Free-air subwoofers also are known for having a crisp, clean bass sound.
INSTALLING FOR OPTIMAL SOUND
Subwoofers and speakers are directional technologies, so you want to make sure that you're installing it above deck so that they point at your ears or 45 degrees upwards. When installing below deck, direction is less important because there are lots of surfaces from which the sound can bounce off of.
FEATURES EXPLAINED
WATTAGE
This refers to the amount of power that the subwoofer will put out. You want to make sure that the wattage capacity is equal in your speakers, subwoofer, and receiver. d
DECIBELS
A unit that measures the intensity of sound. The abbreviation is, "dB".
IMPEDANCE
This measurement refers to the electrical current needed to power the subwoofer.
CONE
A component that's integral to the design of the subwoofer. It helps to capture and amplify the sound through the speaker.
SUBWOOFER
A type of speaker designed to channel and project low-frequency sounds (bass tones).
SPEAKER
A speaker is the part of the sound system that channels and projects higher frequency tones.
RECEIVER
The role of the receiver is to gather sound signals from a CD player or a music storing device (smartphone), process them, and then project them through a speaker and subwoofer sound system.
READ MORE
For more of our top sailing gear recommendations, check out these popular buyer's guides: