Updated on December 22, 2021
The weather is starting to get warmer, and you are getting itchy feet ready to dust off your backpack and start preparing for a camping adventure. As you go down the packing checklist, you realize a sleeping pad is an essential camping component. This is because being comfortable at night can make all the difference in getting a good night's sleep and being rested for the day ahead. There are many choices when deciding on a sleeping pad. That's why our hiking team picked out the best self-inflating sleeping pads to help you make the decision that will make or break your overnight trip.
For a complete analysis of all backpacking sleeping pads, check out the buyer's guide Best Backpacking Sleeping Pads.
[thrive_leads id='68005′]
Quick Answer

-

The Best Self-Inflating Sleeping Pads
Therm-a-Rest ProLite Plus

Sea to Summit Comfort Light SI
Comparison Table

-

Best Self-Inflating Sleeping Pad

For the best experience turn your device horizontally
* Weight, thickness and price shown for the regular size.
[thrive_leads id='56126′]
Reviews

-

The Best Self-Inflating Sleeping Pads for Backpacking
Therm-a-Rest ProLite Plus
View Women's Version
Specs
Type

:

Self-Inflating

Weight

:

1 lbs 07 oz

R Value

:

3.2

Thickness

:

1.5 in

Volume

:

08.0 L
Features
Semi-rectangular Shape
Exclusive Atmos Foam Reduces Weight And Increases Compressibility
Stuff Sack Included
BEST SELF-INFLATING SLEEPING PAD
When you are out skiing or on alpine adventures, you most definitely want a sleeping mat to keep you off the ground, but you'll also want something light and compact. Introducing the Therm-a-Rest ProLite Plus! This mat only weights 1 lb. 7 oz., but offers 1.5 inches of thickness and an R-value of 3.4, so on those snow adventures, you will be warm and insulated.
Sea to Summit uses it's exclusive Atmos foam in this pad, which is what contributes to the lightweight, but it will also compress really well, so you have extra room for those extra clothing layers. And combined with a mixture of nylon and polyester on the surface, you will not slip on this pad, so no shivering rude awakenings!
Sea to Summit Comfort Light SI
View Women's Version
Specs
Type

:

Self-Inflating

Weight

:

1 lbs 05 oz

R Value

:

3.1

Thickness

:

2.0 in

Volume

:

08.2 L
Features
Semi-rectangular Shape
Reversible One-way Valve To Prevent Inflating While Trying To Pack
Stuff Sack Included
The Sea to Summit Comfort Light SI is a self-inflating style sleeping pad that uses an open cell foam interior in conjunction with the Delta Core Technology to produce a sleeping pad that provides solid comfort in a manageable size. This is a good sleeping pad to have around for those who primarily car camp but would also like to do a few short backpacking trips each season.
What we like most is that it provides a comfortable and stable night's sleep. The outer material feels very soft to the touch. This is a good choice for side sleepers as they won't have to worry about bottoming out at their hips or shoulders. We also like the non-slip pattern on both sides of the pad to help prevent sliding when sleeping on a slope.
What we don't care for is that it's very hard to pack down. We actually split the stuff sack trying to get the pad back inside. It's also on the heavy and bulky side just like the other self-inflating mats that we have tested.
Exped MegaMat 10
Specs
Weight

:

3 lbs 12 oz

R Value

:

9.5

Thickness

:

3.9 in
Features
Rectangular Shaped
Repair Kit and Stuff Sack Included
Included Mini Pump Inflates This Pad Even Faster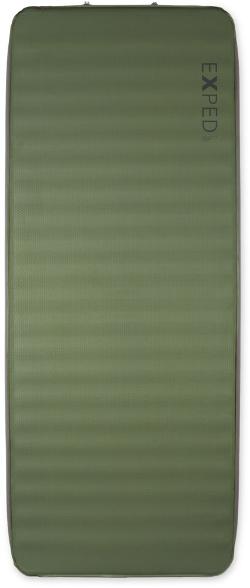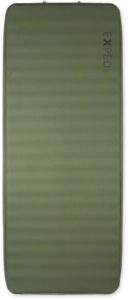 The Exped MegaMat 10 is designed with a rectangular shape that provides a level sleeping surface from edge to edge. While self-inflating, this pad also comes with a minipump to help ensure the mat is fully inflated. And the pump itself only weighs 1.6 lbs.
The R-value of this mat is 9.5, meaning it is very warm. The pad itself is super resistant to heat flow, meaning all the heat your body produces at night will stick close to you, providing a great deal of insulation. The extra warmth provided by this pad makes its slightly higher price well worth the investment. The Exped can be purchased in long-wide and extra wide for thickness and length, so even tall people will be comfortable all night long.
Therm-a-Rest Trail Lite
View Women's Version
Specs
Type

:

Self-Inflating

Weight

:

1 lbs 10 oz

R Value

:

3.2

Thickness

:

1.5 in

Volume

:

11.2 L
Features
Pad Thickness: 1.5 in
Sleeping Pad Shape: Semi-rectangular
Rolls Up Small For Easy Packing

The Therm-a-Rest Trail Lite is a great sleeping pad for backpackers on a budget who don't want to sacrifice a good night's sleep.
The Therm-a-Rest Trail light is very reasonably priced considering how warm and comfortable it is. We'd be more than confident using it in spring through fall. You might even get away with using it in winter if you put a foam pad underneath. It's super easy to blow up and also pack away. The material is also relatively thick, making it one of the more durable options on this list.
It's not the lightest or smallest on this list so we wouldn't recommend using it for long journeys. We looked for more drawbacks of this sleeping pad but couldn't find a whole lot to complain about.

If you want to save even more cash, check out the Therm-a-Rest Trail Scout.

The Therm-A-Rest Trail Lite also comes in a women's version.
REI Co-op Trailbreak
View Women's Version
Specs
Type

:

Self-Inflating

Weight

:

2 lbs 08 oz

R Value

:

5.1

Thickness

:

1.7 in

Volume

:

13.8 L
Features
Stuff sack with compression straps included
Very affordable
A bit heavy and bulky

The REI Co-op Trailbreak is a self inflating budget sleeping pad. It's a decent option for beginners who don't mind carrying a bit of extra weight to save some cash.
What we love the most about the REI Trailbreak is its price. It's one of the best value pads on this list. If you're just starting out and you don't want to splurge on a high end sleeping pad but also want some more padding than you'd get from a foam pad, this could be a good middle ground.
The biggest drawback of this pad is it is very bulky so it's not ideal for backpacking. You'll most likely end up strapping it onto the outside of your pack. It weighs over 2 pounds, making it one of the heavier pads on this list. If you're just getting started with backpacking it could be a good starting pad. If you decide to upgrade, you could use the Trailbreak for car camping. If you're budget has a bit of wiggle room, take a look at the Big Agnes Air Core Ultra, which will give you much more padding, and it's much better suited for backpacking trips.

This pad is self inflating and it does firm up a bit on its own but you'll still need to give it a few blows to pump it up completely. Packing it back up also takes some effort but that can be expected with self inflating pads.
The REI Trailbreak comes in two sizes: Regular and Long. It also comes in a women's version which also comes in a regular and long size.
[thrive_leads id='59716′]
THINGS TO CONSIDER WHEN BUYING THE BEST SELF INFLATING SLEEPING PADS
Self-inflating pads are named so because the pad has an open valve and the air fills in automatically. This way, you don't get any light-headedness from blowing it up yourself. Slightly heavier than simple foam pads, self-inflating sleeping pads are better insulated and stronger, so you won't feel like your bed is slowly deflating during the night. With many design options available, you can find anything from simple grab-and-go car camping pads to backpacking pads that fold and roll, fitting perfectly inside your pack.
Comfortable and compact, all the pads on the list above offer supreme insulation. Therefore, you will be as snug as a bug in a rug on your next camping adventure! Make sure to read through the following things to consider before making your choice from the list above so you're sure to get exactly what you need to have the best night's sleep on your next overnight trip.
COST
Saving a few extra bucks is not worth it in the long run. Especially when you are dealing with a good night's sleep. Some self-inflating sleeping pads may seem like a bigger investment in your wallet. However, investing in a durable and reliable sleeping pad can make all the difference. Whether or not you are rested the next morning depends heavily on your sleeping pad. It is well worth testing some out before making your final decision. And also make sure you store your sleeping pad properly to ensure its longevity.
MATERIAL
It is important to consider the type of ground you will be sleeping on when choosing a pad. If there is no designated camping platform as there commonly are at campgrounds, you'll need a durable sleeping pad that will not rip and will help insulate you from the ground. There is no sense in waking up to a deflated pad that tore on a root or rock, etc. You will find yourself closer to the ground; cold, damp, and grumpy.
INSULATION AND R-VALUE
Looking at the R-value (the pad's ability to resist heat flow) is important to keep you warm while you sleep, especially if you plan on camping or backpacking in cooler weather or in the winter. You want to keep your body heat with you and not lose it to the ground while you're sleeping outdoors. The R-value of your pad will determine how well you're able to do this. This information and the temperature rating of the pad (commonly given by manufacturers) will help you gauge how much insulation you are going to get from the pad; thus comfort and warmth.
SIZE
Having a pad that is appropriate for your height and body shape is important to consider. Sleeping pads come in long and wide sizes to accommodate larger people. If your feet are not resting on the pad at night, not only will you not be comfortable, but you will also be losing heat to the ground as well. However, if you are trying to cut down on weight or make space on your pack, you may opt for a shorter 3/4 length pad. Especially if you're camping in warmer weather.
FEATURES EXPLAINED
SHAPE
The outline of a sleeping pad that can vary from rectangular (heaviest) to semi-rectangular (average weight) to tapered (mummy shaped and lightweight).
VALVES
The valve is the opening in the pad that allows air to flow in when inflating and air to be forced out when deflating.
STUFF SACK
A small, compact sack that you can use to compress the sleeping pad into for easy storage and packing.