Updated on December 23, 2021
If you're a side sleeper, your main concern in finding the right sleeping pad will likely be thickness. Thin pads just won't cut it when your hips and shoulders are sinking to the ground, keeping you tossing and turning from side to side throughout the night. To help you out, we've rounded up the best sleeping pads for side sleepers who just want to get a good night's sleep while car camping or backpacking. Each of the sleeping pads in the list below inflates to at least 2 inches thick, so you can focus on other features to narrow down and choose which one is your perfect fit.
For a complete analysis of all backpacking sleeping pads, check out the buyer's guide Best Backpacking Sleeping Pads.
[thrive_leads id='68005′]
Quick Answer

-

The Best Sleeping Pads for Side Sleepers
Sea to Summit Ether Light XT

Therm-a-Rest NeoAir UberLite

Sea to Summit Comfort Light

Sea to Summit Ultralight Insulated
Comparison Table

-

Best Sleeping Pad for Side Sleepers

For the best experience turn your device horizontally
[thrive_leads id='56126′]
Reviews

-

The Best Side Sleeper Sleeping Pad
Sea to Summit Ether Light XT
View Women's Version
Specs
Type

:

Air pad

Weight

:

1 lbs 01 oz

R Value

:

3.2

Thickness

:

4.0 in

Volume

:

02.3 L
Features
Pad Thickness: 4 in
Sleeping Pad Shape: Mummy
Air Sprung Cells provide a plush sleeping experience
BEST SLEEPING PAD FOR SIDE SLEEPERS
The Sea To Summit Etherlight XT is an insulated sleeping pad that scores high marks from us for being extremely comfortable and durable. The innovative pumpsack / stuff sack combo is a nice touch as well as the easy-to-use valve system.
What we like most about this pad is simple – the comfort. We love how luxurious this sleeping pad feels. It's a full 4 inches thick and very stable. This would be a good pad for even the most critical side sleeper. We don't see anyone bottoming out with this pad fully inflated. We also like how the pumpsack has been integrated into the stuff sack. It's just one less thing to keep track of. This pad is also easy to inflate and deflate.
What we don't care for is that for its weight and packed size – it's not as warm as we would like it to be. We would expect a little more warmth out of a 4-inch thick pad. It's also quite heavy and its packed size is somewhat large compared to some of the other pads in the category.
Big Agnes Q-Core Deluxe
Specs
Type

:

Air Pad

Weight

:

1 lbs 09 oz

R Value

:

4.3

Thickness

:

3.5 in

Volume

:

03.5 L
Features
Heat-Reflective Technology
Quilted Top
Internal Antimicrobial Treatment

The Big Agnes Q-Core Deluxe is a quilted insulated backpacking sleeping pad. It's great for people who are looking for a quiet and comfortable pad.
It's not the lightest or most packable but we included it on our list because it's wider than other ultralight options, making it a good choice if you toss and turn at night. This pad has a quilted top and is made of a super soft nylon-spandex fabric. These are relatively quiet materials so you won't have to worry about that crunchy sound some other pads make. The Q-Core Deluxe uses heat reflecting fabric and quality insulation that will keep you warm on cold nights.
The Big Agnes Q-Core Deluxe has a similar two valve set up like it's brother the Air Core Ultra. Having two independent valves makes inflation and deflation super easy and fast. The inflate valve has a little plunger in it so if the pump bag comes loose or if you need to take a breather, you don't lose any air. You adjust the firmness by poking the plunger with your finger to let out a bit of air. When it comes time to pack down the pad, you just open the deflate valve and the pad is completely flat in a matter of seconds.
Aside from being quieter, the Q-Core Deluxe has a quarter inch more padding than the Big Agnes Core Ultra, so it will be a more supportive option. The Q-Core Deluxe is a tough competitor with the Sea to Summit Ether Light XT which is also featured on this list. The Q-Core Deluxe is slightly heavier but about $20 bucks cheaper and warmer than the Ether Light XT.

The Big Agnes Q-Core Deluxe comes in four sizes: Regular, Regular Wide, Long Wide and XL Wide.
If you're looking for an even lighter and more packable sleeping pad and don't mind sacrificing some warmth, check out the Big Agnes Q-Core SLX.
Nemo Tensor Insulated
Specs
Weight

:

0 lbs 15 oz

R Value

:

3.5

Thickness

:

3.0 in
Features
Repair Kit Included
Pump Sack Included
Suspended Film Construction (to reduce noise)

3 inches thick with 2 metalized layers of insulation, the Nemo Tensor will effectively keep side sleepers warm and off the ground from late spring to early fall. The suspended construction is quieter than other sleeping pads when shifting at night, allowing you (and your friends) to get a better night's sleep. The baffles, which are the internal cells that make up the structure of a sleeping pad, also evenly distribute your weight to keep your hips and elbows off the ground and help create a more stable sleeping surface.
Inflation and deflation are efficient with this pad's unobtrusive valve, and the included lightweight pump sack offers faster inflation when you're exhausted at the end of the day. Premium, durable fabrics are soft and luxurious while minimizing weight, making for a small packed size that will keep your shoulders and hips happy while backpacking.
Therm-a-Rest NeoAir UberLite
Specs
Weight

:

0 lbs 09 oz

R Value

:

2.3

Thickness

:

2.5 in
Features
Included Repair Kit
Double-Layer Construction (to maximize warmth)
Tapered Design (to minimize weight)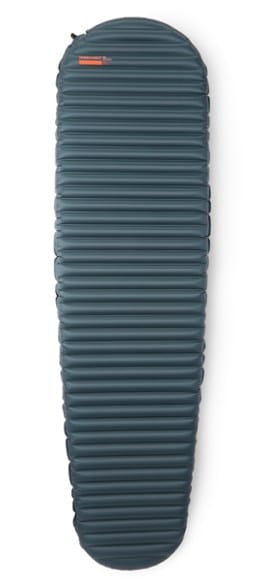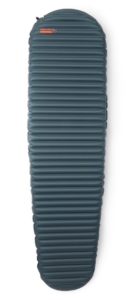 For side sleepers looking for the lightest outdoors set-up they can assemble, the NeoAir UberLite is the sleeping pad to choose. Packing down smaller than any other sleeping pad in the NeoAir line, the UberLite still offer 2.5 inches of stable cushioning to ensure you get a good night's sleep. And at an astonishing weight – 8.8 oz. for the regular size – you'll hardly even notice it in your pack.
With an R-value of 2.0, this minimally-insulated pad is best for summer camping, but don't underestimate its warmth. The matrix construction offers 2 stacked layers of triangular baffles, which keep insulation in place with hundreds of individual cells optimizing stability and minimizing heat loss. This pad also lacks the internal Mylar layer that makes other sleeping pads annoyingly noisy, so you won't keep your tent-mates awake with constant squeaking.
Sea to Summit Comfort Light
View Women's Version
Specs
Weight

:

1 lbs 05 oz

R Value

:

3.1

Thickness

:

2.0 in
Features
Integrated Pump
Repair Kit Included
Spare One-Way Valve
Antimicrobial Treatment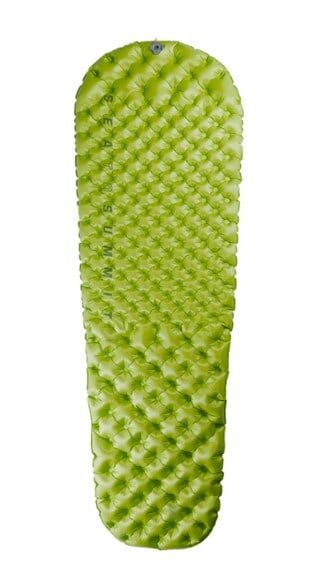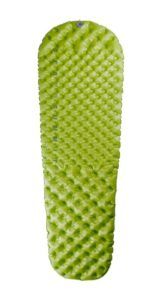 The hip and shoulder support on the Sea to Summit Comfort Light will keep side sleepers happy even in cool fall weather. Sea to Summit calls this pad's structure "Air Sprung Cell" technology, which consists of 2 layers of cells under the torso to maximize comfort and insulation. At the head and legs, the cells cut down to 1 layer to reduce weight while still providing support. The cells function similarly to mattress springs to offer ultimate comfort, even on your side.
Durability is a non-issue with this ultralight pad thanks to the 40-denier ripstop nylon — 1 denier is a single strand, so 40 strands create a tough layer to resist punctures without adding too much weight. If your pad does get punctured, the included repair kit will help you patch it up. Thermoplastic polyurethane (TPU) is used to bond with the shell fabric to prevent delamination and extend the lifespan of your pad, combined with an antimicrobial treatment on top of the TPU to ward off mold issues that might arise from warm, moist air collecting inside. Inflation is a breeze thanks to the pump integrated into the stuff sack, so save yourself some air and try out this reliable Sea to Summit pad on your next backpacking trip.
Sea to Summit Ultralight Insulated
View Women's Version
Specs
Type

:

Air Pad

Weight

:

1 lbs 01 oz

R Value

:

3.1

Thickness

:

2.0 in

Volume

:

02.3 L
Features
Pad Thickness: 2 in
Sleeping Pad Shape: Semi-rectangular
Reflective Fabric And Thermolite Insulation Combine To Prevent Heat Loss


The Sea to Summit Ultralight Insulated is a three season sleeping pad that is light, small and fairly warm. This would be a great pad for someone who is trying to shave weight but isn't into the superlight, minimalist sleeping pad options.
What we love the most about this pad is that it is very light and compact. It's just a bit over one pound and gives you 2 inches of thickness. Paired with a warm sleeping bag, it can handle below freezing temperatures. It is made up of what Sea to Summit calls Air Sprung Cells which give the pad extra comfort and plushness even though it's not super thick. These cells move around with you and push the air around to eliminate any pressure points.
The Ultralight Insulated is one of those jack of all trades, master of none kinds of pads. There are lots of close contenders. The NEMO Tensor Insulated is an inch thicker and weighs less and is $20 cheaper. If you are a side sleeper and have particularly boney hips, you might have some issues with your hips and shoulders digging into the ground.
If you love the concept of this pad but you're looking for one for 4-season use, check out the Sea to Summit Ether Light XT, which is also featured on this list.
The Sea to Summit Ultralight Insulated comes in two sizes: Regular Mummy and Large Mummy.
This pad is also available in a women's version which comes in two sizes: Regular Mummy and Large Mummy.
[thrive_leads id='59716′]
THINGS TO CONSIDER WHEN BUYING THE BEST SLEEPING PADS FOR SIDE SLEEPERS
TYPE
All of the sleeping pads on our list for side sleepers are air pads, meaning you have to inflate them before sleeping on them. Air pads offer ultimate comfort for sleepers of all types, especially those that are at least 2 inches thick, but they are susceptible to punctures. If you camp and backpack with a furry friend with long nails, a closed-cell foam pad might be the way to go — these also tend to be less expensive, but you're likely sacrificing comfort. Do some more specific research to decide which type best suits your outdoor lifestyle.
WEIGHT
The amount of emphasis on weight for your sleeping pad depends on whether you'll be backpacking or car camping more often. Ultralight sleeping pads can get pricey, but it'll be worth it when you're out on the trail and have plenty of room and less weight in your pack for an extended backpacking trip. Technology has also advanced to the point where ultralight pads can offer plenty of comfort and support, as with the lightweight pads above, but if you truly want a comfortable experience, opt for the thickness of a slightly heavier sleeping pad.
THICKNESS
As we've mentioned, the thicker the pad, the more comfortable it's likely to be for campers who prefer to sleep on their sides. Look for sleeping pads that are 2 inches thick or more for the best support, as they'll help keep your hips and shoulders from sinking to the ground.
INSULATION
The level of insulation you need in a sleeping pad depends entirely on when and where you'll be using it. For colder climates, look for greater insulation to protect your body from the cold ground. If you're a 3-season camper, lighter insulation will do the trick. For those who only camp in hot, dry climates, you can likely get away with minimal insulation.
WIDTH
Width, like many sleeping pad features, is a personal preference. Side sleepers who tend to not move around much at night may be fine with a regular width sleeping pad. Many brands offer wide versions of each of their pads, which can offer extra room and increase comfort so you don't have to worry about rolling off in the middle of the night.
LENGTH
Your height and preferences will determine what length sleeping pad you need. Look for a few inches of extra space beyond your head-to-toe measurements so you have room for a pillow and some foot space.
SHAPE
Sleeping pads generally come in 3 common shapes: mummy, rectangular, and semi-rectangular. Some people feel constricted by the mummy shape, but the design can help reduce weight. If you prefer a little more room while you sleep, rectangular may be the way to go. For more on choosing the right sleeping pad for your needs, check out this Backpacker magazine article.
FEATURES EXPLAINED
R-VALUE
R-value, put scientifically, measures thermal resistance. Materials with higher R-values are more thermally resistant, so they offer more warmth. A typical scale increases in insulation from an R-value of 1.0 to an R-value of 9.5. Some brands, such as Big Agnes and NEMO, offer temperature ratings in place of R-values for their sleeping pads. However, the standards for these ratings are much more likely to vary from brand to brand. Therm-A-Rest generally recommends an R-value of 1.0 – 2.0 for summer, 2.1 – 3.3 for 3-season camping, 3.3 – 5.0 for winter, and 5.0+ for extreme winter conditions.
BAFFLES
The cells in an air sleeping pad that create the internal structure and the seams you see on the outside.
DELAMINATION
An issue that arises in sleeping pads when the pad is left exposed to heat or pressure for too long. This results in a bubble internally. In a foam-core sleeping pad flipping the pad over may help. However, an air pad that's been delaminated will likely need to be replaced.
TPU
Thermoplastic polyurethane (TPU) is a material that is typically applied in sleeping pads to prevent delamination of the internal shell fabric.