Updated on March 16, 2022
There's nothing quite as uncomfortable as a cold, sweaty head of hair when riding down the slopes on your snowboard. Without a good hat to keep your head warm even while it sweats, your whole body will be shivering before you know it. The only way to beat the chill from a cold head is to make sure that next time you set out for a ride, you have the best snowboard beanie out there.
We've assembled a few different types of beanies to show you which is best for different conditions. Take a look through our list of our favorite snowboard beanies to figure out which style and design piques your interest.
For more of our top snowboarding gear recommendations, check out the Best Snowboard Gloves.
Quick Answer

-

The Best Snowboard Beanies
Comparison Table

-

Best Snowboard Beanies

For the best experience turn your device horizontally
Reviews

-

The Best Beanies for Snowboarding
Burton DND
Specs
Fabric

:

Acrylic

Gender

:

Unisex

Thickness

:

Medium

Visor

:

No
Features
Slouchy Fit
Package of 3
100% Fine Knit Acrylic
BEST FOR: RELAXING
With more of a relaxed, slouchy fit, Burton's DND Beanie is the perfect hat to put you in that chilled-out mood after a good day of riding. Long and form-fitting to any head, you can roll this hat back or leave it long and droopy behind your ears for maximum warmth. Most notably, when you buy a Burton DND beanie, you receive three different hats, so you'll have plenty of variety when the time comes to throw a hat on after riding. We highly suggest this beanie to those who know their style and want a wide color variety of it.
The North Face Osito
Specs
Fabric

:

Fleece

Gender

:

Women's

Thickness

:

Medium

Visor

:

No
Features
Slouchy Fit
Various Colors
Embroidered Logo On Center Front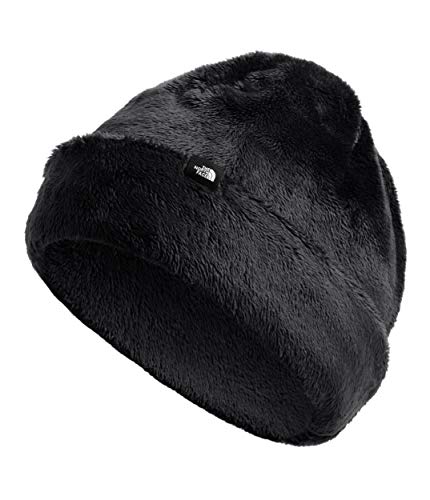 BEST FOR: COLDER CLIMATES
Unlike most other beanies on the list, this hat is made with polyester fabric, which has a furrier texture. It doesn't quite have the length of other beanies, so if you're interested in a shorter hat, this one is best for you. Made specifically for women, the North Face Osito is more form-fitting than other hats but still boasts a slouchy fit for ultimate style points.
Just check out some of the reviews online; very few reviewers have anything bad to say about this comfy and cute hat. We recommend it to North Face lovers seeking a bit more style in their hat than the average beanie wearer.
Smartwool Merino 250
Specs
Fabric

:

Merino Wool

Gender

:

Unisex

Thickness

:

Thin

Visor

:

No
Features
Merino Wool Wicks Moisture And Breathes Better
Itch-Free Comfort
Roll Cuff Ear Band For Customizable Fit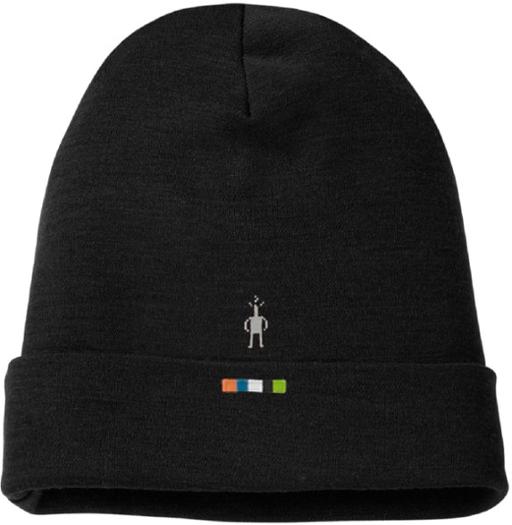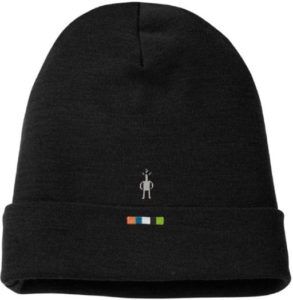 BEST FOR: MUlTI-SPORT ATHLETES
Thinner than most other hats, the Smartwool Merino 250 Beanie is especially made for warmer temperatures and multi-sport use. The Merino Wool material wicks away moisture better than other fabrics and breathes to regulate temperatures while the double layer knit construction is finished seamlessly for a tight, compact fit around your head.
The design uniquely provides warmth while controlling odor and removing that uncomfortable hat head itchiness. All-in-all, with such a compact and thin design, this is a great multi-sport hat that can easily fit underneath a helmet.
Mydeal Winter Bluetooth
Specs
Fabric

:

Acrylic

Gender

:

Unisex

Thickness

:

Medium

Visor

:

No
Features
Bluetooth Compatible Technology For Listening To Music While Wearing It
Built-in Rechargeable Battery
Double Knitted For Warmth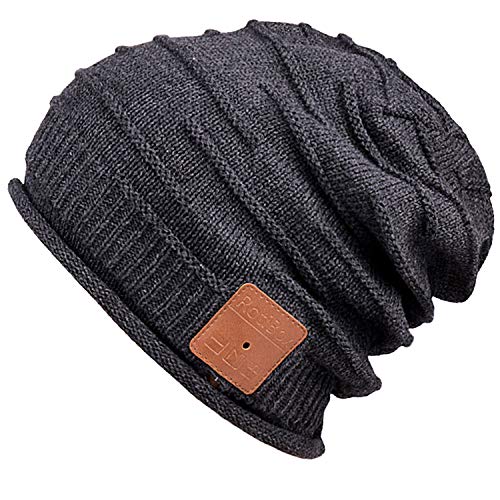 BEST FOR: MUSIC LOVERS
The engineers over at Mydeal offer one of the coolest beanies on the market — a Bluetooth compatible beanie. Outfitted with the latest Bluetooth technology and a rechargeable speaker, you can listen to music all day long while wearing this casual, droopy beanie around town. Pull it down over your head or wear it loose on the back – you'll look cool either way!
In any case, we recommend this hat for warm weather riders and ski-town dwellers as it isn't quite thick enough for serious inclement weather, but it will work perfectly in milder conditions. Most importantly, the unique Bluetooth technology lands this hat on our list for all music-loving riders as there are few others like it out there.
Carhartt Acrylic Watch
Specs
Fabric

:

Acrylic

Gender

:

Men's

Thickness

:

Thick

Visor

:

No
Features
Various Color Options
Stretchable Fabric
Fold-Up Cuff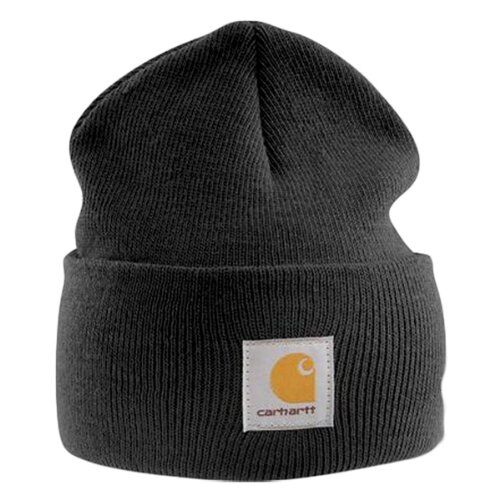 BEST FOR: CASUAL RIDING
Thick and well-knit, the Carhartt Acrylic Watch Beanie is a great hat for any casual rider. With its label sewn on to the front for style and a stretchable acrylic fabric, this hat will not only fit your head, but will protect you from cold, windy weather as well. In the case that you're getting either too cold or too hot, you can also fold the hat's cuff up or down depending on the temperature.
A classic beanie with a comfortable, tighter feel, we recommended this hat to those who prefer a warm hat in the lodge after a full day's riding. It's sure to keep your head warm on the mountain and around town.
Beechfield Heritage
Specs
Fabric

:

Acrylic

Gender

:

Women's

Thickness

:

Thick

Visor

:

No
Features
Machine Washable
Double Layer Knitting
100% Acrylic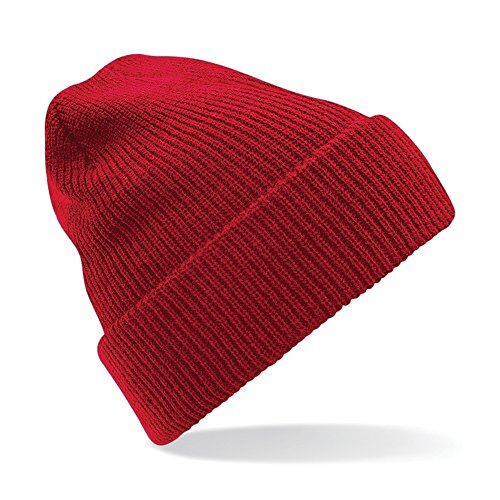 BEST FOR: WARM WEATHER
If you're in the market for a cheaper beanie and one that might be great for casual, warm weather events, this hat is probably best for you. More affordable than other hats on the list, it is made of a soft acrylic that fits nicely over your head while the foldable, cuffed edge provides you with that extra layer of heat around the ears.
This hat, however, may not endure the same level of weather that other hats might, so we recommend wearing it for casual purposes or warm weather snowboarding. All-in-all, it's biggest selling point is comfort, so if that's your preference, then definitely take a look at Beachfield's Heritage Beanie.
Folie Co.
Specs
Fabric

:

Acrylic

Gender

:

Women's

Thickness

:

Medium

Visor

:

Yes
Features
Form-Fitting
Insulated Fleece Lined Interior
Visor For Added Protection From Cold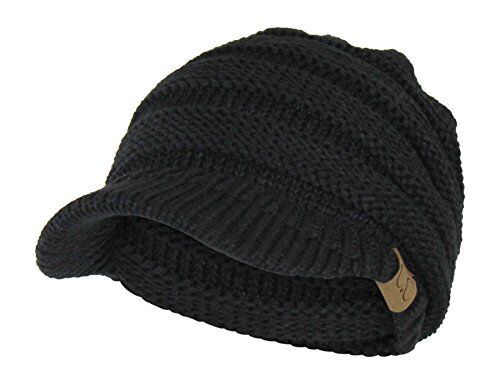 BEST FOR: RAINY WEATHER
Few beanies out there have visors, but the Folie Co. Warm Visor Brim Beanie comes with a 2-inch visor for added protection against cold and rain. The inside of this warm, form-fitting hat is fleece lined and because of its design, it's easy to use this as both a nightlife hat and a snowboarding hat.
Thinner than most hats, the Folie Brim Beanie can still fit under a thin helmet, but if you want to wear it on its own, fear not because the Folie Brim Beanie is just thick enough to provide you the warmth you need around town. We recommend it to all riders seeking a brimmed-beanie.
Helly Hansen Ridgeline
Specs
Fabric

:

Acrylic

Gender

:

Men's

Thickness

:

Thick

Visor

:

No
Features
Outfitted With A Pom-Pom
Itch-Free
Stretchy And Form-Fitting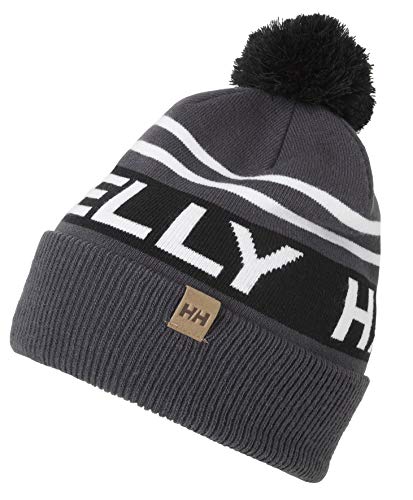 BEST FOR: POM-POM LOVERS
As the only pom-pom equipped beanie on our list, the Helly Hansen Ridgeline Beanie is one of the best pom-pom models on the market. Made for long-lasting comfort, this hat is built with elastane for a stretchy, quick-recovering material that will sit on your head comfortably all day long.
You may not be able to wear this hat under a helmet due to its thickness, but if cold temperatures and high winds are annoying you then rest assured that this hat will keep your head warm and dry in even the most inclement weather.
THINGS TO CONSIDER WHEN BUYING A SNOWBOARD BEANIE
The most important things to keep in mind when buying a beanie for snowboarding are your style preferences and the weather you intend on riding in. To help you out, we've outlined a few of the most important characteristics to consider when buying your hat, but if you're looking for some added information, check out Ski's guide on How To Buy Your Snowboarding And Skiing Hat and The Clymb's advice on Buying A Beanie as well.
DESIGN
Is the hat long or short? Does it roll over itself, or not? When buying a beanie, the first aspect to consider is whether or not the hat suits your needs; does it fit comfortably on your head, and will it fit under a helmet if you need it to?. If you want to wear your beanie under your helmet for extra warmth and safety, you'll probably want a thinner sized beanie. If you're just looking for a hat to wear out on the town, a thicker beanie is probably best.
FABRIC
What is the hat made out of? Though there are many different materials that hats are made of, you'll mainly see acrylic, wool and spandex. Acrylic is a great snow-shedding material. It's a bit more loose-fitting than the others, so it's a great material to have for while riding. Wool, on the other hand, will soak up rain and snow a bit more than Acrylic, so it's best worn for casual purposes when you can escape into a store if it rains. If you're thinking about strictly using your hat for exercise then spandex is probably your best bet as these are often the thinnest and most secure hats — picture a skull-cap.
COST
Hats don't vary much on their cost. Only a few bucks here and there. The only thing to note is that a cheaper hat is more likely to fall apart pretty quickly and probably won't stand up to serious weather if you're thinking about wearing it out on the slopes.
FEATURES EXPLAINED
VISOR OR BRIM
The visor or brim is a short ledge that sticks out from your beanie over your eyes to prevent snow or rain from falling in your face.
READ MORE
For more of our top snowboarding gear recommendations, check out these popular buyer's guides: