Updated on January 11, 2022
Perhaps you've had your first snowboard for awhile now, and you like it a lot. Maybe you even love it. But for some reason, you're not quite moving as fast as you once used too. Your board seems to be sticking to the snow. Dragging you back as your body lurches forward. Your first thought may be to buy a new board, especially if you've had yours for awhile. But rest assured, the best snowboard wax can fix your problem in an instant.
When you're looking for quality snowboard wax, you'll stumble upon more options than you can imagine. Different varieties. Different temperatures. Even different applications. It can be a lot to take in, so we've broken it down for you in a simple, easy to read way. Take a look through our list of the best snowboard wax out there to find which one is best for you.
For more of our top snowboarding gear recommendations, check out the Best Snowboard Bags.
Quick Answer

-

The Best Snowboard Wax
Swix F4 Universal Easy Glide
Comparison Table

-

Best Snowboard Wax

For the best experience turn your device horizontally
Reviews

-

The Best Wax for Snowboards
Maxiglide Quick Wax
Specs
Type

:

Rub-On

Temperature

:

Average
Features
Rub-On Application
Made From Natural Oils
Works In Wet Snow Too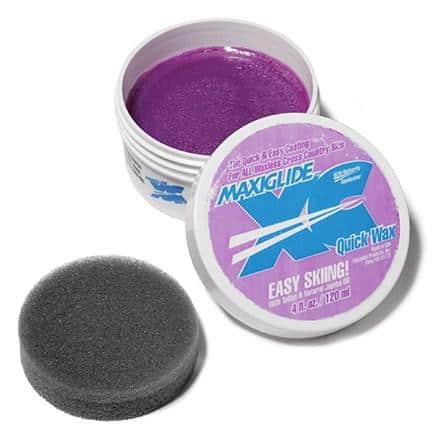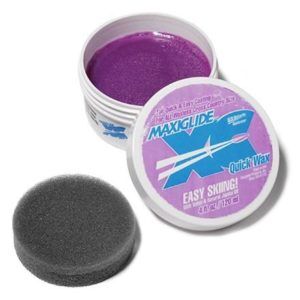 BEST FOR: BEGINNER RIDERS
If it's your first time buying wax and you really aren't looking for anything special, or to exceed your budget, then Maxiglide's QUick Wax is a solid option. Built to sustain all temperatures, this wax, much like other rub-ons, is applied with an included sponge. Buff it quickly, and then you're good to go.
Note that one application lasts only one day. So if you're looking for a longer-lasting wax, check through the other options on the list. This wax, however, will show beginners just how much wax can help.
North Speed Brick
BEST FOR: TRAINING
As a popular option on the market, the North Speed Brick Wax is a solid bar of wax that won't let you down. Iron-on and built for cold weather, this wax will please any boarder or skier looking for a beginner-level training wax. Sold in a size that will last you more than 20 applications, this comes in a warm weather version as well.
Toko All-in-One
Specs
Type

:

Iron-on

Temperature

:

All Temps
Features
All Temperature Wax
Great Training Was
Iron-On Application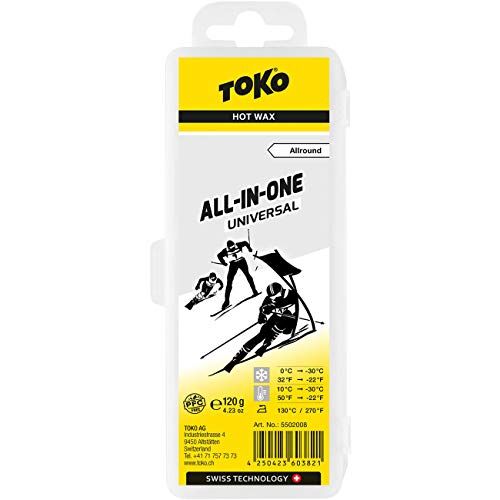 BEST FOR: ALL BEGINNING RIDERS
If you're looking for your first wax ever, then the Toko All-in-one wax is a great option for you. With the ability to function in any temperature, this wax will function better than most wherever you take it. And with an iron-on application, it will stay sealed to your board for much longer than a spray-on wax.
Ideally, this wax is great for those seeking better performance, but not supreme. It is not a racing wax, which is to say racers shouldn't buy this for their marquee runs, but it is a quality training wax and will do the trick for both a training competitor or the average all-mountain rider.
ZUMwax Rub On
Specs
Type

:

Rub-On

Temperature

:

All Temps
Features
Rubs-On For Convenience
Green Color So You Know It's Applied
Fast Wax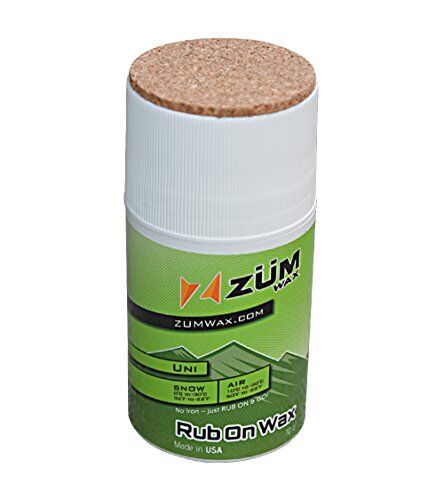 BEST FOR: RIDERS WITHOUT AN IRON
If ironing-on your wax either isn't for you or takes too much time to carry out, ZUMWax is here to solve your problem. Their Rub On wax suits riders is most any temperature and is applied with a simple two step process. Rub it on and then buff it into your board with the attached cork. This, conveniently enough, you could even do on the chairlift if you wanted. All and all, the Zumax Rub On Wax is a great option for riders looking to travel fast without spending too much time on prep. Just know, you may have to apply coats more often than normal.
Swix Biodegradable
BEST FOR: RACERS
For those of you out there looking to go as fast as possible, the new Swix biodegradable wax will give you those added MPH's. Marketed as racing wax and built to perform, the Swix biodegradable wax is an iron-wax that works best from 14 degrees to 36 degrees F. For those seeking alternative temperatures, Swix offers the same product in both warmer and colder versions. Read through their options online and find out which one best suits your needs.
Demon Hyper X
Specs
Type

:

Iron-On

Temperature

:

All Temps
Features
Premium Blend Of Products
Universal Temperature Use
Large Block Of Wax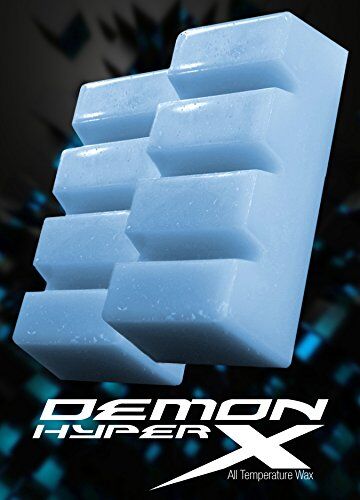 BEST FOR: EXPERIENCED RIDERS
The Demon Hyper X Wax checks all the boxes of a reliable, fast-working wax and then some. Sold in a large, 1lb. block to ensure that you have more than enough for any expedition, the Demon Hyper X Wax is a strong, iron-on wax that will last longer and move you faster down the mountain than its competitors. The only thing to note with this model is that it may take a bit more experience to apply than other waxes. But if you're not afraid of learning, we highly recommend the Demon Hyper X Wax for all riders.
Swix F4 Universal Easy Glide
Specs
Type

:

Rub-On

Temperature

:

All Temps
Features
Easy Application
Wide And Stiff Applicator
Felt Polisher
BEST FOR: FAST LEARNERS AND BEGINNERS
Perhaps all you are looking for is that added little something. A bit of a boost to blow by your friends on the mountain. If that's the case, then the F4 Universal Easy Glide Wax is your best bet. With an all-in-one model, you can take off the lid, dress up your board or skis and then easily smooth it out with an included foam applicator and felt polisher. It's an extremely easy product to use and even if you're just out for a few runs, this wax will provide you with that extra boost of speed for a smoother ride down the mountain.
THINGS TO CONSIDER WHEN BUYING SNOWBOARD WAX
As opposed to a helmet or pants, snowboard wax can be a pretty complicated purchase, especially when you're a beginner. With so many different variations in application types and functioning temperatures, there are a few basics you should understand before buying your wax. Below we've listed out a few key points to consider, but if you want, check out what others have to say on choosing the best snowboard wax for you.
TEMPERATURE
First and foremost, check, double check, and then probably triple check the wax's applied temperatures. NOT ALL WAXES WORK IN ALL TEMPERATURES. So, before buying your wax, make sure you know which is which. Most companies offer their products in several different versions. Some offer only one. In any case, if you're a boarder, you're going to want a colder wax. And if you're a beginner who might want to use the wax for surfing as well, an all-temp wax may be better for you.
APPLICATION
Secondly, how do you apply the wax to your board? Do you iron it on, spray it on, rub it on? Each method has it's benefits and faults. Ironing will glue the wax to your board longer, but it takes a long time to apply. Spray-wax is the quickest, by far, but it may only last a few turns and won't fix any holes in your board. Lastly, rub-on wax fits somewhere in between. It's easy to apply and in most cases, will last you a solid day, but after that, you're looking at another application for every time you want added speed.
YOUR INTENTIONS
Are you a racer? Do you like backcountry? Or are you simply looking for a smoother ride down the mountain? Gauge your interest and base the wax you choose off your preferences. Don't buy racing wax if you're a beginner. Probably stay away from a spray unless you intend on heading out into the back-country. And consider rub-on wax over iron-wax if you think you might only use it once.
COST
Cost is the last thing to consider. Though there are a few waxes out there that cost nearly $100, most are cheap and vary little in price. Take into consideration the prior three qualities over price.
FEATURES EXPLAINED
IRON-ON
Quite literally, you need a hot iron to apply this type of wax to your board. This is a long process and may also require added tools to create a perfect layer of wax for your ride.
SPRAY-ON
Spray-on wax is exactly what it sounds like. Pop the top and spray it on. You may need a felt cloth to smooth it out, but there's not much more to it than that.
RUB-ON
Rub-on requires a thick layer of wax to be rubbed on and then, in most cases, the buffing of that wax. This tool is usually included in the product, but double-check to make sure.
READ MORE
For more of our top snowboarding gear recommendations, check out these popular buyer's guides: