Updated on October 1, 2020
When you're trying to send your sport climbing project, you need to be able to trust your feet, and in order to do that, you need shoes that support you. With so many options to choose from, it can be overwhelming to know what will work best to keep you on the wall. Whether you want to edge on tiny footholds or power through steep overhangs, here at The Adventure Junkies, we will help you find the best sport climbing shoes for you.
For more of our top climbing footwear recommendations, check out the Best Climbing Shoes.
Quick Answer

-

The Best Sport Climbing Shoes
Comparison Table

-

Best Sport Climbing Shoes

For the best experience turn your device horizontally
Reviews

-

The Best Shoes for Sport Climbing
La Sportiva Kataki
View Women's Version
Specs
Closure

:

Lace-up

Upper

:

Suede Leather / Microfiber

Downturn

:

Aggressive
Features
Stiff Rubber That is Durable and Supportive
Tight Heel Cups Helps for Powerful Heel Hooks
Special Lacing System to Provide a Precise Fit
BEST FOR: ALL-AROUND
A star performer on a variety of climbing terrain, the La Sportiva Katakis are an excellent all-around shoe. The toe box is narrow to help you place your foot with precision on small holds, and the stiff, sticky rubber combined with an aggressive downturn provides power when you need it on steep climbs. La Sportiva's S-Heel design snugly fits your heel to keep it in place, especially when you're heel hooking.
Thanks to the leather uppers, the Katakis will stretch a bit as you break them in, so make sure they fit a little tight when you first put them on. The front and rear laces can be tightened separately to give you better control of the fit.
La Sportiva Solution
View Women's Version
Specs
Closure

:

Velcro Straps

Upper

:

Leather / Synthetic Leather

Downturn

:

Aggressive
Features
Special Closure System to Adjust to Your Unique Foot
Asymmetrical Downturned Toe Provides Power with Precision
Heel Cups are 3D Molded to Keep Your Heel From Slipping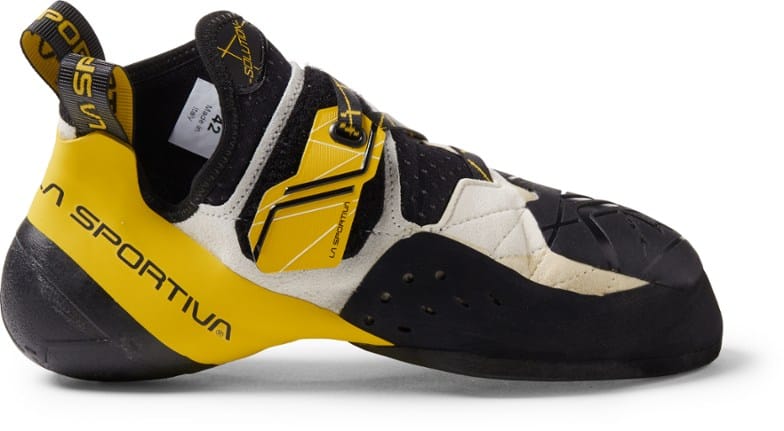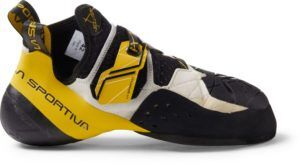 BEST FOR: POWER
The La Sportiva Solutions are the shoes you need to master your powerful project. The Solutions are very aggressively downturned to help you push through overhangs and stand securely on small holds. With stiff toe rubber and a softer midsole, you are in control whenever you place your feet, and you can truly trust that your shoes will stick.
The extreme downturn of the Solutions mean they're not the most comfortable shoe, but they were created to conform your foot as closely as possible. A trademarked Lock Harness closure pulls the bottom of the shoe up to meet the top to secure your foot in place, and the velcro system is very easy to adjust.
Scarpa Vapor V
View Women's Version
Specs
Closure

:

Velcro Straps

Upper

:

Microsuede

Downturn

:

Moderate
Features
Stretchy and Soft Microsuede Upper
Padded Mesh Tongue Keeps Your Feet Cool and Comfortable
Rubber Toe Patch Helps with Toe Hooking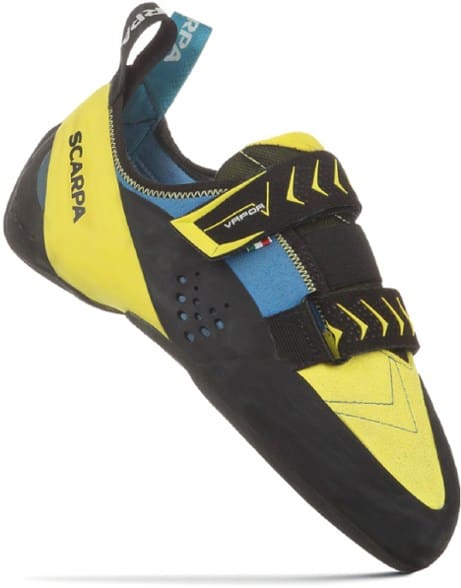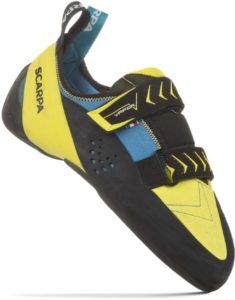 BEST FOR: ALL-DAY COMFORT
The Scarpa Vapor V are a performance shoe that you can comfortably wear all day, thanks to a moderate downturn and a super soft microsuede upper. A padded mesh tongue adds to the comfort factor, helping your feet breathe to keep them cool and dry.
But the Vapor V's don't skimp on performance with a specially designed rand that pulls your toes back towards the heel, so they don't get squished in the front. Along with the Vibram XS Edge rubber, this helps you use your toes with precision on whatever foothold the terrain demands, and the rubber toe patch makes your toe hooks feel secure.
La Sportiva Genius
Specs
Closure

:

Lace-up

Upper

:

Suede

Downturn

:

Aggressive
Features
Proprietary "No-Edge" Technology Makes It Possible to Stand on Virtually Any Hold
Super Sticky Rubber Keeps You On Even The Smallest Toeholds
Midsole That Maintains the Downturned Shape for the Life of the Shoe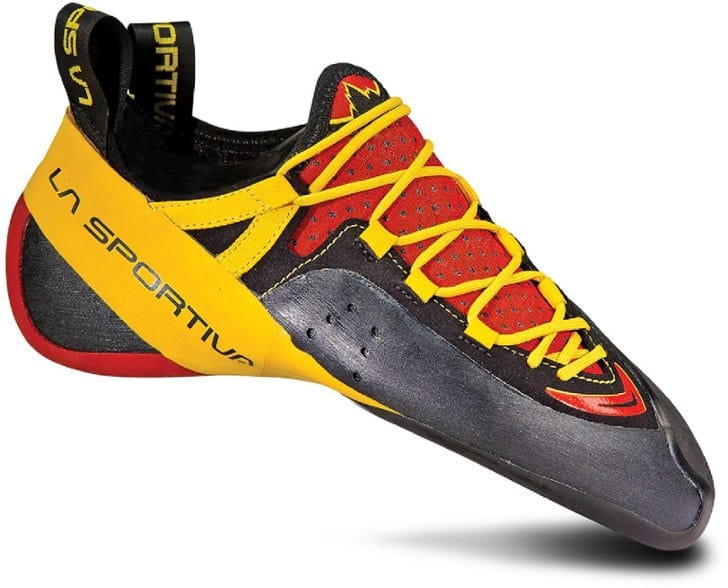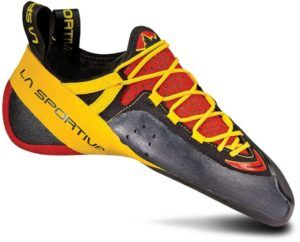 BEST FOR: ADVANCED PERFORMANCE
When you're ready to redpoint your sport climbing project, that's when you want to step up to the high-performance La Sportiva Genius. The secret weapon of the Genius is the trademarked No-Edge design of the rubber, which molds to the terrain and sticks to holds that you didn't even know were there. Although it takes some getting used to, this technology really does improve your footwork – even if your technique doesn't actually improve.
The Genius are designed to fit your feet well right out of the box with a minimal break-in period, and a padded mesh tongue contributes to comfort.
evolv Shaman
View Women's Version
Specs
Closure

:

Velcro Straps

Upper

:

Synthetic Suede

Downturn

:

Aggressive
Features
Spacious Toe Box to Keep Your Feet Pain-Free
Super Durable Due to Extra Rubber on High Wear Zones
Front Strap Relocated Out of the Way for Toe Hooks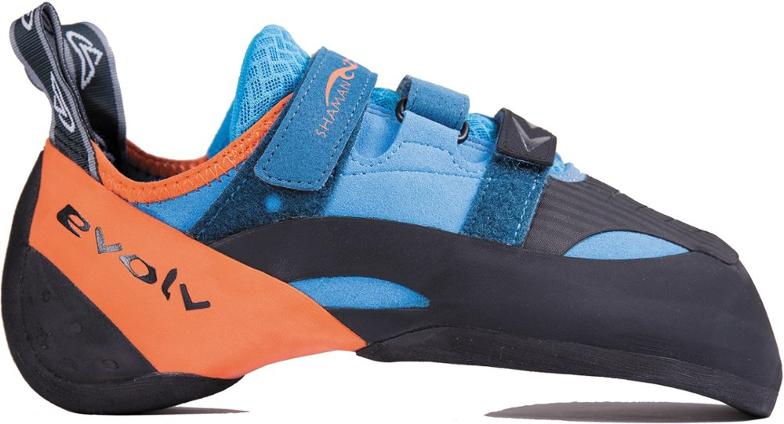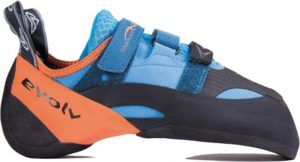 BEST FOR: STEEP CLIMBS
If you love overhangs, the Evolv Shaman (or the low-volume version, the Shakra) should be your go-to. Aggressively downturned to send you through the steepest routes, the Shamans concentrate power in the toes with a unique "love bump" to reduce dead space. The TRAX rubber is both sticky and sensitive so you feel secure wherever you're stepping, though the Shamans don't excel at edging and probably aren't the best choice for smearing.
They are quite durable though, featuring thicker rubber in areas of higher wear, with thinner rubber in the sole for more sensitivity. Plus, the padded tongue keeps you comfortable when you're trying hard.
La Sportiva Miura
View Women's Version
Specs
Closure

:

Lace-up

Upper

:

Leather

Downturn

:

Aggressive
Features
Rubber is Extra Stiff in the Toe for Grip and Durability
Synthetic Lining Reduces Stretch
Quick Lacing System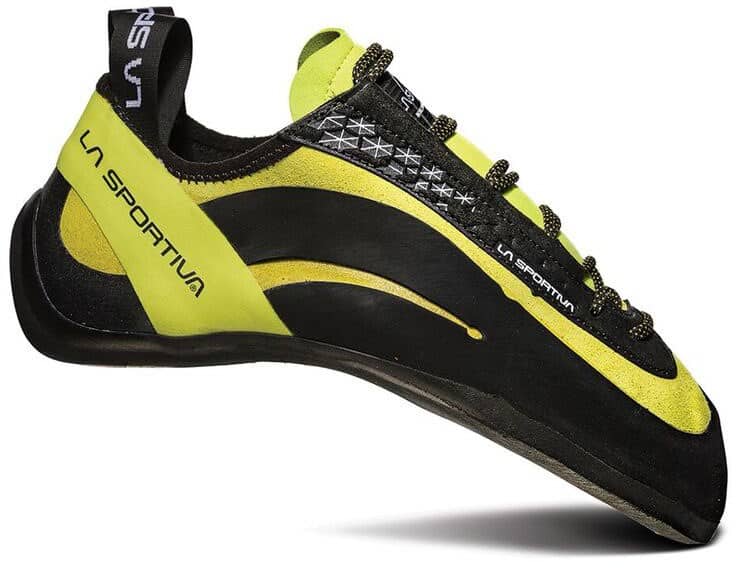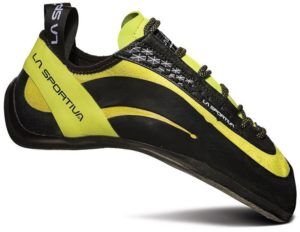 BEST FOR: PRECISION FOOTWORK
The La Sportiva Miuras are the tool of choice for when your toes need to find the smallest holds. With stiff Vibram XS Edge rubber and an aggressive downturn, the Miuras will allow you to use thin edges and perform extremely well on technical face climbs. A flexible midsole also makes it possible to smear on slab (less than vertical rock).
The Miuras are made to fit out of the box with an upper made from 8 panels of leather with a Dentex lining to reduce stretch and wick moisture. The lacing system is designed to get the shoe on and off with speed.
Five Ten Hiangle
View Women's Version
Specs
Closure

:

Elastic & Velcro Strap

Upper

:

Leather

Downturn

:

Aggressive
Features
Unlined Upper Stretches to Conform to Your Foot
Combination Elastic and Velcro Closure Makes It Easy to Slip These Shoes On and Off
Thick Rubber is Both Stiff and Durable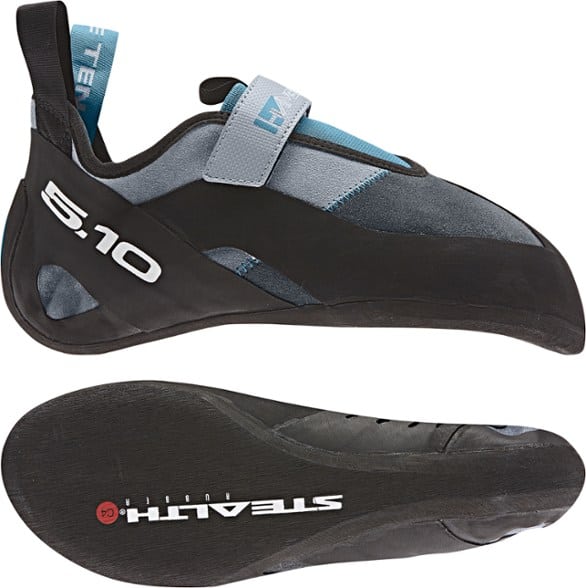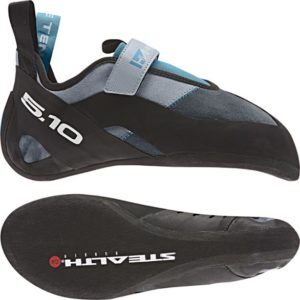 BEST FOR: INTERMEDIATE CLIMBERS
When you're ready to upgrade your shoe from a beginner model to something more aggressive, the Five Ten Hiangles are the ideal fit for intermediate climbers. The thick C4 rubber of the Hiangles is durable, so you won't wear through it too quickly, even if you're still perfecting your footwork. The rubber is also quite sticky, and a stiff midsole gives you great support when you're working on harder overhangs.
Be aware that the Hiangles tend to run small, so be sure to check the size chart before you buy. The upper is unlined leather, so they will break in and stretch about a half a size though.
So iLL Street
View Women's Version
Specs
Closure

:

Velcro Straps

Upper

:

Synthetic Leather

Downturn

:

Moderate
Features
Unique Looking Bi-Color Rubber
Flexible Midsoles Provide Sensitivity
Comfortable Padded Tongue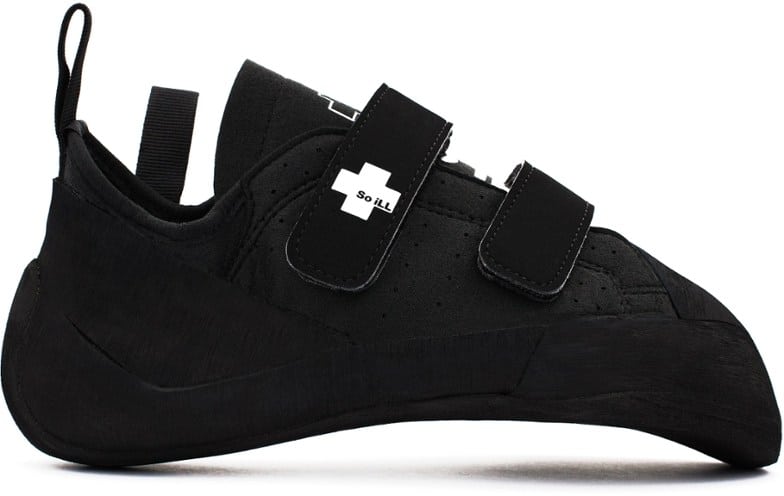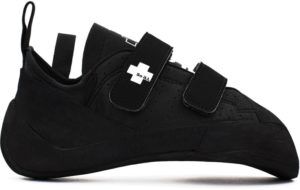 BEST FOR: STYLE
The So iLL Streets stand out right away with their distinctive two-tone dip-dyed rubber, which matches the color of the upper. But the Dark Matter rubber provides more than just looks, as it was originally designed for Navy SEALs, so it is made to stick. With a moderate downturn and a flexible midsole, the Streets offer precision and sensitivity when you're working with tiny footholds.
Soft synthetic uppers and a padded tongue help with comfort, and large velcro straps make the Streets easy to get off and on. They will only stretch minimally, so they should fit well out of the box.
TENAYA Mundaka
Specs
Closure

:

Velcro Straps

Upper

:

Leather Microfiber

Downturn

:

Aggressive
Features
Split Sole Construction Provides Foot Flexibility
Supportive Stiff Toe Box
Ease of Velcro Straps with Precision of Laces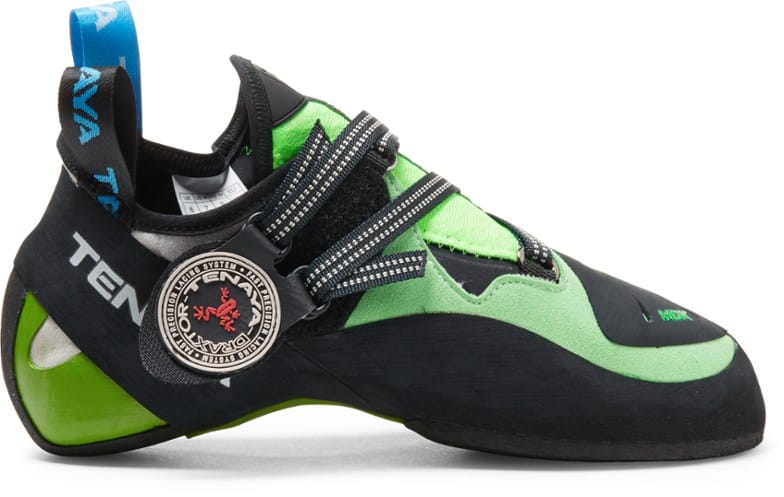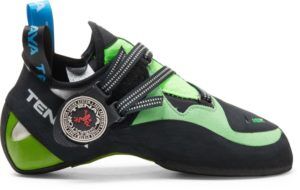 BEST FOR: COMFORTABLE PERFORMANCE
The Tenaya Mundakas manage to combine an extremely aggressive and powerful shoe into a very comfortable package. The split sole construction allows flexibility in your feet, while also providing precision through your toes. The sticky Vibram rubber gives you control and is designed to last.
The Mundakas feature a patented Draxor closure system which is a thin Velcro strap that acts like a lace, so you can easily take them on and off as well as dial in an exact fit. The Mundakas run big, particularly in the heel cup, so check the sizing chart, and maybe try them on in the gym before you buy.
Five Ten Anasazi Pro
View Women's Version
Specs
Closure

:

Velcro Straps

Upper

:

Synthetic

Downturn

:

Moderate
Features
Molded Rubber Toe Patches Provide Friction From All Angles
Stiff Sole Offers Precision on Small Holds
Mesh Tongue is Breathable for Ventilation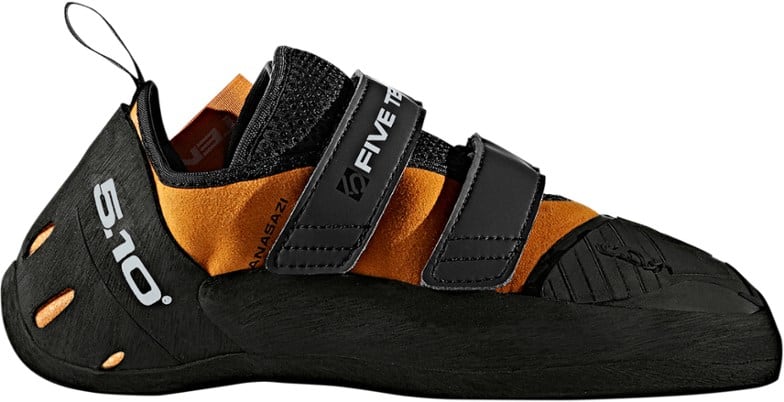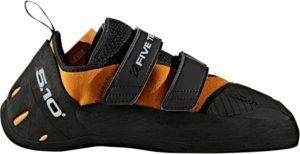 BEST FOR: GYM CLIMBING
The Five Ten Anasazi Pro is your perfect partner when you're training for sport climbing in the gym. It's an aggressive shoe that performs extremely well on plastic and competition style lead climbing because Five Ten designed the shoe in conjunction with pro climber Shauna Coxsey.
The aggressiveness of the Anasazi Pro comes from extra tension through the heel, and the stiff sole is made from Stealth C4 rubber which lets you toe in to tiny footholds. The super sticky Stealth Mi6 rubber wraparound toe patch provides extra power from any angle and gives you extreme control when you're toe hooking.
THINGS TO CONSIDER WHEN BUYING SPORT CLIMBING SHOES
The most important feature in a sport climbing shoe is fit, but what that means depends on your particular feet. Some shoes just fit some feet better than others, so it can be helpful to head to your local gym to try on a selection of shoes and determine what fits you best.
You usually size down from your street shoe size in a climbing shoe, and manufacturers will make recommendations for how small you should go, which really helps when ordering online. REI has a great guide for picking out a climbing shoe and finding the proper fit. To keep your shoes in good condition for a long time, follow these tips from Climbing Magazine.
FIT
Climbing shoes are made to fit quite tightly to give you control on the wall. When you first take them out of the box and put them on, they are probably going to feel too tight, but don't be concerned. All shoes need a little bit of a break in period before the feel right, although some will stretch much more than others.
If the upper is made of synthetic materials and has a lining, it is not going to stretch much, so those shoes should feel more comfortable straight out of the box. Shoes with unlined natural leather uppers can stretch as much as half a size, which means they should be extra snug the very first time you put them on.
COMFORT
Climbing shoes are not going to be the most comfortable pair of shoes you own, but you don't want them to be so painful that you want to cry when you're trying hard. Because the toe and heel are covered in rubber, these areas will not stretch, so make sure the toe box doesn't crunch up your toes too much and the heel doesn't rub against your ankle. In either of those cases, you might just need to find a different shoe that fits your particular foot better.
Another factor in comfort is keeping your feet dry, which can be accomplished with a wicking lining and a breathable mesh tongue, so look for those features if your feet are prone to sweating.
DURABILITY
When you find your perfect sport climbing shoe, you want it to last, so durability is a key factor in choosing a climbing shoe. Thicker rubber is more durable, but can be less sensitive, so you have to find the right balance for you. Some shoes have extra rubber only on high wear areas to mitigate this problem. Also, aggressive shoes should be designed so the downturn lasts for the life of the shoe and doesn't degrade over time, so make sure to check the specs and confirm that is the case.
FEATURES EXPLAINED
CLOSURE
The method for putting the shoe on and taking it off and how you tighten it to fit properly. The main options are lace-up, velcro straps, and slip-on.
UPPER
What the upper part of the shoe is constructed of. Leather or synthetic are the most common, and it can be unlined, lined, or even padded.
OUTSOLE
The bottom part of the shoe, which is made of rubber. The type of rubber varies by brand, and each one has different properties.
LAST
Each shoe is formed around a model, and this is called the last. Shoes that are slip-lasted tend to be more sensitive, while shoes that are board-lasted are often more comfortable.
DOWNTURN
The way the shoe curves down at the toe. The more it curves, the more aggressive the shoe is considered. More aggressive shoes are more technical and powerful, but less aggressive shoes fit your feet more naturally, so they are more comfortable. Beginners should start with a less aggressive shoe.
READ MORE
For more of our top climbing gear recommendations, check out these popular buyer's guides: