Updated on December 28, 2021
Winter hiking is a whole different animal compared to your standard summer hiking adventures. The snow that's always trying to find a way into the top of your boots. The ice that devilishly waits until you're the least prepared before showing itself. Not to mention the frosty temperatures that will chill your feet to the bone in just a few minutes if you're not careful! So what do we need? Winter hiking boots that are warm, provide excellent traction, and keep the snow at bay.
With winter just around the corner, we've combed through all your options and put together this list of the very best winter hiking boots. We have options for everyone from the city all the way to the mountains. So read on, and pick out your new pair of boots to make sure your adventures slide seamlessly into winter!
For more of our top hiking footwear recommendations, check out the Best Hiking Boots.
Quick Answer

-

The Best Winter Hiking Boots
Columbia Bugaboot Plus IV Omni-Heat

Oboz Bridger 10″ Insulated BDry

Vasque Snowblime UltraDry

The North Face Shellista III Mid

Salomon Toundra Pro CS WP

Scarpa Mont Blanc Pro GTX

Merrell Thermo Adventure 6″ Ice+
Comparison Table

-

Best Winter Hiking Boots

For the best experience turn your device horizontally
Reviews

-

The Best Winter Boots for Hiking
Columbia Bugaboot Plus IV Omni-Heat
View Women's Version
Specs
Material

:

Leather And Nylon

Height

:

Shin Height (Men's: 6.7in, Women's: 6.3in)

Insulation

:

200g Using Columbia's Omni-Heat Technology - Rated To -25F

Weight

:

Men's: 24.8oz, Women's: 20.5oz

Type of Waterproofing

:

Seam Sealed Construction

Outsole

:

Michelin Winter Compound
Features
Rugged Durable Build
Very Comfortable For Many Different Activities
Reasonable Mid-Range Price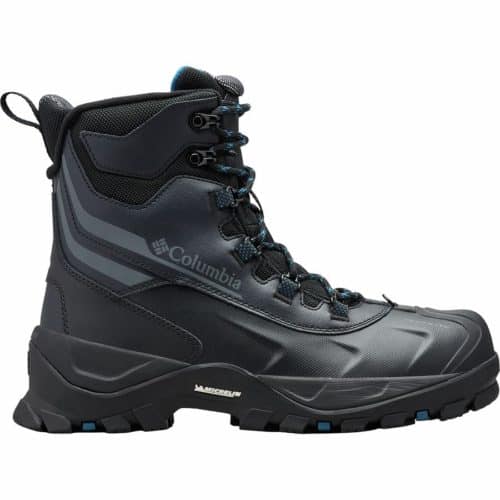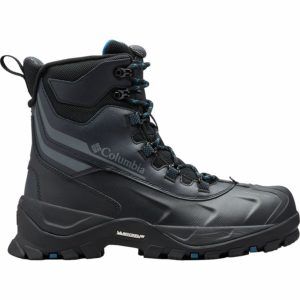 BEST FOR: MULTI-SPORT WINTER ADVENTURING
This gem from Columbia is sure to be your perfect winter footwear from shoveling to snowshoeing. The Bugaboot IV includes all the latest refinements in the field of winter boots, wrapped in a very comfortable and durable package that can roll with those winter punches – or snow balls.
The Bugaboot utilizes Columbia's omni-heat technology to reflect warmth back towards your feet. While perhaps not the toastiest pair of boots we've tried, they are still plenty warm for your general winter frivolity. This boot is furthermore supported by Michelin's winter compound outsole which provides excellent grip on slick surfaces.
The Bugaboot hits all our crucial points that we look for in the best winter hiking boots, making it a worthwhile addition to any excursion. You'll find them to be a solid performer on any chilly or frozen trail you have in mind. But they can easily be expanded to any winter activity that needs a sturdy boot!
Sorel Caribou
View Women's Version
Specs
Material

:

Nubuck Leather

Height

:

Shin Height (Men's: 9.25in, Women's: 8.5in)

Insulation

:

9mm Removable And Washable Felt Liner - Rated To -40F

Weight

:

Approximately 38oz

Type of Waterproofing

:

Waterproof Nubuck And Rubber

Outsole

:

Vulcanized Rubber Sorel Aero-Trac
Features
Very Warm And Comfortable
Aesthetically Pleasing Style
Liner Is Removable For Quick Drying And Can Be Washed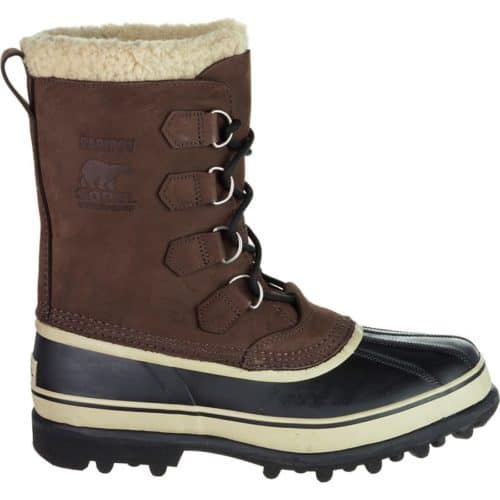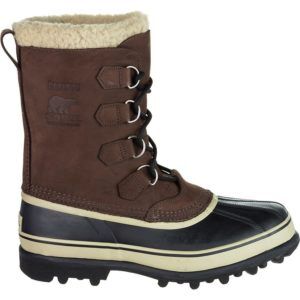 BEST FOR: STYLISH WINTER BOOTS
Nothing cuts quite a dash like the iconic Sorel Caribou. The beautiful leather upper combined with the snow cuff looks right at home on any winter trail. But Sorel didn't focus on looks alone. The Caribou is packed with features that easily earn its place amongst the best winter hiking boots.
The insulation is a 9mm felt liner that is easily removable for drying or washing. This liner provides plenty of warmth for any winter stroll you may have mind. We should emphasize the word stroll, however. These boots are beasts and tip the scales much higher than your standard boot and are therefore best suited for shorter hikes and walks.
The aero-trac rubber outsole provides ample traction as you brave the elements on those hikes. But when you hit deep snow, the increased boot length and snow cuff will keep you protected and warm. All these features combined with the Caribou's classic look made this our favorite stylish winter hiking boots that will look good from snowy trails to city sidewalks.
Oboz Bridger 10″ Insulated BDry
Specs
Material

:

Nubuck Leather

Height

:

Shin Height (Men's: 10.0in, Women's: 9.0in)

Insulation

:

400g 3M Thinsulate

Weight

:

Men's 26.9oz. Women's: 24.3oz

Type of Waterproofing

:

Oboz B-Dry

Outsole

:

Granite Peak Outsole
Features
Very Durable Rubber Outsole
Comfortable And Supportive
Excellent Warmth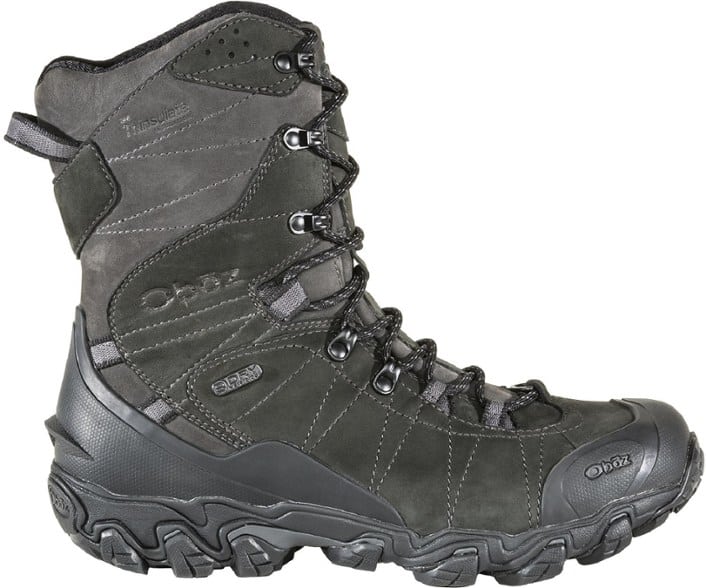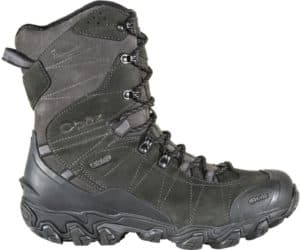 BEST FOR: OVERALL WINTER HIKING
The Oboz Bridger brings a new level of insulation and ruggedness to our best winter hiking boots list. The 400 grams of insulation combined with a heat reflective insole works wonders for keeping your feet nice and warm in all but the most extreme conditions.
The longer boot length – 10" for men and 9" for women – also does a great job of trapping heat and locking out any snow intrusion at the same time. In terms of durability, we've found Oboz to be leading the pack with their tough leather upper and rubber outsole.
All told, we believe the Bridger to be your perfect winter hiking boot for everything except extreme multi-day excursions. All these features come with quite a price tag to match, however. This is certainly amongst the more expensive options on our list. But if you foresee spending a lot of time snowy trails, it may well be worth it.
Vasque Snowblime UltraDry
View Women's Version
Specs
Material

:

1.8mm Waterproof Leather

Height

:

Over-The-Ankle (6 in)

Insulation

:

200g 3M Thinsulate

Weight

:

Men's 24.0oz. Women's: 20.0oz

Type of Waterproofing

:

UltraDry Membrane

Outsole

:

Venture ColdHold
Features
Good Grip In Icy Conditions
Lower Cut For Less Restriction
Excellent Waterproofing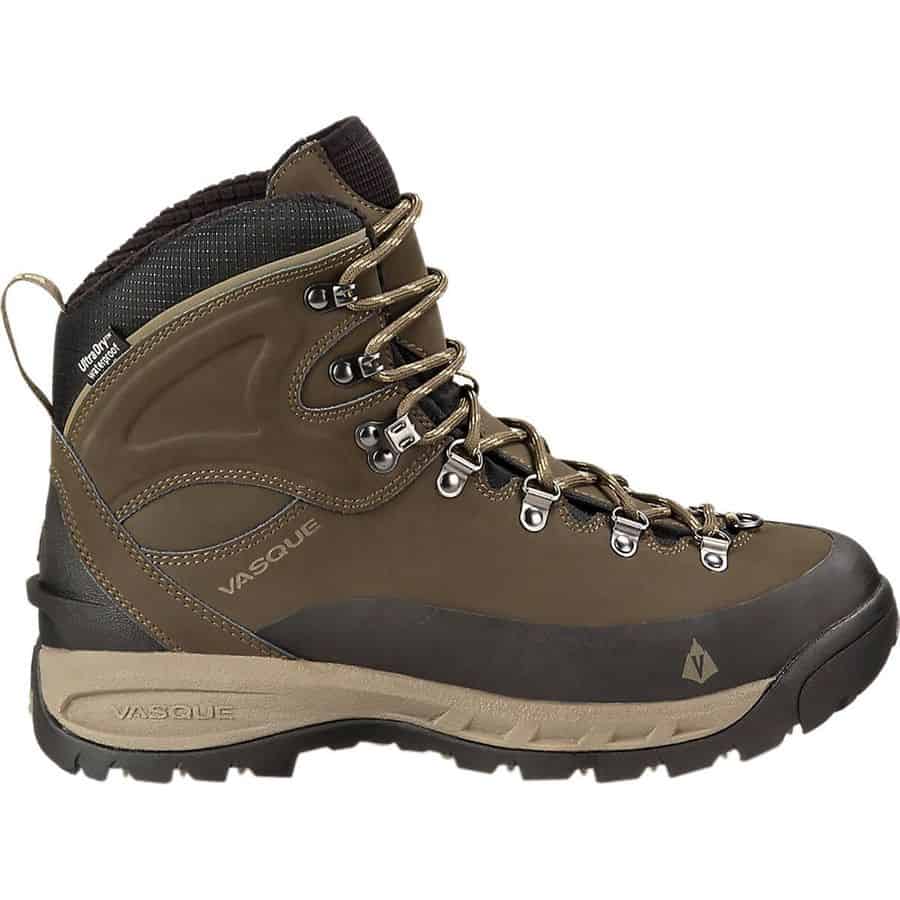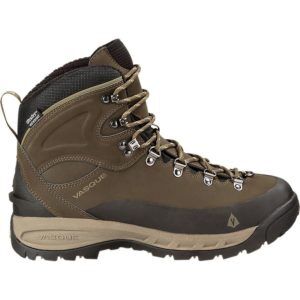 BEST FOR: NON-SNOWY HIKING
Sometimes the chilliest of winter days come without snow, as many of us northern residents are acutely aware. Strapping into a huge snow boot may simply be overkill in these conditions. It's for that reason we have the Snowblime from Vasque. This over-the-ankle boot provides ample insulation for cold conditions while still providing ankle support, but isn't as cumbersome as its taller cousins on the list.
The Snowblime utilizes 200 grams of 3M Thinsulate to retain heat. This insulation is perfect for most conditions, but is less warm than other boots on the list. That winter slush will also be held at bay thanks to the excellent UltraDry membrane that locks out any and all moisture intrusion.
Its greatest threat is deep snow as these boots are lower than most other options. Any snow over the top of the boots will seep in and soak the interior, which is definitely something to be avoided! These boots therefore dominate in icy yet snow-free conditions and will quickly earn their place in your cold-weather lineup.
The North Face Shellista III Mid
Specs
Material

:

Waterproof Leather With Suede Accents

Height

:

Mid-Calf

Insulation

:

200g PrimaLoft

Weight

:

21.0 oz

Type of Waterproofing

:

TPR Shell

Outsole

:

TNF Winter Grip Plus Ice-Pick Temperature Sensitive Lugs
Features
Very Stylish Blend Of Leather And Suede Looks Great Anywhere
Decent Mid-Range Price
Excellent Warmth Retention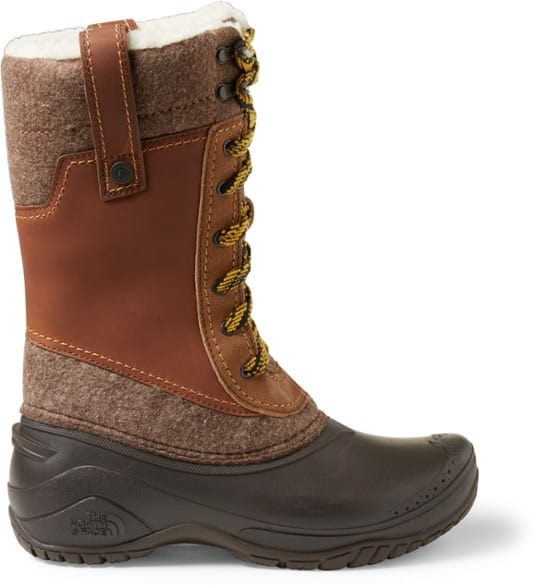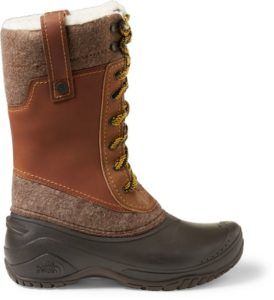 BEST FOR: WOMEN'S WINTER HIKING BOOTS
The Shellista is currently in its third iteration, and each change makes us love it even more. The Shellista III brings together every critical point we look for in a women's boot, and presents it at a very reasonable mid-range price.
The overall design is stylishly functional. The leather and suede upper is entirely waterproof, yet looks at home from the city to the trail. This is complemented by a durable rubber outsole that provides decent traction in most conditions.
The insulation itself also follows the midrange trend. The 200 grams of PrimaLoft is plenty warm for cold days above zero, but not quite warm enough for extended periods in arctic sub-zero temperatures. The Shellista certainly strikes the perfect balance of excellent features for a reasonable price, which has earned the boot its place amongst our best winter hiking boots.
Salomon Toundra Pro CS WP
View Women's Version
Specs
Material

:

Polyurethane Coated Leather

Height

:

Short Shin (~8.0")

Insulation

:

Aerotherm Aerogel Plus Faux Fur Lining - Rated To -40F

Weight

:

Men's: 15.9 oz, Women's:13.8 oz

Type of Waterproofing

:

ClimaSalomon Waterproof (CSWP)

Outsole

:

ContaGrip W
Features
Very Light And Nimble Design
Spacious Enough For Thick Socks
Durable Materials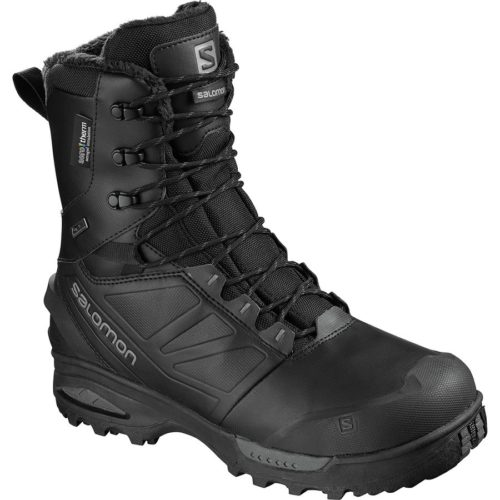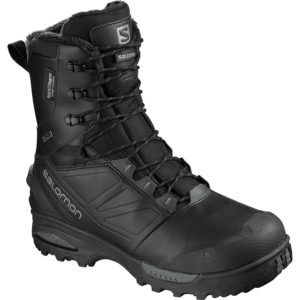 BEST FOR: LIGHTWEIGHT WINTER HIKING
For a rugged and warm winter hiking boot that feels akin to a light trail runner, we have the Toundra from Salomon. These boots weigh in at less than a single pound and are perfect for those longer hikes. But, being so light, these boots must sacrifice insulation, right? Wrong!
Salomon has implemented AeroGel as the primary insulator. This is a thin silica based gel – first implemented by NASA – that's 90% air. As such, it is an excellent insulator and should keep your feet comfortable in temperatures down to -40F!
The rest of the boot follows Salomon's usual penchant for durability and waterproofing. Utilizing their own tried and true waterproofing scheme (CSWP) and a tacky Contragrip sole, these boots are sure to provide traction in all scenarios. It therefore comes as no surprise that the Toundra Pro has a hefty price tag that may make most buyers think twice. We also wish that at such a high price we'd have a few more color options. But in terms of warmth-to-weight, the Toundra is definitely among the best winter hiking boots you can buy.
Kamik Greenbay 4
View Women's Version
Specs
Material

:

Nylon

Height

:

Mid-calf (~14")

Insulation

:

8mm Removable Liner

Weight

:

Men's: 30.5 oz, Women's: 23.0 oz

Type of Waterproofing

:

Waterproof Nylon And Rubber

Outsole

:

Pulse Rubber
Features
Extremely Reasonable Price
Very Warm
Removable Liner Makes Cleaning And Drying Easy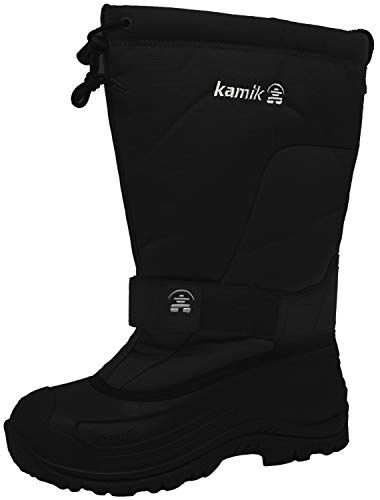 BEST FOR: BUDGET WINTER HIKING
Finding a decent winter hiking boot doesn't need to break the bank. The Kamik Greenbay 4 provides excellent insulation and waterproofing for all your winter escapades, at a refreshingly reasonable price.
The 8mm removable liner is amongst the warmest of all the boots on the list and is sure to keep your feet warm all day long. The waterproofing is also top-notch with a 600D nylon upper and rubber soles. The Greenbay does sacrifice a little comfort and fit for price, however. The fit is typically very loose and uses a simple drawcord and velcro cinch for securing. This makes the boot a little clunky for hiking, but it still gets the job done on shorter excursions.
Overall, we're very impressed by how warm and durable the Greenbay is for the price. The traction is also adequate for most applications. All these factors combine to make this boot an obvious addition to the best winter hiking boots for budget conscience adventurers.
Scarpa Mont Blanc Pro GTX
View Women's Version
Specs
Material

:

3mm Suede

Height

:

Mid-Calf

Insulation

:

Insulated GoreTex

Weight

:

Men's: 32.0 oz, Women's: 27.5 oz

Type of Waterproofing

:

GoreTex

Outsole

:

Vibram Essential AC
Features
Crampon Compatible
Very Burly And Rugged Design Intended For Harsh Environments
Relatively Light For A Mountaineering Boot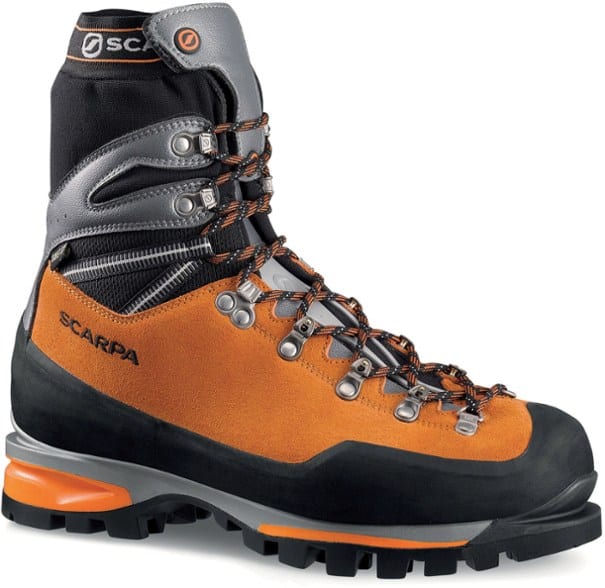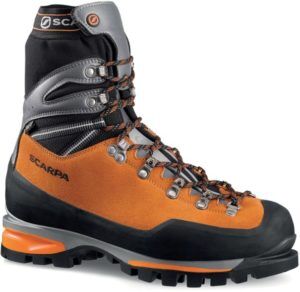 BEST FOR: ALPINE HIKES AND MOUNTAINEERING
Perhaps your idea of winter hiking involves alpine views, glaciers, and altitudes over 10,000ft. If this sounds like you, then a dedicated mountaineering boot is well in order. The Mont Blanc from Scarpa fits this bill perfectly with a warm and durable design that is comparatively light for such a burly boot.
The Mont Blanc relies on GoreTex for both insulation and waterproofing. This provides a very comfortable bunker for your foot that is also reasonably breathable. The outsole is constructed from Vibram rubber, which has proven itself to be a durable and reliable material in boot construction. The Mont Blanc is rated as B3 – meaning it has the stiffest sole in the boot industry and is suitable for all types of alpine hiking, mountaineering, and even ice climbing.
Such a formidable boot comes with an equally formidable price tag, unfortunately. This is by far the most expensive boot on our entire list. But in the realm of mountaineering, it pays to purchase reliable and durable gear. The Mont Blanc easily meets that criteria with its impressive list of features and therefore earns a spot amongst the best winter hiking boots for mountain enthusiasts.
Merrell Thermo Adventure 6″ Ice+
View Women's Version
Specs
Material

:

Leather And Suede

Height

:

Over-The-Ankle (6 in)

Insulation

:

M-Select Warm Polar Fleece

Weight

:

Approximately 22oz

Type of Waterproofing

:

M-Select Dry

Outsole

:

Vibram Arctic Grip
Features
Outsole Is Extremely Grippy And Protects Against Open Circuits And Oil
Comfortable Footbed With Added Arch And Heel Support
Exceptionally Durable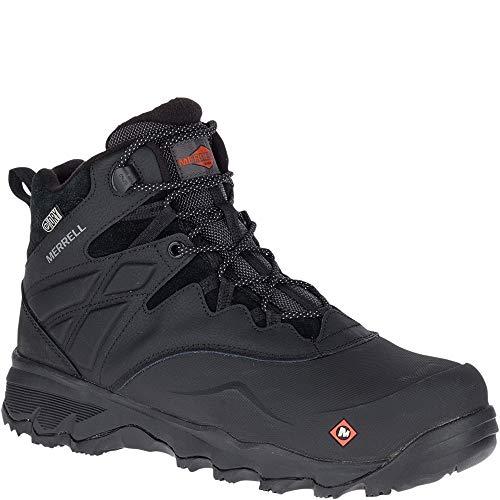 BEST FOR: BEING ON YOUR FEET ALL DAY – HIKING OR WORKING
If your job involves being out in the cold all day, then the first thing to say is: we're very sorry. But secondly, the Thermo Adventure from Merrell may be your perfect boot to transition from work to play without having to change. These boots are designed to be put through the wringer and feature increased cushioning and support along with a bomb-proof design.
The Thermo Adventure uses Merrell's Kinetic Fit system to give your arch and heel extra support and cushion. Perfect for either a long day of hiking or your honest toil. In the cold weather department, we have the M-Select Warm lining composed of polar fleece. This lining is plenty warm for your average winter day on the trail or work-site.
The Vibram Arctic Grip outsole is built to exacting industrial specifications and is therefore incredibly grippy in all icy conditions. It is furthermore resistant to both oil and open circuits, making these boots just as functional for work as they are for hiking. This dual-functionality easily makes the Thermo Adventure the best winter hiking boots for you outdoor workers out there!
THINGS TO CONSIDER BEFORE BUYING WINTER HIKING BOOTS
EXPECTED ACTIVITY
Some boots are designed for style, some for function, and others a blend of the two. So look closely at what you want your winter hiking boots for, and plan accordingly. Are you planning on going for occasional strolls through a nearby park, or heading off into those frosted forests for several hours? Just an icy coating on the ground? Or several feet of snow?
Your answers to these questions should narrow down your list of potential boots significantly. Mostly urban hiking in minimal snow would be the ideal application for shorter, stylish, boots without all the bells and whistles of extreme insulation and bomb-proof designs. But, on the other hand, if you know you'll be tackling the backcountry snow drifts, then those higher and warmer boots may be just what you need.
A quick word on boot height. The shaft height measurement refers to the overall vertical boot height. If you step into snow that's deeper than your boot height, snow will likely find its way into the top of your boot and soak the inside. Therefore make sure you get boots of appropriate height, or consider investing in some gaiters.
SIZING
We cannot overemphasize the importance of properly sized winter hiking boots! Too big and your feet will be sliding every which way, paving the road for blisters. But too tight and you won't be able to tell if your toes are going numb from the cold or pinching.
Therefore, take the time to ensure you're properly sized and fitted for your boots. Here are a couple tips to help you on the way: First, always wear your thick winter hiking socks when getting sized and trying on boots. You'll be amazed by how much this influences your comfort and size choice.
Second, hold off sizing and trying on boots until the afternoon or evening if possible. Your feet swell throughout the day and you therefore want to size them at their largest point.
WEIGHT
Winter boots can be hefty. You'll notice all the items on our list have their individual boot weight listed, and a couple are pushing two pounds for a single boot! Now add hiking to the mix, and we have a recipe for tired legs.
This is less of a concern if you're planning on short park hikes or sticking to cleared trails. But if the snow's deep and the trail long, then you'll start to feel those heavier boots in no time. We therefore recommend that you keep an eye on your perspective boot's weight, and consider if it will be holding you back or not.
FEATURES EXPLAINED
INSULATION
Insulation for winter hiking boots is the butter to bread, the jam to peanut butter, and the hot to chocolate. In other words, it's important! It's literally what transforms a hiking boot into a winter hiking boot, and keeps your feet warm in those chilly conditions.
The exact amount and type of insulation varies greatly from boot to boot. Two of the current favorites that you'll encounter are Thinsulate and PrimaLoft. Both are synthetic materials and focus on adding excellent warmth retention without bulk. They are currently used by top manufacturing companies such as Sorel and The North Face, and have a proven track record.
But a second item to consider is weight. Some boots include 200 grams of insulation where others bump it to 400g. Generally speaking, the more insulation, the warmer the boot will be. The only glaring exception to this rule is Salomon, which uses lightweight yet very insulating AeroGel in their products. Eastern Mountain Sports has prepared an excellent list of the most common types of insulation on the market if you're looking for more information.
WATERPROOFING
Equally important to keeping your feet warm is keeping them dry. Any amount of slush or snowmelt reaching your feet will push a hike into misery faster than Frosty sliding down a black diamond.
Just like insulation, however, most manufacturers employ their own proprietary waterproofing materials or membranes. These are generally sandwiched between the outer and inner layers of your boots and work in tandem with treated outer materials to prevent water intrusion.
These exterior material treatments, however, often need a little care to make sure water doesn't soak in. REI has produced an excellent guide to waterproofing hiking boots for just this reason.
OUTSOLE MATERIAL
Your boot's outsole is the layer of material in direct contact with the ground. Or, in the case of winter hiking, the part of the boot that keeps you from skidding on ice, slush, or thick snow. The best winter hiking boots will therefore put a special effort into designing an outsole that remains grippy in all conditions and surfaces. The lug pattern (the indentations on the sole) should furthermore provide good traction in snow and slush.
The exact material varies throughout the boot industry. Vibram, however, is very common and generally performs very well. Many other materials are proprietary to the manufacturer, but we still recommend conducting a little background research to make sure it's suitable for winter conditions.