Updated on May 18, 2021
Underwater scenery is one of the main reasons for diving, and if you want to take gorgeous photos on your underwater adventures, an underwater strobe is an essential piece of camera gear. Without a strobe the beauty of what you see underwater will be marred by strange color casts and the white dots of particles reflecting. With all sorts of strobe options, it can be hard to choose, so we here at The Adventure Junkies have done the research to help you find the best underwater strobe for you.
For more of our top underwater photography gear recommendations, check out the Best Diving Cameras.
Quick Answer

-

The Best Underwater Strobes
SeaLife Sea Dragon Duo X2
Comparison Table

-

Best Underwater Strobes
Reviews

-

Best Strobes for Underwater Photography
SeaLife Sea Dragon 2500
Specs
Beam Angle

:

Up to 120°

Weight

:

13.1 oz
Features
Wide Beam Angle To Cover Full Shot
Comes With Arm & Tray To Connect To Camera
Durable & Corrosion-Resistant Construction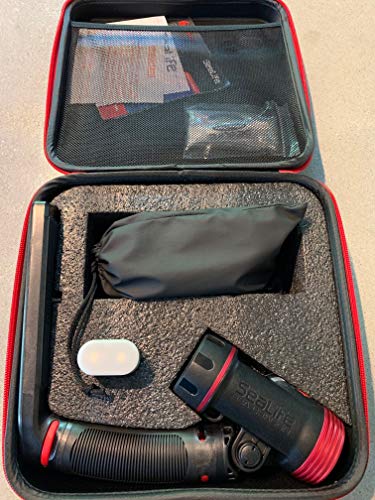 BEST FOR: ALL-AROUND PERFORMANCE
The SeaLife Sea Dragon 2500 is a bright LED light that illuminates your underwater photos and makes them look fantastic. The light changes the inherent blue cast that you find in underwater photography to make the colors look more natural and vibrant. The wide angle beam provides coverage of up to 120 degrees, so it can fully illuminate all the areas of your shot.
The Sea Dragon 2500 comes with a flexible arm to hold and adjust the position and angle of the light, as well as a tray to attach to your camera. Plus, the strobe is designed to be durable and corrosion-resistant so you can continue to use it on all your underwater adventures.
Sea & Sea YS-D2J
Specs
Beam Angle

:

Up to 120°

Weight

:

1 lb
Features
Two Diffusers & Two Red Filters Included
Rear Control Panel Glows For Ease Of Use In Dark Conditions
Audible Confirmation When Ready To Fire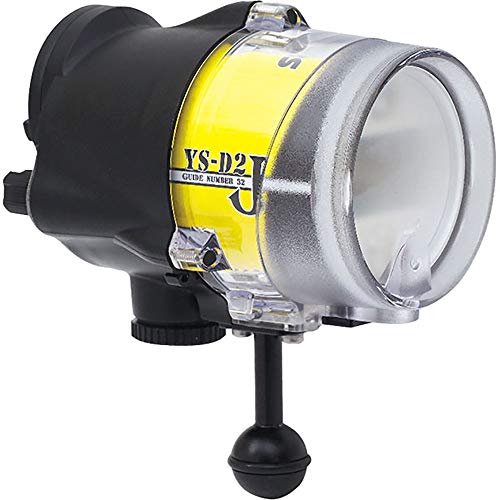 BEST FOR: EXTRA FEATURES
The Sea & Sea YS-D2J is an outstanding underwater strobe that has been designed with a lot of handy features in mind. The control panel on the rear of the strobe glows, making it easy to visually confirm your settings even in a dark environment. The glowing light is even color-coded based on the mode you're in, so you can easily tell at a glance. The strobe also offers audible confirmation when it is ready to fire.
Two diffusers and two red filters are included with the Sea & Sea YS-D2J, which allow you to adjust the coverage and color of the light. However, this strobe does not come with an arm or a tray, so those will have to be purchased separately. Instead, it comes with a ball mount which can be attached to an arm.
Ikelite DS-161
Specs
Beam Angle

:

Up to 90°

Weight

:

2.7 lb
Features
Color Temperature Is Warmer Than Daylight
Reflector Provides Soft, Even Light
Included Rechargeable Battery Pack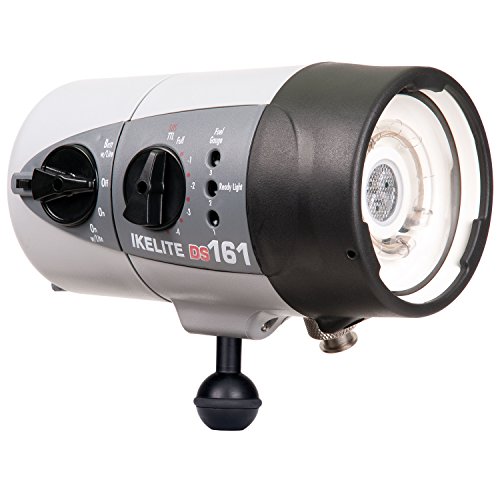 BEST FOR: SHOOTING BOTH STILLS & VIDEO
The Ikelite DS-161 is a powerful underwater strobe that provides a soft, even light thanks to the powder-coated reflector surface the light shines through. The color temperature is very warm, even warmer than daylight, which will counteract the natural blue and green cast you find underwater to provide beautiful color clarity. The strobe can be used as a flash for stills or can stay on continuously as a video light.
A rechargeable lithium-ion battery pack is included with the Ikelite DS-161, and a variety of cables and adaptors are available so this strobe can work with most cameras. It only comes with a ball mount attachment though, so you will have to purchase an arm and tray separately.
Inon D-200
Specs
Beam Angle

:

Up to 110°

Weight

:

1.61 lb
Features
Rotatable Lens Shade Blocks Light Where You Don't Need It
Dome Lens Provides Wide Angle Coverage
Large Control Dials And Phosphorescent Back Panel Make It Easy To Use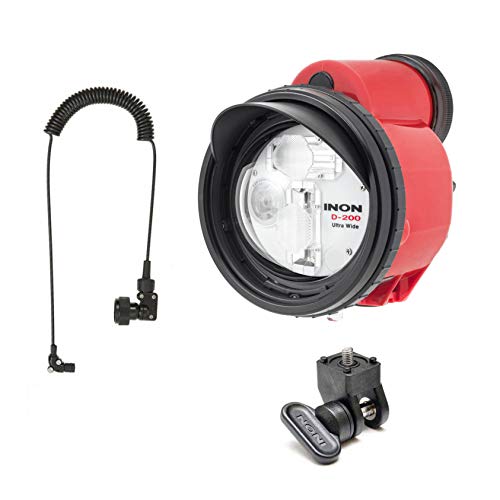 BEST FOR: USE WITH COMPACT CAMERAS
A mid-range underwater strobe that provides a strong light, the Inon D-200 is a good choice when you want a powerful strobe without investing too much, and it works very well with compact cameras. The special domed shape of the lens in front of the light source broadens the beam angle up to 110° without sacrificing the strength of the light, which can happen when you add a standard diffuser.
The Inon D-200 includes a lens shade which can be rotated to prevent light spilling onto parts of the image where you don't want it. Also, large control dials and a phosphorescent back panel that shows up in the dark make this underwater strobe easy to use.
Sea & Sea YS-03
Specs
Beam Angle

:

Up to 100°

Weight

:

15 oz
Features
Arm & Tray Included For Easy Mounting To Camera
Included Diffuser Softens Light
On/Off Power Switch Is The Only Control For Simplicity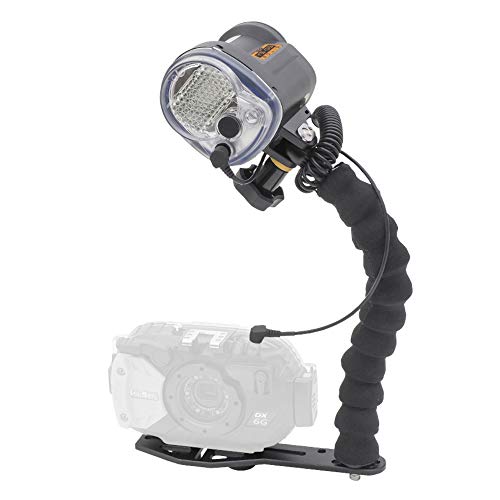 BEST FOR: EASY TO USE
If you're looking for a simple, easy to use underwater strobe as you get started with underwater photography, the Sea & Sea YS-03 is an ideal entry-level option. With the included fiber optic cable, it works automatically with any camera that has a pre-flash and TTL (through the lens) function for flash exposure. This means that you don't need to adjust any settings manually for the YS-03 to work, so the only control on the strobe is an on/off power switch.
The Sea & Sea YS-03 also comes with a tray and flexible, jointed arm to attach the strobe to the camera and position it as needed. An included diffuser softens the light to prevent hard shadows and increase the angle of the beam.
Ikelite DS-161
Specs
Beam Angle

:

Up to 90°

Weight

:

2.87 lb
Features
Built-In Aiming Light Aids In Focusing
Automatically Adjusts Brightness Of Light To Provide Proper Illumination
Extra Warm Color Temperature
BEST FOR: CAMERA COMPATIBILITY
The Ikelite DS-161 is designed to be compatible with a variety of camera systems and underwater housing units, so if you're in search of an underwater strobe to add to your existing camera setup, this is a good choice. The extra warm color temperature of the Ikelite DS-161 cancels out the blue cast you'll find underwater for better color accuracy in your images. It also automatically adjusts the brightness to work with the natural light in the scene.
A built-in aiming light on the Ikelite DS-161 helps you focus your shot and automatically turns off when you take the photo so it doesn't overexpose your image.
Inon S-2000
Specs
Beam Angle

:

Up to 105°

Weight

:

1.2 lb
Features
Wireless Flash Control Capability
Built-in Controller Lets You Manually Adjust Exposure
Included Diffuser Doesn't Change Color Of Light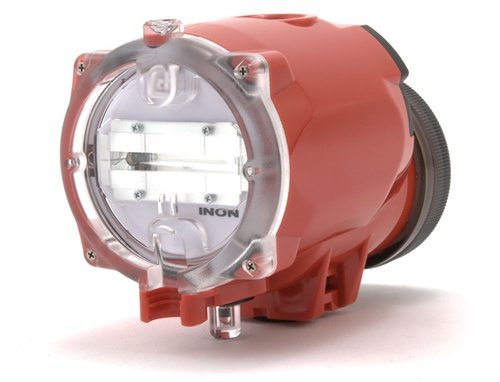 BEST FOR: ULTRA-COMPACT DESIGN
When you want an underwater strobe but also want it to stay out of the way, the Inon S-2000 fits the bill. This strobe is an extremely small unit, so it can work with everything from compact cameras to mirrorless cameras to larger DSLRs. It also has the ability to control the flash wirelessly, so you won't be constrained by any unnecessary cables.
The Inon S-2000 includes a diffuser to widen the beam angle without changing the color temperature of your image. A tray and arm are not included, so you will have to purchase those accessories separately if you want to mount this underwater strobe on your camera.
Sea & Sea YS-01
Specs
Beam Angle

:

Up to 100°

Weight

:

1.3 lb
Features
10-Level Dial On Back Allows Manual Adjustment Of Light
Wide Beam Angle Fully Illuminates The Shot
Integrated Target Light Is Useful For Night Dives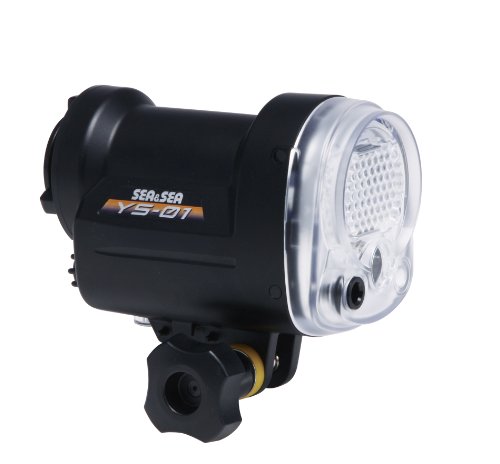 BEST FOR: VERSATILITY
If you shoot a variety of images, from wide angle to super close-up macro, the Sea & Sea YS-01 is an excellent choice of underwater strobe to illuminate all of your shots. With a daylight color temperature to warm up the image and a wide beam angle of up to 100°, this strobe provides the power and control you need for beautiful underwater images.
A dial on the back of the strobe lets you manually adjust the strength of the light through 10 levels, allowing you to fine-tune the perfect amount of light for your photos. The Sea & Sea YS-01 also includes a bright integrated target light which helps facilitate night dives by providing a light source to help you see and focus.
SeaLife Sea Dragon Duo X2
Specs
Beam Angle

:

Up to 80°

Weight

:

2 lb
Features
Two Strobes Provide Twice As Much Light
Large Controls Make It Easy To Manually Adjust Light Output
Mounting Tray And Double Arms Included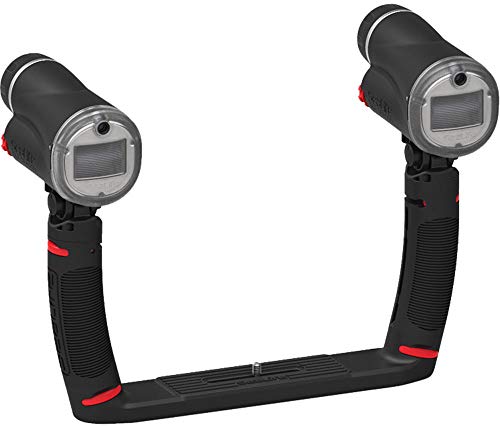 BEST FOR: DUAL STROBES
When you want the power of extra light, the SeaLife Sea Dragon Duo X2 provides two strobes to double your light output and illuminate even the darkest scenes. The two lights come mounted on separate adjustable arms, so you can easily control how the light hits your image. Plus, large control dials on the strobes provide extra fine-tuning of light output, so you get the perfect light without over or under-exposure.
If you're just getting into underwater photography, you probably only need to start with one strobe, but if you want more options and more power, the SeaLife Sea Dragon Duo X2 can take your underwater photography to the next level.
Olympus UFL-3
Specs
Beam Angle

:

Up to 78°

Weight

:

1 lb
Features
Diffuser Is Included To Widen Beam Angle
Daylight Color Temperature Provides Warmth To The Image
Compact & Lightweight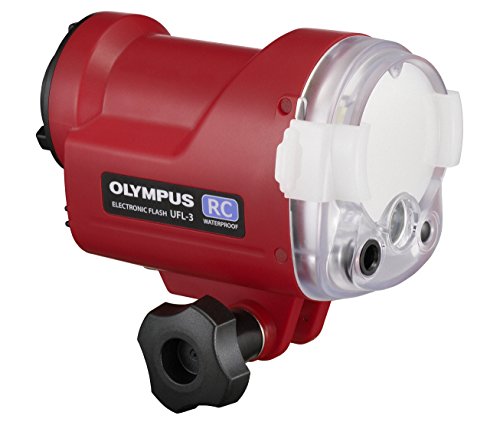 BEST FOR: OLYMPUS CAMERA SYSTEMS
If you have an Olympus camera setup for your underwater photography, the Olympus UFL-3 strobe is an excellent underwater strobe to complement your system. The strobe is extremely compact and lightweight and can be used with all Olympus underwater camera housings that include fiber-optic cable ports. However, you should choose another strobe if you don't have an Olympus camera.
The Olympus UFL-3 has a daylight color temperature which will warm up your shots and eliminate the blue and green color cast common in underwater photography, and an included diffuser widens the angle of the beam to provide more coverage.
THINGS TO CONSIDER WHEN BUYING AN UNDERWATER STROBE
If you want to shoot underwater photography, an underwater strobe is an absolutely essential piece of gear. Because water will absorb certain wavelengths of light, underwater images will have a blue/green cast unless you use a strobe to balance the color temperature. Also, strobes reduce the appearance of backscatter, which are particles in the water reflecting light. These appear as tiny white dots in your photos and detract from image quality, but a strobe will eliminate them to provide a clear shot.
This article from B&H explains the importance of an underwater strobe, and this post goes into further detail about how to light properly for underwater photography.
CAMERA COMPATIBILITY
The most important factor when choosing an underwater strobe is making sure that it will work with your camera. Many strobes are designed to work with a variety of camera models, but not all are. For instance, the Olympus UFL-3 is only made to be used with Olympus cameras. Also, you'll want to check that the strobe is compatible with your underwater camera housing.
BEAM ANGLE
Ideally, your underwater strobe will illuminate the full frame of the image you are capturing, and this is where beam angle comes into play. A wider beam angle provides more light coverage, which is key when you are shooting wider shots. Putting a diffuser on your strobe increases the beam angle, and many strobes come with diffusers for this purpose, but a diffuser also lessens the power of the light.
FEATURES EXPLAINED
ARM 
Strobe arms attach to your underwater camera housing and help to broaden the scope of your light. They are essential for providing enough light to shoot quality underwater photographs.
TRAY
Usually attached to strobe arms, the tray holds your camera secure, almost like an underwater tripod.
COLOR TEMPERATURE
The measure of a light's coolness or warmth and the color cast that provides.
TARGET LIGHT
A separate light to help aim and focus the strobe.
READ MORE
For more of our top underwater photography gear recommendations, check out these popular articles: