Updated on December 28, 2021
Getting into a snowsport can seem overwhelming at first. Afterall, there are a lot of choices to be made about equipment! If you're new to snowsports (and to be honest, even if you're not), the technology is always changing and improving and it can start to get a little confusing. That's where The Adventure Junkies come in!
We want to help you hit the slopes as soon as possible. With winter fast approaching, you need to make your pre-season purchases ASAP. This article is all about demystifying the various features of women's snowboard boots. From various flex styles, to lacing systems, to liners, we've covered it all here so you'll have all the info you need to make a purchase in no time. And oh yeah, we extend our permission to dream of hot cocoa, scenic lift rides, and freshly fallen snow as you browse this list of the best women's snowboard boots.
For more of our top snowboarding gear recommendations, check out the Best Snowboard Boots.
Quick Answer

-

The Best Women's Snowboard Boots
Comparison Table

-

Best Women's Snowboard Boots

For the best experience turn your device horizontally
Reviews

-

The Best Women's Boots for Snowboarding
Burton Limelight Boa
Specs
Flex

:

Medium

Ride Style

:

All-Mountain

Boot Liner

:

Thermoformable

Boot Lacing System

:

Ratcheting Cable Lace

Lining Lace System

:

Quicklace
Features
"Lockdown" Lacing System Provides Supreme Heel And Ankle Support
Utilizes Sleeping Bag-Inspired Technology To Redirect Warmth Back Into Boot
Special Internal Structure Keeps Snow OUT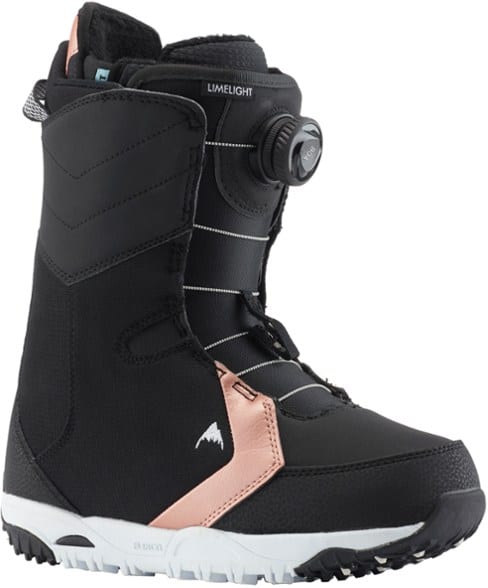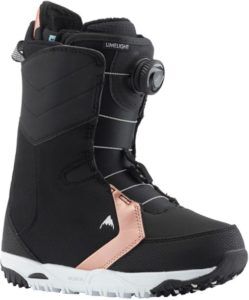 BEST ALL TERRAIN BOOT
Are you a rider who likes to shred all over the mountain? Or, are you a rider-to-be who isn't quite sure what kind of snow you'll like yet? In either case, the Burton Limelight Boa is a great choice for those who may be seeking versatile terrain. This boot features medium flex that will support you through freestyle landings, but also allow you to carve through deep turns on open trails.
It has great heel and ankle support along with a solid lacing system to keep your boots feeling sturdy and strong while you tear it up. It also has special flaps to prevent snow from entering the boot. One thing to beware of with the Burton Limelight Boa is that it does run a little small, so be sure to order at least a half size up!
Thirtytwo TM-2 XLT
Specs
Flex

:

Stiff

Ride Style

:

All-Mountain

Boot Liner

:

Custom Moldable

Boot Lacing System

:

Traditional Lace

Lining Lace System

:

Quicklace
Features
Foam Cushioning Keeps You Comfortable And Absorbs Shock
High-Traction Outsoles Make Off-Board Trekking Easier
Rubber Toe Caps Add To Boot Durability
BEST HEAVY DUTY BOOT
The thirtytwo TM-2 XLT is no joke! This boot is stiff, thick, and durable. If you're in search of an all-mountain boot that is built to take a lot of action and last for a long time, look no further! This boot is complete with sticky outsoles to make walking off-board easy. It has foam shock-absorbing cushioning to maximize your comfort, as well. AND it has a velcro strap to cover the laces and hold it all in, so you can board freely without the fear of anything coming loose. This boot is in a higher price category than some of the others on this list, but it will outlast the others, as well.
Vans Encore OG
Specs
Flex

:

Medium

Ride Style

:

All-Mountain

Boot Liner

:

Thermoformable

Boot Lacing System

:

Ratcheting Cable Lace

Lining Lace System

:

V1 Harness
Features
Lightweight And Designed For Agility On Varying Terrain
Specialized "Flex Zone" Strikes The Perfect Balance Between Ankle Flex Room And Support
Recognizable Vans Sneaker Branding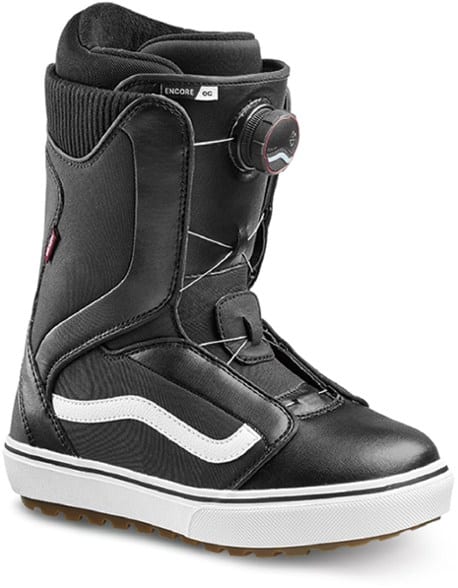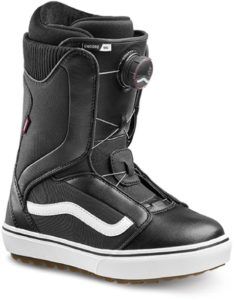 BEST BUDGET BUY
The Vans Encore OG is a great pick if you're ballin' on a budget. It's a lower-priced boot, but it's still high quality. The Encore OG's do not have tons of frills, but if your main goal is to get out on the slope at a low cost, this basic, reliable boot will do the trick. It's lightweight and supportive, easy to fit, and moldable. Whether you're looking to hit the park or tackle wide open hills, this straightforward boot will have you riding in style. And don't worry-we won't tell if you spend your savings on hot cocoa.
K2 Sapera
Specs
Flex

:

Medium

Ride Style

:

All-Mountain

Boot Liner

:

Custom Moldable

Boot Lacing System

:

Ratcheting Cable Lace

Lining Lace System

:

3-Point Harness
Features
Easily Fine-Tune Your Fit With Dial-Adjustment
Special Insulation Blend Is Designed To Provide All-Day Comfort
Outsole Design Allows For Increased Flex And Mobility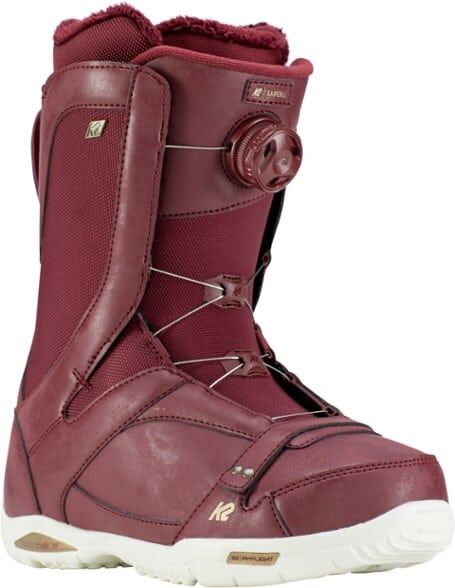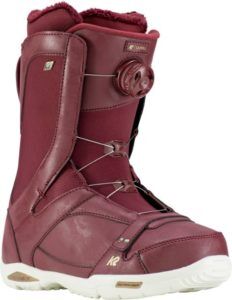 BEST CARVING BOOT
Ziggity Zag! You'll be making all kinds of sweet curves in the Sapera boots from K2. These puppies are built to help you make expert level turns. The upper part of the boot is designed to allow for extended forward flex, and the boot insulation is made up of a unique blend of medium and high density material that offers all-day comfort no matter how hard you go! These boots are also fairly lightweight, especially compared to their turning abilities. They aren't a specialty boot, meaning that they have medium flex and are great for all-mountain ripping, but they're a great choice for an intermediate snowboarder or someone who is looking to eventually reach the intermediate level.
Salomon Ivy Boa STR8JKT
Specs
Flex

:

Medium

Ride Style

:

Freestyle

Boot Liner

:

Custom Moldable

Boot Lacing System

:

Ratcheting Cable Lace

Lining Lace System

:

Unspecified
Features
Inner Heel Design Prevents Heel-Lift
Quick-Drying Inner Liner Keeps Your Feet Cool And Dry
Liner Also Designed For Customizable Fit, Premium Softness, And Extra Warmth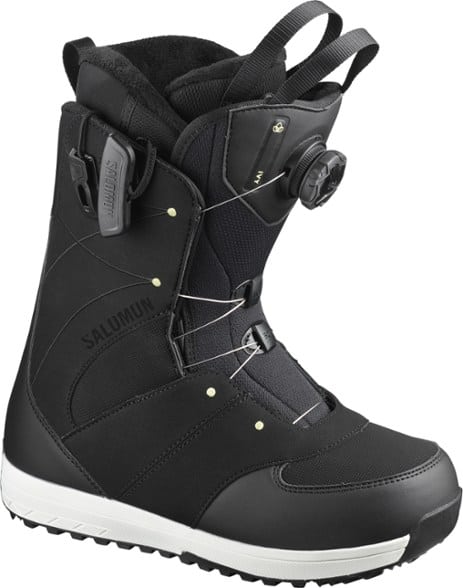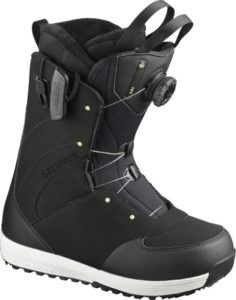 BEST FREESTYLE BOOT
Freestyle it, babe! This boot sports softer medium flex and solid ankle support to up your freestyle game. It has a looser "skate-like" feel to its fit. The shape of this boot also helps keep your heels in place so you don't experience heel lifts that translate to dangerous landings. This boot is also suuuuuper comfy! Extra foam insulation is strategically placed in high-wear areas (read: ankle, shin, heel) to keep you cushioned and bruise-free on long days. The liner is custom moldable, so you can make this boot fit perfectly to your foot. Just be sure you have a good helmet before you go backflipping on us!
Burton Felix Boa
Specs
Flex

:

Medium

Ride Style

:

All-Mountain

Boot Liner

:

Thermoformable

Boot Lacing System

:

Ratcheting Cable Lace

Lining Lace System

:

Quicklace
Features
Easy Adjustment Dial Lets You Customize Fit Quickly And Easily
Ankle Design Promotes Boot Responsiveness
These Boots Come With A Broken-In Feel For Comfort On The Very First Day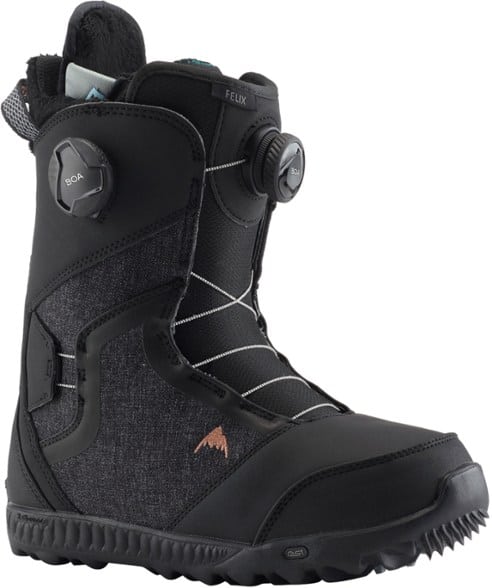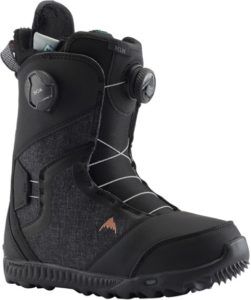 BEST OVERALL
This boot is our top pick for best overall! If your main priority is a high-performing boot, look no further. This boot comes with just about everything you need to take your boarding to the next level – whatever that means for you. It has medium flex and is built to help you tackle all sorts of terrain. It has a super easy-to-use fit adjustment system, and its ankle shape promises responsiveness to your every move.
Plus, these boots come with an already broken-in feel. Oh yeah, and they have a super sleek felt-like look to top it all off and score you some style points on the slopes. You really can't go wrong with this one, but you'll pay the price, too. As long as you're committed to the sport and you're willing to lay down a little extra dough, the Burton Felix Boa's are totally worth your time and money.
K2 Contour
Specs
Flex

:

Stiff

Ride Style

:

All-Mountain

Boot Liner

:

Thermoformable

Boot Lacing System

:

Ratcheting Cable Lace

Lining Lace System

:

Boa
Features
Dial Adjustment System Is Easy To Use Even With Gloves On
Liners Mold To Your Feet For Next Level Comfort And Performance
High-Traction Outsoles Provide Great Off-Board Grip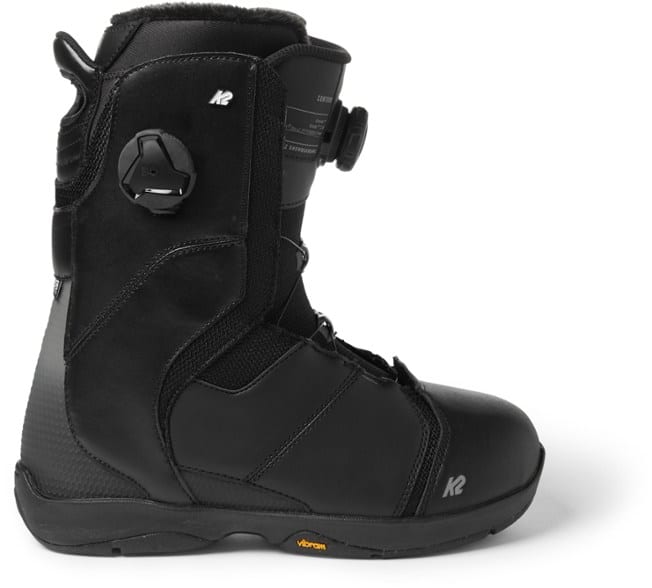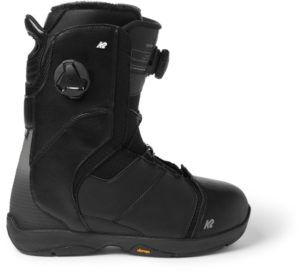 BEST STIFF BOOT
These K2 boots are named Contour for a reason: they're built to carve lines in the snow. They offer stiff flex, which ensures a stable ride even while making hard turns. Their uppers (the part of the boot just above the sole) are made to give you complete control by allowing a bit of flex and mobility, while the footbed itself is made of a special rubbery material known as EVA.
EVA is the industry standard for comfort and cushion. We also love that these boots have a lacing system that is easy to adjust without taking your gloves off, and a lightweight outsole made for grip and traction. If you're looking to sculpt lines like a pro, stop searching now because all you need is a pair of K2 Contours.
Burton Mint Boa
Specs
Flex

:

Soft

Ride Style

:

All-Mountain

Boot Liner

:

Thermoformable

Boot Lacing System

:

Ratcheting Cable Lace

Lining Lace System

:

Quicklace
Features
Broken-In Feel Right From The Start
Soft-Flex Tongues Provide Comfort For Your Shins
Available In A Fun Floral Design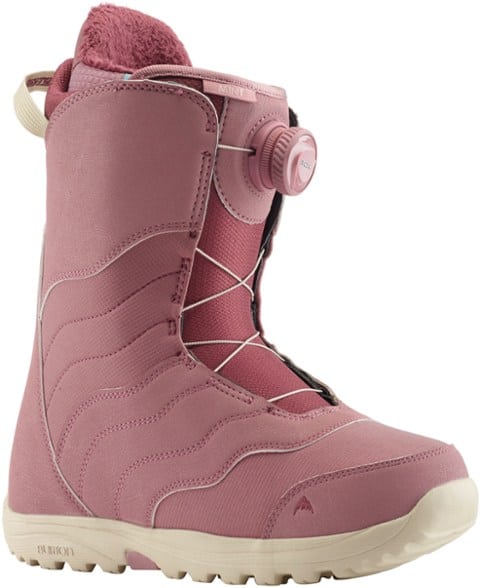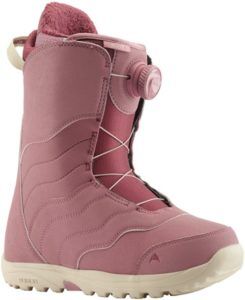 BEST HIT THE HILL NOW BOOT
Winter is coming and there's no time to waste! This boot will have you on the hill tomorrow, and you'll be riding with the comfort that takes a whole season to achieve in some boots. That's because Burton Mint Boa's come with a unique moldable liner, Total Comfort construction, and a women-specific design. This combination is guaranteed to put your feet at ease right away!
These boots also have a soft flex style complete with soft flex tongues, so you won't feel stiff or bruised from them at the end of the day. If you're just getting into snowboarding (or you just like to be really comfortable while you ride) these boots are a great way to hit the slopes without feeling like you're wearing clunky clown shoes on your feet.
K2 Estate
Specs
Flex

:

Medium

Ride Style

:

All-Mountain

Boot Liner

:

Custom Moldable

Boot Lacing System

:

Ratcheting Cable Lace

Lining Lace System

:

Boa System
Features
Automatically Retracting Laces Make Fitting Your Boots A Breeze
Outer Layer Is Built To Add Sturdiness And Durability
High-Tech Liners Redirect Heat Back Into Your Boot For Warmth And Coziness
BEST COMFORT BOOT
From warmth to stability, one thing is for sure when it comes to women's snowboarding boots: you want to feel comfortable! The K2 Estate's are a great pick for that. These boots feature medium flex, but they also have an inner-liner lacing system that allows for space and mobility to maximize comfort while accounting for control.
The liners of this boot also utilize heat-reflection technology to keep your socks and feet warm and dry, and the Boa Coil lacing system is the most convenient lacing system for quick, easy, and on-the-go adjustments. If you don't want to fuss or fiddle with your boots all the time to try to get comfortable, the Estate's are a great pick for you!
THINGS TO CONSIDER WHEN BUYING WOMEN'S SNOWBOARD BOOTS
TERRAIN
Before you can decide what kind of boot you need, you'll need to know what kind of terrain you'll be hitting, since different boot styles are made for different terrain types. There are three main terrain types and we've outlined them below. Once you decide on a terrain type, keep reading to select the boot style that will compliment your choice.
Freestyle
Freestyle riders like to tear up the terrain park. Their focus is on hitting features like jumps, rails, boxes, and other man-made obstacles. Their focus is on getting air and performing tricks rather than reaching high speeds and making deep turns.
Freeride
Freeride boarders do most of their riding in the backcountry where there is lots of big powder to be had, but Freeride trails may also include marked, ungroomed trails. Freeride boarders put an emphasis on speed. This group of skiers is usually characterized by an intermediate, advanced, or even expert-level skill set.
All-Mountain
All-mountain riders are the most common group of riders. Most of the people you see in a lift line are all-mountain riders. All-mountain riders tackle a variety of terrain, but mostly stick to marked groomed and ungroomed trails with a focus on turning and carving. This is not to say you won't ever see them in the park or in the backcountry, but their main hangout is at the resort.
BOOT FLEX
Now that we've covered terrain, let's get into boot flex!
Soft
Soft boots are built for the park rat (freestyle rider). You can think of them like you would a skateboard sneaker: they're a little bit looser and softer and they allow for ankle and foot mobility. A softer boot lets the rider flex and move their own body more easily in order to perform jumps and tricks. Soft boots may be a good choice for some all-mountain riders, as well. If you prefer a more comfortable boot (at the cost of some stability and control), soft boots are a good choice.
Medium
Medium flex boots are a great choice for many riders because they offer a happy medium in terms of comfort and performance. They tend to be more comfortable than stiff boots, but they also provide more control than soft boots. Medium flex boots are a great choice for all-mountain riders. If you're a beginner, they may take a little getting used to, but you'll most likely be glad you chose medium over soft for the extra stability and performance they provide.
Stiff
Stiffer boots provide excellent control and stability. They're a great choice for freeride-style boarders who will be relying on the stiffness of their boot to get them safely down the mountain, even at high speeds. One downside to stiff boots is that they are usually less comfortable than the other flex styles.
Adjustable
Adjustable flex boots have a strap or other feature that allows you to control how your boot behaves. If you plan to tackle a wide range of territory, adjustable flex boots could be a good choice for you.
BOOT LACING
Boot lacing is how you fit your snowboard boots snuggly on your feet for comfort and performance. But not all boots have the same lacing system! In fact, there are three different lacing systems on the market. We've outlined the main features of each below, but check out this article from REI Expert Advice if you would like more info on how to actually put on your boots and lace them properly.
Traditional
Traditional laces tie like the shoelaces of your sneakers would. They're easily replaceable and low-cost, as well. However, they come undone most easily of all the lacing systems and are difficult to retie when you're wearing gloves or mittens.
Quick-Pull
Quick-pull laces work by a pull cord that locks when it tightens. A bonus of this system is that it often has two pull cords – one to adjust foot tightness and one to adjust ankle tightness, allowing you to customize your fit easily. A drawback of this system is that when a quick-pull lace breaks, it often requires an in-shop repair.
Boa
The Boa lacing system incorporates an easily adjustable dial in a manner similar to the style of quick-pull laces. This is probably the easiest-to-adjust system and can be changed while wearing gloves or mittens. Most Boa systems only allow for a single adjustment instead of two-tiered adjustment like many quick pull systems.
BOOT LINERS
You'll definitely want to get a boot with a quality boot liner! The liner of the boot is the part that touches your sock and it is essential for comfort. There are three kinds of liners:
Non-Moldable
The name "non-moldable" is a little misleading, since these liners will eventually mold to your feet, it will just take a long time. Non-moldable liners do not embrace new moldable technology, but they are the least expensive option.
Thermoformable
Thermoformable liners form to the shape of your foot when natural heat and pressure is given off during riding. They usually take about one full day to form. Thermoformable liners tend to be more expensive than non-moldable liners, but less expensive than custom moldable liners.
Custom Moldable
Custom moldable liners are high class. These bad boys must go through a process to mold perfectly to your foot. While you can perform this process at home, it is better to take them to a shop and have the professionals take care of it for you. These are the most expensive type of liner.
NEED MORE ADVICE?
Check out this article for in-depth information on various factors to consider when buying women's snowboard boots (and what it all means).
FEATURES EXPLAINED
CARVING
The act of making turns back and forth on your snowboard to control your speed and make your way down the mountain.
GROOMED VERSUS UNGROOMED TRAILS
Groomed trails are found only at designated ski resorts and ski hills, where staff has used a special machine to give the trails a smooth feel. Ungroomed trails on the other hand, may be found at ski resorts but are also found outside of ski resorts, in the backcountry. Ungroomed trails feature powder snow that has not been altered by man.
POWDER
A term that skiers and riders often use to refer to fresh, untouched snow.
TERRAIN PARK
An area of a ski resort where you can find man-made features like jumps, rails, boxes, and half-pipes.
READ MORE
For more of our top snowboarding gear recommendations, check out these popular buyer's guides: