Updated on February 11, 2021
When you're backpacking, you want your gear to be as light as possible, but you definitely don't want to skimp on your stove. Wood burning backpacking stoves are a great choice to lighten your load since they don't require you to carry fuel. Each wood burning backpacking stove has different features, so it can be tough to determine what you need for your backcountry trips. Here at The Adventure Junkies, we can help you figure out your priorities on the trail and choose the best wood burning backpacking stove for your specific needs.
For more of our top backpacking gear recommendations, check out the Best Backpacking Stoves. 
Quick Answer

-

The Best Wood Burning Backpacking Stoves
BioLite Wood Burning CampStove 2
Comparison Table

-

Best Wood Burning Backpacking Stove
Reviews

-

The Best Wood Burning Stoves for Backpacking
Solo Stove Lite
Specs
Dimensions

:

5.7 x 4.25 in

Weight

:

9 oz
Features
Air Intake Holes at Bottom Allow for Efficient Secondary Combustion
Cooking Ring Packs Into Stove to Take Up Less Space in Your Pack
Ash Pan Improves Airflow & Protects Ground From Scorching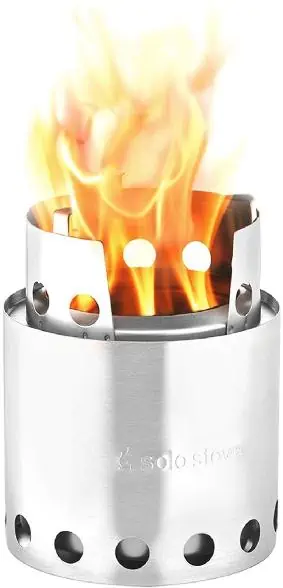 BEST FOR: ALL-AROUND PERFORMANCE
The Solo Lite Stove is a small, lightweight stove that is a perfect cooking companion for backpacking. It has a double-walled design and creates an efficient flame thanks to air intake holes at the bottom which bring hot air up to the top for a secondary combustion. You can boil water with a small amount of wood in about 8-10 mins, and this system also makes for a low-smoke flame.
While it is not the very lightest wood burning backpacking stove, it is small enough to easily pack, and you get the weight savings of not having to bring fuel. It also can easily cook for one or two people.
TOAKS Titanium
Specs
Dimensions

:

4.13 x 8 in

Weight

:

7.9 oz
Features
Burns Efficiently Due to Second & Third Combustion Mechanisms
Three Parts Nest Inside Each Other for Compact Storage
Storage Sack Included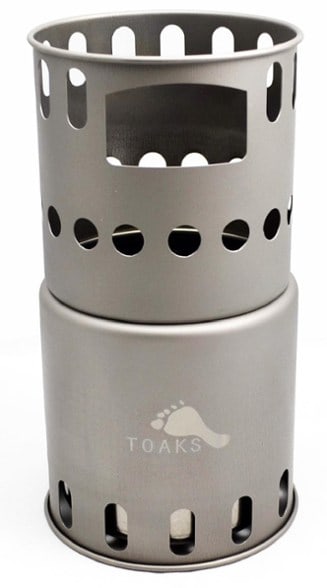 BEST FOR: COMPACT STORAGE
A light and compact wood burning backpacking stove, the Toaks Titanium is an excellent option when space and weight are at a premium in your pack on long trips. This stove is so lightweight because it's constructed from titanium instead of stainless steel. It comes in three parts, which can easily be nested inside each other to take up just a small amount of space in your pack, and a storage sack is included to keep it all together.
Once put together, the Toaks Titanium is a tall stove which can hold a lot of wood at once. Air intake holes provide a second and third combustion reaction as they draw heated air up to the flame, so it burns extremely efficiently.
BioLite Wood Burning CampStove 2
Specs
Dimensions

:

8.25 x 5 x 5 in

Weight

:

2 lbs 1 oz
Features
Generates Electricity to Charge Portable Devices
Internal Fan Creates Flames That Are 95% Smoke-Free
Includes USB Light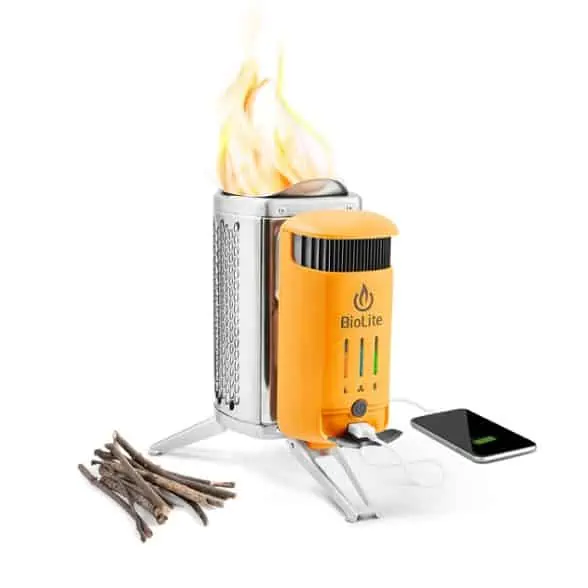 BEST FOR: PROVIDING ELECTRICITY
If charging your portable electronic devices in the backcountry is a priority to you, then the Biolite Wood Burning Campstove 2 should be your pick. As you burn wood in the Campstove, it generates electricity which is stored in the attached battery. You can then use that battery to charge your devices via USB. The fire also powers a fan, which helps control the intensity of flames, and the combustion design means it burns virtually smoke-free.
The charging capabilities of the Biolite Campstove come with a price, both in weight and money. This stove is quite heavy and expensive, but if electricity is important to you, the tradeoff is worth it.
Vargo Titanium Hexagon
Specs
Dimensions

:

5 x 4 in

Weight

:

4.1 oz
Features
Snaps Together for Easy Setup then Folds Flat for Storage
Titanium Construction is Extremely Lightweight
Hinged Door Allows Access to Add Wood & Adjusts Airflow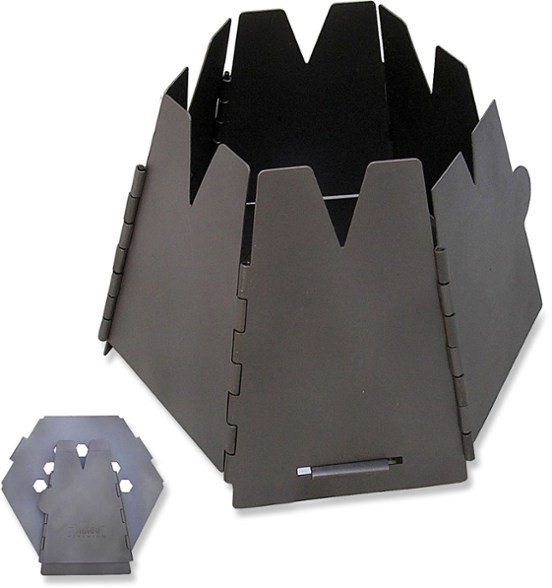 BEST FOR: LIGHTWEIGHT COOKING
If you're going ultralight on your backpacking adventures, the Vargo Titanium Hexagon Backpacking Stove is a wise choice. The minimal titanium construction means it weighs just a few ounces, so you won't notice the weight. It folds down flat to easily store in your pack, then quickly snaps together again when you're ready to cook.
The hexagonal cone shape design forces heat up to efficiently cook, and the stove features a hinged door, which you can use to add wood, as well as adjust airflow to increase or decrease the flame. This stove does require some more tending than other options.
kampMATE Woodflame
Specs
Dimensions

:

7.5 x 6 in

Weight

:

1.1 lbs
Features
Folds Flat & Fits in Case for Compact, Clean Storage
Large Burning Chamber Produces High Output for Efficient Cooking
Made from Sturdy & Durable Stainless Steel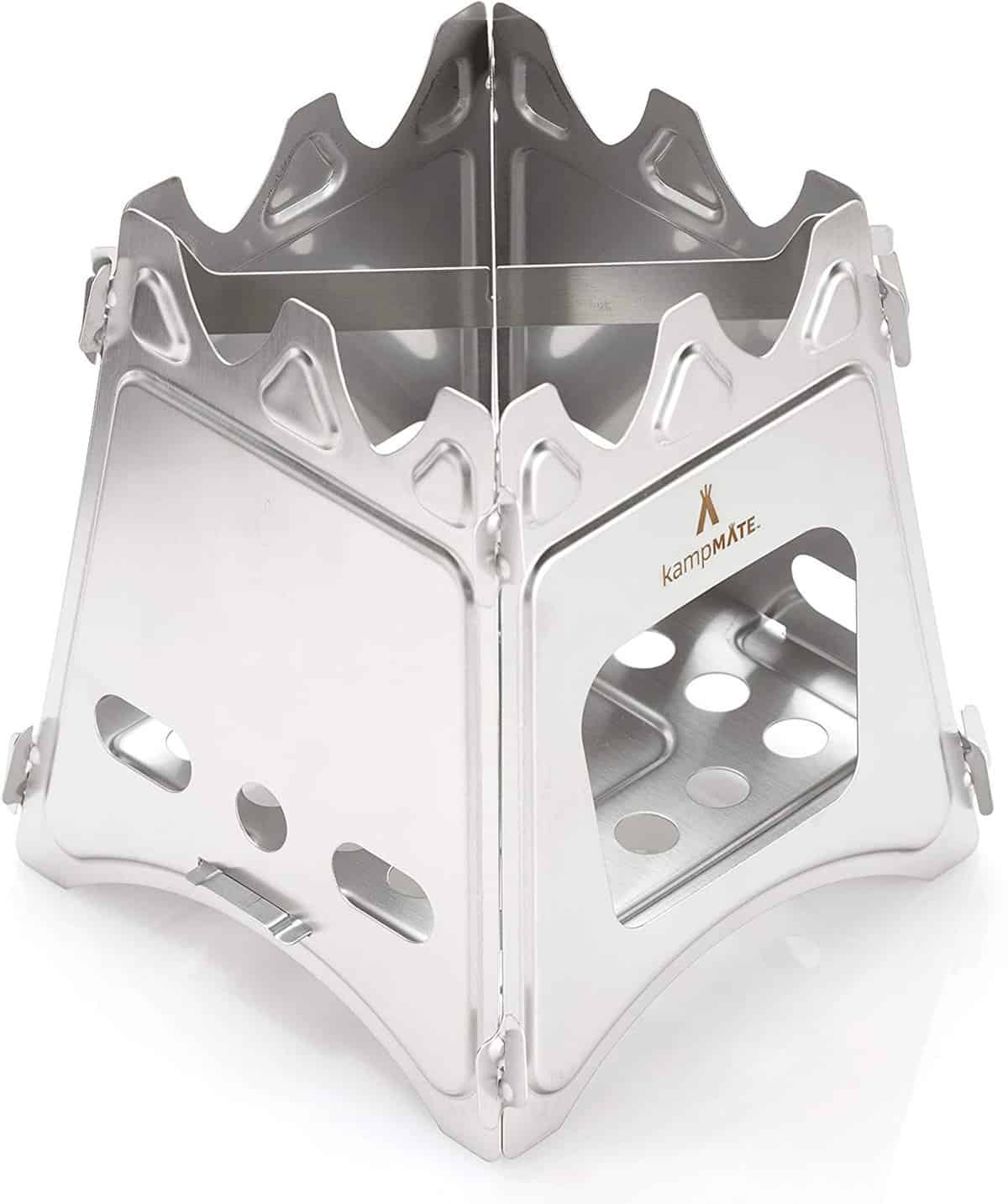 BEST FOR: VALUE
The kampMATE WoodFlame Ultra Lightweight Camping Stove is a simple and sturdy stove that performs well. Crafted from durable stainless steel, it is easy to set up and folds flat for convenient storage. A carrying case is included to protect your pack from soot. Because it's so easy to carry, it makes a great emergency stove to always have on hand.
The kampMATE WoodFlame provides a large burning chamber, so it can cook efficiently for a few people. However, the large size and stainless steel construction does make the kampMATE a little on the heavy side, so if you're counting ounces, you should look for a lighter choice.
THINGS TO CONSIDER WHEN BUYING WOOD BURNING BACKPACKING STOVES
Wood burning backpacking stoves allow you to use the sticks you find on the trail as fuel, so you never have to worry about running out of gas. However, if you're backpacking in a wet climate, be aware that it is going to be much harder to start a fire in your stove with wet wood. Also, wood burning backpacking stoves might not be allowed in some areas with fire bans and higher elevations.
This article from REI breaks down the different kinds of backpacking stoves and explains the benefits of wood burning stoves. Fresh Off the Grid also offers some advice on the best backpacking stove for you based on what kind of meals you plan to cook.
WEIGHT
One of the benefits of a wood burning backpacking stove is that you don't have to carry the weight of fuel, since you'll use what you find on the trail. If your stove itself is also lightweight, that makes it even easier to carry, especially on long trips. If you're going on shorter backpacking trips, weight might be less of an issue, and you can get away with a slightly heavier stove.
PACKABILITY
Space is always at a premium when you're backpacking, so you'll want to choose a stove that collapses down to easily fit in your pack. Some stoves fold completely flat, so they can just slide in while other stoves nest parts inside each other to pack compactly. Take into consideration what will fit best with the rest of the gear in your backpack.
EFFICIENCY
When you're hungry at the end of a long day of hiking (or desperately in need of coffee first thing in the morning), you don't want to watch a pot that never boils. You want to choose a stove that can cook efficiently, ideally without you having to gather a lot of wood. Stoves with air intake holes for secondary combustion work well without a lot of tending from you.
FEATURES EXPLAINED
AIR INTAKE HOLES
Holes that allow air in and draw heated air up to provide the fire with oxygen.
SECONDARY COMBUSTION
When heated oxygen reaches the flames providing extra fuel and reducing smoke.
READ MORE
For more of our top hiking & backpacking gear recommendations, check out these popular articles: