Updated on January 6, 2021
The raging Río Blanco cuts through the jungle creating towering walls covered by lush green rainforest. Our mission is to make our way down the river, through the canyon, by any means necessary.
After camping in Cotopaxi National Park and a week of cycling the rugged backroads of Ecuador, we were ready for a break from the bikes. We also like doing other kinds of adventures apart from the usual cycling, scuba diving, kayaking and hiking. So we were happy to free wheel down to the town of Baños. The town is known as the adventure capital of Ecuador for a good reason, there are a handful of extreme sports to do around the area.
When a local adventure tour company, Geotours heard we would to be in town, they invited us to join a few of their tours. We had gone rock climbing with them they day before and thought we would give canyoning a go.
We had been to a few canyons before like one in Piha, New Zealand and the Somoto Canyon in Nicaragua. In these canyons we swam and jumped off cliffs into pools below but we didn't need any technical equipment or expert guides. This trip would be much different, as we would be rappeling down waterfalls and rock walls.
Tomás, Luis and Victor would be our guides for the day. They would give us safety briefings, set the lines for rappels and make sure everyone makes it through the canyon.
THE SEXY TEAM
From the Geotours office we hopped into a van with our guides and 5 other adventure junkies then drove 10 minutes out of town to Río Blanco. Once there, we stripped down and put on our canyoning gear: a wetsuit, helmet, shoes, and harness.
Tomás insisted we have a group name and decided we would be the "Sexy Team." In a baggy wetsuit and clunky helmet, the last thing I felt was sexy but that's what made it even funnier. It didn't end with the name, whenever you were going to get your picture taken, you had to make a sexy pose. I knew this was going to be a fun day.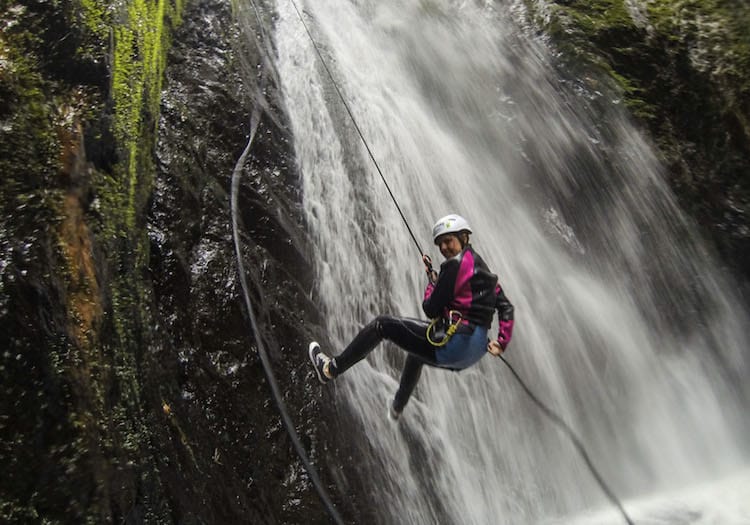 ABSEILING, ZIP-LINING AND SLIDING THROUGH THE CANYON
After Tomás showed us the ropes (literally) and gave us a briefing on how to rappel then we were off. We climbed up into the mountains for 20 minutes until we came to cliff. Over the cliff was a waterfall, one of the 5 we would be abseiling down.
This was one of the smallest and a good one to practice on. Two guides went first to be at the bottom to hold the lines and help anyone that might need it and Tomás stayed at the top. It was my turn so I walked to the edge and the guide clipped me in. "Ok, now lean back," Tomás instructed me.
It sounds simple enough, but when leaning back means over a cliff with a plummeting waterfall, it's not so easy. Like with any extreme sport you have to put your trust in the equipment and the instructor. I leaned back and felt the harness hold all of my weight. After one sexy picture, I was off.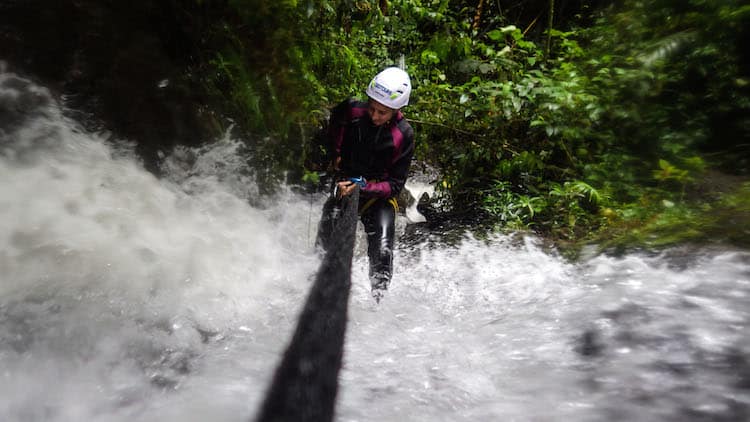 My right hand clenches the rope behind my back and my left hand holds the part in front of me. It's a simple concept, hold tight to brake, release your grip to go. The rope is threaded through a figure eight climbing device at the top of the waterfall which puts resistance on the line. In short, if you let go you won't drop like a rock. Good to know, right?
Slowly moving one foot down the vertical wall I begin my descent. The chilly water pounds down on me. The source of the river is snow melt from the Andes mountains. It's difficult to keep my footing as the rock is slick and the moss makes it even slicker. Add this to the fact that you can't see where you are going and it's one challenge. With the help of the ground crew I made it to the base of the waterfall.



We wouldn't only be rappelling today, there would also we a zip-line involved. Tomás went ahead of the group and set the line. Aside from some safety lines, there are no permanent lines in the canyon, the guides have to bring and set their own. This is added peace of mind because you know the ropes are secured properly.
From the top of a steep rock cliff we'd zoom along a rope to get to the next section. The guide instructed me to rappel 4 meters then stop. On his count one, two, three. On two, my left hand would grab the rope securing me to the line and on three my right hand would let go of the brake. "Three." I zoomed down the line to the bottom where Tomás pulled the brake, ensuring I didn't crash into the wall.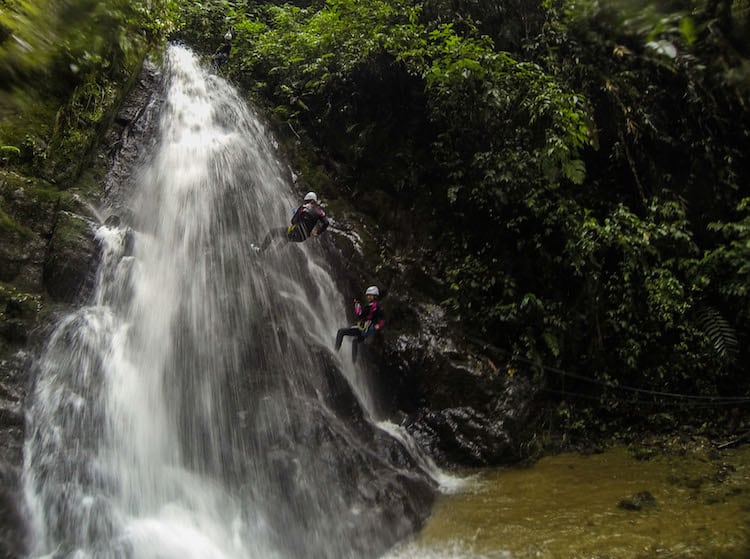 As I said before, there are 5 waterfalls to scale down on the agenda today. By the time the Sexy Team had arrived to the 35 meter (115 ft) drop, we were pros. One tip, don't look down!
We came to the end. We walked out of the world of Río Blanco with it's pounding waterfalls and lush rainforest walls and back to the parking lot.
WHERE TO STAY IN BAÑOS
Erupcion Art Hostel – Budget
Erupcion Art Hostel is located right on the corner of the main plaza and offers private rooms as well as dorms with super fast free Wi-Fi, cable TV and mountain and city views. A great choice for budget travelers.
Hosteria Finca Chamanapamba – Mid range
The Finca Chamanapamba has a stunning rural location, just 4 km from Baños town centre. It offers spectacular mountain views, tropical gardens with BBQ facilities and charming wooden bungalows with free Wi-Fi. A great option for those looking for a quiet place in nature.
Luna Runtun Adventure SPA – Luxury
Luna Runtun offers panoramic views of the active Tungurahua Volcano, the Llanganates NP and Baños. It also offers up to 25 adventure activities, spa treatments, 4 pools and hydromassage tubs. A great way to splurge on your holidays.
If you want a fun and safe canyoning experience, Baños is a great place to go. There's no experience required, just bring a good attitude and willingness to try something new.
5-6 hours. You leave the office around 9 AM and are back in town by 3 PM.
Baños is located on the slopes of the Andes at 1800 meters above sea level. The climate here is great year around. The dry season is from June to September but you can get rain and sunshine all year around.
Tour operators provide transportation from the center of town to Río Blanco Canyon.
WHAT WE LIKED THE MOST
+ Spending the day canyoning and enjoying the beautiful views.
+ Learning how to rappel. It's always fun to learn something new.
+ Our guides Tomás, Victor and Luis were super positive and fun. They were on a mission to ensure everyone was safe and had a great time.
+The guides snap lots of photos which are great if you don't have a waterproof camera. Come with your sexy poses ready.
WHAT WE DIDN'T LIKE THAT MUCH
– The water is chilly!
FINAL THOUGHTS
Canyoning is a fun and adventurous way to spend the day in Baños. There few different canyons to choose from: Río Blanco, Chamana and Cashuarco. Río Blanco is possible to go to on any day but the other two depend on the weather, as high water levels can be dangerous.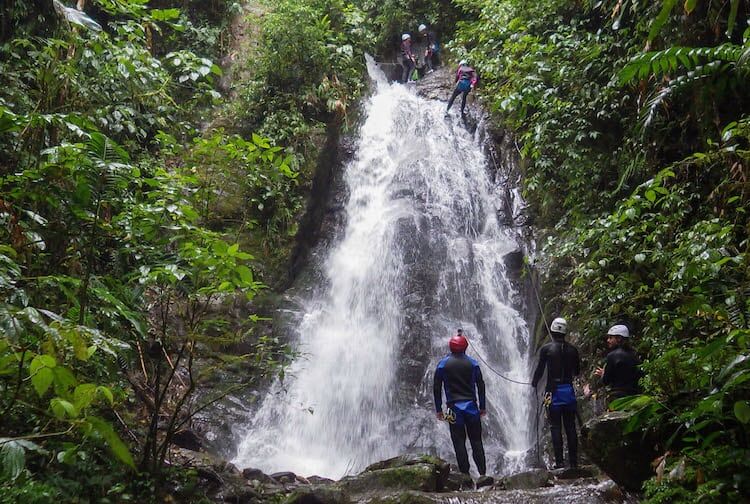 Location: Canyon Río Blanco, a 15 minute drive from Baños.
Price: 30 USD for a half day of canyoning, transportation, water, lunch, shoes, harness, helmet, wetsuit and knowledgable guide.

Useful Notes: Bring a swimsuit, towel, change of clothes and USB (for taking home photos).