Updated on February 7, 2020
Shooting up into the sky 5,897 m (19,347 ft) Cotopaxi is Ecuador's highest active volcano. You can see the Volcano from the highway but this distant view doesn't allow you to experience the true beauty of it. 
We decided to cycle to the base and camp on its slopes.
Although Chimborazo is the highest in the country, Cotopaxi is an active stratovolcano with an almost perfectly symmetrical cone, similar to Mt. Fuji. It's located 50 km South of Quito in the Andes Mountains and is part of the chain of volcanoes known as the Ring of Fire. We've camped on an active volcano in Nicaragua before, but not at this altitude.
The volcano has a long history of violent eruptions. Since 1739, it has erupted over 50 times. We could only hope that it wouldn't erupt while we were camping on it. 
EXPLORING COTOPAXI NATIONAL PARK
There are numerous ways to reach Cotopaxi, as usual we took one of the most difficult options, by bicycle. From Quito, we loaded the bikes with plenty of food and hit the road.
At the turn off to Cotopaxi National Park from the Panamericana we cycled to the Southern entrance. A park worker registered our names and passports.There's no fee to pay as all national parks in Ecuador (except for Galapagos) are free.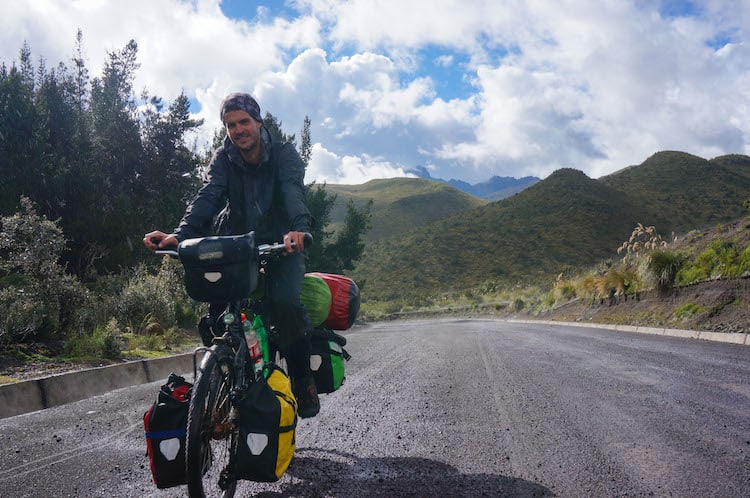 To reach the campsite we had to crank the pedals uphill. At over 3,000 meters this was no easy task. On top of our usual load, the bikes were weighted down with days worth of food.
We arrived to camp exhausted and cold. Cotopaxi was covered in a dense fog and appeared to be just a hill.
The good news was the camp was almost empty, with just one RVing German couple, we had our pick of sites. We chose to set up right in front of Cotopaxi, if it should ever decide to appear, that is.
This volcano was honored as a sacred mountain by local Andean peoples and was worshiped as a rain sender. We saw first hand why this was. Rain pounded the tent through the night. In the morning, we unzipped the tent and couldn't see more than a few meters ahead. Great.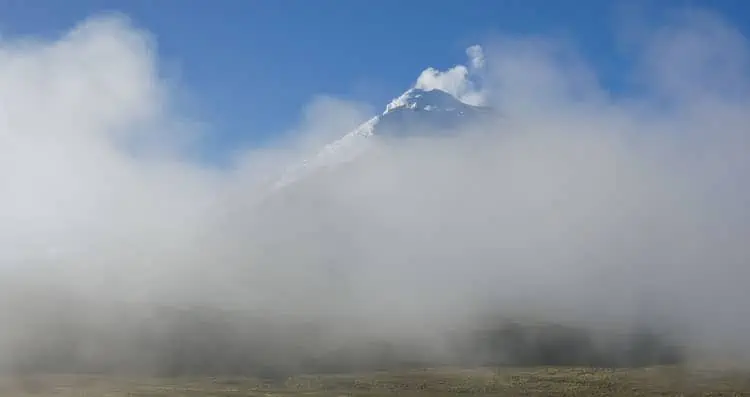 After cycling all this way we were determined to stay until we caught a sight of the volcano. The extra food we packed would come in handy.
We spent the days hiking the nearby trails, relaxing around camp and hoping that we could get a glimpse of Cotopaxi. The trails around the campsite provide some beautiful views. On a clear day you can see 4 volcanoes: Cotopaxi, Rumiñahui, Antisana and Sincholagua. Ecuador surprises us everyday.



The next morning I woke at the first ray of light. I unzipped the tent. Cotopaxi was there in all of it's glory. I woke Antonio, "it's there!" Groggily, yet excited we rushed to get dressed. We knew we had to enjoy it while it lasted. Here, you never know when the fog or rain will roll in.
The snowcapped peak, nearly symmetrical geometry and giant size make Cotopaxi one impressive volcano. The clear view only lasted less than an hour but the limited time made it all the more special.



Be sure to bring lots of warm clothes. The camp is at 3800m and when the sun is cover it is very cold. Drink plenty of water as it is easy to dehydrate at this altitude. For a great view, pitch your tent in the outside forest area of the campsite. Also, don't forget to bring toilet paper! 
If you go with a tour or drive on your own it is only an hour away. Cycling from Machachi took us a full day to arrive at camp. 
June to September is the dry season in Ecuador. Saying this, the weather is extremely unpredictable and you can get rain anytime of the year. Remember that the Andean people worshiped Cotopaxi for being a rain sender. 
The best way to experience the solitude and peacefulness of nature is to go on your own.
Don't worry, if you aren't up to crank the pedals to the campsite at 3,800m, there's plenty of other options. Tour companies based in Quito and Latacunga offer day hiking trips, mountain bike rides, and multiple day summit treks. Backpackers with their own camping gear and independent spirt can take a bus from Quito to the turn off then a taxi to the campsite.

If you are up for a bicycle touring adventure you can reach the park in two different ways. From Quito we cycled 55 km to the town of Machachi and over nighted there. From the Panamericana we took the turn off to Cotopaxi National Park. It is about 25 km to the South Entrance from Machachi. All national parks in Ecuador are free to enter (except Galapagos). You only need to register with the ranger at the entrance. From here we cycled 13 km to the first campsite. It's a cold place, so a tent is a better option than a camping hammock.
A shorter yet more difficult route is to go from Machachi to the north entrance. It is unpaved an steep but is far shorter than coming from the Panamericana.
WHAT WE LIKED THE MOST
+ The campsite was almost empty during the week. 
+ The impressive views of Cotopaxi once the clouds cleared.
+ Spending a few days in nature.
WHAT WE DIDN'T LIKE THAT MUCH

–   The "picnic area" is just a shelter but there are no places to sit and relax.
FINAL THOUGHTS
If you are looking for an unique camping experience in Ecuador, Cotopaxi is a great choice. It's a fun side trip for bicycle tourists, car travelers and adventurous backpackers. Enjoy the hiking trails around camp or make it all the way to the snow peak of the volcano.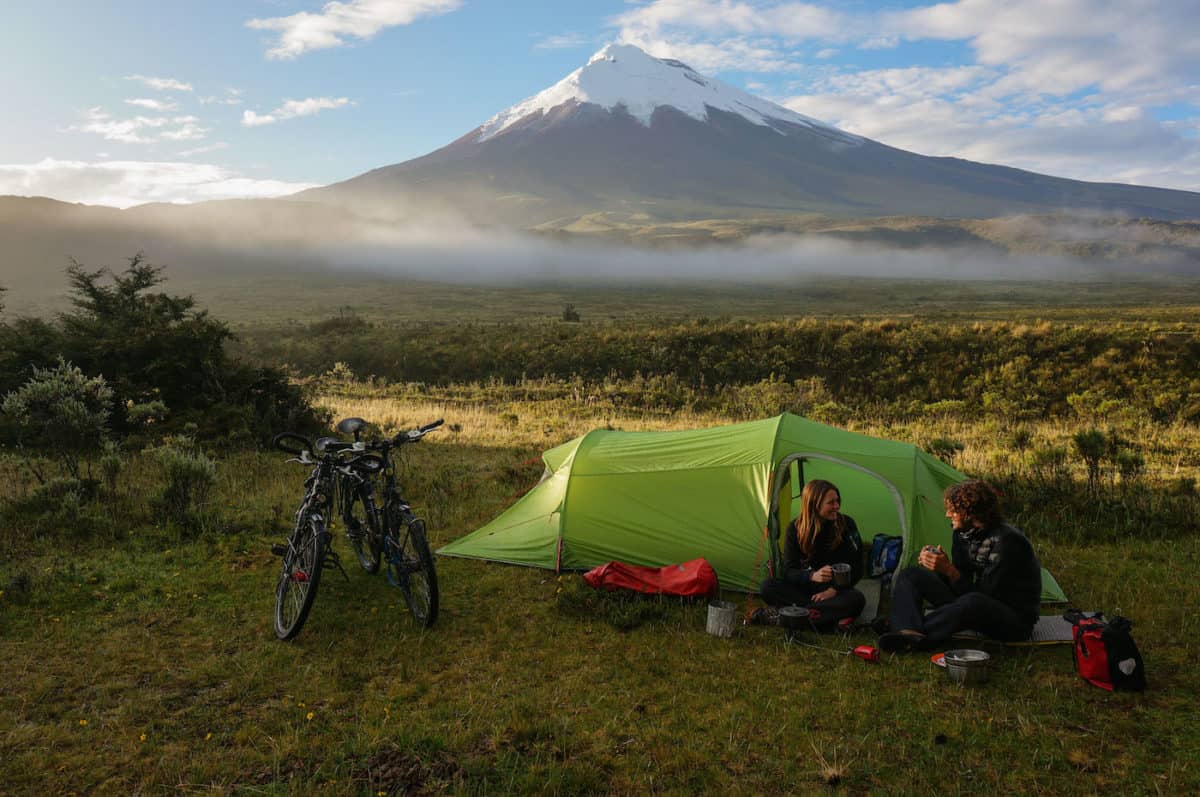 Location: Cotopaxi National Park, Ecuador
Prices: Free to enter the park. Camping is officially 5 USD per person, per night, but nobody asked us for the money while we were there. 
READ MORE
For more of our top bicycle touring gear recommendations, check out these popular buyer's guides: