Updated on February 9, 2020
Do you wonder how could you charge your electronics while travelling on a bicycle? Sometimes it's not easy to find a plug if you are cycling in remote areas. For those situations there are many systems available on the market.
One of the main problems you have when travelling on a bicycle is how to charge the batteries of the electronics you use, like your mp3 player, mobile phone, head torch, GPS and camera. Of course you won't have this problem if you decide to sleep in a hotel every night but what if you sleep in a tent nearly every night far from towns?
There are some products on the market specifically designed for these situations. From portable solar chargers to mobile power banks. Let's discuss the different options to find what is the best system according to your needs.
1. HUB DYNAMO + ADD-ON SYSTEMS
A hub dynamo is a small electrical generator that is built into the hub of the bicycle and allows you to use the energy generated while pedalling. There are many options available from different manufacturers. The following ones are the most popular ones.
SON-28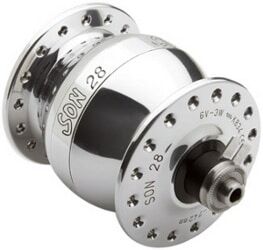 The SON28 dynamo is the dynamo we have installed on our bikes. Although it's expensive at $250-300, it is low resistant and generates energy at slower speeds (16km/h) compared to other dynamos on the market. Also it comes with a 5 year warranty which is quite useful if you are going for a multi-year trip.
SP PD-8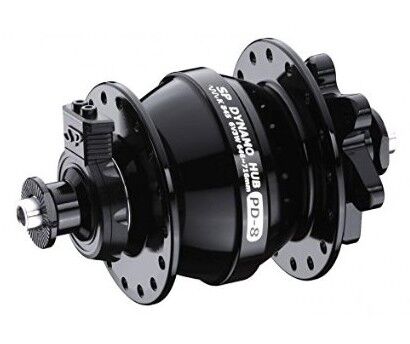 The SP PD-8 dynamo hub claims to be the lightest (390 grams) and most efficient dynamo hub on the market. It's also much more affordable than the SON models and they cost around $130. A great option for budget travellers.
SHIMANO DH-S501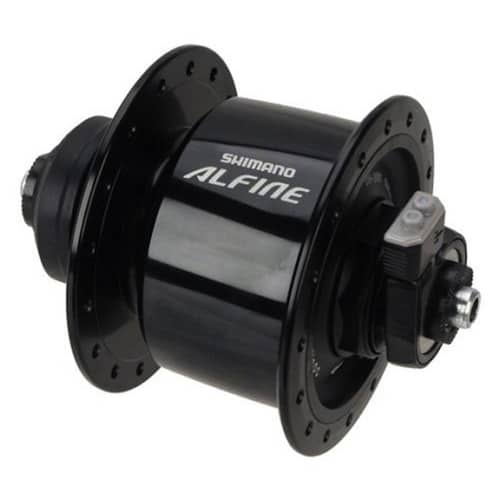 The Shimano DH-S501 is the cheapest of the three hub dynamos at around $90-95. Its main benefit is that is virtually drag free and ultra-efficient. It's a fantastic option if you are just planning short trips but not the best option for a round the world trip, as it's durability is not very high.
But a having a hub dynamo on its own is only useful to power your bicycle lights. If you want to take its capabilities to the next level you need an add-on to use the energy produced to be able to charge your electronics. There are several options on the market but these two clearly outperform the others: E-werk and BioLogic ReeCharge Unit.
E-WERK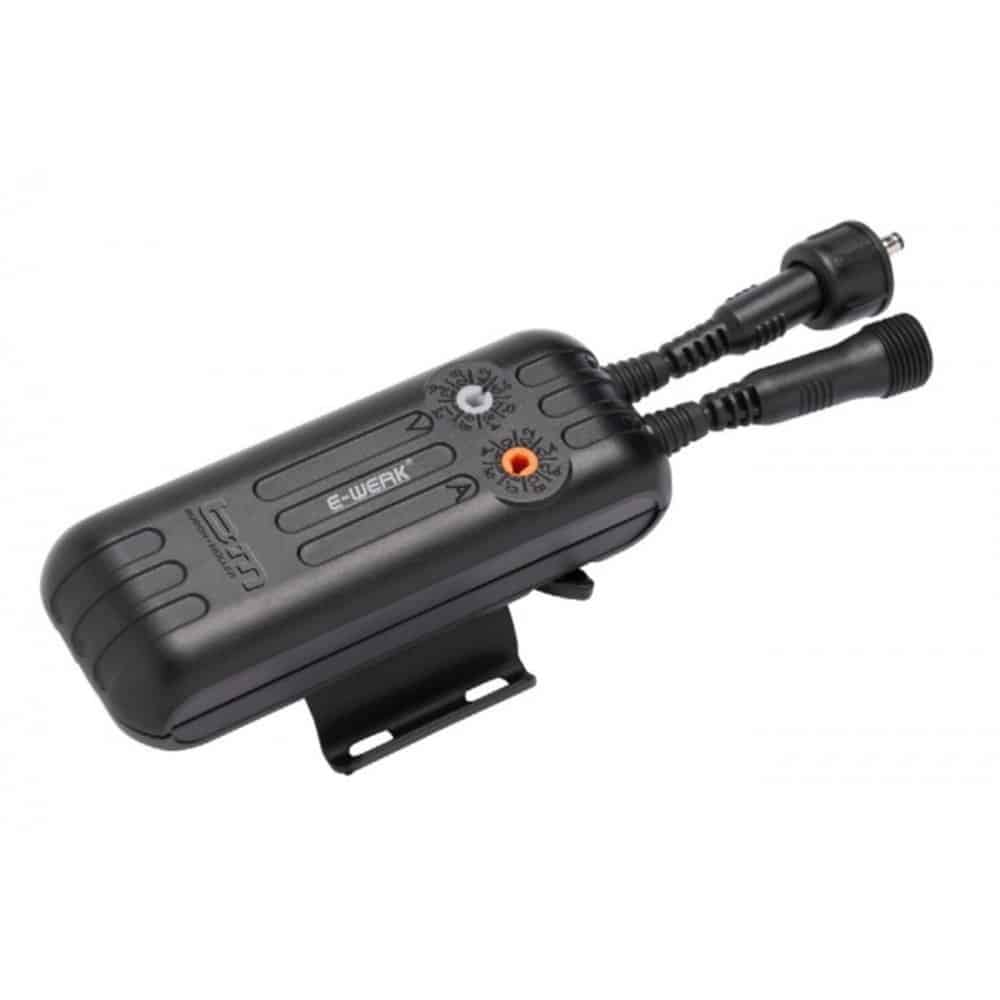 TECHNICAL INFORMATION
Voltage: Between 2.8 y 13.3 Volts

Electric Current: Between 0.1 y 1.5 Ampers

Cables provided: USB, mini-USB, micro-USB and 2 cables without a plug, so you can weld the one you need.
For about 180-200 USD, the B&M E-Werk increases the capabilities of a dynamo beyond just powering the bicycle lights. This small device, of about 10 centimetres in length, converts the energy from the dynamo into a desired range of voltage (13.3 V max.) and intensity (1500 mmA max). You can plug almost any electronic device into it, with the multiple cables provided (USB, mini USB, micro USD,etc.) The exception is the iPhone which requires a greater voltage to charge.
BIOLOGIC REECHARGE UNIT
TECHNICAL INFORMATION
Can be charged directly via USB, from a computer or other wall source.

Compatible with iPhone and iPod.

1600 mAh Lithium polymer battery.
The BioLogic ReeCharge is a personal power system that can charge any USB-chargeable device, including iPhones, iPod's, cell phones, cameras or GPS units. It incorporates a lithium polymer battery that can be charged by wall outlet, via USB from a computer, and most importantly, any bicycle with a hub dynamo.
2. PORTABLE POWER PACKS
It's more and more common to see long term cyclists carrying a laptop these days. Until now, there are no dynamos on the market that can charge a laptop (or that we know of, so if you know of one please tell us in the comments!). So if you are riding in remote places and you are not able to check into a hotel room, a powered campsite or stopping somewhere for a couple of hours to charge it, a portable power pack can be a solution. With these systems the general rule is the better ones are also the heavier and the more expensive but they can deliver more power in one charging cycle. Here you have some of the most popular options.
HYPERJUICE 2 EXTERNAL BATTERY PACK
The HyperJuice 2 is the next generation of battery pack that feature an advanced battery management and monitoring system. Equipped with a high capacity 100-watt-hour lithium ion battery, this is a top of the line battery pack. An OLED screen provides detailed battery information like percentage power remaining, temperature, time to full charge and discharge.
NOTE: To charge a Macbook you need to purchase the Do-it-Yourself Magic Box kit separately.
LIZONE EXTRA PRO
The Lizone Extra Pro enables full speed laptop DC port (up to 4.5A 90W) and USB port charge (up to 2.1A) and universal compatibility. Highest efficiency energy efficiency rate 10% above the previous generation. Charge with speed multiple devices simultaneously with the 6.6A total output. Broadly compatible with both USB charging port and a DC Output laptop port, charge a wider range of tech devices.
ICLEVER INTOCIRCUIT POWER CASTLE
The iClever Intocircuit Power Castle, with a capacity of 26000mAh, provides 1 full charge to most laptops or approximately 12 cycles to most smartphones. A budget-friendly option for using on bicycle tours. Check the laptop compatibility list before purchasing.
3. PORTABLE SOLAR PANELS
The technology with what solar panels are made has evolutionated amazingly fast in the recent years. Just about 5-10 years ago the portable solar panels available on the market could barely charge a couple of AA batteries after being long hours sitting on the sun. Nowadays, the situation is different and there are some models out there that can even charge a laptop. Here the best models we recommend.
POWERADD FOLDABLE SOLAR PANELS
The Poweradd Solar Panels have a transformation efficiency up to 22% (similar products on the market have a 15%). It's equipped with a voltage regulator to ensure stability and offers a wide compatibility. It has a DC port to charge 18V-laptops and other 18V-powered devices and a USB port to charge any other 5V USB-charged gadgets like smartphones, tablets, etc. They have different models depending on the size and power of the panels.
ALLPOWERS FOLDABLE SOLAR PANEL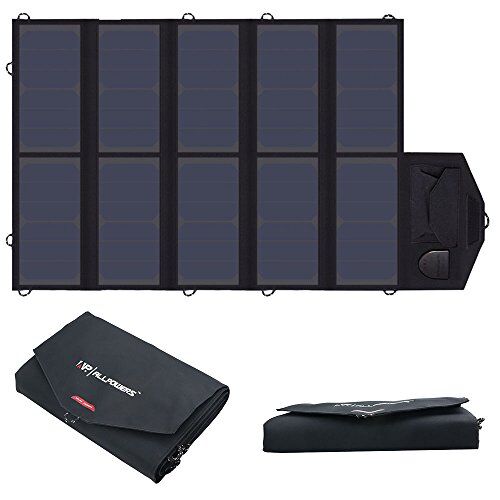 The AllPowers Portable Solar Panels are also a great choice for bicycle touring. With a transformation efficiency up to 19% they are a more affordable option. It has a USB and a DC port to charge both 18V (like laptops) and 5V powered gadgets. It also comes with convenient eyeholes to enable easy attachment to fit on the back of your bike.