Updated on August 25, 2020
Itching for a bicycle tour? Well, you should be! In our humble opinion, bicycle touring is one of the most exciting ways to view the world. When you're slowed down to the pace of a bicycle, you really get to take in your surroundings — much more than you would in a car, plane, bus, or train.
We want you to be fully equipped to take on the open road by bike, and that's why we've put together a list of the very best touring tires around. There is nothing worse than a breakdown to stall your itinerary when you're out on a tour, and having the right tire can help significantly reduce this risk. Carefully consider the type of touring you'll be doing, and be sure to check out our "Things to Consider" section at the end of this article. There are a few useful tips there that will help ensure you get the right touring tires for you.
For more of our top bike touring gear recommendations, check out the Best Panniers for Touring.
Quick Answer

-

The Best Touring Tires
Continental Grand Prix 4 Season Tire

Continental Ultra Sport III

Bontrager AW1 Hard-Case Lite
Comparison Table

-

Best Touring Tires

For the best experience turn your device horizontally
Reviews

-

The Best Tires for Bike Touring
Continental Grand Prix 4 Season Tire
Specs
Weight

:

220g

Wheel Size

:

700c

Purpose

:

Paved Roads And Bike Paths

Tire Width

:

23-25 mm

Foldable

:

Yes

Thread Count

:

330/in.
Features
Special Sidewall Protects Against Friction And Punctures
Super High Thread Count Means All Around Super High Performance
Great Grip, Even In Wet And Cold Weather Conditions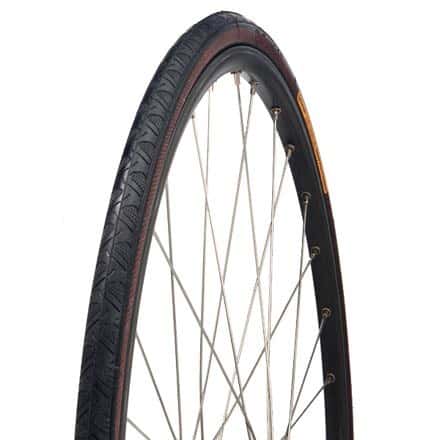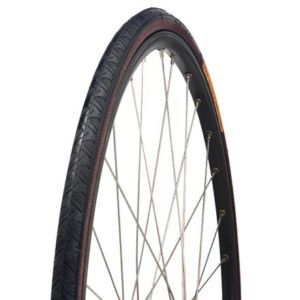 BEST FOR: WET, WINTERY WEATHER
The Continental Grand Prix 4 Season Tire is everything you'd want in a speedy all-weather touring tire and then some. It combines a high quality thread count with a slick tread design to keep you cruising on down the road, no matter what conditions you find yourself in.
Reviewers rave that this long-lasting tire goes for hundreds of miles before showing even a glimpse of wear and tear. This tire provides unbeatable traction so you'll feel safe on the roads, and it is complete with special sidewalls to protect against abrasion and punctures. It's a bit pricier than some of our other picks, but don't be fooled — this tire will last long enough and perform well enough to make it well worth the cost.
Teravail Cannonball
Specs
Weight

:

535-545g

Wheel Size

:

700c

Purpose

:

All Terrain Touring

Tire Width

:

38-42 mm

Foldable

:

Yes

Thread Count

:

60/ in.
Features
Special Thread Discards Debris For Decreased Road Resistance
Tubeless-Ready For Increased Comfort And Decreased Risk Of Flats
Durable Internal Layer Adds Extra Tire Protection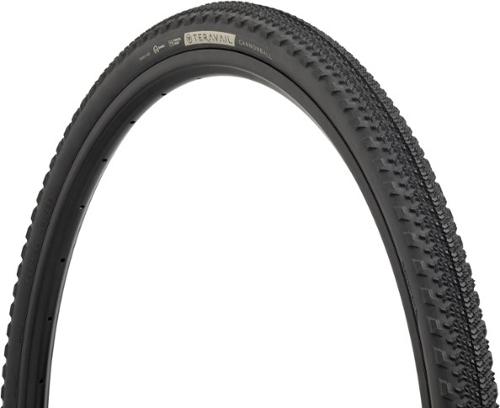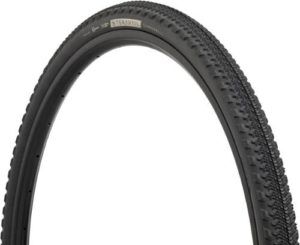 BEST FOR: DIRT AND DEBRIS TOURING
Got a tour route that will take you down some questionable roads, dirt paths, or just uneven pavement? This tire has you covered. It's the Teravail Cannonball and it's here to make a splash on your next adventure bikepacking trip.
Equipped with thick side knobs on the tread for superior gripping power when making tight turns and abrupt stops, this tire will have you feeling mighty confident on all kinds of terrain. It's also tubeless ready, meaning you don't have to fuss with the hassle of tubes and your risk of a flat is significantly reduced. The Teravail Cannonball does come at a higher cost than most (if not all) of our other picks. Keep in mind that when it comes to bikepacking equipment (and touring tires specifically), you really do get what you pay for.
Vittoria Terreno Zero
Specs
Weight

:

380-510g

Wheel Size

:

700c

Purpose

:

Paved Roads and Bike Paths

Tire Width

:

32-38 mm

Foldable

:

Yes

Thread Count

:

120/in
Features
Great Side Traction For Sharp Turns And Braking
Smooth Middle Tread For Speed On The Road
Unique Compound Infusion Increases Grip And Performance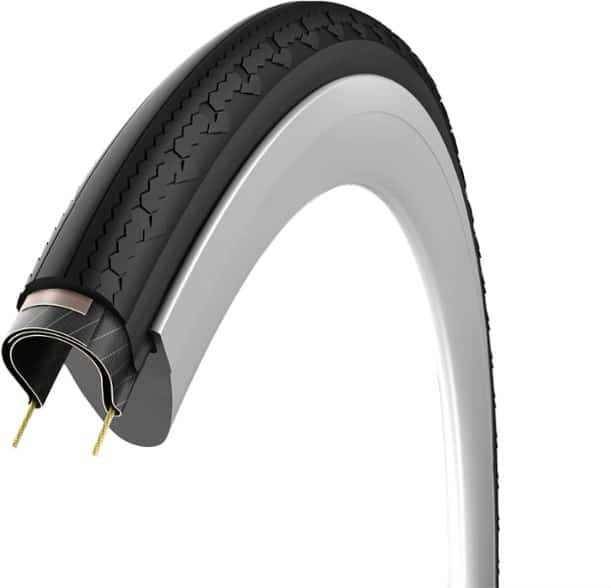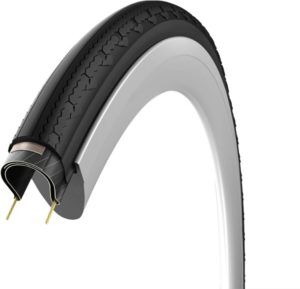 BEST FOR: TIGHT TURNS AND QUICK BRAKING
Many of the tires on this list boast excellent stopping and turning ability, but this one really takes the cake. The Vittoria Terreno Zero tire features a special carbon fiber that fills the spaces between rubber molecules and enhances speed, grip, and durability, even in wet weather. And you know what that means: you can turn tightly and brake quickly, slip-free.
This tire also comes equipped with some awesome convenience features. It is both tubeless ready and foldable, so you don't have to fuss with or carry extra tubes in your pack, just your tires that fold up neatly into a small box. This tire is a little bit on the pricier side, but you'll be investing in both durability and usability.
Continental Ultra Sport III
Specs
Weight

:

300-320g

Wheel Size

:

700c

Purpose

:

Paved Roads and Bike Paths

Tire Width

:

23-25 mm

Foldable

:

No

Thread Count

:

180/sq. in.
Features
Great Grip For Superior Comfort And Control
Slick Tread Makes For Low Rolling Resistance
High Thread Count Indicates A High Quality, Long Lasting Tire

BEST FOR: BIKING ON AN (EXTREME) BUDGET
You're not likely to find a tire at a better price than you'll find the Ultra Sport II from Continental. If budgeting is your top priority, this tire is a solid bet. Void of fancy features, this tire is strong, reliable, and built for low rolling resistance on paved surfaces.
It features a high thread count, which means it is built to last and provide superior grip. It has a high recommended tire pressure and slick tread, a dynamic combination that is ideal for speedy getaways (though we hope you don't need to make any speedy getaways). This tire also comes in two different widths, so you can choose between the need for speed and a little bit of added stability.
WTB Vigilante Light
Specs
Weight

:

850g

Wheel Size

:

27.5 in.

Purpose

:

Mountain Bike Touring

Tire Width

:

58 mm

Foldable

:

Yes

Thread Count

:

60/in.
Features
Unique Blend Of Features Ideal For Mountain Bike Based Touring
Larger Width Made For Tackling Path Obstacles And Debris
Thick Side Tread Aids In Safe Turning And Braking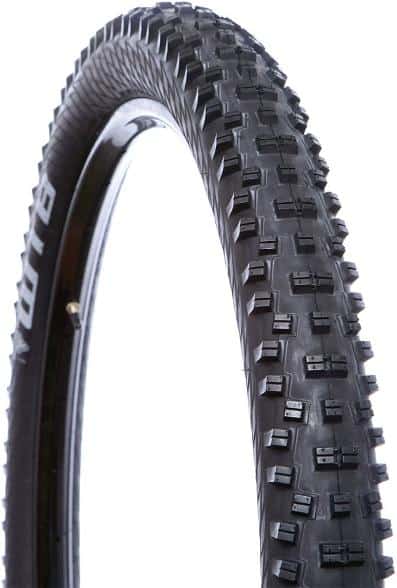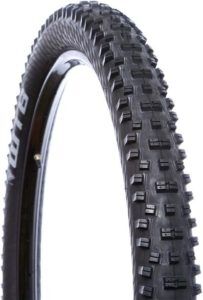 BEST FOR: ALL-IN MOUNTAIN TOURING
If you're planning a bikepacking trip that involves mostly mountain paths and dirt roads, the Vigilante Light from WTB is an excellent choice of touring tire. The reason this tire is great for mountain bike touring is because of its relatively light weight, despite its impressive durability.
This tire is foldable, tubeless, and ready to take on any tough mountain terrain coming your way. You won't be left wondering if your tire can handle the terrain you're ready to take on, but you might be wondering if you can handle what your tire is ready for! Complete with dual rubber layers and a square tread pattern designed for superior stability, this tire is a bit more expensive than some others, but it won't let you down.
Serfas Seca Survivor
Specs
Weight

:

610g

Wheel Size

:

26 in.

Purpose

:

Paved Roads And Bike Paths

Tire Width

:

50 mm

Foldable

:

No

Thread Count

:

60/in.
Features
Two Layer Flat Protection System For Confidence In Varying Road Conditions
Thick Tread Adds Durability
Thin But Strong Wire Lining Increases Longevity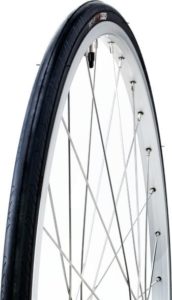 BEST FOR: ROADWAY TOURING
This tire is our unmistakable favorite for touring on roads that are slightly more debris-ridden than your everyday protected bike path. It's made to perform on paved surfaces, but it also comes with not one, not two, not even three, but four layers of anti-flat protection so that you can ride on down the road in confidence, even on your longest days.
The Serfas Seca Survivor is also lightweight and supple for a fast, comfortable ride. It boasts a modest price tag for its high performance and steadfast reliability. If you're a roadway bikepacker, there's not a whole lot to complain about with this tire.
WTB All Terrain
Specs
Weight

:

220g

Wheel Size

:

700c

Purpose

:

Paved And Dirt Roads

Tire Width

:

23-25 mm

Foldable

:

Yes

Thread Count

:

330/sq. in
Features
Designed For Versatility
Durable Tread Can Take On Both Pavement And Debris
Travel Long Distances Without Worry Of A Flat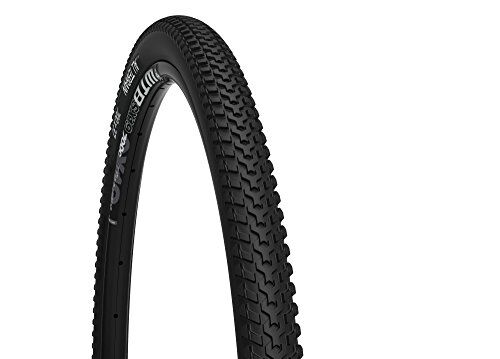 BEST FOR: VERSATILE TOURING
It's not always easy to find a tire that works well on a wide variety of surfaces. Enter the WTB All Terrain Touring tire. This tire offers one of a kind versatility that is sure to please whether you're coasting down pavement or find yourself on an unexpected gravel road.
The WTB All Terrain has deep treads that grip on uneven surfaces, but it is not so bulky that it can't take on the smooth stuff, too. It is a wide tire, but it's not too wide. It will fit on your touring bike with ease, and it functions well at varying pressures, meaning you can customize your ride depending on the type of terrain you expect to encounter.
Bontrager AW1 Hard-Case Lite
Specs
Weight

:

305-390g

Wheel Size

:

700c

Purpose

:

Paved Roads and Bike Paths

Tire Width

:

23-32 mm

Foldable

:

No

Thread Count

:

60/in.
Features
Second Tread Layer Protects Against Flats
Lightweight To Support Your Need For Speed
Fast, But Grippy Tread Is Ideal For All Weather Conditions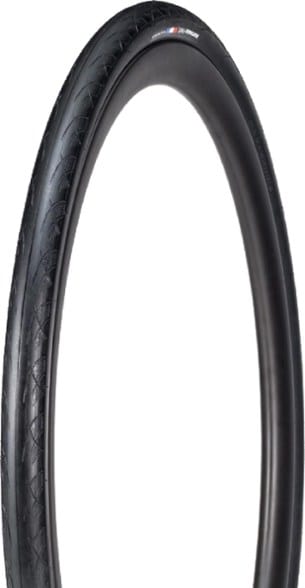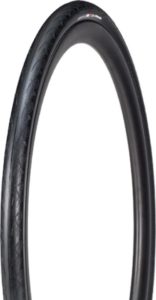 BEST FOR: THE BUDGET ROAD TOURIST
Biking on a budget? No worries. The Bontrager AW1 Hard-Case Lite is a quality tire that won't break the bank. It comes road-ready with semi-slick tread that is ideal for smooth road conditions, so it's best for trips where you'll be traveling mostly on pavement. This tire also features high puncture protection and all-weather grip.
Know that because it is so affordable, this tire doesn't come with any lavish features. Its biggest downside is that it isn't foldable, which means that it will be difficult to carry an extra one, but that doesn't mean you can't pop two of these on your bike and splurge on your spare to get something that does fold.
Serfas Drifter City
Specs
Weight

:

950g

Wheel Size

:

29 in.

Purpose

:

Paved Roads and Bike Paths

Tire Width

:

51 mm

Foldable

:

Yes

Thread Count

:

N/A
Features
Ideal For Turning Your Mountain Bike Into A Road Touring Bike
Super Hard Rubber Compound Guarantees Tire Longevity
Wide Yet Slick Tread Provides Stability And Supports Speed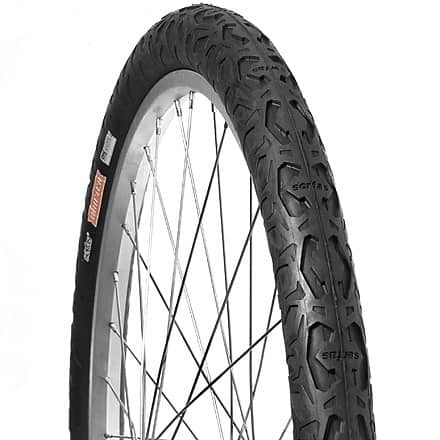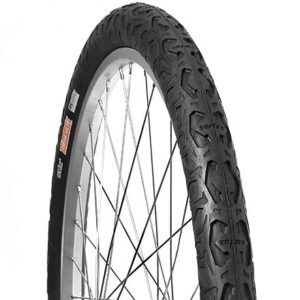 BEST FOR: THE MTB GONE TOURING
This tire is made for the cyclist caught in limbo between mountain biking and roadway touring. It is built for low rolling resistance on pavement, but also designed to be a transitional tire that still grips well when used on dirt and lower-key mountainous terrain. It does this by employing a unique inverted tread system; instead of the treads popping off the tire, the tread design is indented, so it rolls great on the road and still grips well on the trail.
This tire is built to last, and for a great price, too. One review on REI claims it is "bomb-proof yet affordable." What makes it so durable is its super hard rubber compound combined with its "armor casing," which makes it virtually puncture-proof. If you can't decide if you're a mountain biker or a road tourist, there is no question. Buy this tire.
Schwalbe Marathon Racer
Specs
Weight

:

420g

Wheel Size

:

16 in.

Purpose

:

Paved And Dirt Roads

Tire Width

:

35 mm

Foldable

:

No

Thread Count

:

N/A
Features
Medium Weight For Moderate Speed And Great Durability
Puncture-Resistant Belt Protects Against Flats
Mid-Range Recommended Tire Pressure For Comfort And Performance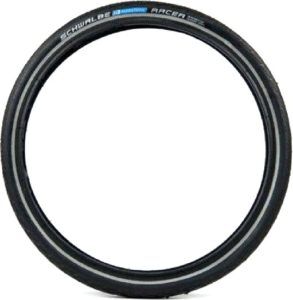 BEST FOR: MID-RANGE EVERYTHING
What do we mean by mid-range everything? We're so glad you asked! We mean that this tire falls pretty much right in the middle in a number of categories, which makes it a great choice for anyone who doesn't feel that they fit the mold of any one type of cyclist.
The Marathon Racer from Schwalbe features a medium weight, which keeps you rolling quickly down the road without sacrificing durability. It has a medium tire width to give you good grip on a variety of surfaces. And to top it all off, it even has a mid-range price tag to go along with all its other mid-range features. Select this tire if you feel like meeting in the middle.
THINGS TO CONSIDER WHEN BUYING TOURING TIRES
WHERE YOU'RE HEADED
Choosing bike tires should start with one essential question: where are you headed? Are you a paved road and bike path kind of tourist? Or do you prefer adventures on mixed terrain like dirt roads and obstacle-ridden paths? Once you've answered this question, you can narrow down the type of tire you'll need. The main difference between smooth surfaces and bumpy or looser ones is that smooth surfaces don't require as much tread or stability, whereas anything that is uneven or unpredictable does.
SPEED VERSUS STABILITY
As mentioned above, tire tread dictates the way your bike will handle. If you have the need for speed and plan to be on flat, paved surfaces for most of your touring, you'll want to choose a touring tire with a slick or semi-slick tread to keep you cruising with low rolling resistance.
If you tend to opt for more uneven terrain (or if you just want a stability confidence boost with those heavy bags on your bike), you'll want to look for a larger tire width and thicker, knobby tread. Weight is another indicator of stability. Higher weight tires add stability at the cost of slowing you down a bit.
WHEEL SIZE
In most instances, your wheel size will already be determined by what kind of bike you have, but make sure to check that the size of the tire you're buying matches the size of the tire you currently have. Tire size is indicated on the sidewall of the tire and may be in inches or millimeters. Note that if you see a "c," it does not mean centimeters, but is an old notation used at an earlier time in France. 700c means 700mm.
SPECS AND FEATURES EXPLAINED
FOLDABLE
Foldable tires are just what they sound like-tires that fold up and can fit compact in your bag. Non-foldable tires don't fold well and are not very good for carrying on a tour, though they will do just fine if they are already on the bike.
TUBELESS
Tubeless tires eliminate the need for a separate internal tire tube. Instead, the tire seals directly to the rim of the wheel and air can be pumped directly into the tire. There are many benefits to tubeless tires, including a smoother ride and a reduced risk of flats. You can read all about the differences between tubeless and tubed tires here.
THREAD COUNT
Touring tires have a thread count just like your bedsheets do. And just like your bedsheets, the higher the thread count, the higher the quality of the tire.
SIDEWALL
The side of the tire. The sidewall may contain special layers/casings to protect against flats and increase overall tire durability.
GRIP/ROLLING RESISTANCE
Grip is how well the tire grips the road to keep you stable. Too much grip creates heavy rolling resistance, which can slow you down.
READ MORE
For more of our top bicycle touring gear recommendations, check out these popular buyer's guides: