Updated on June 11, 2019
We had spent the last 2 months in Huaraz cycling and hiking the Cordillera Blanca. It seemed that we couldn't get enough of these mountains. After completing the taxing Huascaran Circuit on a bicycle and hiking the Santa Cruz Trek we thought we had seen the best bits. That was until we decided to take on our Huayhuash trekking experience.
This time our adventure would take us to another area, the Cordillera Huayhuash. A less visited area where a remote, high altitude and challenging hiking route was awaiting. Less visitors venture this far when visiting Peru but we were assured that the rewarding of completing this route would be much bigger than in the Blanca. So we packed our bags and hit the trail.
[thrive_leads id='59716′]
HUAYHUASH TREKKING: A DIFFERENT KIND OF HIKE
Since we arrived to the little town of Llamac, I knew we were in for a good one. One of those routes you will remember for years to come. The snow-capped peaks here are really high (many well over 6.000 mts – 19,500 ft) and the feeling of remoteness is fantastic.
Nothing like the busy roads around the callejon de Huaylas in the Cordillera Blanca. There are hardly any cars here. Donkeys and horses are the main mode of transport in this area. I loved it.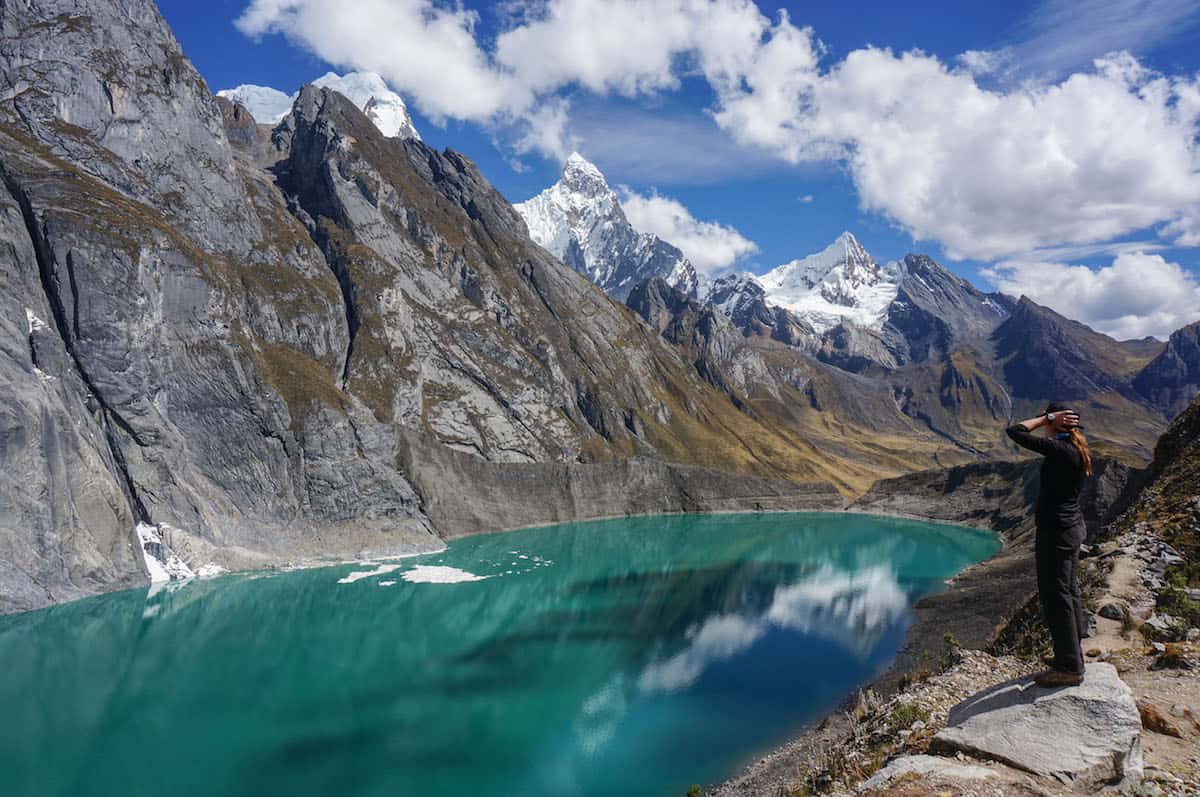 The turquoise waters of the glacial lake of Gangrajanca.
The whole circuit takes anywhere from 8 to 14 days to complete as there are different routes available. There is only one small town where you can re-stock on supplies which means you will need to carry all your food for 7-8 days if walking independently.
For that reason, most of the hikers decide to go with an organized tour. But hey, we are the Adventure Junkies. We can't let a donkey carry our stuff up the mountain!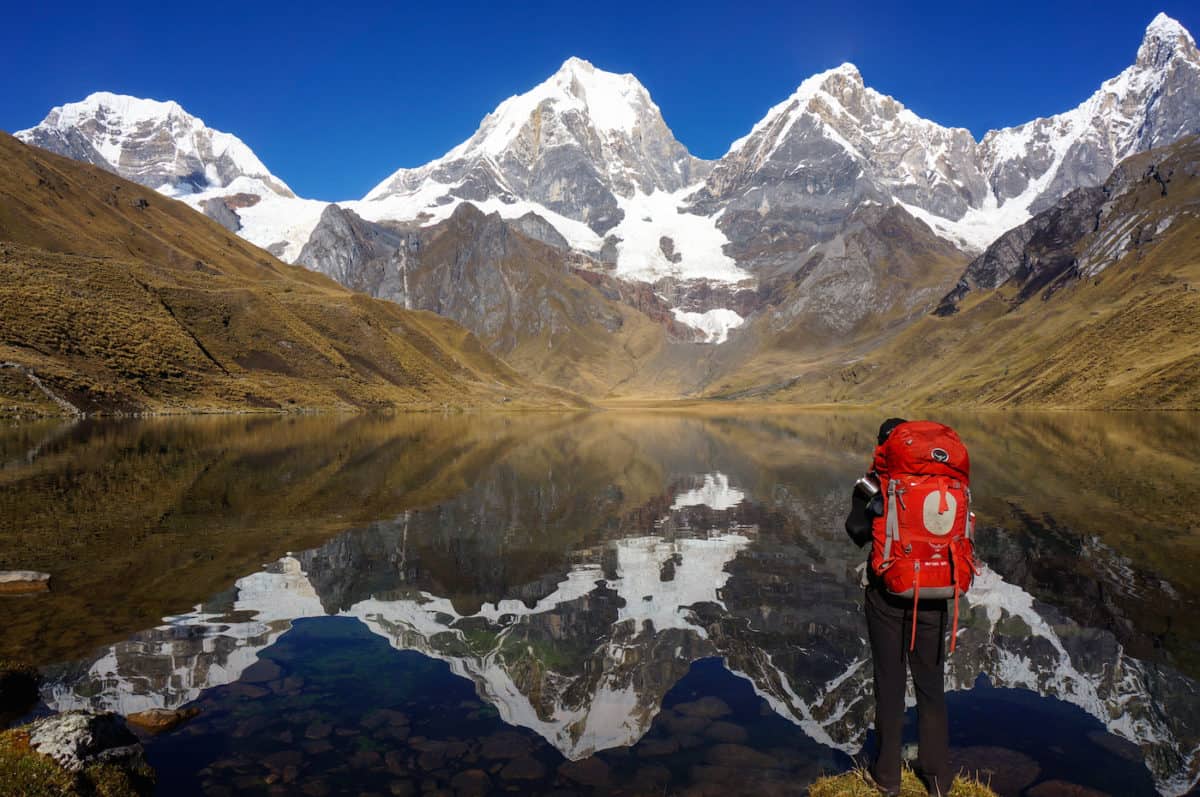 The laguna Caruachocha with the Siula Grande, Yerupaja and Jirishanca early in the morning.
It's also a high altitude hiking route. You will be over 4.000 meters (13,000 ft) most of the time, never camp below that mark and will have to climb up to 7 passes of 4.500mts+ (14,700ft+). For that reason, being well acclimated is paramount.
[thrive_leads id='56126′]
CUTTING THROUGH THE NEVADOS
Almost every day there is a pass to climb. But here in Huayhuash the passes are not as usual. Here you get really close to the snow-capped peaks cutting through the hand carved passes on the rock where the summits of these giants never seemed this close.
Being the circuit so high means that you will have to walk on the snow sometimes. Nothing major though. With the help of our GPS, and with normal hiking shoes, we were able to navigate these high passes without any problems.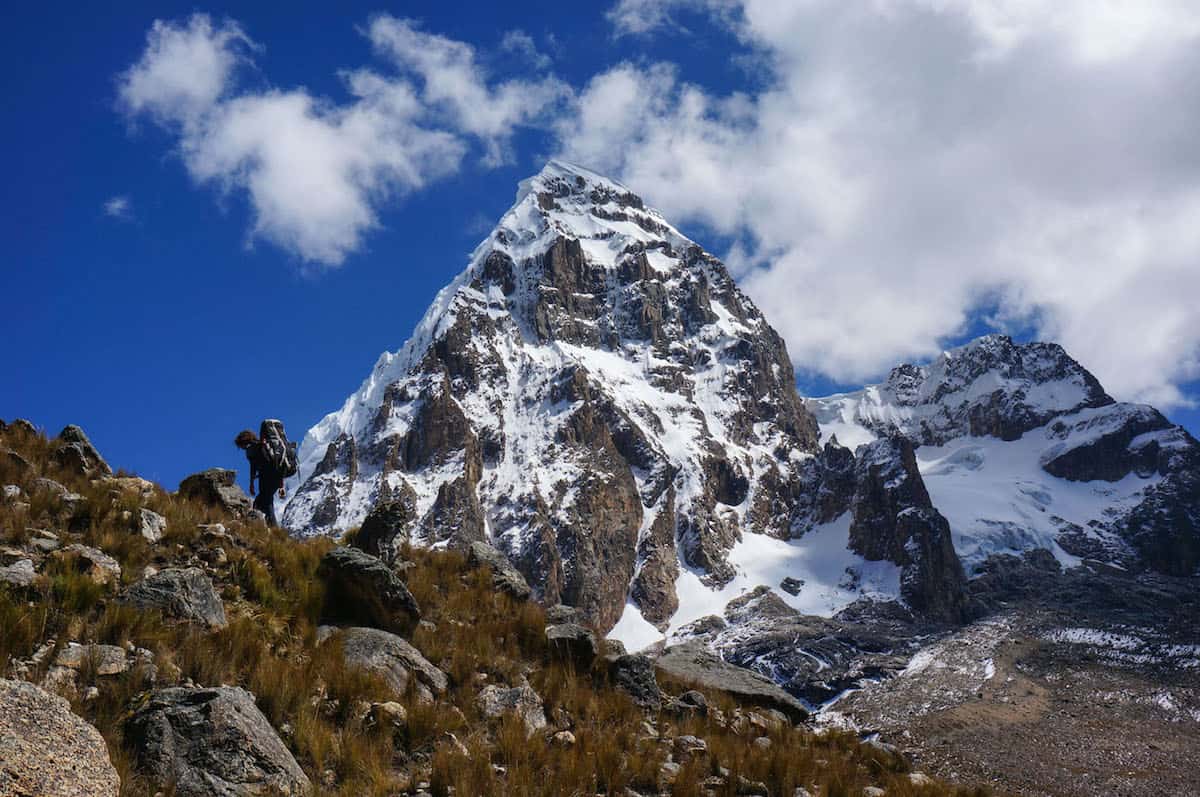 Climbing up to the Trapecio pass (5,040 mts – 16,400 ft) on the snow.
MEMORABLE CAMPING SPOTS
One of the best parts of the Huayhuash trekking experience are the number of incredible camping spots you will enjoy every day. There are plenty of opportunities to camp next to mirror-like lagunas, ranging rivers and snow-capped peaks.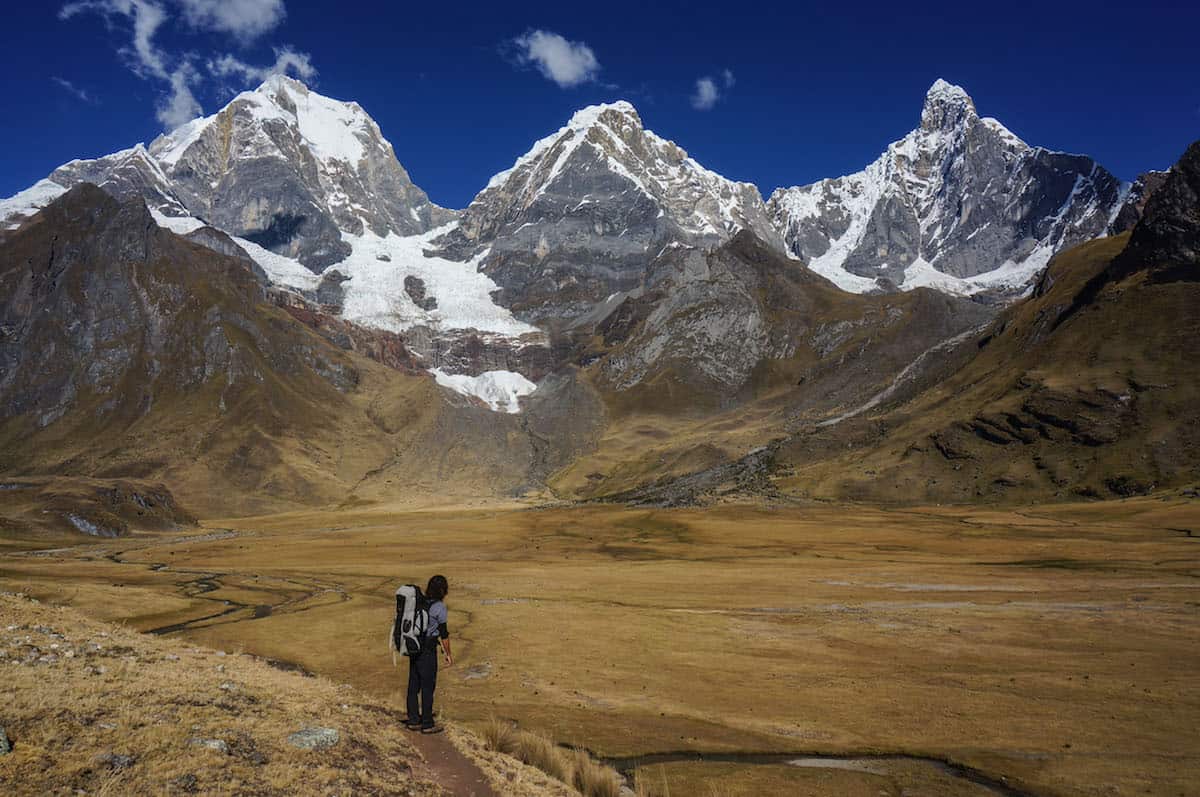 Checking out the amazing camping spot at laguna Caruacocha.
These camping areas are managed by the local communities and it's advised not to camp in other areas. All of them have toilets (most even flush toilets!) and the rubbish is taken away every day. By camping at the designated areas you contribute to keep this magical mountain range clean and trash free.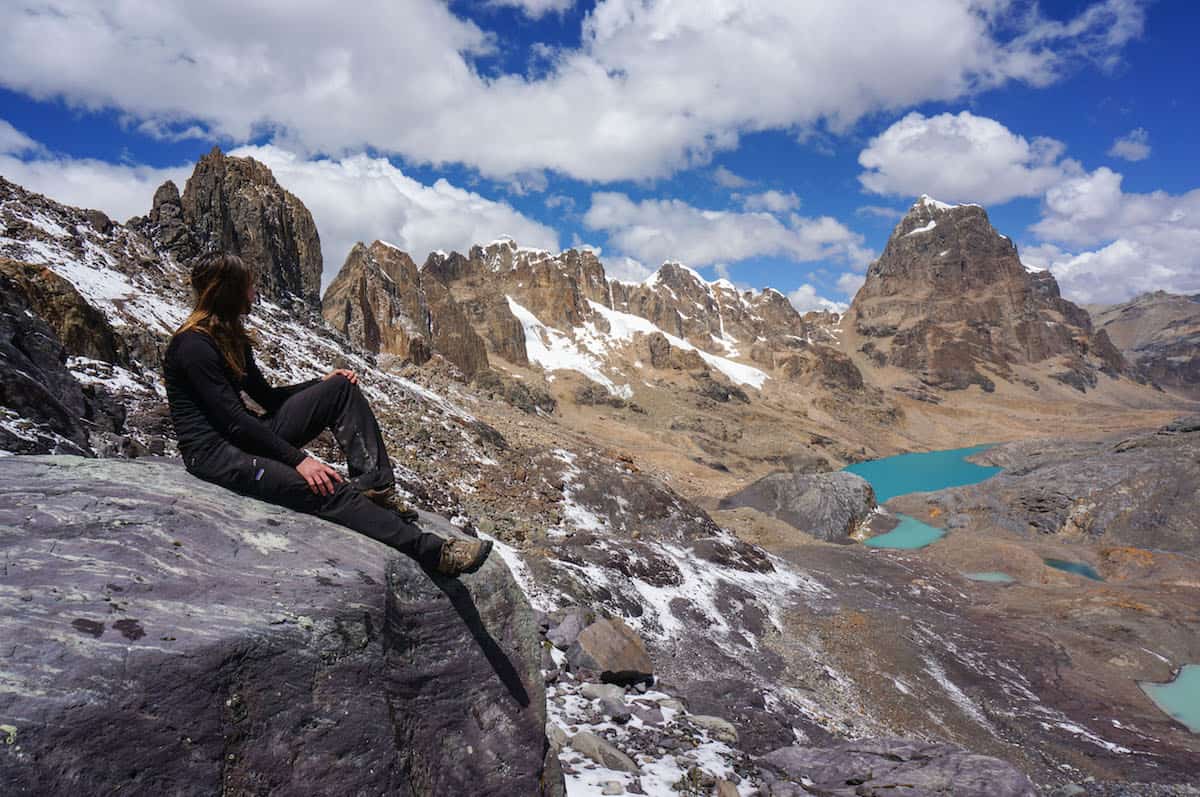 Enjoy every single day of the Huayhuash Circuit.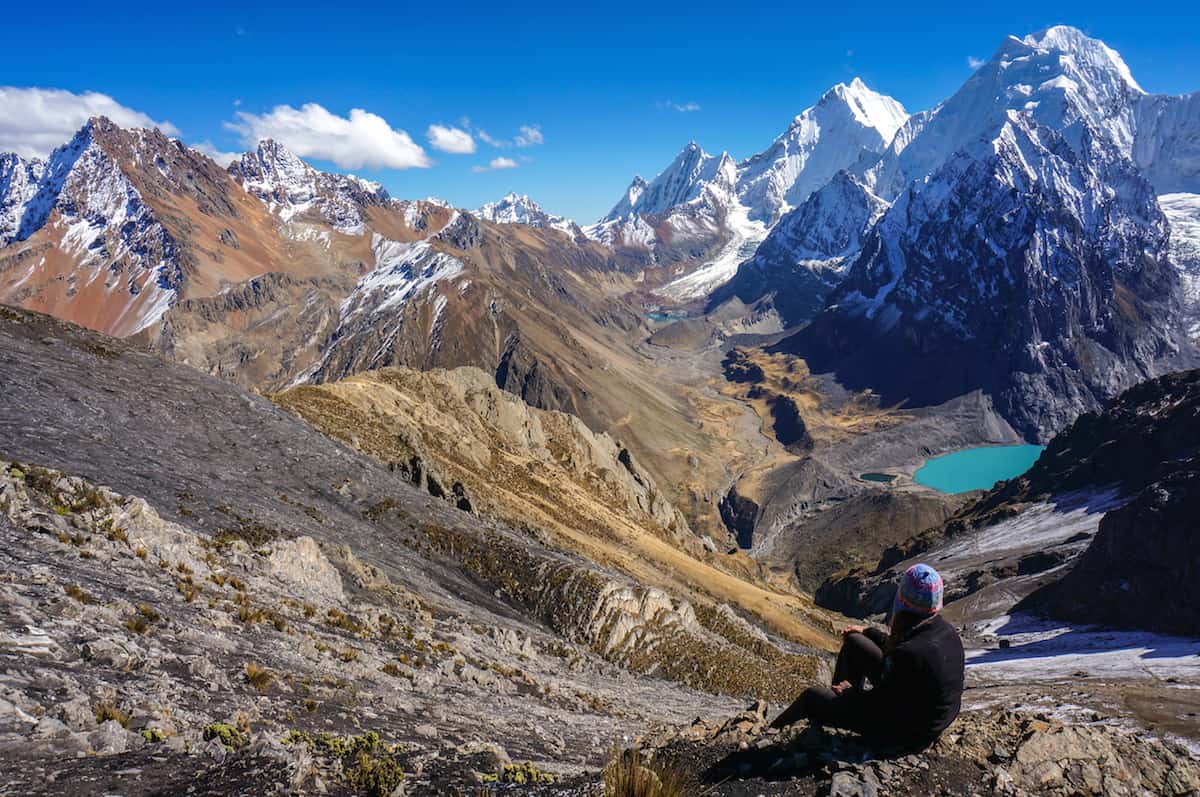 The incredible view from the top of San Antonio pass.
WHERE TO STAY IN HUARAZ
ALOJAMIENTO SOLEDAD – BUDGET
Clean, cheap and centrally located. The budget-friendly Alojamiento Soledad is probably one of the best values in Huaraz. The staff is super friendly and you feel like at home. Wi-fi connection is included. A great place to stay if you are traveling on a budget.
GUESTHOUSE LA AURORA – MID RANGE
Comfy beds, great views, professional service and excellent breakfast make the Guesthouse La Aurora one of the reader's favorites in Huaraz. A perk is there are free hot beverages and a restaurant on site.
ANDINO CLUB HOTEL – HIGH END
The Andino Club Hotel boasts a lovely atmosphere, caring staff and large beautiful impeccable rooms. Located at a 10 minutes walking distance from town, it has some of the best views in Huaraz. A big breakfast with eggs made to order is served.
[thrive_leads id='54645′]
Allow enough days to acclimatize to the altitude before starting this route. It's possible to hike the Huayhuash Circuit independently as long as you can carry enough food for 8 days. Otherwise, going with an organized tour is recommended.
8-12 Days. There are different route options but the "classic Huayhuash Circuit" is normally completed in a minimum of 8 days.
This trek is best enjoyed during the dry season, from May to September. April can also be a good choice.
Most of the hikers start at Quarterlhuain camp and hike the loop clock-wise. If hiking independently, you will need to catch the 5:30AM bus with El Rapido or Nazairo from Huaraz to Chiquián (10 soles), and another one from Chiquián to Pocpa (15 soles). From Pocpa you will need to spend the rest of the day walking on the road to Quarterlhuain (4 hours) or hitch-hiking! To come back, the last bus from Llamac to Chiquian-Huaraz is at 11:30AM.
WHAT WE LIKED THE MOST
+ Getting so close to the snow-capped peaks.
+ Impressive high mountain views.
+ Being a challenging but very rewarding hike.
+ It's not an overcrowded hike.
WHAT WE DIDN'T LIKE THAT MUCH
– If hiking independently, you need to carry a lot of food.
RECOMMENDED GUIDE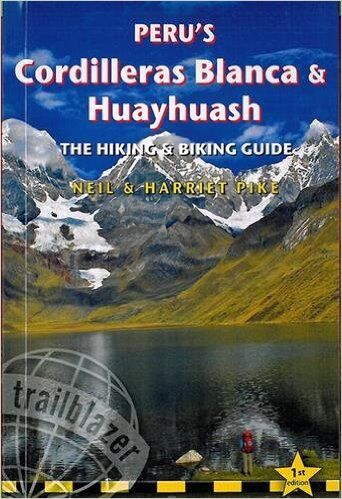 If you are looking for a guide to do the Huayhuash Circuit and many other cycling and hiking routes around the Cordillera Blanca & Huayhuash, the new guide written by Neil & Harriet Pike is without a doubt the best up-to-date and most detailed resource on the market. It's written by adventurers for adventurers.
EQUIPMENT CHECK LIST
FINAL THOUGHTS
It's not hard to see why the Huayhuash Circuit is considered by many as the best trek in the continent. High mountain passes, snow-capped peaks, immaculate lagunas and great camping spots make this hiking route, together with the Ausangate lodge to lodge trek, as one of our favourite ones of all time. And that's saying a lot!
It's also a challenging hike, specially if you decide to go independently. Up to seven passes of 4,500mts+ (14,500ft+) need to be climbed and all the camping spots are well over the 4.000 mts – 13.000ft mark. But those who venture this far will be rewarded with some of the best landscapes of the Americas.