Updated on January 1, 2021
It's super simple, just take the cap off, press the button, stick it in a water bottle, swirl it around while the timer counts down from 89 seconds. When it's done a smiley face appears on the LED display and voila, you have one liter of water that is safe to drink.
On a recent visit to California my dad wanted to buy me and Antonio a gift. As we travel by bicycle anything we carry has to be useful. The first thing that came to my mind was a SteriPen. After 2 months of use it's proven to be one of the most useful travel tool we carry.
[thrive_leads id='51961′]
STERIPEN: THE MAGIC WAND THAT MAKES SAFE DRINKING WATER
Traveling through Latin America there are very few countries that you can drink the water from the tap. When we are cycling, we drink a ton of water, at least 5 liters per day/per person.
At nearly $1 a liter in most countries we've been to, that's a lot of money we would have to spend on just water. 
Aside from the expense, finding water was a daily stress for us in Mexico because there were often long stretches without shops or houses. A few times we completely ran out of water and had to cycle extremely dehydrated. With the SteriPEN we can fill our bottles from gas station sinks and don't have depend on finding a town.
When we first started bicycle touring we bought a water filter. It's very inconvenient to use because you have to manually pump the water through a hose. You need to have one container to hold the water to then pump it into your water bottles. We still use it to filter river water in emergencies but not on a daily basis.
A QUICK VIDEO OF THE STERIPEN IN ACTION
THE STERIPEN COMES IN 5 MODELS
SteriPEN Traveler
SteriPEN Freedom
SteriPEN Adventurer Opti
SteriPEN Classic 3 with Pre-Filter
SteriPEN Ultra

We decided to go for the Ultra version because it has an internal battery so there is no need to carry spares. While there are smaller models, such as the Adventure Opti, the Ultra has the best battery life. The battery is charged by USB through a computer, wall outlet or portable solar panel.
See the comparison chart to decide which model is best for you.
HOW DOES IT WORK?
UV purification works as the ultraviolet energy emitted by the light is absorbed by the cells of the microbe, preventing cell enzymes from 'reading' its DNA. Without intact DNA, microbes can't reproduce to make you sick.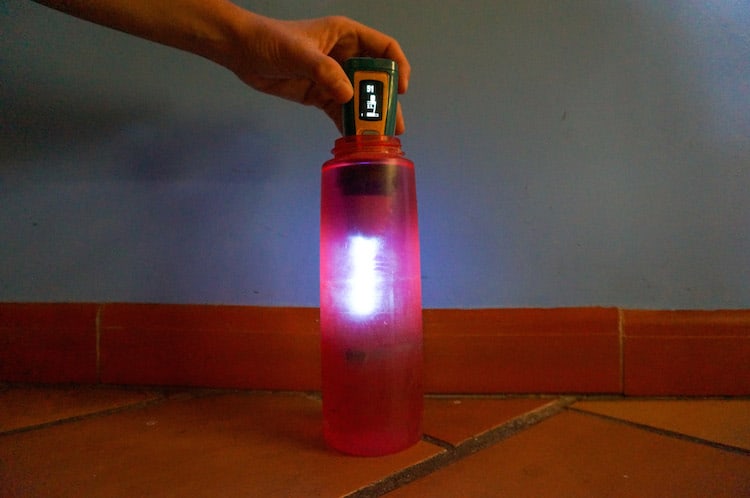 CAN I TRUST IT?
For over 100 years, ultraviolet light has been used by bottling companies and in water treatment plants to make water safe to drink. SteriPEN eliminates over 99.9% of bacteria, viruses and protozoa that cause diarrhea, dysentery, cholera and other waterborne illness. We've been using it everyday for over a month while traveling in Colombia and have not been sick once.
WHAT WE LIKE
It's super easy to use. There is only one button, you press it once for 1 liter or twice for 1/2 liter, stick it in a wide mouthed water bottle and a timer counts down how long you have to leave it in. It couldn't be easier.
No pumping like with the water filter.
No bad aftertaste or chemicals like when you use tablets to treat water.
It's fast. 89 seconds for 1 liter and 49 seconds for 1/2 a liter.
Long Lasting. It lasts for 8,000 liters.
It's compact and light weight making it easy to pack.
Long lasting battery life. When it's fully charged it will last 50 full treatments (1 liter) or 100 half treatments (1/2 liter).
Smart Sensor. The sensor can detect cold water temperature and will automatically adjust giving it a longer treatment time.
WHAT WE DON'T LIKE
Only that we didn't get one sooner!
WHO IS IT FOR?
Bicycle tourists

Hikers

Travelers going to developing countries and/or remote areas

Anyone living in a place where the tap water is unsafe to drink
SteriPEN is an essential tool for travelers and outdoor lovers like us. It saves us money, time and hassle. It keeps us safe and healthy while on the road.
USEFUL ACCESSORIES 
If you plan on using a SteriPEN to treat river water, we recommend using a filter to remove any debris before UV treatment. SteriPEN sells two types:
The Pre-Filter that is used and directly stored on your water bottle.
The FitsAll Filter which fits on a wide range of water bottles.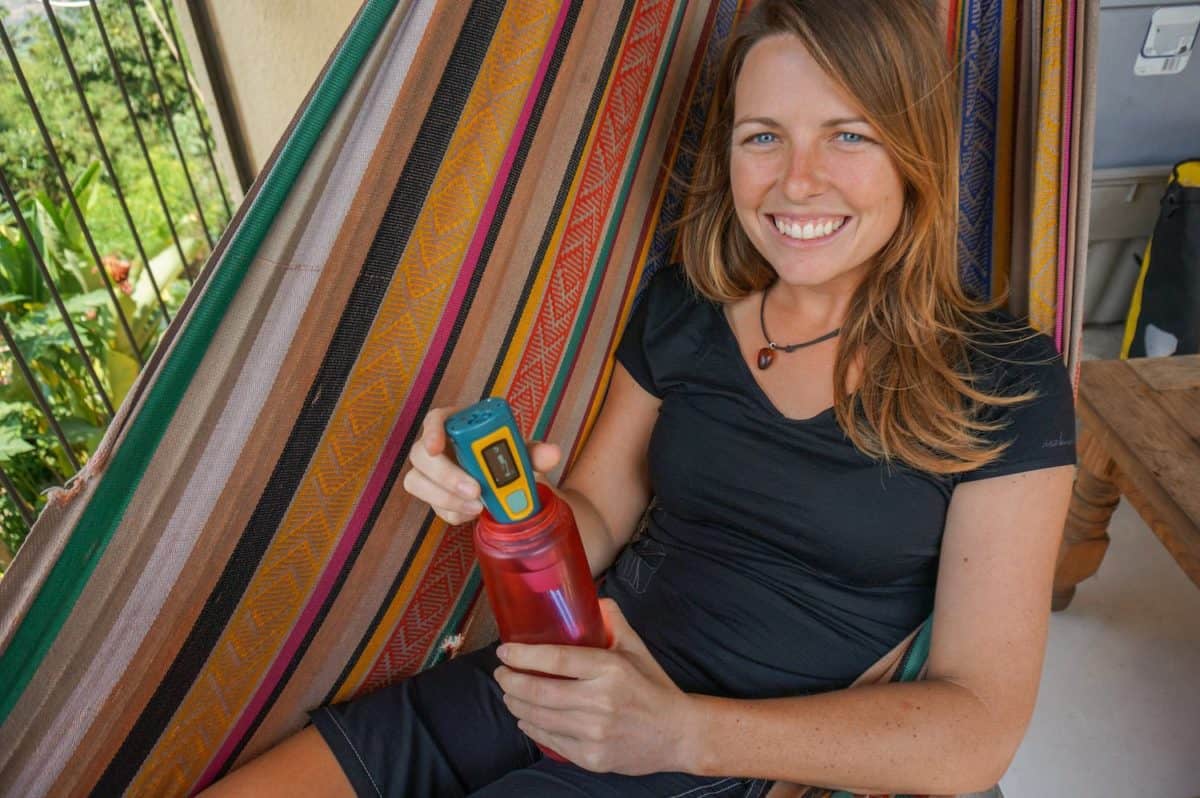 Weight: 4.94 oz
Dimensions: 7.3 x 1.6 x 1.3 in
Lamp Life: 8,000 treatments
Battery Life: 100 .5 liter treatments or 50 1 liter treatments per charge
Minimum Bottle Diameter: 20mm (0.8 inches)

Model: SteriPen Ultra