Updated on November 27, 2019
Are you ready to lose all that weight and enter the fast-paced world of ultralight backpacking? Can you see yourself gliding elf like through the wilderness, carrying only what is essential? But how do you know if the items on your ultralight backpacking gear list are essential, or just dead weight?
Here at The Adventure Junkies, we understand the minimalist's dilemma: How do you balance gear-weight -loss with the human need for a bit of comfort on the trail? Turns out, it's easier than you might think.
There are a lot of gear out there designed specifically for ultralight backpackers, and replacing just a few big items will help you slim down quickly. We've put together this gear list to help you decide what to keep and what to replace, and whether to pack it in or leave it behind.
[thrive_leads id='59716′]
HOW TO USE THIS PACKING LIST
Before we discover the essentials of packing for an ultralight backpacking adventure, here's a run down on how to get the most out of this list. Next to each item you will see a few categories. Here's what they mean.
PURPOSE: What the gear is designed for, and why you would consider taking it with you.
ESSENTIAL ITEM: It's difficult to know if you're going to need something, so sometimes you end up throwing in everything. This is the opposite of what ultralight backpacking is about.
In this world, every ounce of weight must prove itself worthy. We've whittled it all down to what we consider to be the bare essentials, but these will always vary according to where you're going, and when.
PRICE RANGE: While ultralight gear is typically pricier than standard backpacking equipment, that doesn't mean you have to spend a fortune to lighten your load. Note that all price ranges are listed in US dollars.
LOOK FOR: Some quick tips on how to choose the best gear.
OUR PICK: Our choice based on the value and quality of the item.
LEARN MORE: A full article on how to choose that particular piece of gear and the best models of the year.
1. CARRYING
45-55L BACKPACK
RAIN COVER
DRY BAG
2. SLEEPING
SLEEPING BAG
SLEEPING BAG LINER
SLEEPING PAD
TARP
HAMMOCK
TENT
3. NAVIGATING
COMPASS
MAP & TRAIL GUIDES
MAP HOLDER
GPS DEVICE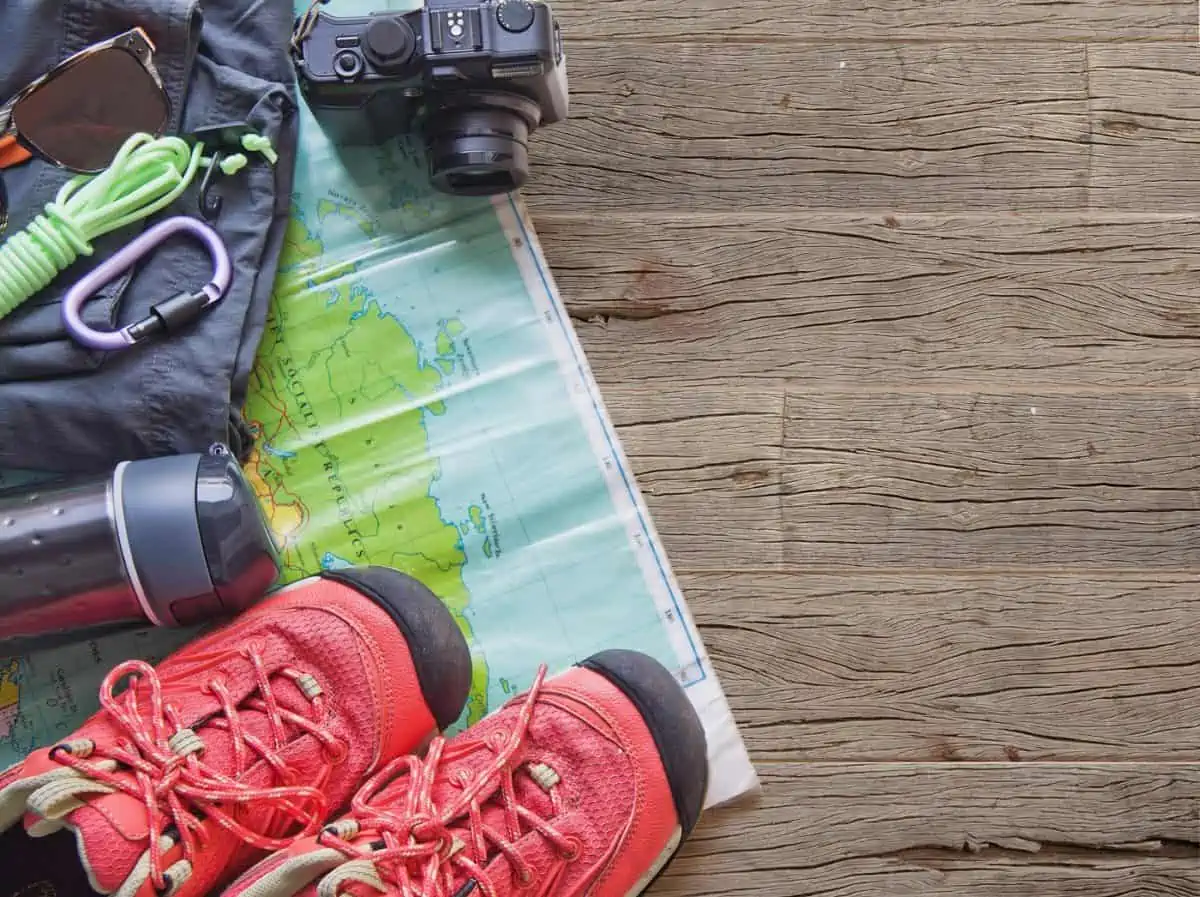 Photo by istockphoto.com/portfolio/littlew00dy
4. COOKING
BACKPACKING STOVE
FUEL
LIGHTER
SPORK
COOKWARE & DISHES
5. EATING & DRINKING
MEALS
SNACKS
WATER FILTER
WATER PURIFIER
WATER BLADDER
6. CLOTHING FOR HOT WEATHER
HIKING SHIRT
QUICK DRY SHORTS OR PANTS
WICKING UNDERWEAR
Photo by istockphoto.com/portfolio/redwedge
7. CLOTHING FOR COLD WEATHER
THERMAL BASE LAYER
THERMAL LEGGINGS
FLEECE JACKET
BEANIE
GLOVES
8. RAIN GEAR
WATERPROOF RAIN JACKET
WATERPROOF RAIN PANTS
WATERPROOF GLOVES
9. FOOTWEAR
TRAIL RUNNERS
SANDALS
SOCKS
LINERS
GAITERS
10. PERSONAL ITEMS & ACCESSORIES
11. SAFETY