Updated on October 1, 2020
Belaying is a crucial skill in climbing, as your climbing partner is literally putting their life in your hands. To attach your belay device to your harness, you need a locking carabiner, and some are better for the job of belaying than others. Here at The Adventure Junkies, we will help you find the best belay carabiners that you can rely on while you're focused on belaying.
For more of our top climbing gear recommendations, check out the Best Carabiners.
Quick Answer

-

The Best Belay Carabiners
Black Diamond RockLock Screwgate

Petzl Attache 3D Screw-Lock

Black Diamond Magnetron RockLock

Trango Regulock HMS Screwlock
Comparison Table

-

Best Belay Carabiner

For the best experience turn your device horizontally
Reviews

-

The Best Carabiners for Belaying
Black Diamond RockLock Screwgate
Specs
Gate

:

Screw Lock

Gate Opening

:

Screw Lock

Weight

:

85g
Features
Large Gate Opening
Keylock Nose (to prevent catching)
Rounded Edges (for smooth feeding of rope)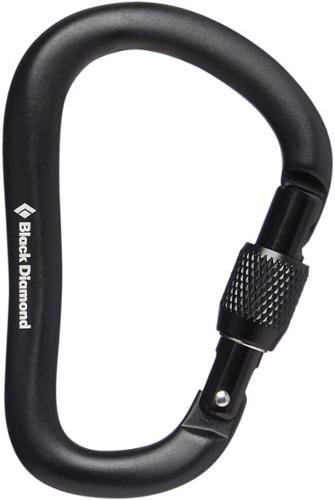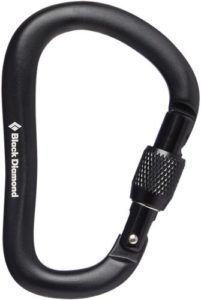 BEST FOR: THE BASICS
The Black Diamond RockLock Screwgate is a large carabiner designed to be used for belaying, as well as rappelling. As with most belay carabiners, it is HMS (or pear) shaped, which offers a wide gate opening to easily set up your belay device and rope.
The RockLock has rounded edges to provide smooth feeding of the rope, especially when you're using an ATC or tube-style belay device. Because of its large size, the RockLock might not be the best for multi-pitch, when you want to keep things small and light, but it as an excellent choice for gym climbing or single-pitch cragging.
Petzl Attache 3D Screw-Lock
Specs
Gate

:

Screw Lock

Weight

:

56g
Features
Compact & Lightweight
Security Stripe (for easy visual check of locking)
Keylock Nose (to avoid snagging)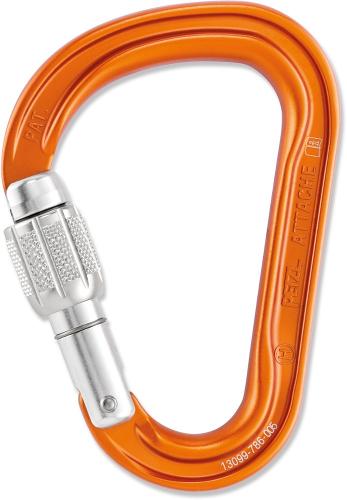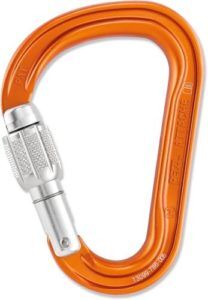 BEST FOR: VERSATILITY
Significantly smaller than many belay carabiners, the Petzl Attache 3D Screw-Lock is an extremely versatile carabiner that you'll spot on many climber's racks. Due to the I-Beam construction, the Attache is very lightweight for a belay carabiner, so it's great to use on multi-pitch climbs where weight matters.
The Attache also features a red security stripe that is only visible when it is unlocked, which provides extra safety and peace of mind because you can visually check if the carabiner is locked. One drawback of the Attache is that the screwgate is prone to getting stuck if you twist it too far to lock it.
Black Diamond Magnetron RockLock
Specs
Gate

:

Auto Lock

Weight

:

87g
Features
Magnetic Closure
Curved Spine (for maximum gate opening)
Keylock Nose (to prevent snagging)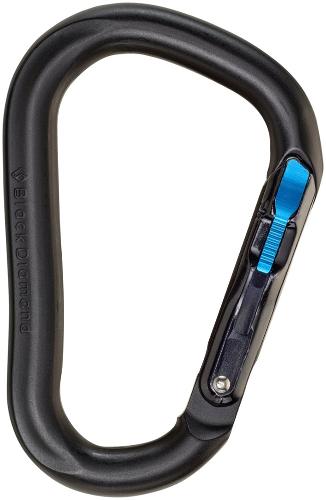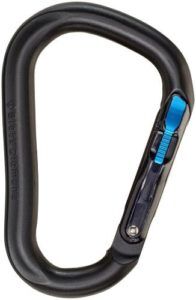 BEST FOR: INDOOR CLIMBING
The Black Diamond Magnetron RockLock is similar to the standard RockLock Carabiner with the addition of a specialized auto-locking magnetic closure. Two magnets in the gate and a steel insert in the nose provide a secure locking mechanism that can easily be opened and closed, even with one hand.
This magnetic closure is great from a safety and ease of use perspective, however, one big drawback is that the opening of the gate can be affected by cold (especially when wearing gloves) or by dirt that can affect the magnet. For that reason, the Magnetron is a great choice for indoor climbing, but not an ideal choice for winter climbing. However, it can be used outside in warmer weather if you're careful to avoid placing it in dirt.
EDELRID HMS Bulletproof
Specs
Gate

:

Autolock

Weight

:

91g
Features
Spring Bar (to hold in place)
Steel Insert (to prevent wear)
Triple-Action Lock (for security)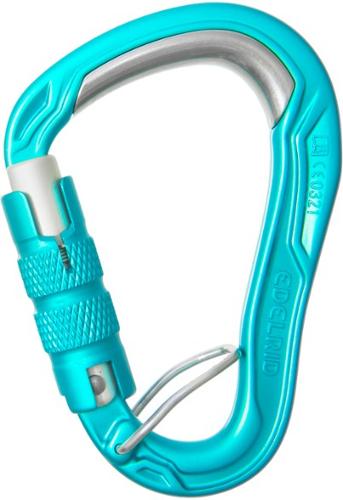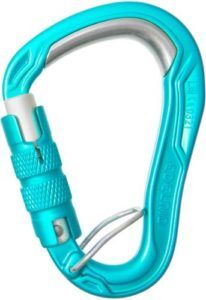 BEST FOR: EXTRA FEATURES
The Edelrid HMS Bulletproof Twist has an abundance of extra features that make it an excellent belay carabiner. The metal spring bar is made to hold your belay loop inside it to prevent the carabiner from rotating and potentially cross-loading, which can be dangerous (carabiners are not as strong when the load is oriented across the side).
The Bulletproof piece of this carabiner is the stainless steel insert, which stands up to the wear of rope running over it and provides extreme durability, which is key for belay carabiners which see a lot of use. This carabiner is auto-locking, with a triple action closure for extra safety and security.
Trango Regulock HMS Screwlock
Specs
Gate

:

Screw Lock

Weight

:

87g
Features
Keylock Nose (to prevent snagging)
Large Gate Opening
Also Available in Auto-Locking Version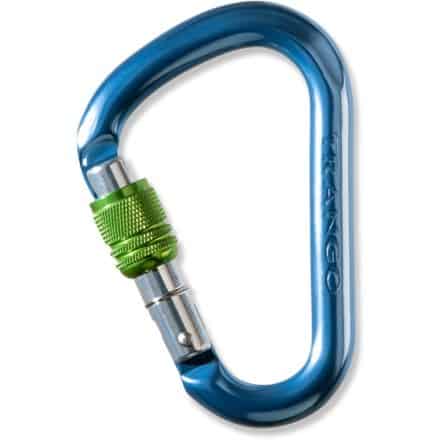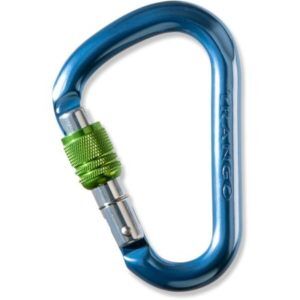 BEST FOR: VALUE
The Trango Regulock HMS Screwlock might not have a lot of bells and whistles, but it is a simple belay carabiner that gets the job done for a great value. The lack of extra belay-specific features also make it a useful carabiner for other purposes, including building anchors and rappelling.
The Regulock is a large carabiner with an equally large gate opening, making it simple to attach your belay device and feed the rope. The screw lock is quite smooth to open and close, and this carabiner also comes in an auto-locking version if you prefer that for extra security.
THINGS TO CONSIDER WHEN BUYING A BELAY CARABINER
Your belay carabiner is a crucial piece of safety gear that you should always have on your harness, so you want it to be simple to use and made to last. REI provides a good primer on the different types of carabiners to choose from, and Climbing shares some interesting data on carabiners, including why cross-loading reduces strength.
SHAPE
The best shape for a belay carabiner is HMS or pear-shaped. These tend to have a wide gate opening and are easy to attach to belay devices and ropes. HMS carabiners can also be used to belay with a Munter Hitch, which does not require a belay device (if you happen to drop your belay device on a multi-pitch climb).
LOCKING CLOSURE
While there are a number of features that make a carabiner more suitable for belaying, the number one consideration is that a belay carabiner should always be a locking carabiner, which can either be a screw gate or auto-locking closure. Both are equally safe when locked, but some people prefer auto-locking carabiners as an extra measure of safety since you can't forget to lock them.
DURABILITY
The belay carabiner will be one of your most-used pieces of equipment, so you want it to last. Many belay carabiners are beefy and large, which helps them stand up to constant wear. The Edelrid Bulletproof carabiner in particular features a stainless steel plate that is extra durable.
FEATURES EXPLAINED
SCREWGATE VS AUTO-LOCKING
With a screwgate, you manually screw the carabiner closed, while an auto-locking carabiner closes on it's own.
HMS SHAPE
This is a pear shaped carabiner which makes for an extra wide gate opening to accommodate the rope and belay device.
KEYLOCK NOSE
The nose is the top of the opening for the gate, and a keylock nose is smooth and not notched.
SPRING BAR
A small metal bar at the bottom of the carabiner to keep the belay loop in place.
I-BEAM CONSTRUCTION
The outer edges are wider than the inner part of the carabiner, which retains strength while reducing weight.
READ MORE
For more of our top climbing gear recommendations, check out these popular buyer's guides: