Updated on October 1, 2020
Perhaps you're tired of always needing to go to an indoor gym to climb because you don't have a rope of your own. Maybe your buddy told you it's time to stop borrowing his rope and get your own. Whatever the reason, buying your first climbing rope opens up a whole new world of crags and adventures! But out of the multitude of options out there, we know you're wondering which ones are the best climbing ropes for beginners?
Well climbing friends, we have the answers you are searching for. We've pulled together our top suggestions for the best climbing ropes for beginners, along with your essential buying guide so you know exactly what to look for when purchasing your first rope. So let's climb on and get started!
For more of our top climbing gear recommendations, check out the Best Climbing Ropes. 
Quick Answer

-

The Best Climbing Ropes for Beginners
Sterling Evolution Velocity
Comparison Table

-

Best Climbing Rope for Beginners

For the best experience turn your device horizontally
Reviews

-

The Best Beginner Climbing Ropes
Petzl Volta
Specs
Diameter

:

9.2mm

Weight

:

55 g/m

Dry Treatment

:

Yes
Features
Lower Weight
Slim Design Fits Very Well Into Climbing Gear
Dry Treated To Maintain Strength Even When Wet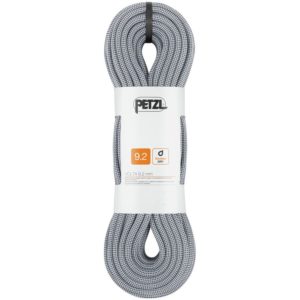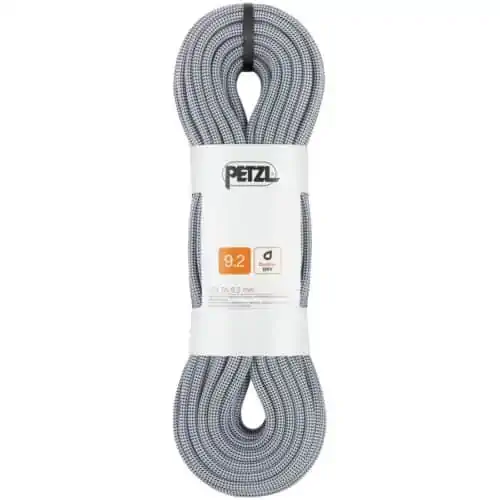 BEST FOR: WEIGHT CONSCIENCE CLIMBERS
Petzl's reliability in climbing gear is well-documented and well-earned, especially when it comes to ropes such as the Volta. At only 9.2mm in diameter, this a much slimmer rope than other options we've covered, but still very strong thanks to it's Duratec Dry Treatment – locking out water and grit while locking in durability and abrasion resistance.
The slimmer diameter also has the added benefit of shaving a little weight off the rope.  This is something your shoulders will be thanking you for, especially if you're planning to hike a fair distance to reach the crag of your choice. The slimmer design combined with Petzl's proprietary dry treatment tend to make this rope feel a little more slippery than some of the others we've covered, which could cause a few beginners to hesitate the first time they use this rope. However, slippery feel aside, this is a fantastic option for new and competent climbers looking to keep weight to a minimum.
Sterling Evolution Velocity
Specs
Diameter

:

9.8mm

Weight

:

62 g/m

Dry Treatment

:

No
Features
Stiffer Design - Improves Handling With Gear
Versatile - Can Be Used For Many Types Of Climbing
Lower Cost Than Comparable Ropes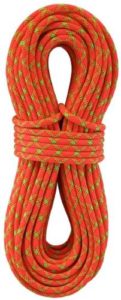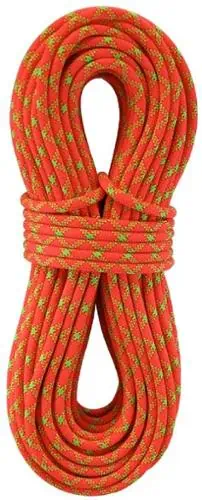 BEST FOR: VERSATILITY 
Not sure where your climbing life will take you? Perhaps you'll start out with the basic top rope, where your partner can always catch you in case of a fall. Then maybe you'll move on to sport climbing, where you'll clip in your own rope as you go, falling further, but hopefully less often.  Maybe one day you'll even venture into traditional or ice climbing, where the stakes are high and the learning curve is significant. Regardless of where you go, the Evolution Velocity from Sterling will be there like an excitable Labrador puppy – ready to join you on every new adventure. 
The 9.8mm diameter is perfectly in the middle of the road- not too thick to handle and not too slim for most applications. It can fit into essentially all gear and function well for many different types of climbing. It also has a blissfully perfect balance of stiffness and flexibility, making it much easier to clip into carabiners while you're on the wall.  With everything we just mentioned in mind, we wholeheartedly recommend the Evolution Velocity for you beginners out there who aren't quite sure yet what type of climbing will be your bread-and-butter.
BlueWater Lightning Pro
Specs
Diameter

:

9.7mm

Weight

:

61 g/m

Dry Treatment

:

Yes
Features
Soft/Supple Handling
Durable
Easy Handling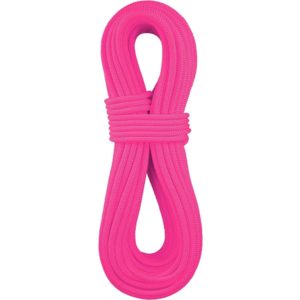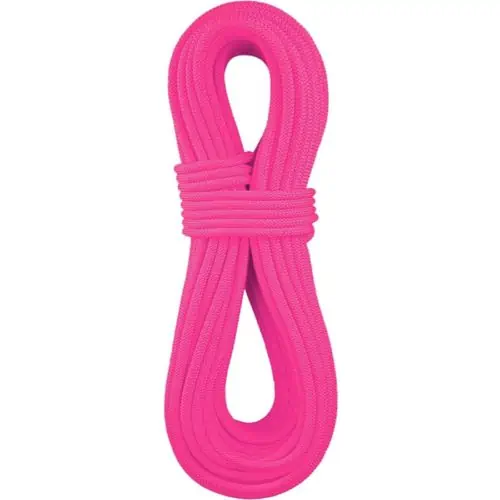 BEST FOR: EASY HANDLING 
BlueWater once again makes our list with their Lightning Double Dry. As you may have guessed, this rope features an excellent treatment that prevents water from seeping in and perhaps even increases the rope's strength. The Lightning also has a supple feel to it, making it easy to work with for tying knots and other tasks. 
The suppleness, however, may potentially lead to an almost floppy feel after extended use, making knots harder to untie. Overall, the excellent dry treatment and overall durability of the Lightning far outweigh this minor inconvenience in our minds, making this one of the best options for beginners looking for a climbing rope that is easy to handle.
BlueWater Eliminator
Specs
Diameter

:

10.2mm

Weight

:

64 g/m

Dry Treatment

:

No
Features
Very Thick For Durability
Excellent Abrasion Resistance
Higher Than Average Strength Rating
BEST FOR: EXTRA SECURITY AND TOUGHNESS 
We get it. Branching into outdoor climbing and investing in your first rope can be a daunting proposition. The phrase 'hanging by a thread' may come to mind, but now imagine that thread to be the whopping 10.2mm diameter powerhouse known as the Eliminator. This should definitely ease your apprehensions, and let us tell you why.  
When it comes to climbing ropes, 10.2mm is extra thick, bringing with it all the added toughness and strength of that extra bulk. As soon as you start working with this rope, you'll feel the added security and trust, which is absolutely perfect for those just finding their feet – or toe holds – in the climbing world. The Eliminator's added thickness, however, does not detract from its handling, as it tends to flow very nicely through belay devices, again adding to its beginner's value. Just remember that the Eliminator comes with extra heft, making it heavier than most other options.
Mammut Infinity
Specs
Diameter

:

9.5mm

Weight

:

59 g/m

Dry Treatment

:

Yes
Features
Very Durable
Long Lasting
Easy Operation Without Being Flimsy
BEST FOR: LONGEVITY 
Amongst the old guard of durable and reliable outdoor gear is Mammut. Their gear is built to last for the long run, and the Infinity Dry is absolutely no exception. This rope features a very robust sheath – the outer part of the rope that you touch – which will endure through constant use. 
While durable, the Infinity is still soft to the touch so it doesn't feel like you're working with an old fishing rope, once again promoting itself as a top contender for constant and comfortable use. As all climbers know, frequent or long-term use of your rope in the great outdoors generally leads to climbing in some inclement weather.  Luckily for you, Mammut's dry treatment, which maintains the rope's strength in wet conditions, will keep this rope in tip-top shape for as long as you need!
THINGS TO CONSIDER BEFORE BUYING A CLIMBING ROPE
LENGTH
The last thing any of us want is for you to reach the end of your rope while climbing, in every sense of the phrase! So, it's beneficial to consider the height of the routes that you have in mind for your new rope – and don't forget to double that height, as you'll need the rope to get to the top of the route and back down to your belay buddy!
In general, for all of you beginners that are just starting out, we think a 60m or 70m rope is an excellent choice. These standard rope lengths will give you plenty of rope for the vast majority of routes that you'll be tackling both in the gym and outside.
STRENGTH
We all know that we want our ropes to be strong, but we're sure you're wondering, how is that measured? The answer is provided by the Union Internationale des Associations d'Alpinisme (UIAA), an international organization dedicated to rope standardization and safety standards.
The UIAA has created a series of tests and certifications to rate your rope's strength, which will always be displayed with the rope's basic information- whether you are looking in the store or online. You'll see something along the lines of: 'rated to 6 UIAA falls', or '8 UIAA falls', or whatever number is determined through intensive testing. This number refers to the number or falls – or times the rope catches your full body weight – before it's time to consider retirement.
With this in mind, we would like to remind you that no two falls are the same, conditions vary, and it's always pivotal to check your rope for damage and degradation before and after climbing. Run an eye over REI's advice in this department to make sure your rope is always up to par.
BI-PATTERN AND MIDDLE MARK
As stated earlier, it's absolutely pivotal that your rope is at least twice as long as the route you're planning to climb. This will allow you to be lowered to the ground while still remaining connected to your belay buddy. Because of this, while you're in the process of crushing your route, you do not want to use more than half of your total rope length.
To this end – or middle in our case – we have the bi-pattern rope. These ropes have one pattern for the first half of their length, and a different pattern for the other half. This allows for a quick determination of how much rope you still have to play with before reaching the middle. Other rope designs will opt for a middle mark, which is simply a mark or different colored section directly in the middle of the rope to serve the same purpose.
FEATURES EXPLAINED
DIAMETER
This is simply the diameter of your climbing rope, measured in millimeters. The general trend in the rope community is that the thicker your rope, the more strength and abrasion resistance it has.
Ropes that fall in the 9.5-10.0mm range are typically great all-around purpose ropes that can be used for all the different types of routes and climbs that you'll be jumping on as a beginner. Anything thicker will be very beefy and secure, best for gym climbing and heavy duty use. Anything thinner will be extra light and great for multi-pitch – climbing several rope lengths up a face – and alpine climbing.
WEIGHT
Usually represented as grams per meter, this is the overall weight of the rope, which is very dependent on the rope's diameter. While thicker and heavier ropes can provide more strength and support, remember that the heavier the rope, the tougher it will be to get it to hard-to-reach crags!
DRY TREATMENT
In their natural, untreated, form, climbing ropes can absorb water when the rain starts to fall. Once this water is soaked into the fibers, the rope's strength can be decreased (not to mention the rope's weight can be painfully increased). For this reason, we believe that the best climbing ropes for beginners should include a dry treatment.
This treatment essentially adds a shield to the rope, preventing water intrusion while also increasing its durability and abrasion resistance. Of course, dry treated or not, all climbing ropes still get dirty over time and occasionally need a little maintenance. To that end, Backcountry has produced an excellent article to guide you through the rope cleaning process.
READ MORE
For more of our top climbing gear recommendations, check out these popular buyer's guides: