Updated on September 23, 2020
When you're shredding the slopes and taking in beautiful mountain views, you're going to want one of the best cameras for snowboarding to share your extreme moments with friends and family. Not all cameras are created equally and in a world where technology has become extremely nuanced, it can be overwhelming to just make a side-by-side comparison.
That's why we've cut through the noise, the jargon, and all the marketing hype to bring you a streamlined and easy to digest list of cameras you can take on the slopes with confidence. If there's anything you need explained in further detail, be sure to read the Things To Consider section at the end of the article where we walk you through the most important product specs to keep an eye on.
Note: All cameras listed include both WiFi and BlueTooth capabilities unless otherwise stated.
For more of our top snowboarding gear reviews, check out the Best Headphones for Snowboarding.
Quick Answer

-

The Best Cameras for Snowboarding
Canon PowerShot G9X Mark II
Comparison Table

-

Best Cameras for Snowboarding

For the best experience turn your device horizontally
Reviews

-

Best Snowboarding Cameras
GoPro HERO8 Black
Specs
Type

:

Action Cam

Best For

:

Photo & Video

Weight

:

4.3 oz.

Waterproof?

:

Yes (up to 33 ft./10 m.)

Photo

:

12 Megapixels

Video

:

Ultra High Definition (4K at 60 frames per second)

Slo-mo

:

8x

Raw Photo Capture

:

Yes
Features
Hands-Free Voice Activation Makes Using The Camera A Breeze
Built In "Folding Fingers" At The Base Allow You To Swap Between Mounts Easily
LiveBurst Records Photos Before & After The Moment To Ensure You Get The Best Shot
BEST PREMIUM-QUALITY SNOWBOARDING ACTION CAMERA
If you're looking for a camera that excels at taking both photos and videos all while being packed into a compact, rugged, take-me-anywhere-and-everywhere design, then GoPro's latest offering will be your godsend: the Hero8 Black.
Able to shoot stunning Ultra High Definition video (4K at 60 frames per second), you'll be able to capture ultra high-resolution video and smooth, buttery action footage without having to worry about the details. You'll also be able to seamlessly switch between 4 "digital lenses", giving you the freedom to capture both "normal" looking video (without the warp-y, fisheye look) as well as super wide angle (270° degree field of view) shots from the top of the mountain that's like taking a really cool panorama on your smartphone, only better!
Also packed into this little beast is an intuitive 2" touch-screen that you can playback footage on, a removable battery that can be replaced with a backup to keep you on the mountain longer, and voice controlled camera activation for hands free simplicity. But perhaps coolest of all is the new HyperSmooth 2.0, which reduces shakiness and nauseating video from intense action footage.
Downsides? None. We're still scratching our heads as to how GoPro is going to top this one in the future.
GoPro MAX
Specs
Type

:

Action Cam

Best For

:

Video

Weight

:

5.75 oz.

Waterproof?

:

Yes (up to 16 ft./5m.)

Photo

:

5.5 Megapixels (up to 16.6 Megapixels)

Video

:

Ultra High Definition (5.6K at 30 frames per second) / Quad High Definition (1440p at 60 frames per second)

Slo-mo

:

2x

Raw Photo Capture

:

No
Features
Live Stream Footage To Social Media In Full HD (1080p)
4 Digital Lenses Seamlessly Change Field Of View To Capture The Best Shots
6 Mics With Wind-Noise Reduction Capture Crisp Audio Regardless Of Direction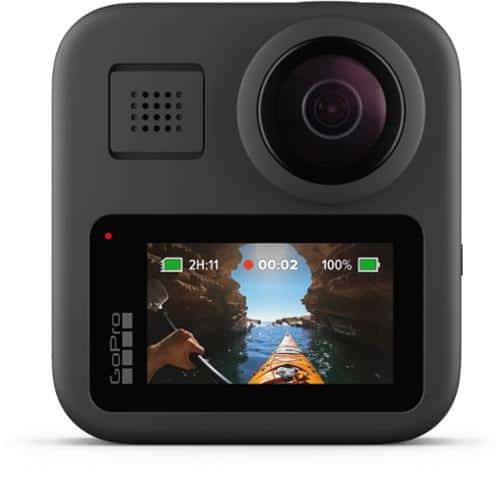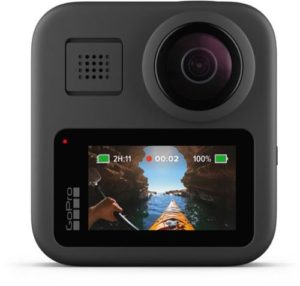 BEST VLOGGING SNOWBOARDING ACTION CAMERA
If you like to vlog your snowboarding adventures in order to capture both yourself and what you're experiencing, then the GoPro MAX will make your life much, much easier.
Sporting not just 1, but 2 cameras, the MAX is able to capture both front and rear facing video footage simultaneously. We know: mind = blown. Not only that, the footage you capture isn't just two seperate feeds, but rather is stitched together in real-time to create a 360° field of view that includes both camera feeds in a single frame. I swear it's magic.
This takes personal (and professional) vlogging to a whole new level. The immersive 360° video is also perfect when hitting the terrain park, letting viewers see both the obstacle to be shredded and yourself as you nail the stunt.
Of course, you can also switch back to "Hero" mode and record normally (i.e. not in 360° mode – this can be with either front or rear facing camera) if you are so inclined and have a specific vision for a shot.
Perhaps where this camera gets a little tricky is in the photo department. If you want to take "Hero" style (i.e. normal – not 360° spherical looking shots) photos, you'll be relying on 1 of the 2 cameras and will have only a 5.5 megapixel capability which is underwhelming, to say the least.
However, if you double up the cameras and capture an "immersive 360° photo" (think phone camera panorama to the max), you'll have a whopping 16.6 megapixels at your disposal. While that is indeed impressive, not everyone wants or needs 360° photos, making this a less than ideal "photo" camera.
In sum: The MAX has revolutionary video capabilities for action sports like snowboarding and will take "pretty good" normal photos.
Olympus TG-6 Waterproof
Specs
Type

:

Point-and-Shoot

Best For

:

Photo

Weight

:

2.12 oz.

Waterproof?

:

Yes (up to 50 ft./15 m.)

Photo

:

12 Megapixels

Video

:

Ultra High Definition (4K at 30 frames per second)

Slo-mo

:

No

Raw Photo Capture

:

Yes
Features
Dual-Pane, Sealed Lens Is Fog-Proof And Prevents Condensation
Countless Accessories Allow You To Expand What This Camera Is Capable Of
Complete Weatherproof Construction Guards Against Water, Snow, Dust, & Impacts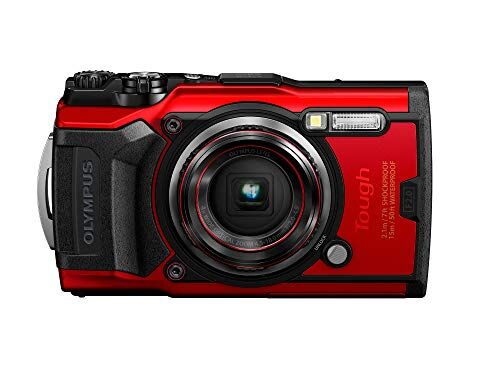 BEST RUGGED POINT-AND-SHOOT
If you're looking for a more traditional style camera that has most of the capabilities of a GoPro, then the TG-6 Waterproof by Olympus should be on your list of options.
When it comes to rugged adventures, the TG-6 stacks up well. It's actually more waterproof than a GoPro, able to be submerged almost 20 feet deeper than the Hero8 Black. It's also dustproof, freezeproof, shockproof, crushproof, snowproof, and has a 3" rear display (1" larger than a GoPro display).
It has a 12 megapixel camera that matches the Hero8 Black, but will ultimately capture better photos thanks to a high-speed sensor absent from GoPros. Pair that with the ability to manipulate settings and amateur photographers will be able to create stunning visuals from the top of the mountain.
Overall, the TG-6 will beat out a GoPro in the photography department in the hands of someone with a little photo know-how. Its video capabilities are just dandy, but could be better.
Note: This is the only camera listed here that does not include BlueTooth capabilities.
GoPro HERO7 Black
Specs
Type

:

Action Cam

Best For

:

Photo & Video

Weight

:

4.1 oz.

Waterproof?

:

Yes (up to 33 ft./10 m.)

Photo

:

12 Megapixels

Video

:

Ultra High Definition (4K at 60 frames per second)

Slo-mo

:

8x

Raw Photo Capture

:

Yes
Features
3 Digital Lens Can Capture A Variety of Photos And Videos
Hands-Free Voice Activation Makes Using The Camera A Breeze
High Dynamic Range (HDR) Technology Intelligently Improves Photos In Real-Time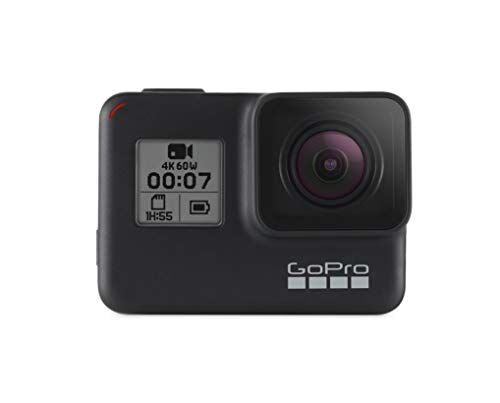 BEST BUDGET PICK
If you're wanting a top-notch GoPro without paying top-dollar money, you can save some coin by grabbing the previous iteration: the GoPro Hero7 Black.
The Hero7 Black has many of the same features as the newest GoPro model (the Hero8 Black), offering 12 megapixel photos, 4K video capture at 60 frames per second (fps), a 2" touchscreen for playing back footage, slow motion up to 8x, and HyperSmooth video stabilization that will make your snowboarding footage buttery smooth.
The Hero7 Black also has 3 digital lenses (doesn't include the narrow lens on the Hero8 Black), captures RAW photos that can be edited using post-production editing software, and includes voice-activated features for hands free capabilities.
However, the live streaming option is only available in 720p (p refers to pixel count), which although is technically HD, it is noticeably low-quality compared to a stunning 1080p video (which has 50% more pixels, meaning a sharper image!). Also absent is the Night Lapse shooting option (available on Hero8 Black) which allows you to take time-lapse photos and videos in low light (i.e. night time).
At the end of the day, the Hero7 Black is nearly identical to the Hero8 Black and if the aforementioned differences don't bother you, then the Hero7 Black will actually be a better investment for you since it comes at a lower price point.
Canon PowerShot G9X Mark II
Specs
Type

:

Point-and-Shoot

Best For

:

Photo

Weight

:

7.2 oz.

Waterproof?

:

No

Photo

:

20.1 Megapixels

Video

:

Full High Definition (1080p at 60 frames per second)

Slo-mo

:

No

Raw Photo Capture

:

Yes
Features
Available In 2 Colors
Has Bluetooth For Easy Photo Sharing With Friends And Family
Takes Amazing Photos In Low-Light And Motion Heavy Scenarios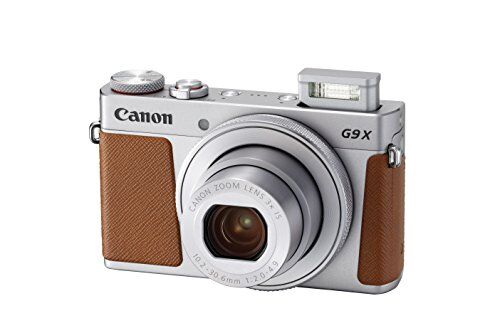 BEST PREMIUM QUALITY POINT-AND-SHOOT
If you have a little bit of camera know-how and want to take the highest quality photos to document your snowboarding vacation, then the PowerShot G9X Mark II from Canon will be your best bet.
Sporting the best photo resolution in this list, the PowerShot boasts a whopping 20.1 megapixel camera and has a high-speed sensor that intelligently manipulates the elements to produce the highest quality photos. In order to make the most of these features, you'll need a little knowledge when it comes to adjusting ISO, aperture, and shutter speed (see Things to Consider section below for more info about these terms).
Speaking of ISO, this camera has the broadest range of all the cameras listed here, going as low as 125 and as high as 12,800. ISO determines how much light a camera's sensor is receiving – the lower the lightsource, the higher the ISO needs to be. This translates into a greater ability to capture low-light images such as family photos on the mountain during sunset.
The PowerShot also features an image processor that makes action shots crisper and cleaner, reducing the chance for blurry photos. And it has a 3" inch touchscreen that can be used to review photos after they're taken.
To conclude, the PowerShot will take the best photos hands down but is certainly the most vulnerable camera when snowboarding. Even tucked away in a backpack, it risks damage in the event of a fall. If you want to take videos or you need a rugged camera that will stand up to drops and falls, look elsewhere.
THINGS TO CONSIDER WHEN BUYING A CAMERA FOR SNOWBOARDING
PHOTO & VIDEO RESOLUTION
When buying a camera, differences that can be deal breakers and decision makers rest on what you will primarily be using the camera for: photo or video? While many cameras are able to do both really well, most cameras lean one way or another. The resolution of the photos and videos being captured is extremely important to understand.
Photo
While there are plenty of "in-camera" technical aspects that can be manipulated by a photographer to take a great photo, there is one fundamental metric that helps us compare between two cameras: megapixels (MP).
Simply put, the more megapixels a camera has, the better quality the photos will be.
Video
Video is a little more nuanced but we'll keep it brief and simple. There are two things to keep an eye on when looking at video specs: resolution and frame rate.
Terms such as "1080p" and "4K" are very common when shooting video. What these numbers refer to are the number of pixels being captured in a given space (similar to megapixels for photos). 1080p means that there are more than 1,000 pixels in a single horizontal row whereas 4K has almost 4,000, making it 4 times better than the 1080p option. 1440p is another resolution that is a small step up from 1080p, but not nearly as high-quality as 4K.
Put simply, the higher the number, the better the video quality!

Frame rate refers to frames per second (fps), or the number of pictures taken in a single second. The two most common frame rates are 60fps and 30fps. The more frames you can pack into a single second of video, the smoother the video will appear. Therefore, 60fps is preferred for action shots or any video with a lot of motion being captured.
So, what's better? Video shot in 4K at 30fps or 1080p at 60 fps?
It depends on what you're capturing! If you're panning slowly across mountain top vista and want to display the beauty of the environment, then you'll want to focus on that 4K resolution. However, if you're snagging action footage of your friend snowboarding, you'll want to focus on the higher frame rate.
4K 30fps = Higher resolution
1080p 60fps = Smoother video
This is a pretty typical option you'll be faced with if the camera you choose has a maximum of 4K at 30fps as you can typically bump the resolution down while increasing the frame rate.
However, if you'd rather avoid this decision and want the highest quality everything, then make sure the camera you buy can shoot 4K at 60fps. Keep in mind that this also comes with an increase in price.
RAW PHOTOS
This applies if you plan to edit your photos in Adobe Lightroom or Aperture (by Apple). RAW is a file format that holds a lot more information than a standard JPEG image format and can be manipulated much easier. However, once you are done editing, your photos will need to be exported back into a JPEG format.
If you prefer a simpler approach and won't be editing your photos after shooting, then having a camera that shoots in RAW isn't necessary.
WIFI & BLUETOOTH
The WiFi and Bluetooth capabilities on a camera can vary and aren't to be treated the same. Generally speaking, WiFi is the stronger and more useful option over BlueTooth, as it can be used to livestream, transfer data, playback video, and control the camera remotely.
Bluetooth is a lower power consumption option with limited capabilities. In the instance of a GoPro, the Bluetooth is used to "wake up" a camera from sleep mode.
FEATURES EXPLAINED
Aperture
Aperture measures the depth of field in a photo being taken. It also allows more light to be let into the camera (similar to the way your pupil works).
Shutter Speed
This is a measure of how quickly a photo is taken in seconds. The faster the shutter speed (1/1,000th of a second), the less opportunity for blur to distort the photo. The longer/slower the shutter speed (5 seconds, 30 seconds, etc.), the more light can be let in which is used in taking long-exposures of the night sky.
ISO
ISO is the last measure that can be manipulated when taking a photo. It influences how sensitive the camera's sensor is to the available light. On a bright sunny day, the camera needs to be "less sensitive" and have a low ISO (i.e. 125) so your pictures don't appear "blown out" or too bright. When it's dusk and there's much less light, the camera's sensor needs to be "more sensitive" to the available light and have a higher ISO (i.e. 5000+) so that the picture doesn't come out too dark.
HDR
High Dynamic Range (HDR) is a software technology that reads photos in real-time to improve their quality. It's like a robot doing post-production photo editing in the blink of an eye.
READ MORE
For more of our top snowboarding gear recommendations, check out these popular buyer's guides: