Updated on August 31, 2020
Once you begin snowboarding with headphones, you won't be able to go back. Riding down the slopes, wandering around the backcountry, and even just chilling on the lift are made much better with music or a podcast. Simple headphones can get you by, but they can be annoying and frustrating too. The microphone doesn't work, or you have to pause your music everytime you want to talk to a friend. Or maybe your bluetooth headphones only last a few hours because the battery can't withstand the cold. It's important to purchase the best headphones for snowboarding that will meet all your listening needs.
There are many different types of headphones for snowboarding. Everyone has their preference, but the most serious snowboarders go with headphone chips. These are headphones that fit into your helmet ear pads. You may have never realized it, but there is a small pocket in your helmet where they will fit! If you need a pair of headphones that will work in the mountains, at your desk, and at the gym, you will want to go with a more functional pair of in-ear headphones. This article will help you make a more informed decision on what you should purchase. And if you've never tried headphones on the slope, well, give it a shot. This post will be waiting for you when you're ready for an upgrade.
For more of our top snowboarding gear recommendations, check out the Best Snowboard Racks.
Quick Answer

-

The Best Headphones for Snowboarding
Outdoor Tech Wired Chips Universal
Comparison Table

-

Best Headphones for Snowboarding

For the best experience turn your device horizontally
Reviews

-

The Best Snowboarding Headphones
AfterShokz Trekz Air
Specs
Battery Life

:

6 Hours

Color

:

Canyon Red / Forest Green / Ocean Blue / Slate Grey

Fit

:

Open-Ear/ Cheekbone

Weight

:

1.27 ounces

Bluetooth

:

Yes

Microphone

:

Yes
Features
Cheekbone Technology Allows For Ambient Noise and Music
Flexible Fit for All-day Comfort
Voice Prompts for Simple Control
PremiumPitch Technology for Dynamic Range and Boosted Bass


BEST AMBIENT HEADPHONES
These are the only headphones on the list that deliver music through your cheekbones. Yes, you read that correctly. In doing so, your ears can remain aware of other noises. These headphones are definitely the safest, allowing you to hear if someone is on your left, or if your friends need to take a break. These headphones lose performance if played very loud. They will vibrate against your temple and people around you may be able to hear your music. However, if you want to flow down the slopes in safety, these are the headphones for you.
Outdoor Tech Chips Ultra
Specs
Battery Life

:

12 Hours

Color

:

Black

Fit

:

Helmet / Over-Ear Frame Included

Weight

:

8.5 ounces

Bluetooth

:

Yes

Microphone

:

Yes
Features
Rechargeable Protective Case Doubles As Charging Bank
Completely Wireless
Comes With Headphone Frame
Glove Friendly 2-Button Control System
Walkie Talkie App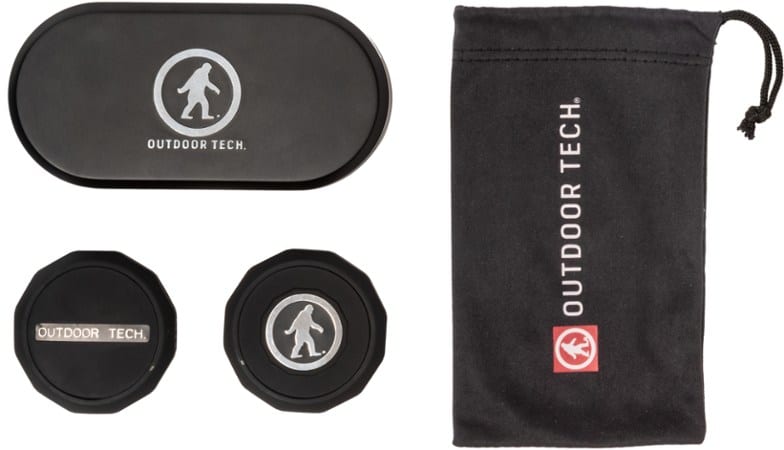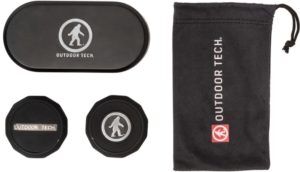 BEST ALL-AROUND HEADPHONE CHIPS
The Chips Ultra headphones from Outdoor Tech are next level. They are completely wireless and have the most impressive battery life on the list. The headphones simply pair with others, allowing for walkie talkie communication on the mountains. Another great feature is that the case can be used to charge your other devices. Finally, they come with a headphone frame, which will allow you to use your headphone chips everywhere. If you want to give headphone chips a shot, these are going to exceed your expectations.
Outdoor Tech Chips 2.0
Specs
Battery Life

:

10 Hours

Color

:

Black

Fit

:

Helmet

Weight

:

6.5 ounces

Bluetooth

:

Yes

Microphone

:

Yes
Features
Glove Friendly 2-Button Control System
Walkie Talkie App
Audio-In Jack Allows for Non-Bluetooth Listening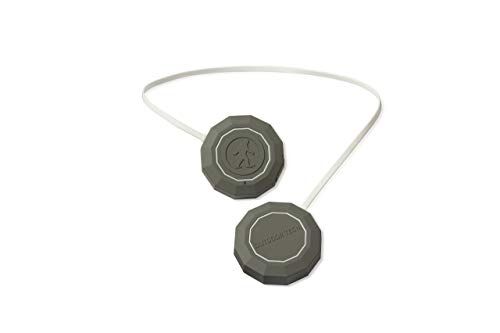 BEST MID-RANGE HELMET HEADPHONE
Outdoor Tech is the most reputable name in headphone chips. The best part about their products is their communication compatibility. If you are looking for a more affordable Outdoor Lab Bluetooth product, get the 2.0s instead of the Ultras. These headphones may not have the audio quality as others on the list, but the battery will last a long time. Also, if your battery runs out, you can simply plugin with an audio cable to continue listening.
Outdoor Tech Wired Chips Universal
Specs
Battery Life

:

Unlimited

Color

:

Black & Blue

Fit

:

Helmet

Weight

:

2.24 ounces

Bluetooth

:

No

Microphone

:

Yes
Features
Glove Friendly 2-Button Control System
Walkie Talkie App
No Battery, No Charging
BEST ENTRY-LEVEL HEADPHONE CHIP
You may not be the most serious shredder, and that's okay! These headphones were made for you. They're simple. No battery and no Bluetooth, but still as functional as the other Outdoor Tech products. They can't use the walkie talkie function, but you'll still have great music quality on the slopes. If you need a pair of headphone chips that are dependable, go for these.
Jaybird Vista True
Specs
Battery Life

:

6 Hours

Color

:

Black

Fit

:

In-Ear Buds

Weight

:

0.71 ounces

Bluetooth

:

Yes

Microphone

:

Yes
Features
Fully Waterproof
Smallest and Lightest Headphones On The Market
Three Sizes of Interchangeable Ear Gels
Keep Track of Your Buds with the Jaybird App
Customizable Equalizer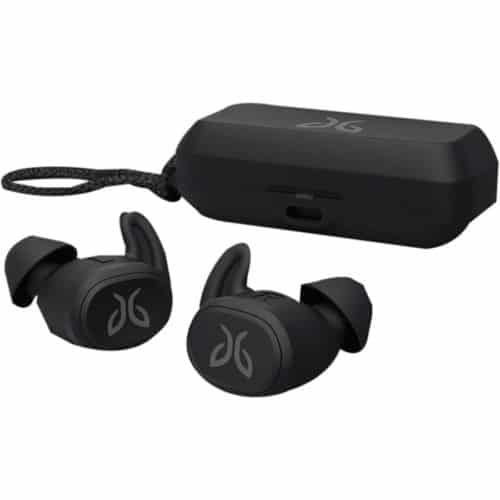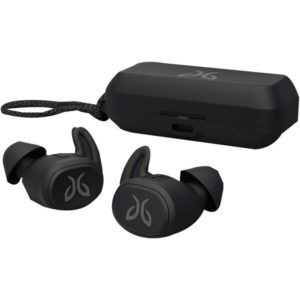 BEST ALL-AROUND HEADPHONES
Simply put, these headphones are a beast. They are super light but perform exceptionally well. With the Jaybird app, you can even locate your buds at any time. You can also customize the equalizer, which audiophiles will love. Snowboarders, however, may find them a bit tricky to deal with. Each time you want to adjust the sound, you will need to take out your cell phone. If you are looking for a top-notch pair of headphones that you want to use every single day, the Jaybird Vistas are for you. Serious snowboarders should look elsewhere.
JBL Endurance Peak
Specs
Battery Life

:

10 Hours

Color

:

Black / Blue / Red

Fit

:

In-Ear

Weight

:

10.9 ounces

Bluetooth

:

Yes

Microphone

:

Yes
Features
Completely Wireless
Earhooks Automatically Power On and Power Off
Excellent Sound Quality
BEST HEADPHONES FOR MULTI-SPORT ATHLETES
These headphones are the most comfortable for athletes, but snowboarders may find them annoying. If you wear a layer underneath your helmet, you will get frustrated trying to pause or adjust the volume of your music. That being said, these headphones are more functional than helmet chips. You can use them in your everyday life, at the gym, and on the slopes. Plus, JBL is an audio giant that constantly produces quality products. These headphones rock, but serious snowboarders should get a pair of chips instead.
Smith Tech Chips 2.0
Specs
Battery Life

:

10 Hours

Color

:

Black

Fit

:

Helmet

Weight

:

Unavailable

Bluetooth

:

Yes

Microphone

:

Yes
Features
External Battery Gauge
Glove and Mitten Friendly Controls
Voice Prompted Menu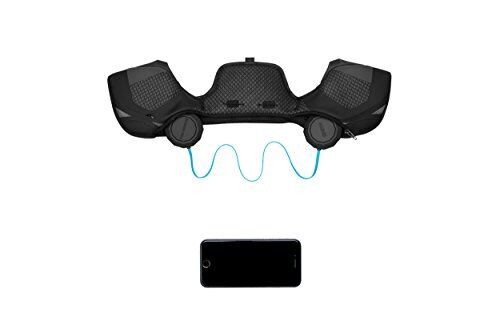 BEST HEADPHONE CHIPS FOR SMITH BRAND LOYALISTS
Smith takes a risk by jumping into the headphone market. Their goggles and helmets are top-notch, but these headphones are a letdown. If you want a product that will seamlessly pair with your helmet, then these headphones may be for you. However, many people report that these headphones do not last long. Save your money, wait a few years, and give Smith a chance to improve its audio technology. For now, get yourself an Outdoor Tech pair of chips.
Alta Drop-in
Specs
Battery Life

:

10 Hours

Color

:

White & Blue

Fit

:

Helmet

Weight

:

5.6 ounces

Bluetooth

:

Yes

Microphone

:

Yes
Features
Designed by Snowboarders For Snowboarders
3 Over-Sized Buttons for Simple Control
Compatible with All Audio-Ready Helmets
Made with Rugged Materials for Rugged Conditions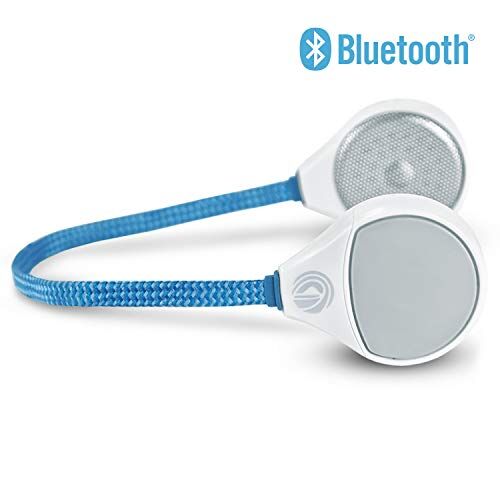 BEST BACKCOUNTRY HEADPHONE CHIPS
The Alta Drop-In headphones were designed by snowboarders to withstand some of the most extreme conditions. Although they are not completely wireless, all the cords are protected. This allows for the battery to last longer, and for you to stay motivated on the slopes. They have a compact case for easy storage as well. These headphones are easy to use and are compatible with all helmets. At an affordable price point, the Alta Drop-In is quickly becoming a fan favorite.
Jabra Elite 65t
Specs
Battery Life

:

5 Hours

Color

:

Black

Fit

:

In-Ear Buds

Weight

:

11 ounces

Bluetooth

:

Yes

Microphone

:

Yes
Features
4 Microphone Technology Perfect For Pretending You're at Work
Customizable Equalizer
One Touch Access to Sir, Alexa, and Google Now
Covered by 2 Year Dust and Water Resistance Warranty


BEST HEADPHONES FOR PROFESSIONALS PLAYING HOOKIE
Do you take conference calls from ski lifts? If that's a dream you've always had, well you should get a different pair of headphones. But if you work remotely, and sometimes "work" from the mountain, these headphones will keep you incognito. The microphone is extremely powerful and will convince anyone that you are working from the comfort of an office. The audio technology on these is impressive, but they weren't designed for snowboarders. If you want a pair of headphones for work and the slopes, purchase these.
Skullcandy Method
Specs
Battery Life

:

9 Hours

Color

:

Black Swirl / Black Red

Fit

:

Behind-Neck In-Ear

Weight

:

1.1 ounces

Bluetooth

:

Yes

Microphone

:

Yes
Features
Noise-Isolating Technology
Flexible, Around the Neck Control Collar
Dual Lock Earbuds Ensure Your Earbuds Remain In-Ear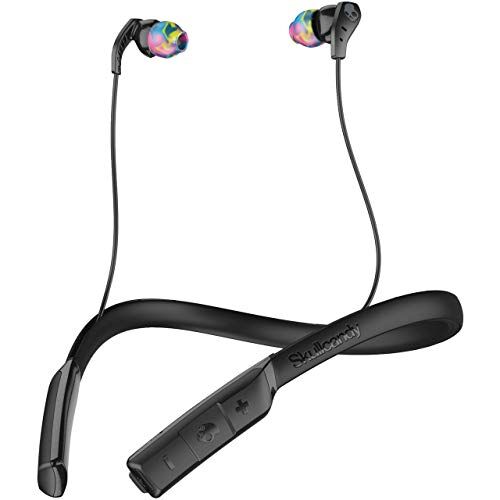 BEST CONTROL COLLAR HEADPHONES
Skullcandy has a loyal fan base among snowboarders. Many serious snowboarders prefer having a control collar instead of tap or touch controls over the ear. If you don't want to be dependent on chips, the Method headphones are a great alternative. Instead of being dependent on a helmet, these will work in any sort of environment. Plus, Skullcandy's patented technology ensures that your earbuds stay in the ear.
THINGS TO CONSIDER WHEN BUYING HEADPHONES FOR SNOWBOARDING
BATTERY LIFE
How long do you want your headphones to last in the mountains? If you catch first chair and hit 4 o'clock run AT 4 o'clock, then get a pair that will last a longtime. Also, a pair of headphones without bluetooth technology are nice because you don't need to worry about charging them. They'll last all day. It's also important to remember that batteries drain faster in colder weather. If you board somewhere with tundra temperatures, the battery may drain much quicker than stated.
BLUETOOTH
Let's face it, cords are annoying. Bluetooth technology solves that problem, but it requires battery power. Everyone has a preference on bluetooth nowadays. Go with what you love.
FIT AND STYLE
What sort of headphones are most comfortable for you? Do you want to use these headphones elsewhere, or are you afraid your co-workers will laugh at you? Headphone chips ROCK, but they are sometimes useless off the slopes.
MENU CONTROL
Headphones are great, but they can also be a major frustration. If you have gloves on, even more so. Headphone chips are typically much easier to manage than traditional or in-ear headphones. Some headphones feature a voice menu. This can annoy some snowboarders, who just want to listen to their tunes. But others find the menu helpful for controlling their music.
FEATURES EXPLAINED
COMES WITH HEADPHONE FRAME
If your headphone chips come with a frame, you can easily use them off the slopes. Only few headphones offer this, but it's a deal-breaker for some.
COMPLETELY WIRELESS
These headphones don't have a single wire, unless being charged. They will fit directly into your ear, over your ear, or inside your helmet.
CUSTOMIZABLE EQUALIZER
Do you like to pump up the bass? Or maybe you're the boarder who likes to mute vocals so you can sing along. A customizable equalizer allows for you to mix your music and listen just the way YOU like to listen.
GLOVE AND MITTEN FRIENDLY CONTROLS
Headphone chips feature either massive buttons or one-touch technology. Keep your gloves on and maintain control of your tunes, volume, and voice commands.
WALKIE TALKIE APP
Sounds too good to be true? I know. But Outdoor Tech products pair seamlessly with one another. If you ride with a crew on a consistent basis, this function makes it easy to stick together. You won't be texting each other trying to figure out where the heck good jumps are. With walkie talkie app connectivity, your crew will be inseparable.
READ MORE
For more of our top snowboarding gear recommendations, check out these popular buyer's guides: