Updated on October 1, 2020
If you're starting to learn the ropes of sport climbing, and you're ready to get off the ground, one of the first pieces of gear you'll need is a harness. Your harness is a key component of your safety system, making it one of the most important pieces of gear you'll own in your climbing career. You'll spend a lot of time wearing your harness, both while you're belaying and when climbing, so choosing the right one is extremely important. We at the Adventure Junkies are here to help you find the best sport climbing harness to keep you safe and comfortable when you hit the crag.
For more of our top climbing gear recommendations, check out the Best Climbing Harnesses.
Quick Answer

-

The Best Sport Climbing Harnesses
Comparison Table

-

Best Sport Climbing Harnesses

For the best experience turn your device horizontally
Reviews

-

Best Harnesses for Sport Climbing
Black Diamond Solution
View Women's Version
Specs
Leg Loops

:

Fixed

Waist

:

30-33 in (Medium)

Gear Loops

:

4
Features
Comfort Webbing (to distribute weight evenly)
Releasable Riser (for easy fit adjustment)
Breathable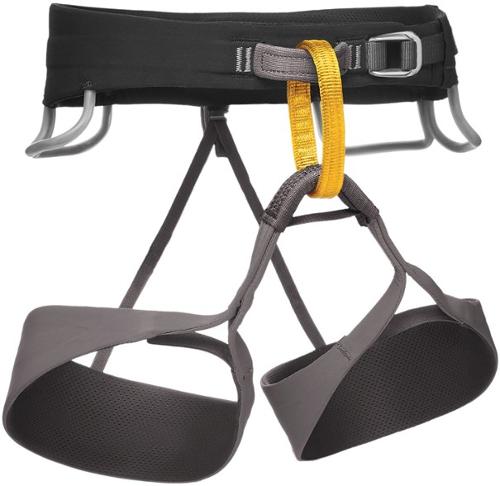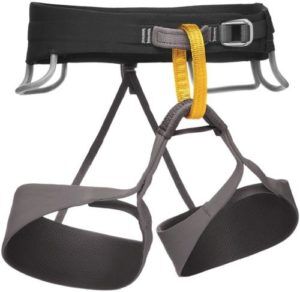 BEST FOR: ALL-DAY COMFORT
Comfortable and streamlined, the Momentum harness is made for a full day of sport climbing. With a fit designed to minimize pressure points, you'll be comfortable hanging in your harness, even if it takes you some time to make your way up the wall.
Four molded gear loops allow you to easily organize your quickdraws, belay devices, and other sport climbing gear, though these loops are on the small side. The leg loops are fixed, so check the sizing to make sure they'll fit your body shape.
Petzl Sama
Specs
Leg Loops

:

Fixed

Waist

:

30-33 in (Medium)

Gear Loops

:

2 Rigid, 2 Flexible
Features
Elastic Leg Loops For Comfort
Breathable
Individual Riser Attachments (for maximum adjustability)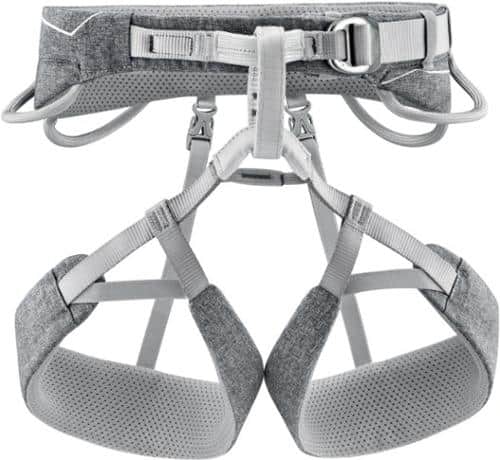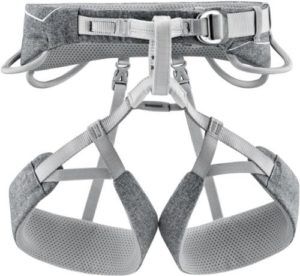 BEST FOR: VERSATILITY
The Petzl Sama is a comfortable harness for both climbing and belaying, thanks to its EndoFrame construction which provides even weight distribution. The two rigid front gear loops are great for easily grabbing your quickdraws when sport climbing, and the flexible rear gear loops allow you to rack your other equipment without them getting in the way under a pack.
The Sama might just be the perfect sport climbing harness – provided it fits your legs. The leg loops are fixed, and although they are elasticized, they are still more limited in sizing than adjustable leg loops. If they don't fit your body properly, you'll be uncomfortable, and should choose a different harness.
Mammut Ophir 3 Slide
View Women's Version
Specs
Leg Loops

:

Adjustable

Waist

:

28.5-33.5 in (Medium)

Gear Loops

:

4 (Offset)
Features
Quick Adjustment Buckles
Reinforced Tie-in Points (for durability)
Wear Indicator On Belay Loop (to know when to replace)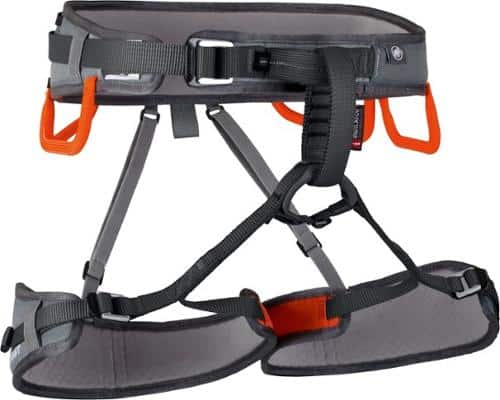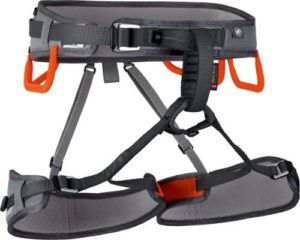 BEST FOR: DURABILITY
Made to last, the Ophir has reinforced tie-in points, so you can climb all the routes your heart desires before you need to replace it. With a wear indicator on the belay loop, you'll be able to easily tell when that time comes.
The harness has four standard gear loops, but also includes a unique design feature that keeps the gear loops more centered when you adjust the waist belt. Although it might seem like a small thing, when you're trying hard on a sport climb, you don't want to fumble to find a quickdraw on your harness.
Petzl Corax
Specs
Leg Loops

:

Adjustable

Waist

:

25.6-37.8 in (Size 1), 29.9-42.1 in (Size 2)

Gear Loops

:

2 Rigid, 2 Flexible
Features
Two Sizes For Maximum Adjustability
Comfort-lined Pressure Points
Double Waist Buckles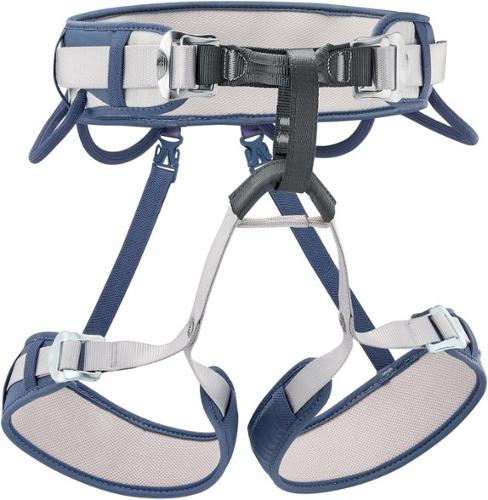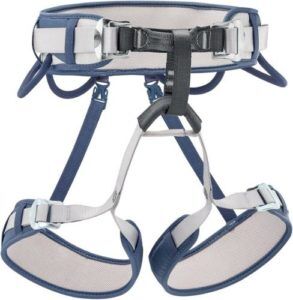 BEST FOR: ADJUSTABILITY
Most climbing harnesses come in standard XS – XL sizes, but the Corax comes in Size 1 and Size 2. Although it might be counterintuitive, this actually makes it a highly adjustable harness because each size offers a wider range of sizing. The Corax also features double waist buckles and adjustable leg loops.The gear loops on the Corax are quite large, providing plenty of space for all your sport climbing draws and all your other equipment as well.
Black Diamond Momentum
View Women's Version
Specs
Leg Loops

:

Adjustable

Waist

:

30-33 in (Medium)

Gear Loops

:

4
Features
Easily Adjustable Leg Loops
Large Haul Loop (for attaching a chalk bag or trailing rope)
Thick, Padded Waist Belt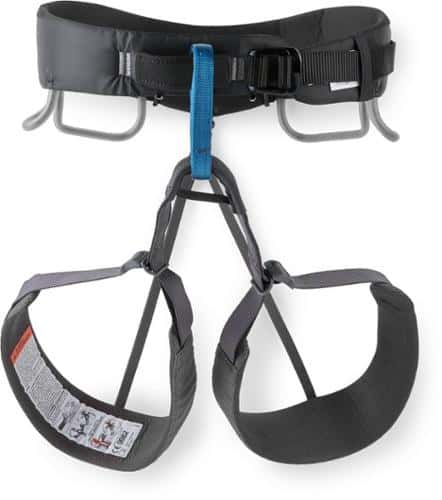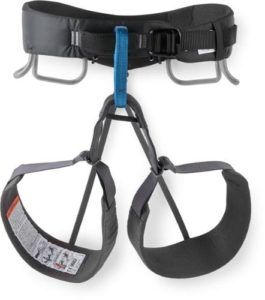 BEST FOR: AFFORDABILITY
The Momentum is a lightweight harness that still offers plenty of padding in the waist belt and leg loops. The leg loops are also exceptionally easy to adjust, thanks to the trakFit system.
Though the gear loops on this harness are not large, they can easily fit all the gear you need for sport climbing. The back haul loop is big and convenient for clipping a chalk bag or trailing a rope to set up another climb.
THINGS TO CONSIDER WHEN BUYING A SPORT CLIMBING HARNESS
Climbing harnesses fit differently, and you will need to pick one that will adjust properly to your body shape. REI provides some tips for how to fit and test a climbing harness to find one that works for you. Also, keep in mind that all climbing harnesses are rigorously tested to ensure your safety on the wall, so you can feel secure in your selection of any of the harnesses that we've reviewed on this list.
As a sport climber, you want a harness that helps you organize your gear in a way that makes it easy to climb a hard route, but you don't need certain features that trad or ice climbers might find valuable. With the guide above, and by keeping the following considerations in mind, you'll find the perfect sport climbing harness to send your next climb in no time!
FIT
Fit is the number one factor to consider in a harness. If your harness doesn't fit properly, not only will it be uncomfortable, but it could also be unsafe. Manufacturers will list the size range of the waist in inches, and it's definitely worth measuring your waist, not just guessing. If you can try on the harness in a store, that's the best way to know that it will fit your body.
Also, be sure to factor in the clothing you'll be wearing while climbing – in cold weather, you'll need to add more layers than in summer, and you want to be sure your harness can adjust to accommodate that.
Speaking of adjustability, one big difference between harnesses is that some have adjustable leg loops while others have fixed leg loops. The fixed ones work well if they fit your body, but the adjustable ones provide more flexibility to a broader range of sizes.
COMFORT
When you're out for a day of sport climbing, you should expect to be wearing your harness almost the whole time. Ideally, it will be so comfortable you'll hardly even notice you have it on. Most sport climbing harnesses are padded on the waist and leg loops, but the density of the padding differs. More isn't necessarily better, because it can be too bulky and not breathable.
Also, you want to consider the different forces that will affect the harness whether you're hanging on a climb or belaying on the ground. This is another good reason to test out a harness in person, so you can discover if the waist rides up or the leg loops chafe.
DURABILITY
Once you get out of the gym to go sport climbing on real rock, you need a durable harness that will hold up to the abrasive surfaces. If you go out often, you'll also appreciate reinforced tie-in points that will handle lots of days of roping up. Some harnesses, including the Mammut Ophir 3 Slide, have a wear indicator on the belay loop, so you know when it's time to replace your harness.
GEAR LOOPS
When you're sport climbing, and you reach the crux of the climb, the last thing you want to be doing is fumbling to find a quickdraw on your harness so you can clip in. The gear loops on each harness differ in size, rigidity, and placement, and these all factor into how frustrated you will or won't feel grabbing your gear on a climb.
Larger gear loops allow you to rack more draws, which can be important on longer climbs as well as multi-pitch routes. Rigid gear loops often make it easier to grab a draw quickly when you need it. Some harness have rigid front loops for draws, and flexible back loops for better fitting under a pack. These back loops can be used for gear you don't need to access as quickly when you're climbing, such as belay devices.
FEATURES EXPLAINED
ADJUSTABLE VS FIXED LEG LOOPS
Adjustable leg loops have buckles to loosen or tighten, while the size of fixed leg loops cannot be changed.
GEAR LOOPS
The loops on the sides of the harness designed for holding quickdraws, carabiners, belay devices, and other gear.
HAUL LOOP
A small loop on the back of the harness for attaching a chalk bag, a larger bag to haul gear, or a trailing rope to set up another climb.
TIE-IN POINTS
The two points through which you thread your climbing rope when tying in to climb.
BELAY LOOP
The loop where you attach your belay device with a carabiner. Should only be used for metal such as carabiners, not soft goods like rope or slings.
RISERS
The thin straps connecting the leg loops to the waist belt.
READ MORE
For more of our top climbing gear recommendations, check out these popular buyer's guides: