Updated on October 2, 2020
Climbing shoes are meant to be snug, but if you have wide feet, many might simply be too tight for your foot shape. Though shoe manufacturers are aware that not everyone who climbs has tiny Cinderella feet, how are you supposed to know which climbing shoes will fit your wide feet? Luckily, that's where we at The Adventure Junkies come in to help you find the climbing shoes for wide feet that will fit just right.
For more of our top climbing footwear recommendations, check out the Best Climbing Shoes.
Quick Answer

-

The Best Climbing Shoes for Wide Feet
Comparison Table

-

Best Climbing Shoes for Wide Feet

For the best experience turn your device horizontally
Reviews

-

The Best Shoes for Climbing with Wide Feet
Butora Acro
Specs
Best Use

:

Steep Sport Climbing or Bouldering

Closure

:

Velcro Straps

Upper

:

Suede Leather

Downturn

:

Aggressive
Features
Midsole Is Custom Injected To Maintain Downturn For The Life Of The Shoe
Rubber Toe Patch For Secure Toe Hooks
Simple Closure System For Easy Adjustments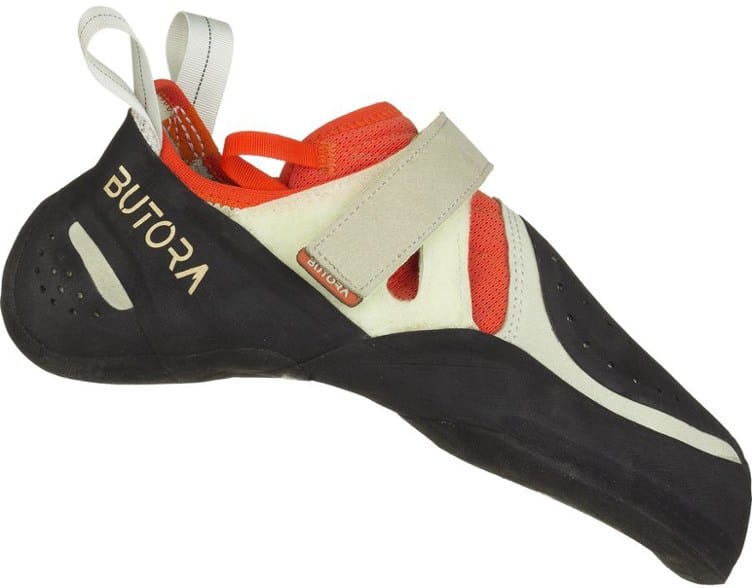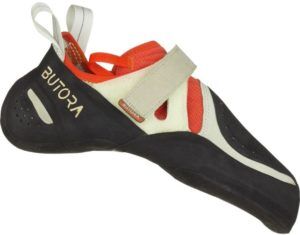 BEST FOR: STEEP CLIMBING
Butora constructs most of their shoes in both a wide and narrow version, and the wide version of the Acros are an aggressive shoe designed for a wide foot. The downturn means that they will perform well on the steepest routes, whether you're sport climbing or bouldering. The proprietary Neo Fuse rubber is excellent for edging, and the rubber toe patch provides powerful toe hooks.
The Butora Acro has more to offer on the comfort side than just being wide. With a stretchy tongue and a Velcro closure system, they are quick to get on and off, and it's easy to adjust them perfectly to fit your feet securely.
Boreal Lynx
View Women's Version
Specs
Best Use

:

All Around Climbing

Closure

:

Lace-up

Upper

:

Split Leather

Downturn

:

Moderate
Features
Sturdy Midsole Designed To Prevent Deformation
Breathable, Padded Mesh Tongue For Comfort
Extra Rubber On Rand To Keep Heel Secure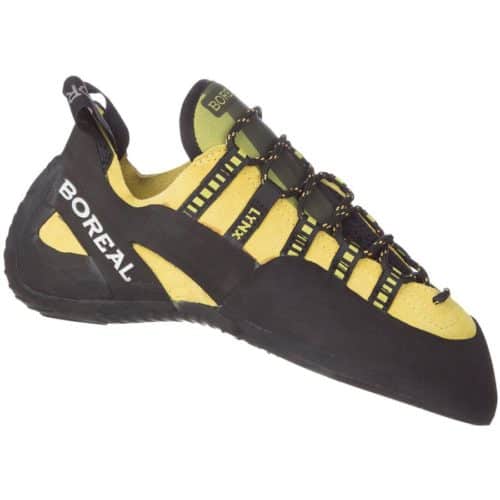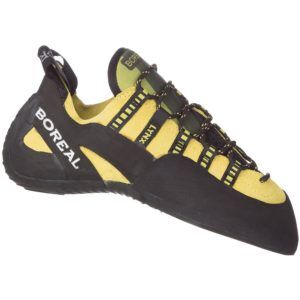 BEST FOR: VERSATILITY
The Boreal Lynx is a moderately downturned shoe that has plenty of room for wide feet, although the heel fits fairly snug. It also is a fantastic all-around shoe whether you're bouldering, sport climbing, or crack climbing.
Boreal recently redesigned the rand, which allows the shoe to tighten from the toes to the heel when you lace them up. The tongue is made of padded Neoprene, which keeps your feet dry and comfortable when you're climbing all day, whether in the gym or outside. The unlined split leather upper will stretch some out of the box, so it will conform well to a wide foot.
Scarpa Instinct VS
View Women's Version
Specs
Best Use

:

Bouldering

Closure

:

Velcro Straps

Upper

:

Synthetic Leather

Downturn

:

Aggressive
Features
Two-part Sole Gives Your Foot Extra Flexibility
Non-stretch Upper Fits Straight Out Of The Box
Single Strap Closure Makes It Simple To Get This Shoe On & Off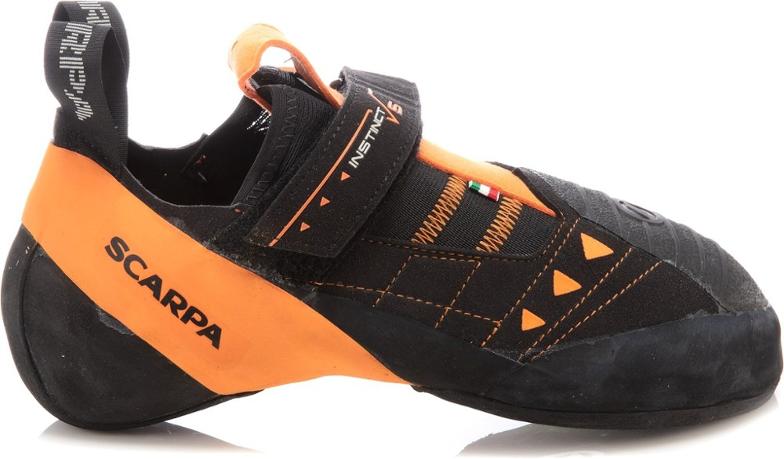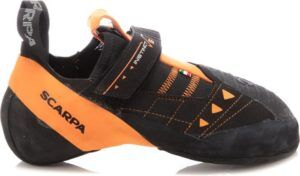 BEST FOR: BOULDERING
If bouldering is your specialty, Scarpa Instincts are a powerful performance shoe that will get you sending. With a special two-part sole that allows the front and back of your foot to move separately, the Instincts let your foot flex as you make precise placements. Plus, they have a tensioned rand to direct power to your toes. Stiff Vibram XS Edge rubber covers the toes, while the heel is made from a softer rubber for comfort.
The Instincts have a wide toe box, and although that can make them less sensitive on small footholds, they offer more room for wide feet.
evolv Shaman
View Women's Version
Specs
Best Use

:

Steep Sport Climbing or Bouldering

Closure

:

Velcro Straps

Upper

:

Synthetic Suede

Downturn

:

Aggressive
Features
Extra Room In The Toe Box
Thicker Rubber On High Wear Zones
Inset Front Strap Stays Out Of The Way When Using Your Toes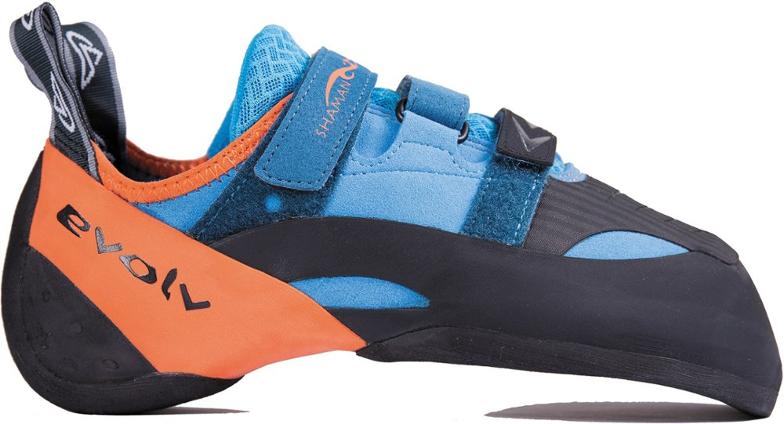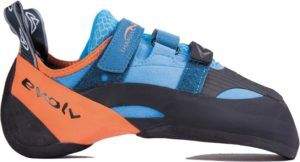 BEST FOR: STEEP CLIMBING
Although the Evolv Shamans are aggressively downturned to power you up steep walls, the extra roomy toe box makes them extremely comfortable, especially for wide feet. With thicker rubber on higher wear areas, the Shamans are also designed for durability, but thinner rubber in other areas help with sensitivity.
The Shamans provide a great fit, thanks to a velcro strap closure that pulls the sole of the shoe up to the arches of your foot. They also have a unique "love bump" of rubber placed under the toe which fills dead space while giving energy to the toes when you're edging on small footholds.
La Sportiva Skwama
View Women's Version
Specs
Best Use

:

Crack Climbing

Closure

:

Velcro Straps

Upper

:

Leather/Microfiber

Downturn

:

Aggressive
Features
Laser Cut Upper Made Of Leather & Microfiber Reduces Stretch
Large Toe Cap For Cracks & Toe Hooking
Soft Midsole For Control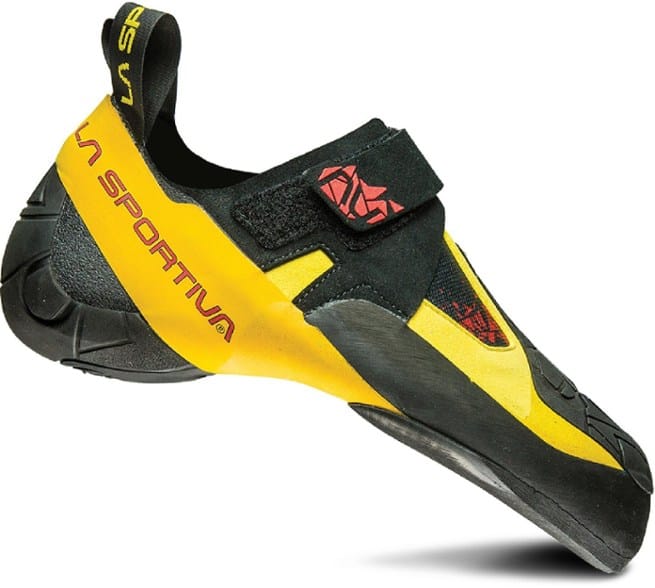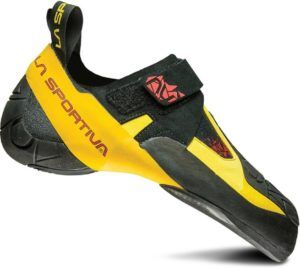 BEST FOR: CRACK CLIMBING
The La Sportiva Skwama are a great choice if you have wide feet that you still want to stuff into small cracks. The fit of the shoe is roomy but narrows at the toes, so the Skwamas can fit into cracks extremely well, and the expansive rubber toe cap gives you lots of grip in those toe jams. The edges of the Skwamas can find tiny footholds, and the soft midsole gives you sensitivity, but lacks some support when standing on the smallest edges.
Though the laser cut upper is designed to reduce stretch, these shoes do still have a break in period before they will feel comfortable on long, multi-pitch routes.
Mad Rock Drifter
Specs
Best Use

:

Gym Climbing

Closure

:

Velcro Straps

Upper

:

Leather

Downturn

:

Moderate
Features
Unlined Leather Upper Molds To Your Foot
Lined Toe Box Prevents Stretching
Velcro Straps Make It Simple To Take On & Off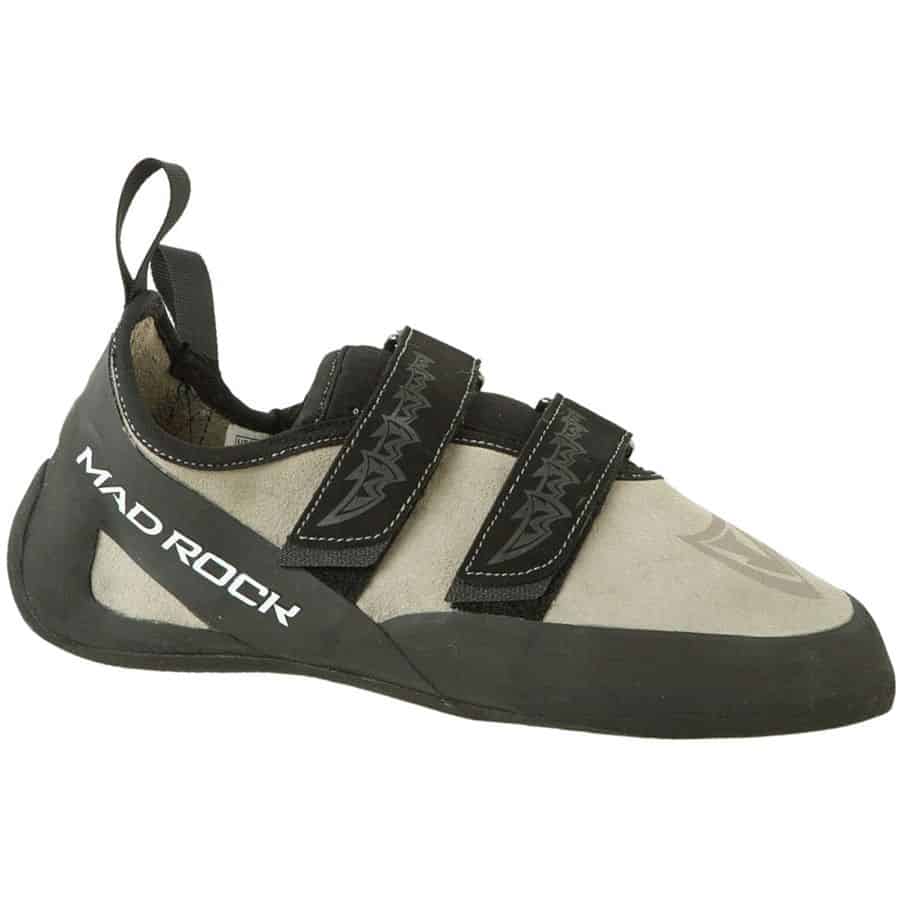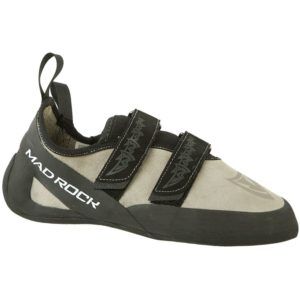 BEST FOR: VALUE
The Mad Rock Drifter is an extremely inexpensive climbing shoe, making it an ideal beginner or gym shoe for someone with wide feet. The Drifter is a simple slipper without a lot of extra features, but it can be a durable workhorse for gym sessions and it smears well on slabs if you're taking it outside.
The unlined leather upper will stretch to conform to a wide foot, yet the toe box is lined to keep your toes snug and provide power when you need it. Though the Mad Rock Drifter isn't a fancy, high-performance shoe, it's the perfect shoe when you're learning how to use your feet properly.
Butora Endeavor
View Women's Version
Specs
Best Use

:

All Around Climbing

Closure

:

Velcro Straps

Upper

:

Suede and Leather

Downturn

:

Neutral
Features
Organic Hemp Lining Minimizes Odor
Reinforced Upper Heel For Stability
Webbing On Straps Help Customize Fit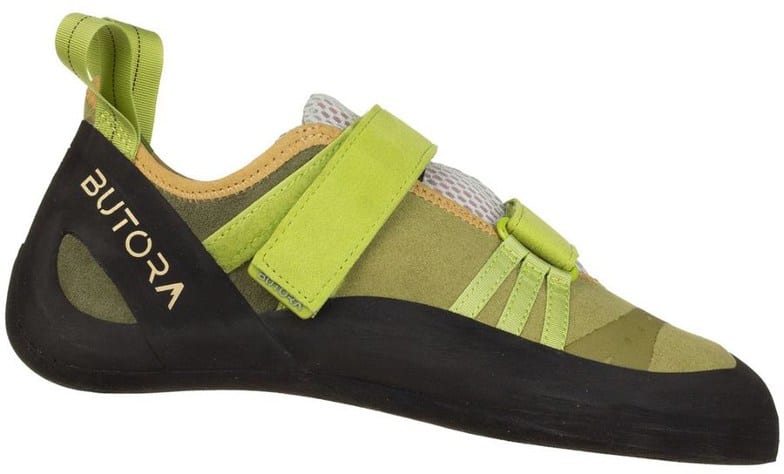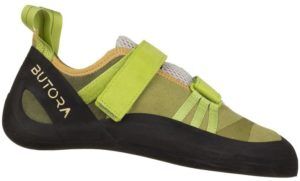 BEST FOR: ALL-AROUND PERFORMANCE
If you just want one shoe for all your climbing needs, the Butora Endeavor is an excellent choice, especially for those with wide feet. While it might not be a standout shoe in any specific style, it performs well on everything from bouldering to multi-pitch. The Endeavor comes in a wide version, and the triple-fork webbing of the velcro straps really helps dial in the fit.
The back half of the Endeavor upper is constructed of leather to provide some give for comfort, while the forefoot upper is made of synthetic suede to prevent stretch. The shoe is lined with organic hemp, which helps control moisture and odor.
Five Ten Anasazi Lace
Specs
Best Use

:

Multi-Pitch Trad or Sport

Closure

:

Lace-up

Upper

:

Polyester

Downturn

:

Moderate
Features
Leather Upper Is Made From Cowdura To Conform To Your Foot
Stiff Midsole Is Very Supportive
Harder Rubber Lasts Longer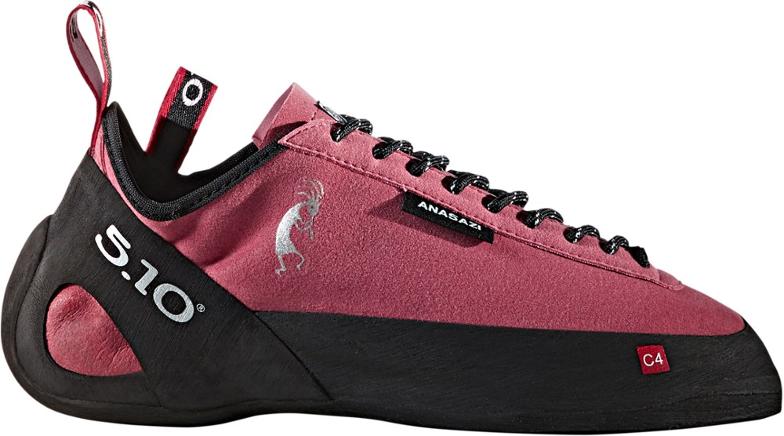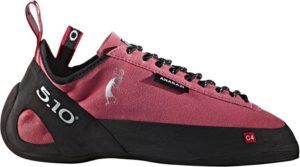 BEST FOR: SLAB CLIMBING
The Five Ten Anasazi Laces are known colloquially as the "pinks" for their standout color. The fairly flat profile and lace-up closure makes them a good choice to fit wide feet, and the Cowdura leather upper conforms to your feet after you break them in. They are great for smearing on slab, and the Stealth C4 rubber can hang on in cracks.
They don't have the downturn to tackle steep climbs, and laces make them less than ideal for quickly taking on and off for bouldering, but they'll handle multi-pitch trad extremely well. The heel has been redesigned to fit more narrowly, but women with wide feet could find that to be the perfect fit.
La Sportiva Otaki
View Women's Version
Specs
Best Use

:

Steep Sport Climbing

Closure

:

Velcro Straps

Upper

:

Leather & Microfiber

Downturn

:

Aggressive
Features
Laser Cut Leather Upper With Microfiber Inserts Reduces Stretch
Medium Stiffness Midsole For A Balance Of Support & Sensitivity
Snug Heel Cup For Security When Heel Hooking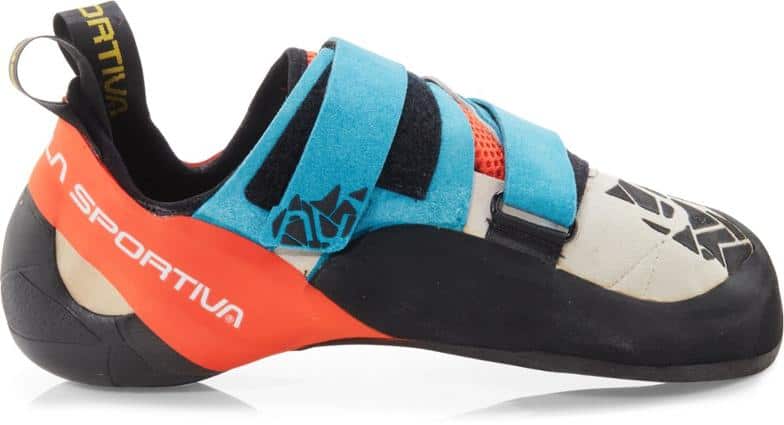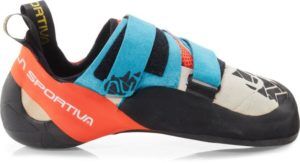 BEST FOR: EDGING
The La Sportiva Otaki fits wide feet while also sticking to the tiniest of footholds, thanks to the sole made of Vibram XS Edge rubber. The rubber is thick enough to be durable without compromising sensitivity and stickiness. The aggressive downturn also gives the Otakis power on steeper terrain.
The proprietary P3 Power Platform keeps the downturn from degrading over the lifetime of the shoe, and the S-Heel design practically suctions to your heel, making heel hooks feel extra secure. The asymmetry of the toe, while helpful for technical face climbing, is not ideal if you find yourself climbing cracks.
Scarpa Drago
Specs
Best Use

:

Steep Sport Climbing or Bouldering

Closure

:

Velcro Strap

Upper

:

Microsuede

Downturn

:

Aggressive
Features
Extremely Soft Sole Helps You Feel Exactly What You're Standing On
Microfiber Upper Is Made To Reduce Stretch
Single Strap Closure Makes For Easy On/Off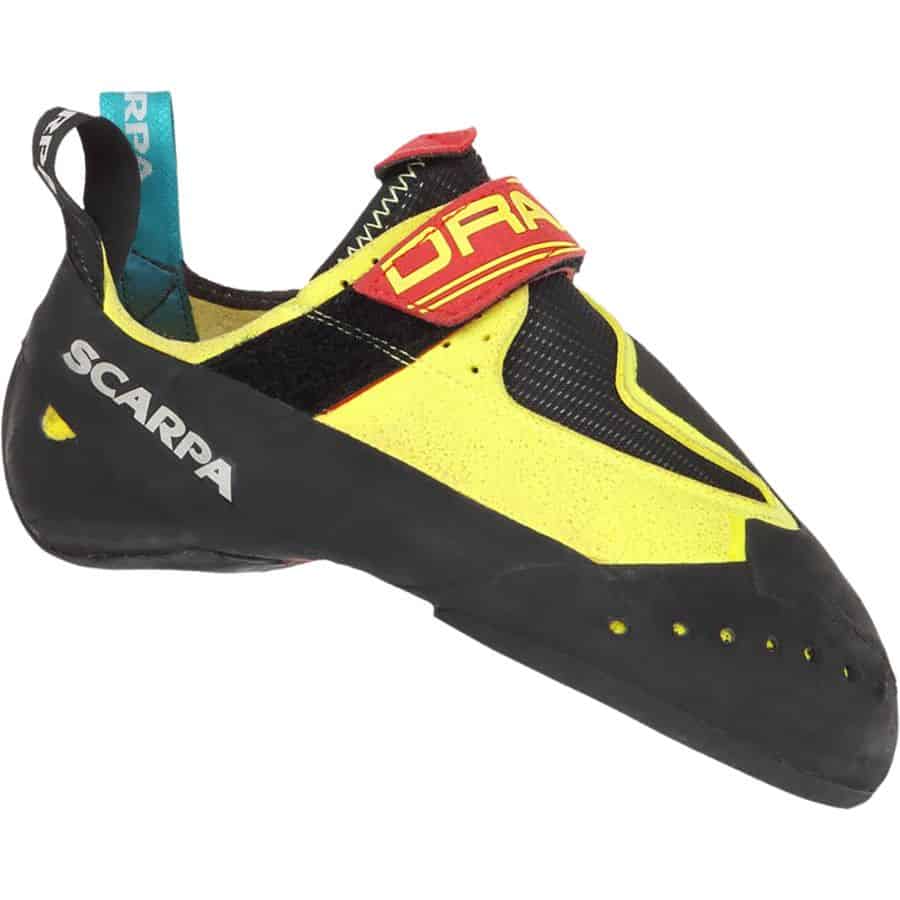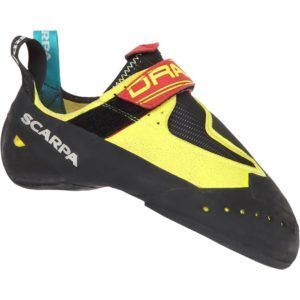 BEST FOR: SENSITIVITY
The Scarpa Drago features an exceptionally soft sole, which allows you to feel everything you put your toes on, from tiny pockets to small nubbins. They also smear well on slab, though they lack support for long routes. The aggressive downturn of the Drago also makes it a high performer for powering through steep and overhanging terrain, and the shoe also is excellent for toe hooks.
The microfiber upper shouldn't stretch much out of the box, but the Dragos are designed to handle wide feet. The single strap closure is great for boulderers who are constantly taking shoes on and off.
THINGS TO CONSIDER WHEN BUYING CLIMBING SHOES FOR WIDE FEET
It's always important for your climbing shoe to fit well, but when you have wide feet, it's even harder to make sure that happens. Some brands, such as Butora, offer both a wide and narrow version of their shoes, which helps you identify which models are most likely to fit. Also, manufacturers usually offer suggestions for sizing based on your size in street shoes, so you can make sure to find the right length shoe as well. Trying on shoes at your local gym is also a good way to figure out what works for you before buying a pair.
REI provides excellent tips for selecting a climbing shoe and determining if they fit correctly. When you find a perfect pair of climbing shoes for wide feet, here are a few tips for taking care of them so you won't need to replace them for awhile.
FIT
Finding a shoe that fits your specific foot is the number one consideration when buying climbing shoes. Because climbing shoes are designed to fit more snugly than street shoes, they might be somewhat uncomfortable or possibly even painful the first few times you wear them. After a break-in period, they should mold more to your feet, although some shoes will stretch more than others, and not all will stretch on the sides to accommodate wide feet.
COMFORT
Although the shoe uppers are pliable to conform to your foot, the rubber will never stretch. This means that areas like the heel and toe should fit your foot well right from the start. If the shape of the heel cup or toe box seems wrong for your particular foot, you should look for a different shoe.
Other factors in the comfort of a shoe include features like mesh tongues and linings that wick away moisture which help the shoes breathe and control sweat and odor. Some shoes also have padding in the tongue for added comfort.
DURABILITY
When you find the shoes that fit you, you want to make sure they last for a long time, even if you climb all the time. Generally, the thicker the rubber, the more durable it is, but thinner rubber provides more sensitivity on small footholds. You might have to decide which is more important to you and compromise the other factor. If you choose an aggressive shoe, be sure that the downturn will last and not lose its curved shape over time.
FEATURES EXPLAINED
CLOSURE
The way you take the shoe on and off, as well as tighten it to the proper fit. Possibilities include lace-up, velcro straps, and slip-on.
UPPER
The material that the upper portion of the shoe is made of. It is often leather or synthetic, and it can either be lined, unlined, or even padded.
OUTSOLE
The bottom portion of the shoe, which in climbing shoes, is made from rubber. Brands often their own special rubber with different properties than others.
LAST
Each shoe is built around a model, which is called the last. Shoes made on a slip-last are softer and provide greater sensitivity, while shoes made on a board-last are stiffer but often more comfortable.
DOWNTURN
The amount the toes of the shoe curve down. Shoes that are flatter tend to be more comfortable, while more aggressive (i.e. more downturned) shoes offer more powerful performance, especially on walls that are steep. Climbers who are just starting out should choose a neutral to moderate downturn.
READ MORE
For more of our top climbing gear recommendations, check out these popular buyer's guides: