Updated on October 22, 2020
Hills and bicycles make a natural combination. Letting gravity take over brings a primal thrill you can't get any other way, and some riders are quickly addicted to riding down the steepest and roughest slopes they can manage. Bike manufacturers have obliged by turning out a variety of machines designed to make the most of the interface that links gravity, gradient, and obstacles. This guide to the best downhill mountain bikes should help you choose the right tool for you.
Disclaimer: Modern mountain bikes are complicated, and the jargon can be confusing at first! We've tried to keep it simple, but if you see terms that you don't understand, check the explanatory sections that follow the reviews. We've provided more detail on every term we discuss here, and there are links you can read for more information.
For more of our top mountain biking gear recommendations, check out the Best Mountain Bikes.
Quick Answer

-

The Best Downhill Mountain Bikes
Devinci Spartan Carbon GX Eagle
Comparison Table

-

Best Downhill Mountain Bike

For the best experience turn your device horizontally
Reviews

-

The Best Bikes for Downhill Mountain Biking
Orbea Rallon M20
Specs
Frame Material

:

Carbon Fiber

Wheel Size

:

29"

Seatpost

:

Dropper

Drivetrain

:

1x12

Fork Travel

:

170mm

Head Tube Angle

:

65°

Rear Suspension

:

160mm Air
Features
Long Suspension Travel Soaks Up Impacts
Shimano Hydraulic Disc Brakes For Superior Stopping Ability
Slack Angles For Stability On Steep Descents
Strong, Lightweight Carbon Frame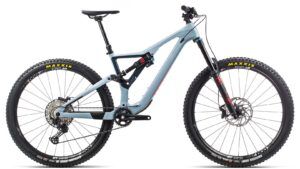 BEST VALUE 29" DOWNHILL BIKE
Bikes with 29" wheels have traditionally used less travel than their smaller-wheeled counterparts, partly because adding more travel with a large wheel diameter tends to lift the front end of the bike to impractical heights and partly because the larger wheels absorb shock by rolling over obstacles rather than hitting them and bouncing off. Orbea breaks the mold with this 29er, lavishly endowed with 170mm front and 160mm rear suspension, both delivered by premium Fox shocks. The result is a wildly plush big wheel bike that's ready to roll over everything and soak up the big hits whenever they arrive. Point it at the bike park and get ready for fun!
Kona Operator CR
Specs
Frame Material

:

Carbon Fiber

Wheel Size

:

29"

Seatpost

:

Fixed

Drivetrain

:

1x7

Fork Travel

:

190mm

Head Tube Angle

:

62°

Rear Suspension

:

195-205mm Coil
Features
RockShox Boxxer World Cup Fork For Total Front End Suspension
SRAM Drivetrain With Descendant Downhill Crankset
Adjustable Geometry Is Ready For Any Terrain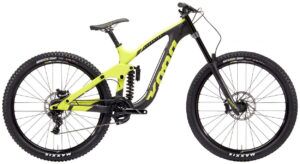 BEST 29" DOWNHILL RACE BIKE
Kona's flagship DH race bike jumps solidly onto the 29"-wheeled DH race bike bandwagon, matching a traditional RockShox Boxxer double crown DH fork with a pair of 29" wheels. There's also a trick up the Operator's sleeve: throw on a pair of 27.5" wheels and flip the suspension's geometry chip and the bike transforms into a freeriding park bike, ready to show off the tricks and rip the berms. Whether you're reaching for maximum velocity on a world cup DH course or strutting the style at Whistler, the Operator has you covered!
Yeti SB165 Carbon C1
Specs
Frame Material

:

Carbon Fiber

Wheel Size

:

27.5"

Seatpost

:

Dropper

Drivetrain

:

1x12

Fork Travel

:

180mm

Head Tube Angle

:

63.5°

Rear Suspension

:

165mm Coil
Features
Premium Wheelset For Maximum Strength
SRAM Drivetrain Delivers Wide Gear Range And Smooth Shifting
SRAM Brakes Are Designed For The Roughest Rides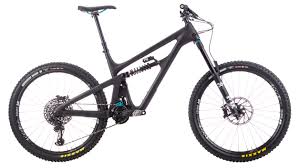 BEST HIGH END 27.5" DOWNHILL BIKE
Yeti takes the modern trend toward slack front ends to the extreme level with the SB165, which features a 63.5-degree head angle that until recently would only have been found on a purpose-built DH race bike. The SB 165 uses that feature on an all-around gravity sled that is at home on a racetrack, a bike park, or on an extended trail ride. Huck it off the gnarliest drop and ride it up the other side if there's no lift to get you back to the top: the SB165 won't be out of place going in either direction. Long travel, premium Fox suspension, and a lavish assortment of premium components round out a package that's ready to party when the party gets wild!
Devinci Spartan Carbon GX Eagle
Specs
Frame Material

:

Carbon Fiber

Wheel Size

:

29"

Seatpost

:

Dropper

Drivetrain

:

1x12

Fork Travel

:

170mm

Head Tube Angle

:

65°

Rear Suspension

:

165mm Air
Features
SRAM Drivetrain For Wide Gear Range And Smooth Shifting
SRAM Hydraulic Disc Brakes For Reliable Control
Aggressive Geometry Is Ready For Any Terrain
2.6" Tire Clearance For Maximum Traction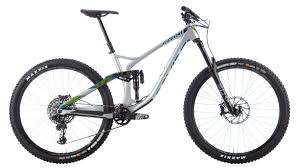 BEST VALUE 29" DOWNHILL BIKE
This bike straddles the line between Enduro and Downhill racing, mating 29" wheels with big Maxxis Minion downhill tires and top of the line RockShox suspension to produce a big-wheeled ride that's ready for any terrain. You get a premium carbon fiber frame with Race Face wheels, SRAM Code brakes, the SRAM GX Eagle drivetrain, and other equally well-selected components. The end result is an all-around 29" mountain bike that's at home on gnarly trails, bike parks, or flat out DH racecourses. We wouldn't call this a cheap bike but it certainly delivers value for money.
Orbea Rallon M-Team
Specs
Frame Material

:

Carbon Fiber

Wheel Size

:

29"

Seatpost

:

Dropper

Drivetrain

:

1x12

Fork Travel

:

170mm

Head Tube Angle

:

65°

Rear Suspension

:

160mm Air
Features
Asymmetrical Frame Design Gives Easy Access To Shock Adjustments
Industry-Leading Fox Suspension Smooths Out Your Ride
Premium Shimano XT Drivetrain And Brakes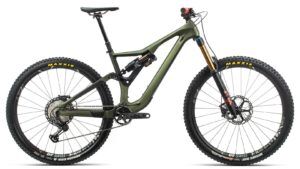 BEST PREMIUM 29" DOWNHILL BIKE
If you like to go big on a 29er, Orbea has delivered your dream ride. The Rallon M-Team matches big wheels that gobble up trail and roll over obstacles with low-slung geometry, stack angles, and a premium Fox suspension package to deliver a true extreme 29" bike. The frame is lightweight carbon fiber, the wheelset is the premium DT Swiss EX-501, and the brakes and drivetrain are Shimano's famed XT line. The result is a superb all-around trail bike that's ready to step up to a Black Diamond park trail or a DH racecourse any time you are!
Marin San Quentin 1
Specs
Frame Material

:

Aluminum

Wheel Size

:

27.5"

Seatpost

:

Fixed

Drivetrain

:

1x9

Fork Travel

:

120mm

Head Tube Angle

:

65°

Rear Suspension

:

Hardtail
Features
Compatible With Up To 2.6" Wide Tires
Hydraulic Disc Brakes For Superior Stopping Ability
Slack Angles For Stability On Steep Descents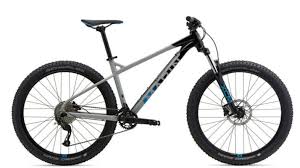 BEST BUDGET DOWNHILL HARDTAIL
Some people will tell you that you can't "do DH" on a hardtail. They're wrong. In the early days of mountain biking, everybody rode hardtails, and they rode some very gnarly hills! Full suspension is wonderful, but the hardtail is a great choice for a beginner seeking to develop a feel for the trail and strong bike handling skills.
Marin built this affordable bike with sturdy components and the slack geometry normally found on DH race bikes. You'll need to develop good line choice and handling skills but this ride will let you go down and go fast at a price point that wouldn't buy you the wheelset of a serious DH race bike. Don't let a tight budget keep you off the hill!
Marin Alpine Trail 7
Specs
Frame Material

:

Aluminum

Wheel Size

:

29"

Seatpost

:

Dropper

Drivetrain

:

1x11

Fork Travel

:

160mm

Head Tube Angle

:

65°

Rear Suspension

:

150mm Air
Features
Tubeless-Ready Wheels
Long Travel And Slack Angles For Steep, Rough Terrain
1x11 Drivetrain Delivers A Wide Gear Range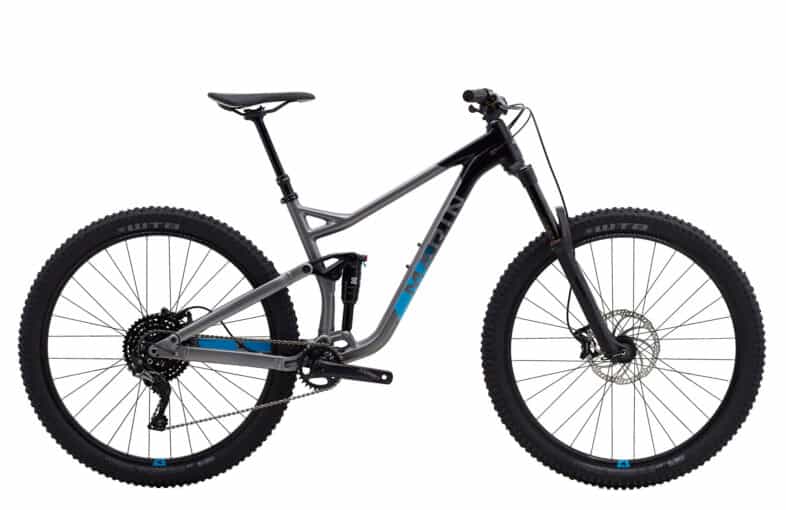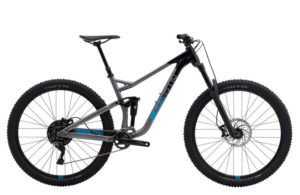 BEST AFFORDABLE 29" DH BIKE
Marin has a reputation for building affordable no-nonsense bikes that just plain do the job, and this is a great example of how that reputation was earned. There was a time when downhill riders wouldn't dream of using 29" wheels, but that time is long past and even competitive racers are now adopting the big hoops. This bike combines the 29'" platform with the slack angles and long travel of a purebred DH ride, and Marin decks it out with solid, serviceable components that will get you down the slopes without breaking your bank account.
Banshee Darkside SLX
Specs
Frame Material

:

Aluminum

Wheel Size

:

27.5"

Seatpost

:

Fixed

Drivetrain

:

1x11

Fork Travel

:

180mm

Head Tube Angle

:

63.5°

Rear Suspension

:

180mm Coil
Features
High-Strength Tubeless-Ready Wheelset
Shimano Hydraulic Disc Brakes For Superior Stopping Ability
Custom Hydroformed Tubes Add Strength But Keep Weight Low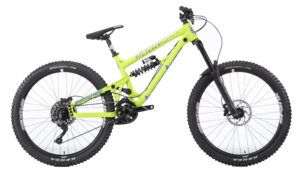 BEST BUDGET 27.5" DH RACE BIKE
Banshee and Jenson USA combine forces to offer you this exceptional deal on a race-ready specialist DH bike. The extra-long suspension travel and ultra-slack angles on this bike are begging to be introduced to a race track, and if speed is your goal and you see competition in your future, this is an opportunity you won't want to pass up. We don't know how long this deal will be available (and we'll try to remove it as soon as it's not), but it's too good not to pass on while we can!
Eminent Haste GX Eagle
Specs
Frame Material

:

Carbon Fiber

Wheel Size

:

27.5"

Seatpost

:

Dropper

Drivetrain

:

1x12

Fork Travel

:

170mm

Head Tube Angle

:

65.5°

Rear Suspension

:

160mm Air
Features
Strong, Light Carbon Fiber Frame
Smooth-Shifting SRAM 12-Speed Drivetrain
High-End Dropper Seat Post Lets You Adjust Saddle Height On The Fly
BEST VALUE 27.5" DOWNHILL BIKE
Eminent Cycles may not be a household name, but the numbers on this gravity-driven ride speak for themselves. This ride features 170mm of impact-eating front travel and 160mm in the rear, matched to a high-strength carbon fiber frame with an aggressively slack front end that's just waiting to be pointed at something steep. A premium SRAM drivetrain, a Fox Transfer dropper post, and a generally high-spec component range round out a package that delivers outstanding value for money. This is an all-around mountain bike that leans hard toward the downhill side but is still able to get you up the climb on the other side of the hill. If you're looking for one bike to do it all and your idea of doing it all includes a bunch of steep stuff, this is a great choice!
Yeti SB165 Turq T3
Specs
Frame Material

:

Carbon Fiber

Wheel Size

:

27.5"

Seatpost

:

Dropper

Drivetrain

:

1x12

Fork Travel

:

180mm

Head Tube Angle

:

63.5°

Rear Suspension

:

165mm Coil
Features
Yeti's Proprietary Turq Carbon Delivers Maximum Strength And Minimum Weight
Super Low, Super Slack Geometry For Radical Riding
Absolute Top Of The Line Components
Fox Coil Shock For Ultimate Plushness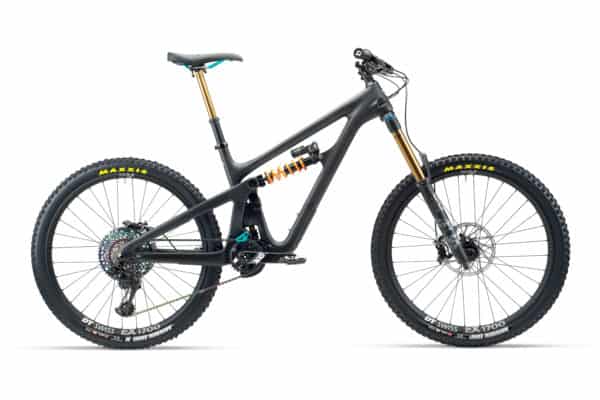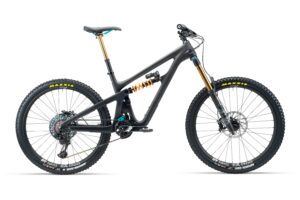 BEST EXTREME RIDE
When you want to take your riding off the trail and off the charts, Yeti delivers with the SB165. Lots of bikes go low and slack, but the SB165 hits the drops with a minimal 63.5° head tube angle and a build that's designed to fly as much as it is to roll. Everything about this bike is top of the line and chosen for extreme riding. If you're looking to ride outside the tape and if your idea of riding involves touching the ground as seldom as possible, here's your bike!
THINGS TO CONSIDER WHEN BUYING A DOWNHILL MOUNTAIN BIKE
Disclaimer: Downhill riding requires appropriate skills and appropriate gear. We can point you to the gear but you'll have to develop the skills! We urge you to seek appropriate training, build skills gradually, and extend your limits slowly. Downhill riding involves high speeds and hard obstacles, and serious injury can occur if things get out of control.
For this list of the best downhill mountain bikes, we've taken a liberal definition of "downhill". Bikes designed for "enduro" or "freeride" all combine similar elements like long suspension travel and frame angles designed for high-gradient stability, and can even serve through the introductory stages of downhill racing. Downhill bikes have to be built burly and incorporate more sophisticated suspension and stronger wheelsets than other types and those features do push prices up. For those addicted to the thrill, it's worth it!
ASSESS YOUR NEEDS
It's easy to watch a World Cup downhill race or Red Bull Rampage event and think "I want to do that". It's easy to think that if you're going to do that, you need that bike. In the real world, your first steps into the wonderful world of downhill riding are most likely going to be on slightly steeper trails and slightly harder lines than you rode before, maybe a trip to the nearest bike park to try some more challenging rides.
For most of these purposes, a trail bike that leans toward the steep side will be a perfectly adequate tool. If you visit a local downhill race and check out the riders in the beginner bracket you'll see that plenty of them aren't riding race-specific bikes. As your skills develop you'll get a better feel for the type of downhill riding you'd like to do and the type of equipment you need, but don't feel deprived if your first moves into the downhill world are on a trail bike or even a hardtail!
KNOW YOUR LOCAL TRAILS
If you're like most of us, most of your riding will be done near your home. Some of us are lucky enough to have a racecourse or a bike park close enough for a day trip, others have to make do with whatever trails are nearby. Check out the local downhill trails, see what types of bikes people are choosing, and look for a bike that fits the type of riding you'll actually do!
KEEP PERSPECTIVE
Mountain bikers love gear, and it's easy to read about high-end components and imagine that they're necessary or that we'll ride better if we have them. In reality, most manufacturers deliver perfectly functional parts at the mid to lower end of the spectrum. And for most of us, improving our riding is more about better legs, lungs, and skills than better drivetrains, wheelsets, or forks! If you can't afford top-end gear, don't worry: if you're new to the downhill scene you probably don't need it anyway. Get the best you can afford and focus on building skills.
LEARN MORE
For more on the details of mountain bikes in general, REI has an excellent guide to choosing a mountain bike. Dirt Mountainbike offers more specific advice on choosing a downhill bike.
FEATURES EXPLAINED
FRAME MATERIALS
Downhill bikes are typically made of either aluminum or carbon fiber. Both are used to build bikes at all price levels, but carbon bikes are moving into a preferred position in the high-end market as new molding technologies produce lighter and stronger frames.
Many manufacturers use proprietary carbon fabrication processes like Yeti's Turq and Niner's RDO carbon to deliver the best possible strength-to-weight ratios. Enthusiasts and engineers can argue unto eternity over which is best; from a rider's perspective, they are all very good.
WHEELS
There was a time when 29" wheels were for cross country racers, 27.5" wheels were for trail riders, and downhill racers stuck with old fashioned 26" wheels. That time is now long gone.
Manufacturers are coming up with new designs that stretch old boundaries on a regular basis, and we now see 29" bikes with long travel and slack angles ready to rip on the roughest trails. As a general rule 29" wheels are still better suited to trails where you roll over obstacles and 27.5" wheels to trails where agility is required to dodge around obstacles, but the lines are increasingly blurred and bikes in both categories can be very good for many different types of riding. That leaves the choice up to personal preference!
Downhill bikes take significant impacts and need to have high-quality wheelsets. Wheels from high-end manufacturers are stronger, lighter, and more expensive, and are often a major selling point for downhill bikes.
SUSPENSION
Bikes built for steep downhills and rough trails usually have much more suspension travel than bikes designed for cross country and trail riding. That travel can make long climbs more difficult, as they tend to lead to suspension bob while climbing, but long-travel suspension comes into its own when the trail turns down, soaking up bumps and allowing riders to go fully airborne.
That's not to say short-travel bikes can't take hits: the knee is the original rear suspension and skilled riders can take huge hits on a hardtail. Suspension still makes it easier, and most downhill riders prefer to keep it long!
In general, 120-140mm of suspension travel indicates a cross country bike, 140-160mm indicates a trail to enduro bike, and anything over 160mm suggests a big-hit downhill or freeride design, but there will always be exceptions!
Fox and RockShox are the dominant suspension manufacturers, and their higher-end models are preferred by most customers and manufacturers. Other manufacturers still produce quality products and should not be overlooked.
Rear suspensions use either coil shocks or air shocks. Coil shocks are often said to be "plusher" and are used on many downhill race bikes. Air shocks are lighter and can be tuned to a wider rider weight range by adding or removing air pressure. Most manufacturers now spec built bikes with air shocks because they are easier to adjust for riders of different weights.
Sag is the extent to which rear suspension is activated by the rider's weight. For normal trail riding, most shocks will be set to around 25% sag (meaning the rider's weight will compress the shock to 25% of its total travel), but some downhill riders prefer more. Consult the specifications for your shock before setting the sag. Some bikes have sag indicators to show you at a glance how much sag your rear suspension has.
HEAD TUBE ANGLES
Bike geometry is a complex subject. To reduce it to the basics, "slack" geometry places the front wheel farther in front of the handlebars and the seat farther back, allowing stability on steep slopes and big drops. The head tube angle makes a good overall measurement for a scale of steep to slack angles.
68° or above indicates a climb-oriented cross country bike.
66° – 68° indicates a general-purpose trail bike.
65° – 66° indicates an "enduro" style bike leaning toward steep trails and big drops.
65° and below is getting into pure downhill race territory, bikes that are made to fly as often as they roll.
SEATPOSTS
Most riders keep their seats high on climbs and level rides for maximum pedaling power, but lower it and stand on their pedals for downhill control. Rigid seatposts are strong and inexpensive but changing the seat height means stopping and getting off the bike. Higher-end bikes use dropper posts, which raise and lower the seat with a handlebar-mounted control button, allowing riders to transition seamlessly from climbing to descending and back.
DRIVETRAIN
A bike's drivetrain is the group of components that brings power from the pedals to the rear wheel. This involves a crank, one or more front chainrings, a chain, a group of rear rings (often called a cassette or sprocket), and derailleurs, which move the chain from one ring to another. Most modern mountain bikes now use a single front chainring and no front derailleur, with anywhere from 9 to 12 rear rings. A bike with one front ring and 11 rear rings is said to have a 1×11 drivetrain.
SRAM and Shimano are the dominant drivetrain manufacturers and their products are used on most quality mountain bikes. Each has different models at different price points, and bike manufacturers will often classify a built bike according to its drivetrain. If a build has "GX Eagle" in its name it uses the SRAM GX Eagle drivetrain; if it uses "XT" or "SLX" it will use the corresponding Shimano parts.
BRAKES
Hydraulic disc brakes combine stopping power with sensitivity and require little effort to engage. They are preferred by all major manufacturers and most users. Modern hydraulic brakes are very reliable and require very little maintenance. Tektro has staked out a position at the lower end of the market but most higher-end bikes will use SRAM or Shimano brakes. Enthusiasts will argue for hours over which is better but both companies make excellent products that will deliver the quality you need.
Brake rotors come in sizes from 160mm up to 200mm. Larger rotors have more stopping power and are preferred by downhill riders. Many bikes use larger rotors on the front wheel, where stopping requires more power, and smaller ones on the rear. Remember that braking technique is just as important as stopping power!
CABLE AND HOSE ROUTING
Brakes, gears, and dropper seatposts all require cables or hoses connecting controls to devices. These are often run along the tubes and secured by cable ties. Some manufacturers provide internal routing to keep cables and hoses inside the bike's tubes. This gives a cleaner appearance, more protection, and less likelihood of snagging but may make cables or hoses less accessible for maintenance.
READ MORE
For more of our top mountain biking gear recommendations, check out these popular buyer's guides: