Updated on August 26, 2020
Kids want to get dirty and have fun, right? What better way to let them roam free and enjoy the ruggedness of the outdoors than getting them to start shredding trails on a kid-friendly mountain bike? Whether you have a tiny tot, a wily teenager, or a casual mountain biker, our mountain biking experts here at The Adventure Junkies researched a variety of styles and sizes that are known to be the best mountain bikes for kids, and we've shared all our findings with you. So let your kiddos have fun, get a little wild, and enjoy riding the trails with their new mountain bike. You never know if you might have a budding world champion on your hands!
For more of our top mountain biking gear recommendations, check out the Best Mountain Bikes.
Quick Answer

-

The Best Mountain Bikes for Kids
Comparison Table

-

Best Mountain Bikes for Kids

For the best experience turn your device horizontally
Reviews

-

The Best Kids' Mountain Bikes
Co-op Cycles DRT 3.1
Specs
Frame Material

:

Aluminum

Wheel Size

:

26"

Brake Type

:

Disc Brakes

Number of Gears

:

10

Suit Child Height

:

4'7" +
Features
Full Suspension (front and rear suspension for maximum control)
Disc Brakes (for safe and efficient stopping power)
Lightweight And Rugged Design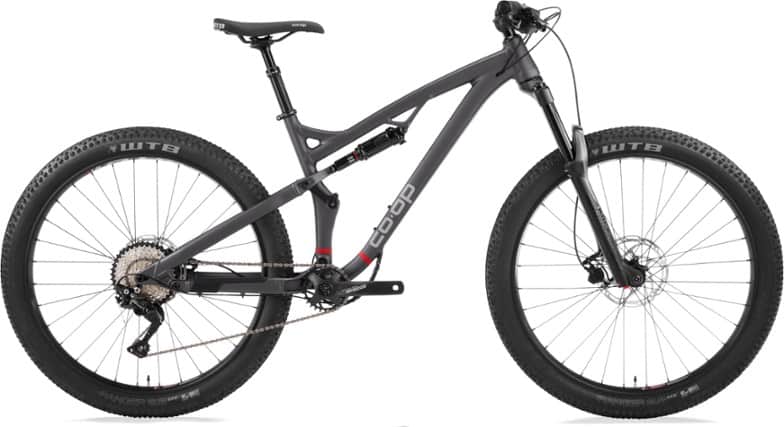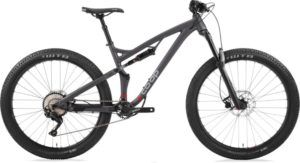 BEST FOR: GNARLY MOUNTAIN BIKING
This bike and its associated price tag are not for the faint of heart. The Co-Op Cycles DRT 3.1 is designed for some serious mountain biking on rough and technical terrain. If your child has already wrecked multiple mountain bikes from hard riding and you're constantly wondering why their bikes are so worn out, it might be time to look at a serious bit of mountain biking kit.
Suited to older kids who perhaps want to start racing, this bike is the real deal. The front and rear suspension is perfect for riding gnarly trails and steep downhills, paired with disc brakes for fast and even stopping. This bike has all the features to have fun and stay safe for the long haul.
Cannondale Trail 4 27.5
Specs
Frame Material

:

Aluminum

Wheel Size

:

27.5"

Brake Type

:

Disc Brakes

Number of Gears

:

11

Suit Child Height

:

5' +
Features
Front Suspension (for smoothing out the ride)
Lightweight and Agile Frame
Race Specific Geometry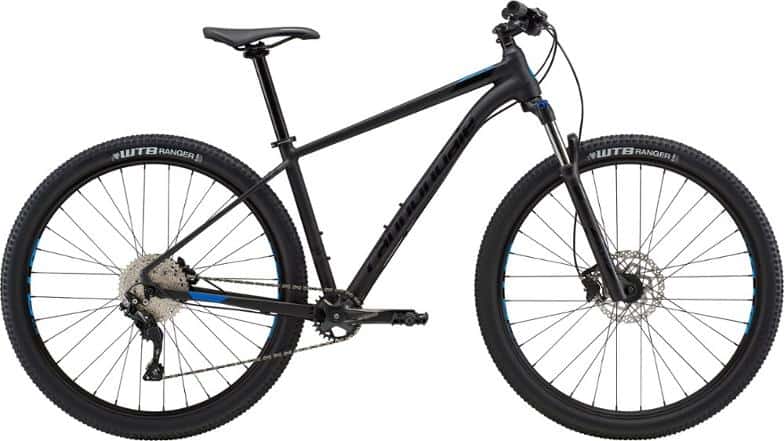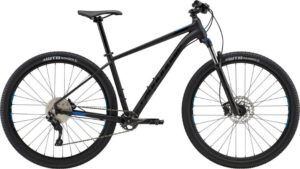 BEST FOR: KIDS WHO RACE
The Cannondale Trail 4 27.5" is suited to kids who ride regularly on mountain bike specific trails and even those who want to race. It has a lightweight aluminium frame, with quality components and race specific geometry.
The front suspension gives a smooth ride feel, plus it has mountain biking specific gearing, so it is suited to steep climbs and tight and technical trails, making it ready to go fast in a safe and controlled way. The addition of disc brakes means it will stop quickly and evenly as an extra safety measure. This bike is great value for money and a serious bit of mountain biking bling.
Diamondback Octane 20"
Specs
Frame Material

:

Aluminum

Wheel Size

:

20"

Brake Type

:

Rim Brakes

Number of Gears

:

6

Suit Child Height

:

4' - 5'
Features
Durable Frame
Simple Gearing
Drivetrain Protection (to protect gearing in case of a fall and prevent damage to the bike)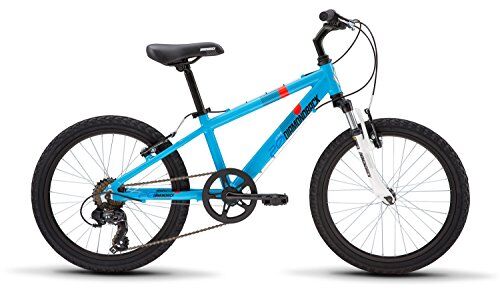 BEST FOR: TINY TOTS PLAYING IN THE PARK
Let's say the training wheels came off recently and your kid just wants to ride around and have some fun. Perhaps they even express a desire to go for a more challenging bike ride with the family. Looks like you need a mountain bike to fit the bill, and that's where the Diamondback Octane 20" comes in!
This snazzy little bike is suitable for kids who will be riding around the neighborhood, on dirt or gravel paths, or just riding casually in the park with their friends or the fam. With only 6 gears, it's easy for young kids to understand. The bike also includes drivetrain protection so that if the bike falls over, the gearing will be kept safe. This means that kids can play and ride around all day without worrying about breaking their bike.
Raleigh Bikes Tokul 24"
Specs
Frame Material

:

Aluminum

Wheel Size

:

24"

Brake Type

:

Disc Brakes

Number of Gears

:

14

Suit Child Height

:

4'6" - 5'5"
Features
Low Stand Over Height (so little ones can easily touch the ground with their feet)
Disc Brakes (for safer and more efficient stopping power)
Easy Gear Changing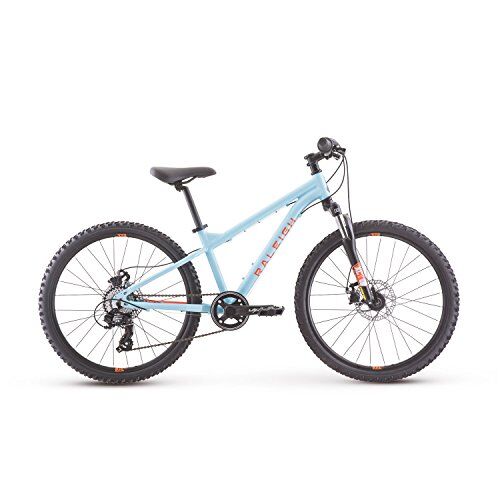 BEST FOR: KIDS WHO JUST WANT TO HAVE FUN
The Raleigh Bikes Tokul 24" is suitable for kids who want to ride to their friend's place, to the local park, or even on some light mountain biking trails. The sturdy frame paired with disc brakes for fast and safe stopping makes this a great bike for kids who just want to play. The extra gearing, 14 gears in total, is simple to use with a grip shift – the gear shifting works by simply turning the hand grip on the handlebars, meaning kids will quickly understand the extra gears. This fun little bike will have kids excited for their next outdoor adventure!
THINGS TO CONSIDER WHEN BUYING A KIDS MOUNTAIN BIKE
Kids bikes come in a variety of sizes and styles. It is important to ensure you have selected a bike that fits your child and is suitable for the type of riding they will be doing. This is important for safety as well as maintenance and repairs.
SIZE
It's really important that you buy the right size bike for your child. It may be tempting to purchase a bike they can "grow into," however, a bike that is too big will often cause your child to lose confidence in their riding ability.
Read more about choosing the right size bike for your child here.
WHEEL SIZE
The wheel size indicates the size of a kids bike up to a 24" wheel. For example, a bike that has a 24" wheel is only one size.
Once a bike has a 26" wheel and above, it fits into the adult bike category, where the size of the frame makes all the difference. For example, you can purchase a bike with a 26" wheel in XS – XL. However, a tall child or young teenager will probably be best suited to an adult sized bike.
PRICE
There can be huge price differences in bike prices. These can come down to components, the weight of the bike, and purpose of the bike. Ensure you understand where and how the bike will be used so you're not over or under spending on a bike for your child.
Purchasing a very expensive high end bike that will only be ridden on bike paths is not necessary. Shoot low for a casual rider or a kid who's just starting to launch onto the mountain biking scene.
On the flip side, purchasing a very cheap bike to take on rugged trails will have you doing a lot of maintenance work and perhaps even spending more money on replacing parts. If you know your kid is a rugged rider and will continue mountain biking for years to come, make sure to invest in a quality bike with a slightly higher price tag.
SAFETY
When purchasing any bike, it is important to ensure it is fit for the purpose you plan on using it for. A lower spec bike at a cheaper price point is fine for riding around the park and on footpaths, but it may not suit full blown mountain biking trails. Make sure to do your research and find out exactly what your kid wants to do with their bike before making your final decision about which bike to purchase.
FEATURES EXPLAINED
RIGID
This bike has no suspension.
SUSPENSION
This is the system used to make uneven terrain feel smoother. It is at the front of the bicycle that attaches the frame to the wheel. On full suspension bikes, there is also suspension at the rear of the bike. The suspension is a metal shaft that compresses into itself with the use of a spring.
FRONT SUSPENSION
This bike has suspension at the front of the bike, which will help to smooth out the ride.
FULL SUSPENSION
This has suspension at the front and rear of the bike that is suited to rough mountain biking trails.
WHEEL SIZE
Refers to the diameter of the wheels. A childs' bike is sized by the wheels, unlike an adult bike which is sized by the frame.
FRAME
This is the main part of the bike. All of the bikes reviewed in this article have an aluminium frame. Each bike brand has different frame designs and colors to select from.
DISC BRAKES
These are a style of brake. A caliper, that works like a clamp, tightens around a metal rotor to bring you to a quick and even stop.
A disc brake is good for serious mountain biking as it will stop quickly. They are great for kids as often their reaction times are slower and they tend to require faster braking times than adults.
RIM BRAKES
These are a style of brakes. A caliper that works like a clamp tightens around the wheel. Rim brakes offer a softer braking capacity than a disc brake.
Rim brakes work well for smooth and even terrain, such as bike paths, wooded trails and grassy surfaces. The need to brake sharply is often minimised on this terrain, meaning rim brakes are suitable.
Read more about the difference between disc brakes and rim brakes and what it means for kids here.
GRIP SHIFT
This is a style of changing the gears, commonly found on small kids bikes. It is a twistable rubber piece that is part of the hand grip. The grip shift will have numbers on it to indicate the gear you have selected.
You simply twist the hand grip backwards or forwards to change gears. It is very simple and uncomplicated, which makes it perfect for young children to start learning about gear changing.
THUMB SHIFT
This is a small lever beside the hand grips on the handlebars that you click with your thumb to change gears. It is commonly found on older kid and adult bikes. It is not complicated to use, however it is not as simple for small kids to understand.
KICKSTAND
A metal rod with a pivoting bolt that is attached to the bike. With your hand or foot, simply twist it towards the ground and it will hold your bike upright so you can walk away without worrying about it tipping over. It is used to park your bike without needing to lean it against a tree or fence.
READ MORE
For more of our top mountain biking gear recommendations, check out these popular buyer's guides: