Updated on October 9, 2020
Every climber knows the feeling that goes along with making that one big move up to the next hold, and it's just the side of a mere bump in the wall. Barely holding on to that crimp as the gasps and grunts – punctuated by curses – stream forth. So let's build that strength with the best grip trainers on the market and get you flying up those routes in no time.
We'll show you what the options are, how they work, and what muscles they target. That information combined with comprehensive buying advice will arm you with all the tools you need to pick out the very best grip trainer for you. So let's get started!
For more of our top climbing gear recommendations, check out the Best Climbing Hangboards.
Quick Answer

-

The Best Grip Trainers
Gripmaster Pro Hand Strengthener

Luxon Hand Grip Strengthener

FitBeast Hand Grip Strengthener
Comparison Table

-

Best Grip Trainer

For the best experience turn your device horizontally
Reviews

-

The Best Climbing Grip Trainer
Metolius Grip Saver Plus
Specs
Resistance

:

No Exact Poundage - Easy, Medium, Or Hard

Focus

:

Finger Strength And Muscle Balance

Movement Type

:

Flexion And Extension
Features
Works Finger Extension And Flexion For All-Inclusive Grip Training
Different Difficulties Available For Training Or Injury Recovery
All Three Levels Can Be Purchased Individually Or All Together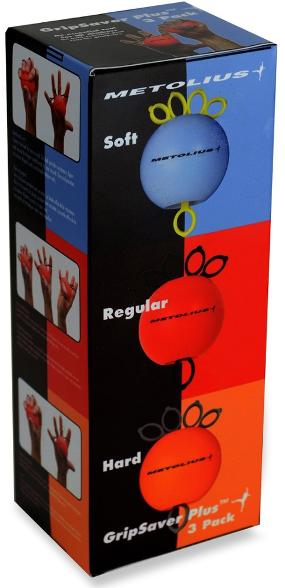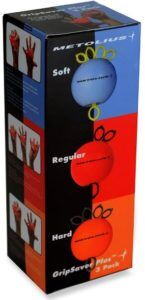 BEST FOR: COMBINING EXTENSION AND FLEXION TRAINING
Nip muscle imbalance in the bud with this effective training tool from Metolius. The GripSaver Plus features a central stress-ball ringed by rubber finger slots providing finger extension resistance. This results in a very effective training tool that improves your strength for both grip (flexion) and finger extension.
For as complicated as this grip trainer may sound, the exercises themselves are actually quite straightforward. Simply slide your fingers into the rubber slots and squeeze the stress ball to improve your grip, or try to extend your fingers out (the ball will stay suspended in your hand) and work your muscle balance. The GripSaver comes in three different resistance levels from easy, to medium, to hard and these can be purchased individually or as a pack.
We climbers often forget that we need to work our overall muscle balance to prevent overuse injuries and reach our full potential of crushing ability, and that's why we have the GripSaver. Blending grip strength with extension training is a stroke of genius that makes the Metolius GripSaver one of the best grip trainers out there.
Gripmaster Pro Hand Strengthener
Specs
Resistance

:

11 lbs Per Finger

Focus

:

Individual Finger Strength

Movement Type

:

Flexion
Features
Wide Range Of Motion For Well-Rounded Training
Targets Each Finger Individually To Build Strength
Recommended Exercises Provided On Company's Website
BEST FOR: INDIVIDUAL FINGER TRAINING
Almost every climber has seen someone working a GripMaster at the local climbing gym. These tough little grippers have nearly cornered the market on training each finger individually, and have thus found many loyal followers amongst rock climbers.
The GripMaster Pro features a spring-loaded design, with an individual spring for each finger pad. This means that no matter how strong your other fingers are, your weakest link will stand out and receive the training it needs. Our recommended model for climbers applies 11lbs of resistance per finger, but there are different models out there using 5, 7, 9, and 13lbs for folks of any strength level. The catch, however, is that you must purchase a new GripMaster to graduate up to more resistance.
This is definitely one of the best grip trainers on the market thanks to its ability to highlight which of our fingers are the weakest and strengthen them directly. We do wish that the GripMaster was adjustable, as each individual model is a little pricey. Nevertheless, we're pleased with its performance and recommend it for all you crag-hoppers.
Captains of Crush
Specs
Resistance

:

Varies By Model - 60 to 365lbs

Focus

:

Overall Grip And Forearm Flexors

Movement Type

:

Flexion
Features
Burly And Durable Design
Ergonomically Fits In Most Hands
Very Helpful Training Programs Available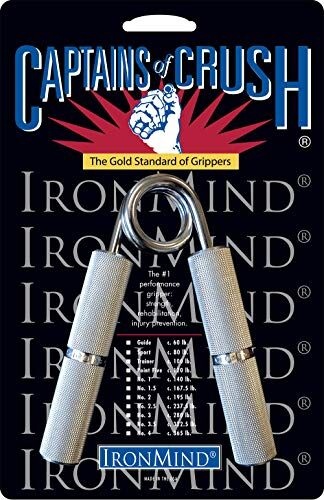 BEST FOR: OVERALL GRIP TRAINING
While this grip trainer from IronMind has a devoted following amongst heavy lifters, the benefits can certainly be extended to the world of rock climbing. The design is brutally simplistic. Two knurled metal handles connected by a beefy curled spring. The goal? Simply squeeze those two handles together as much as possible. Easy, efficient, and a killer grip workout.
IronMind produces the Captains of Crush (CoC) with a wide range of resistance values, ranging from 60lbs all the way up to 365lbs. However, they are unfortunately not adjustable. This, combined with the fact that each individual model comes with a comparatively hefty price tag, means that the CoC Grip Trainer is an investment for climbers absolutely committed to improving their grip strength.
Price aside, this is undoubtedly one of the best tools on the market to improve your grip strength. We're also very pleased with the training materials provided with your purchase and on the IronMind website. All these items combined easily make the Captains of Crush one of the best grip trainers for rock climbers.
The Friendly Swede
Specs
Resistance

:

20, 30, Or 40lbs

Focus

:

Hand And Grip Therapy

Movement Type

:

Flexion
Features
Low Resistance For Injury Recovery Or Beginners
Different Sizes Available To Fit Every Hand Size
Very Reasonably Priced For A Set Of Three
BEST FOR: GRIP TRAINING AFTER AN INJURY
It comes for every climber at some point, that overuse or tendon injury to the hands or fingers. We know just how frustrating it can be to wait on that healing process and feel your grip strength slowly ebbing over time. But The Friendly Swede Hand Grip Trainer can be your perfect avenue to keep that hand limber and slowly rebuild strength after that injury!
The squishy egg-shaped balls come in packs of three, and feature resistance levels of 20, 30, and 40lbs. This is typically the perfect lower resistance level to get back on your feet, or hands, after a long break from the wall. These balls, however, won't help to significantly build strength after your recovery; remember that some trainers start at 60lbs!
The natural shape/grip of these colorful little eggs combined with a low, entry-level, resistance definitely make the Friendly Swede the best grip trainer for injury recovery. What's more, you get all three resistance levels for one very reasonable price.
Keepafit Hand Exerciser
Specs
Resistance

:

Light, Medium, And Hard

Focus

:

Muscle Balance And Extension Training

Movement Type

:

Extension
Features
Three Difficulty Levels To Progressively Up Your Training
Excellent Training For Overall Muscle Balance And Injury Prevention
More Durable Than Comparable Grip Trainers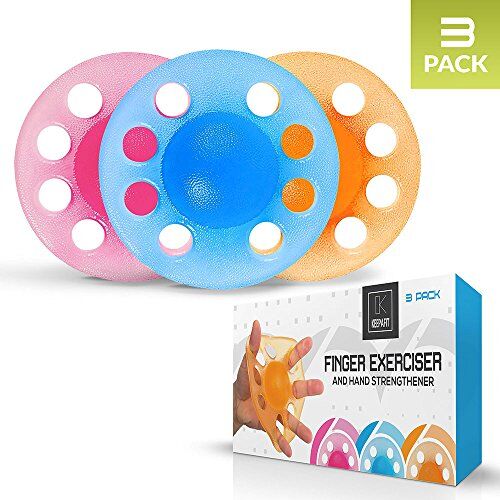 BEST FOR: OVERALL EXTENSION TRAINING
Keepafit has provided climbers with an excellent option to ensure those muscles behind their iron grip are perfectly balanced. These rubbery discs have holes for your fingers, and all you have to do is try to extend your hand like you're trying to signal the number 5 for an awesome extension workout.
The rubber discs come in packs of three for easy, medium, and hard resistance ratings. We definitely recommend getting all three if you're just beginning to work your extensor muscles, as you'll need to start light and slowly work your way up. But for all that work you have in your future, you can rest assured that these grip trainers will stay with you and not break – which is a common problem for most extension trainers of this type.
But that's not to say the Keepafit Hand Exerciser is not without its flaws. The gel ball in the center of the disc – intended as a grip strength trainer – is too small for a natural grip. Many users also report that the finger holes are often too small for larger hands, so take this into consideration with the Keepafit.
IronMind TUG Gripper
Specs
Resistance

:

7 Different Levels Sold Separately

Focus

:

Individual Finger Strength

Movement Type

:

Flexion
Features
Allows You To Focus On Individual Finger Grip Strength
Very Simple And Robust Design
Can Be Used To Train Thumb Strength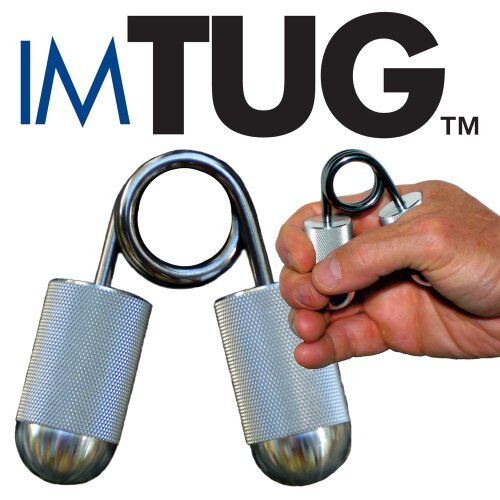 BEST FOR: ISOLATED THUMB TRAINING
While IronMind's Captains of Crush focus on overall grip strength, their smaller TUG takes aim at your individual fingers. The TUG features two squat handles that sit comfortably against one or two fingers and are connected by a single metal spring of varying resistance. The goal is to squeeze the two handles together using only your target fingers, resulting in excellent strength building for that climbing pinch!
We're particularly fond of the fact that the TUG allows you to specifically target your thumb, a feature that most grip trainers lack. In terms of difficulty, IronMind provides 7 different iterations of the TUG but unfortunately does not include any poundage measurements to help in your selection process. We recommend exploring the IronMind website for more information on these difficulty levels and recommended exercises.
The tough side to most IronMind products is the price, and the TUG is no exception. Every individual version of this grip trainer comes at a significant price, and you'll need to purchase multiple resistance levels in order to continually improve. We therefore only recommend this option for regular climbers who are seriously invested in improving their finger strength. If this sounds like you, then the IronMind TUG is just right for you!
Fitness Insanity
Specs
Resistance

:

22-88lbs Plus Two Therapy Balls

Focus

:

Overall Grip Strength

Movement Type

:

Flexion
Features
Adjustable Resistance For Strength Progression
Therapy Balls For Beginners Or Injury Recovery
Reasonable Price
BEST FOR: BEGINNER CLIMBERS
Here we have a very handy pair of two grip trainers delivered together. The first is a trigger-grip strength trainer. It's easily adjustable from 22 to 88lbs and features a non-slip and comfortable handle. This resistance range may be a little low for seasoned climbers but is absolutely ideal for those just branching into the sport who need a starting point to develop grip strength.
Second, we have two round squeeze balls. While not necessarily hard enough to develop your strength, they're ideal for loosening up tight hands after an intense climbing session or rehabilitating an injured tendon or muscle.
Together, we believe these two items are the best grip trainers for your new climbers out there. Develop your strength and keep those hands limber. Just remember that there will likely come a time when you'll have to graduate up to a higher resistance grip trainer.
Luxon Hand Grip Strengthener
Specs
Resistance

:

22-110lbs

Focus

:

Overall Grip Strength

Movement Type

:

Flexion
Features
Wide Range Of Adjustability For All Fitness Levels
Easy To Use
Excellent Price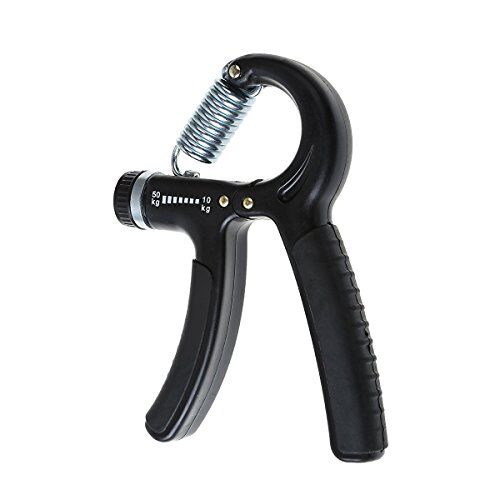 BEST FOR: ADJUSTABILITY
So many of the best grip trainers out there lack adjustability. Meaning you must purchase a whole new device to take your training to the next level. Not so with this hand grip strengthener from Luxon!
Luxon starts out with an entry-level resistance of 22lbs and progresses all the way up to the serious crusher level of 110lbs. The adjustability itself is also easy to operate. A few turns of the prominent screw on the device body is all you need to increase or decrease the tension. Remember that this type of trigger-grip trainer doesn't offer any workout for your thumbs, but it's a powerful grip strengthening tool regardless.
Our one wish with this device is some more cushioning on the handles. Most users report that the thinly padded handles tend to bite into their hands and fingers. But it may well be worth it for such a wide range of adjustability and awesome price.
FitBeast Hand Grip Strengthener
Specs
Resistance

:

Grip Trainer: 22-132lbs, Grip Ring: 50lbs

Focus

:

Overall Grip, Individual Finger Strength, Muscle Balance

Movement Type

:

Flexion And Extension
Features
Includes Hand Grip Trainer, Finger Extension, Ring Grip, Finger Exerciser, And Therapy Ball
Excellent Tools For Both Beginner And Experienced Climbers
Comes With A Carry Bag To Keep Everything Together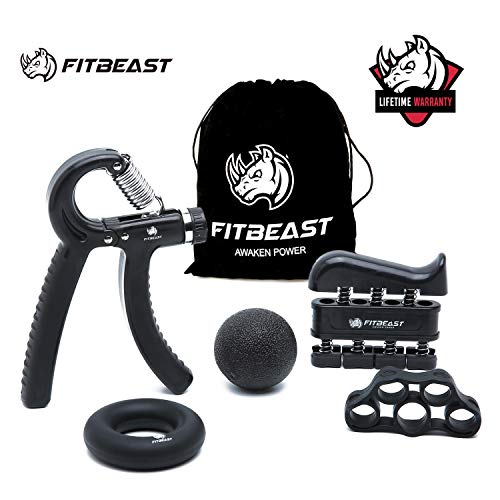 BEST FOR: COMPLETE GRIP TRAINING KIT
So many grip trainers out there focus on just one muscle group but leave out another. Or lack adjustability. Or are only for beginners and therapy. Well, how about a grip trainer kit that includes all of the above? That's right, with FitBeast we can take the very best grip trainers available, and pile them all together!
FitBeast has produced their own version of the best grip trainers; including a finger exerciser, 22-132lbs trigger-grip hand strengthener, and finger extension tool. These three tools are combined with a therapy ball and a 50lb ring grip to create an incredibly powerful training tool for any climber.
We're very pleased that all five of these training tools come for about the price of one. An excellent bargain to jumpstart your grip training. It's for that exact reason the FitBeast is our top recommended training kit for the best grip training on the market.
THINGS TO CONSIDER BEFORE BUYING A GRIP TRAINER
TYPE
There are more types of grip trainers than routes at your climbing gym. It's therefore very important for you to recognize those types, and what they train.
Trigger-grip is one of the most common. It features two handles connected at the top by some time of resistance mechanism and is gripped in one hand trying to pull those two handles together. Ring grips are another common trainer and are a simple rubber ring with a certain amount of resistance. Therapy balls are yet another type of grip trainer that, like trigger and ring grips, work your flexion strength.
Working your individual fingers is just as important as your grip, however. You'll consequently find several grip trainers that focus solely on individual fingers by providing independent spring pads for each finger to work. There are also mini versions of the trigger grip trainer that are designed to be held by only one or two fingers at a time.
Lastly, we have grip trainers that focus on finger extension rather than flexion. These trainers have loops or holes for each individual finger, and provide resistance as you try to extend your fingers out as if signaling 'stop'.
ADJUSTABILITY
What's our goal in purchasing some grip trainers? To get stronger! But as your strength increases, so to must your grip trainer's resistance or you risk your strength plateauing. That's where adjustability comes in.
Several of the best grip trainers offer some method to increase or decrease their resistance. Most often in the form of a tensioner dial. These trainers can progress with you as your grip develops or be dialed down to accommodate an injury. Adjustability, however, most often comes at the cost of durability. More moving parts mean more things that can break, whereas non-adjustable grip trainers are burly and designed to take a beating.
PROPER TRAINING ROUTINES
27 bones and 6 different types of tendons help form your hand. That's a lot of pieces that can be hurt with improper training! Especially your tendons. It's therefore absolutely pivotal for you use proper training methods and a little common sense when utilizing grip trainers.
Luckily for us, manufacturers make this very easy. Most grip trainers will come with a little exercise guide to ensure you're using the trainer properly. Otherwise, manufacturers' websites often include exercise suggestions and training guides.
But injuries happen, either on the wall or from overtraining. If that happens, listen to your body and take a break! When it's time to start working again, check out this guide to training with a finger injury from Rock And Ice.
FEATURES EXPLAINED
MOVEMENT TYPE
There are two primary types of movement associated with grip-trainers: flexion or extension. Flexion refers to squeezing or gripping your hand into a fist. This is the most common type of grip trainer movement and will help you strengthen your overall pinching and gripping power.
Extension, conversely, refers to extending out your fingers and hand like you're trying to signal a car to stop. These types of grip trainers don't strengthen your overall grip strength, per se. They instead strengthen the extension muscles that are often underused amongst climbers. This, in turn, helps to balance your overall muscle strength. Balanced flexion and extension muscles will keep your hands healthier in the long-run, and assist in preventing certain types of injuries.
RESISTANCE
The value for resistance is most often defined in pounds. Meaning that your fingers or hand will need to apply that poundage in order for the grip trainer to close completely. On the other hand, some grip trainers – often extension trainers – do not have a published force required. They instead market easy, medium, and hard versions of their product.
It's important to consider your strength level when choosing a grip-trainer. Pick too low, and the workout will be too easy. Too high, and the grip trainer will be too difficult to strengthen your hands effectively. Most manufacturers, therefore, publish a selection guide next to their product in order to help you make the right decision.
TRAINING FOCUS
There are three primary training focuses amongst grip trainers: hand, finger, and extension strength. Let's be clear, everyone's training needs are different and no single training focus is guaranteed to make you a better climber. But there are steps you can take to get you on the right path.
At this juncture, it's absolutely crucial for you to take a hard look at yourself and identify the parts of your grip that are weakest. Do you seriously struggle with crimps and pockets? If that's the case, then consider focusing your training on individual finger strength.
If your hand as a whole tends to tire out too quickly, then a handgrip trainer may be more up your alley. But regardless of your choice, train smart and widely. A healthy balance of multiple training techniques is often your best avenue to overall grip improvement. Along those same lines, remember your crushing level at the crag depends on several factors outside of your hand strength! Check out this article from REI for overall climbing strength training advice.
READ MORE
For more of our top climbing gear recommendations, check out these popular buyer's guides: