Updated on February 1, 2022
The longer you ride, the more realize just how badly you need a backpack for your snowboarding addiction. Maybe you don't want to ride all the way back to the lodge just for a snack. Or maybe you just want a refreshing drink at the top of a long ascent. Whatever your reason, finding the best snowboard backpack for you will dramatically improve not only your ride, but your happiness along the way.
Backpacks, like boards, vary in more ways than you can imagine. Some are built for small day trips whereas others are meant to hold enough for an overnight expedition or a journey into the backcountry. We've routed through the options online to bring you the ten best snowboard backpacks out there. Read through the list below to find out which one fits your needs.
For more of our top snowboarding gear recommendations, check out the Best Snowboard Racks.
Quick Answer

-

The Best Snowboard Backpacks
Black Diamond Dawn Patrol
Comparison Table

-

Best Snowboard Backpack

For the best experience turn your device horizontally
Reviews

-

The Best Backpack for Snowboarding
DAKINE Mission Pro
Specs
Capacity

:

18L, 25L

Gender

:

Women's

Frame

:

Frameless
Features
Padded Hip Belt For Maximum Comfort
Rescue Whistle On Sternum Strap
Hydration System Compatible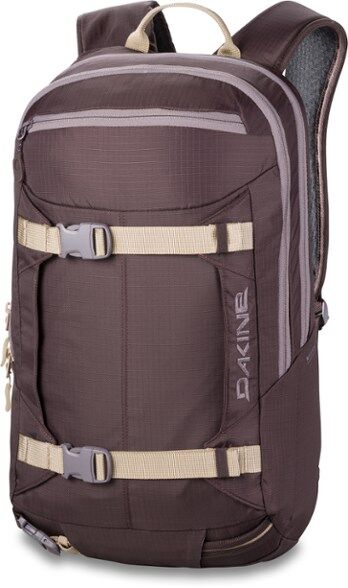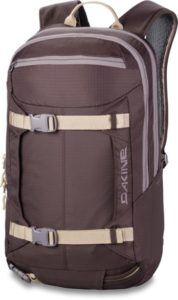 BEST FOR: ADVENTUROUS RIDERS
With an 18L model and a 25L model, the Mission Pro Women's Backpack is a great pack for any rider thinking about sending it into the backcountry every now again. This bag will hold tight to your body in any powder with a padded hip belt and a frameless construction. If you're a hiker, this pack will hold your board vertically while you trudge up the mountain. If you're a skier, it will carry your skis diagonally. In either case, the pack comes with a built-in area for all snow tools so you don't need to worry about not having enough space for all your equipment. This is a highly recommended backpack for anyone who enjoys the occasional backcountry expedition — the Mission Pro Backpack won't let you down out on the slopes.
Deuter Freerider Pro
Specs
Capacity

:

34L

Gender

:

Unisex

Frame

:

Internal
Features
Hydration System Compatible
Durable Construction Means This Pack Will Last For Many Seasons
Spacious Volume For Storing All Your Snow Sport Accessories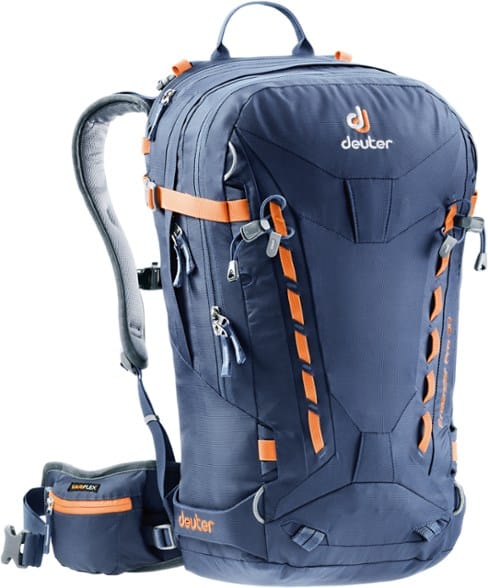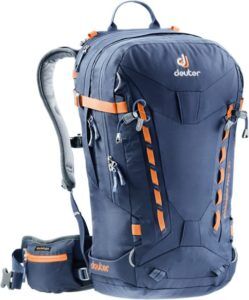 BEST FOR: LONGER EXPEDITIONS
There are few backpacks on the market that are as durable, spacious, and outfitted as Deater's Freerider Pro. Built for the adventuring freerider, this backpack has enough room for any backcountry gear as well as any clothes or other accessories you want to throw in there as well. With a removable hip belt and narrow shoulder straps, you can customize this pack to fit exactly how you want on your back.
The more you read into this backpack's features, the more you'll realize just how advanced it is. It is a bit expensive, but in this case, you pay for what you get: one of the best expeditioning backpacks on the market.
Burton Day Hiker
Specs
Capacity

:

25L

Gender

:

Women's

Frame

:

Frameless
Features
Women-Specific Shoulder Straps
Hydration System Compatible
Tablet Sleeve For Storing Your Electronics Safely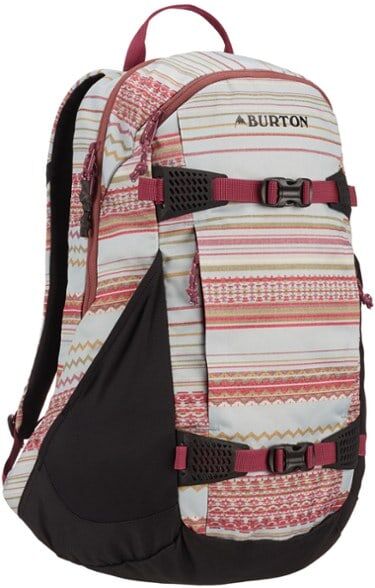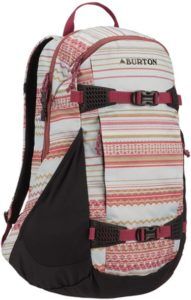 BEST FOR: THE DAY HIKER
As the name of this pack implies, Burton's Day Hiker backpack is built for the courageous rider setting out for a hard day's hike to the mountain. With snowboard carrying compatibility, this pack has just enough room for all your hiking needs and a few stowable accessories. The women-specific shoulder straps, adjustable sternum strap, and sturdy hip belt should keep this bag glued to your body while you're flying down any slope. Overall, it's a great pack for the rider looking for a few-hour hike up a nearby mountain or even the extended side-country trip from the top of the lift.
The North Face Recon
View Women's Version
Specs
Capacity

:

30L

Gender

:

Men's And Women's Specific

Frame

:

Frameless
Features
Laptop Storage Space
Bike-Light Loop
Removable Hipbelt
2 Water Bottle Pockets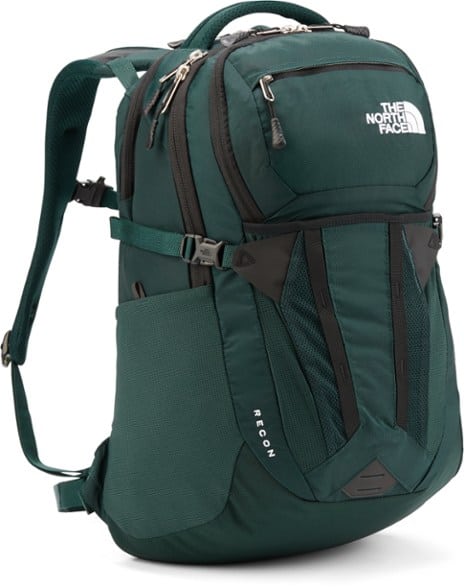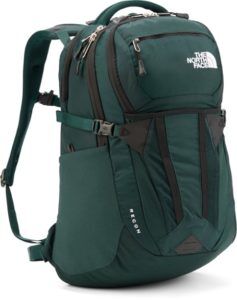 BEST FOR: MULTI-SPORT ATHLETES
The best backpacks are those that can function in any environment at a high level, such as the North Face Recon Pack. With two mesh water bottle pockets and a quick-draw phone access slot, you don't have to take off your bag for a drink of water or to shoot a text. And with a bike light loop and a removable hip belt, you can easily outfit this pack for a summer ride into the mountains as well. With both a men's and women's specific model, this pack is great for any rider who wants a backpack that they can bring out on the mountain, into the cafe, or on a long bike ride.
Black Diamond Dawn Patrol
Specs
Capacity

:

25L

Gender

:

Unisex

Frame

:

Internal Frame
Features
Form-fitting Suspension System For Comfort
Multiple Ski And Board Carry Options
Ice-Tool Pocket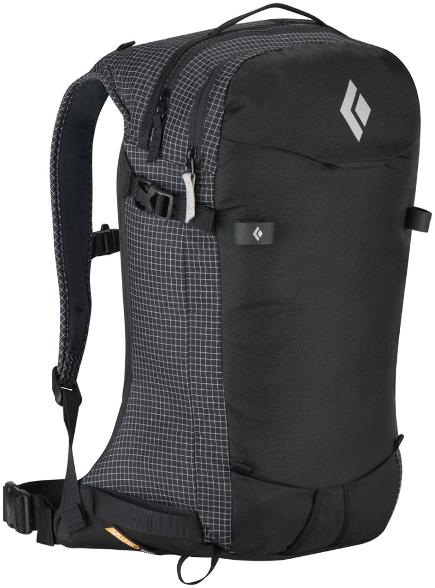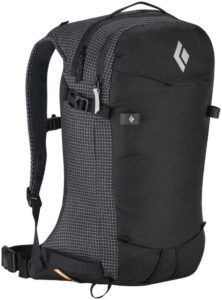 BEST FOR: LIGHT BACKCOUNTRY EXPEDITIONS
Made for the brave soul venturing to alpine terrain, this bag is a great, lightweight option for any experienced rider. With space for all your backcountry gear, including an ice axe, and compatibility with an airbag system, this pack is built to keep you safe no matter how treacherous the terrain may be.
With a carrying capacity of 25L, we recommend this bag to advanced riders seeking out day-long trips. There might not be enough room for an overnighter in this bag, but there's more than enough space for sun-up to sun-down expeditions into extreme terrain.
Ortovox Haute Route
Specs
Capacity

:

32L

Gender

:

Men's

Frame

:

Internal Frame
Features
Hydration System Compatible
O-Flex Frame Provides Superior Comfort
Separate Compartment For Avalanche Safety Gear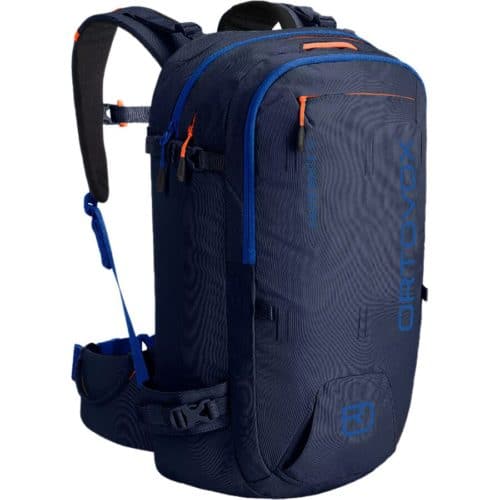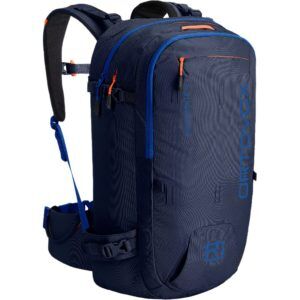 BEST FOR: SERIOUS BACKCOUNTRY RIDERS
This is definitely the most expensive backpack on our list, but we couldn't resist. The Ortovox Haute Route Men's Backpack is widely regarded as one of the best expedition packs out there. With a separate compartment for your avalanche safety gear, and a body-fitting frame that moves with you instead of against you, this pack has all the necessary attachment points and carry capacities that you could ask for in an expedition bag.
We recommend this pack to those who already have all their avalanche gear and are looking for an upgraded bag to take on larger expeditions they have planned. With a volume of 32L, it rides on the edge of being big enough for an overnight trip, and will satisfy all your desires for a day long one.
Osprey Kresta 20
Specs
Capacity

:

14L, 20L, 30L, 40L

Gender

:

Women's

Frame

:

Internal Frame
Features
Glove Friendly Zippers For Easy Access Even In Cold Weather
Scratch-Free Goggle Pocket
Diagonal Ski Carry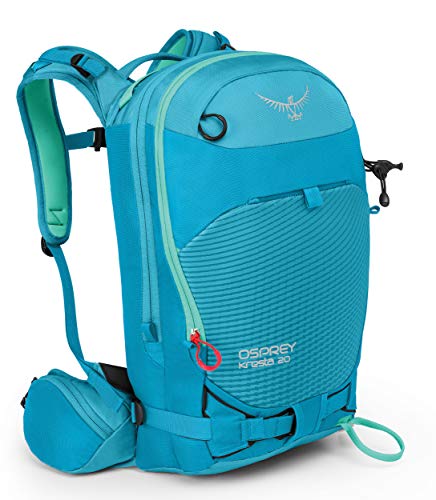 BEST FOR: ALL FEMALE RIDERS
With models in 14L, 20L, 30L and 40L, this bag fits any rider looking looking for a reliable back-country capable bag. With glove friendly zippers for cold weather and reinforced wear points to protect your bag from the metal scraps of your board or skis, no matter which model you get, it should last you a long time. Moreover, built especially for women, this bag is a great, compact and well-designed bag that will glue to your body in any conditions.
Dakine Explorer
Specs
Capacity

:

26L

Gender

:

Men's

Frame

:

Frameless
Features
Padded Laptop Sleeve
Skateboard Carrying Straps Means This Pack Can Be Used For A Variety Of Boarding
Adjustable Sternum Strap For Comfort And Security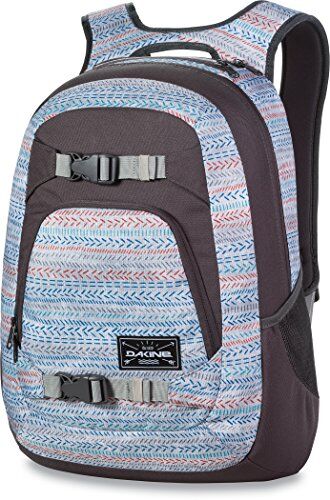 BEST FOR: THE OCCASIONAL RIDER
The perfect backpack for the occasional rider and someone who might even consider doing some work at the ski slope, the Dakine Explorer backpack has more than enough room for your lunch, an extra pair of glove warmers, and anything else you might need for the day's journey. Equipped with skateboard carrying straps as well and a fleece lined pocket for your laptop, this backpack can double as a school pack or work pack. Light and adjustable to your size, Explorer is the perfect name for this pack as it will hold enough for any journey across the ski slope.
Jones Snowboards
Specs
Capacity

:

45L

Gender

:

Unisex

Frame

:

Aluminum Internal Frame
Features
Avalanche Protocol Information Panel For An On-The-Slope Reminder
Dual Hip Belt Pockets For Storing Accessories Close-At-Hand
Dual Ice Axe Loops For Icy Backcountry Adventures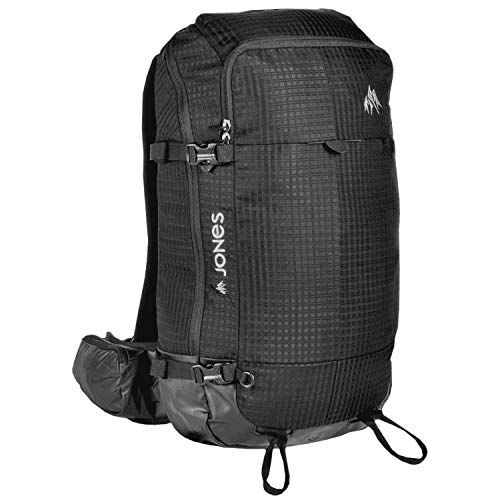 BEST FOR: OVERNIGHT EXPEDITIONS
As the largest bag on our list, the Jones Minimalist backpack stores an amazing 45 liters of equipment. Furthermore, when compared to other bags on this list, this pack is much more affordable than other, smaller options. With an avalanche rescue information panel that you can read on the slope and two ice-axe loops for accessing hard-to-reach terrain, this bag is best for the overnight expeditioner seeking to conquer some extremely difficult terrain.
Ideally made for a single overnight trip, this bag will fit just the right amount of equipment in for a safe expedition. If you plan to stay out for more than a day or two at a time, you might want to seek out a slightly bigger bag.
THINGS TO CONSIDER WHEN BUYING A SNOWBOARD BACKPACK
Buying a backpack may seem relatively straight forward, but to make sure you're buying the best one for you, we recommend reading through a few of these key points to consider. If you're hungry for some more information as well, read through this article about how to choose a backpack by Evo.
GENDER
First and foremost, make sure you're buying the right gender bag. Nowadays bags are specified for both women and men, so before choosing yours, make sure it fits your gender.
CAPACITY
After gender, capacity is the most important feature to consider. Here, you need to gauge exactly what you're looking for. If it's a day pack, stick to the 12L and 16L sizes. If it's a backcountry day pack, bump up to the 20L and 32L sizes. And if it's overnighter, anything over 40L should be a good fit.
CARRYING STYLE
If you read through the bag descriptions carefully, you'll notice they note how your skis or snowboard will attach. Not all bags attach boards and skis in the same way. Some sport a vertical carry, which means your bag will stand up and down as you hike, whereas others are horizontal. Whatever the carry may be, ask around to make sure it suits your style and environment. For example, you may want a vertical carry bag for hiking on narrow trails.
COST
A good bag will cost you a pretty penny, but most riders can make do with any bag. However, if you're looking to attempt some seriously difficult or avalanche-prone terrain, please, spend the extra money. When your life is on the line, you don't want to be worrying about a flimsy bag as well.
FEATURES EXPLAINED
DIAGONAL CARRY
This carrying style is typically designed for carrying skis as they will attach to your bag in a diagonal or A-frame style carry, which is more ergonomic and comfortable.
AVY COMPATIBLE
Straps on the inside or outside of your bag will really lock your board or boards into place. If not secured, boardsIf you ever see the word Avy, the company is referring to avalanche equipment. Not all bags come equipped with avalanche compatible equipment, whether that is space for a beacon and probe, or an airbag. If you're planning on spending any time boarding in the backcountry, make sure to look for a bag that is compatible with avalanche equipment.
FRAME
If you ever see the term "frame" while comparing different bags, it refers to the structure of the backpack. Some bags have frameless structures, others are built with an internal or external frame. Internal frame packs are usually the most comfortable and popular for day hikes and overnight trips. Frameless bags are lighter weight and can be useful for short day treks. External frame packs are not very common these days, but they are most appropriate for multi-day trips into the backcountry.
READ MORE
For more of our top snowboarding gear recommendations, check out these popular buyer's guides: