Updated on January 28, 2021
The law and common sense agree: if you're in a boat, you need a life jacket. Even if you're a great swimmer, if things go wrong and you're sharing the water with a mass of rigging or assisting another sailor in difficult conditions, you'll want the added security of a good life jacket. It's an essential piece of kit, and you need one that fits your body and your specific needs. We've made your choice easier by selecting five of the best life jackets for sailing, across a range of prices and styles.
Most manufacturers don't make sailing-specific jackets, and many of the products on this list are also popular for sea kayaking, fishing, and other water sports that require a combination of safety and unrestricted movement. These jackets will allow you to focus on sailing without feeling burdened by your safety gear and without worrying about what will happen if you end up in the water!
For more of our top sailing gear recommendations, check out the Best Sailboat Anchors.
Quick Answer

-

The Best Life Jackets for Sailing
ABSOLUTE OUTDOOR Onyx A/M-24
Comparison Table

-

Best Life Jackets for Sailing

For the best experience turn your device horizontally
Reviews

-

The Best Sailing Life Jackets
Astral V-Eight
View Women's Version
Specs
Type

:

Conventional

Floatation

:

16 lbs.

Gender

:

Men's And Women's Models

Adjustment Mechanism

:

Side, Waist, Shoulder

USCG Rating

:

Type III
Features
Fully Breathable For Maximum Ventilation
Contoured Foam For Snug Fit
Multiple Adjustment Points
2 Large Expanding Pockets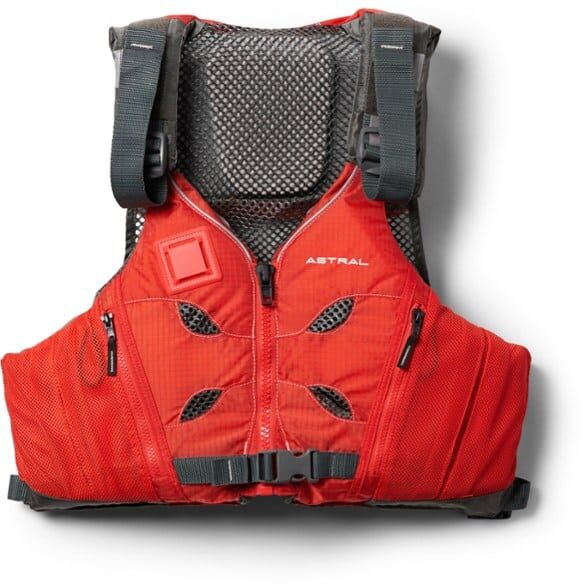 BEST FOR: ALL-AROUND USE
Astral is a small company that has earned a big reputation for innovative design, quality construction, and dedication to using environmentally friendly materials and processes. The V-Eight is one of their most versatile offerings, available in men's and women's versions and sporting a premium set of features, including an extraordinary range of adjustment. If you've ordered the right size, you should be able to fine-tune this jacket to a perfect fit.
Astral advertises the V-Eight as the world's first breathable life jacket: it's designed around a ventilation system that keeps you cool and comfortable without compromising on safety and storage.
ABSOLUTE OUTDOOR Onyx A/M-24
Specs
Type

:

Inflatable

Floatation

:

22.5 lbs.

Gender

:

Unisex

Adjustment Mechanism

:

Waist

USCG Rating

:

Type V
Features
Choose Between Automatic Or Manual Inflation
Comfortable Low Profile Design
Back-Up Oral Inflation Tube
Durable Fabric Resists Punctures
Side Pockets
Soft Neoprene Neckline Prevents Chafing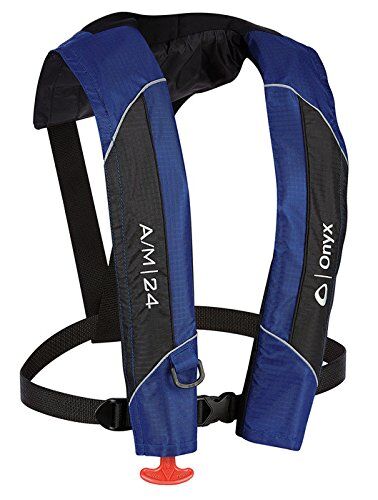 BEST FOR: BIG-BOAT SAILING
The Onyx A/M-24 is one of the most popular inflatable life jackets on the market. When not inflated, it's streamlined and comfortable enough that you'll hardly know it's there. In the water, it deploys over 22 lbs. of inflation either automatically on immersion or manually through a pull tab: the jacket can be set up for either manual or automatic inflation.
Once the jacket is inflated, the gas canister must be replaced and the jacket repacked, so this is one to use if immersion is rare and unexpected. Inflatables are ideal for crew on larger boats who need protection in case they go overboard but don't want the bulk of a conventional life jacket.
Onyx MoveVent
Specs
Type

:

Conventional

Floatation

:

Not Specified, Minimum 15.5 lbs. (For Type III Certification)

Gender

:

Unisex

Adjustment Mechanism

:

Side, Shoulder

USCG Rating

:

Type III
Features
Front And Back Ventilation
Flexible Panel Design For Freedom Of Movement
Integrated Whistle
Expandable Pocket With Mesh Drainage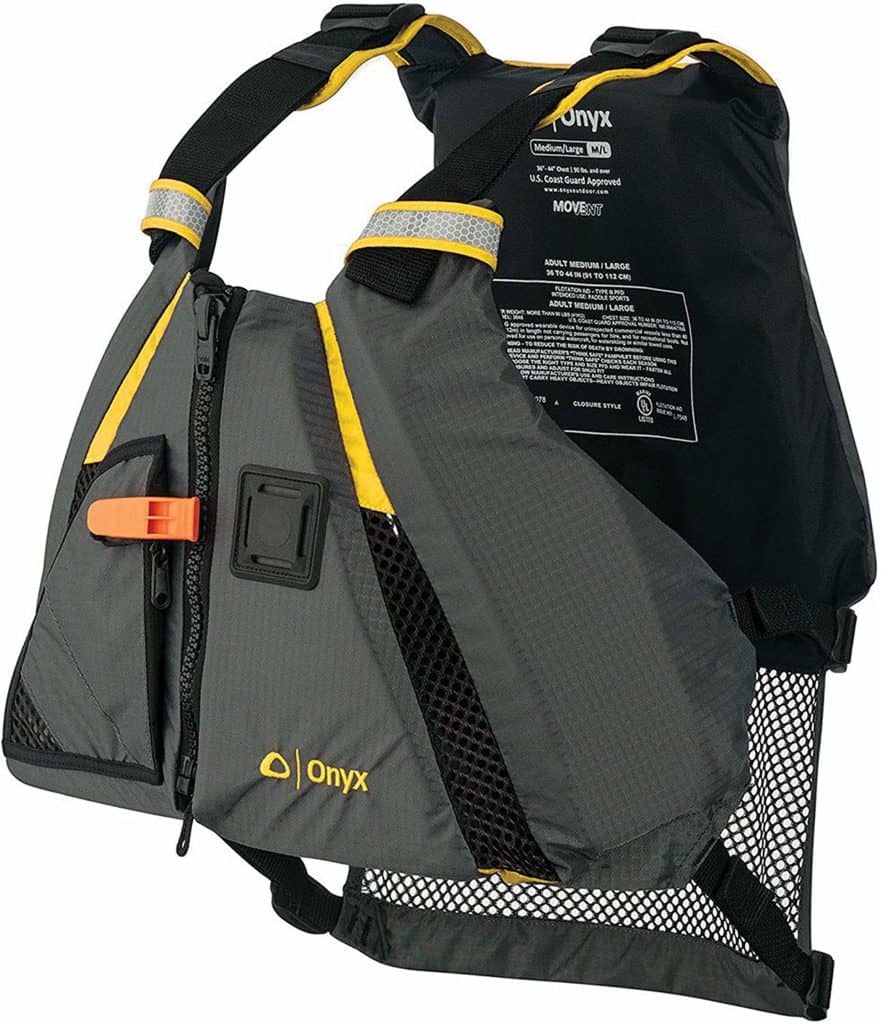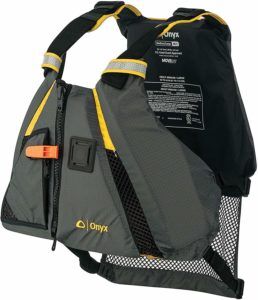 BEST FOR: SAFETY ON A BUDGET
This is a highly rated life jacket providing a competitive feature set at an accessible price point. Rather than using the contoured foam panels common in more expensive jackets, the MoveVent achieves a snug fit by mounting foam panels on a flexible mesh base, keeping the foam hugging your body and providing ventilation at the same time. An expandable zippered pocket, integrated whistle, and a solid range of adjustments round out an excellent entry-level life jacket.
If you're looking for a comfortable, capable life jacket that will keep you afloat without sinking your budget, the MoveVent is a top candidate.
Stohlquist Kahuna
Specs
Type

:

Conventional

Floatation

:

18 lbs. for Small Size, 22 lbs. For M And L Sizes

Gender

:

Unisex

Adjustment Mechanism

:

Side, Waist, Shoulder

USCG Rating

:

Type III
Features
High Buoyancy
Large Front Pockets
Fleece-Lined Hand Warmer Pockets
Low Profile Design For Easy Movement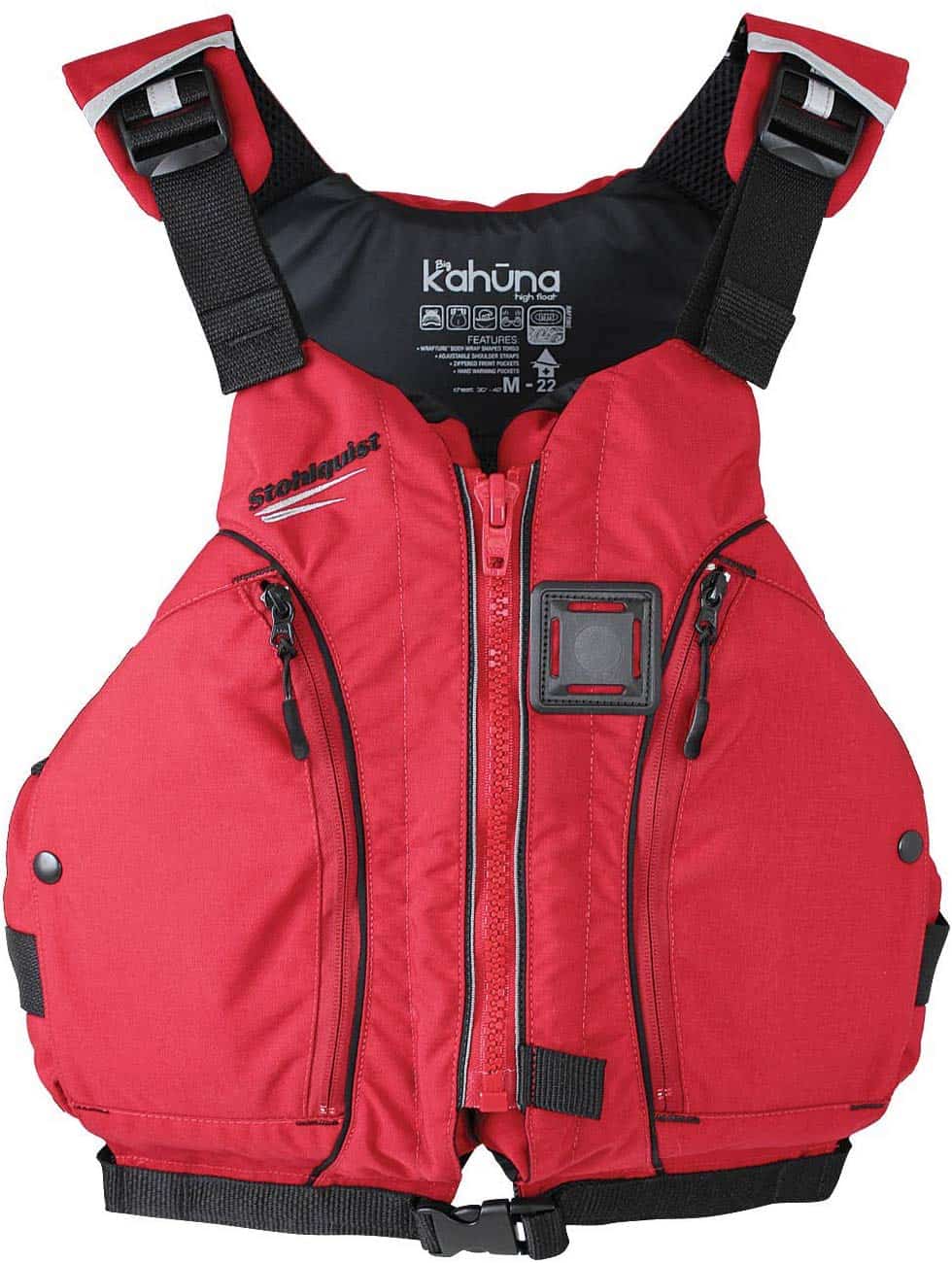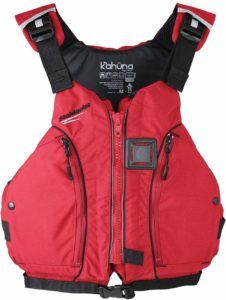 BEST FOR: ROUGH WATER
What's a white water vest doing in a list of sailing PFDs? It's all about flotation. If you sail in choppy water or if you're a lean, muscular person with low natural buoyancy, you'll want a life jacket with the lift to keep your head above water when it counts. This vest packs extra foam and distributes that foam so effectively that you'll hardly feel the added bulk.
Stohlquist is a premier life jacket manufacturer with a wide range of quality products, and the Kahuna reflects that heritage, offering comfort, practical design, and a host of useful features along with all that buoyancy!
Astral BlueJacket
Specs
Type

:

Conventional

Floatation

:

16.3 lbs.

Gender

:

Unisex

Adjustment Mechanism

:

Side, Waist, Torso

USCG Rating

:

Type III
Features
Two-Panel Fit System Eliminates Ride-Up
Adjustable Torso Height For Custom Fit
Back Pocket And Shoulder Ports For Hydration Bladder
Huge Front Pocket With Internal Organizer Sections
Additional Side Pockets
Pocket With Antenna Port For VHF Radio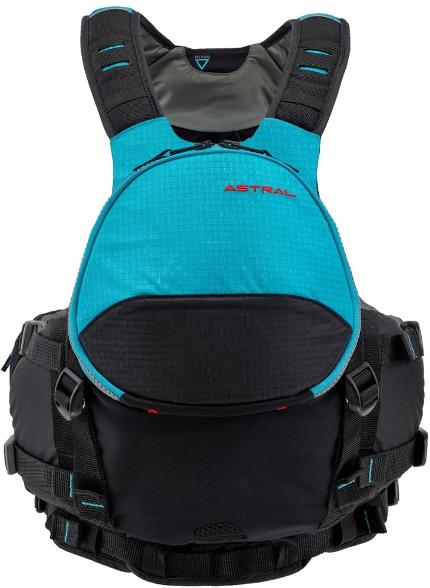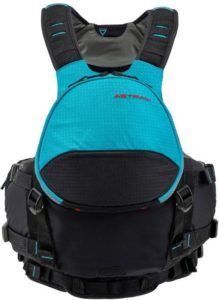 BEST FOR: WHEN YOU WANT THE BEST
Astral has a reputation for introducing cutting-edge design and construction features in their top of the line products, and the Blue Jacket lives up to that tradition. Multiple contoured foam panels shift independently as you move, maintaining comfort and flexibility while eliminating ride-up. There's a huge clamshell front pocket with multiple zippered sub-pockets inside, along with side pockets. A rear pocket fits a hydration bladder (not included) that can feed over either shoulder, a big plus when your hands are busy and you need a drink. A huge range of adjustability assures a perfect fit.
The Blue Jacket isn't cheap, but if you're looking for a premium life jacket that combines impeccable fit, innovative design, and bombproof construction with environmentally sensitive materials and manufacturing, it's worth the price.
THINGS TO CONSIDER WHEN BUYING A LIFE JACKET FOR SAILING
COMFORT
If a life jacket isn't comfortable, you're likely to take it off, and it won't help you if you're not wearing it! Life jacket manufacturers pursue comfort by using different systems to keep foam matching body contours, multiple adjustments to let the user control fit, and soft fabrics to control chafing. Sailing is an active sport, so look for wide armholes and designs that don't interfere with movement.
TYPE: CONVENTIONAL VS INFLATABLE
Conventional life jackets use high-density foam to provide flotation. They are inherently buoyant and require no activation. They can also be bulky and may be uncomfortably hot in warm weather.
Inflatable life jackets use a compressed gas canister to inflate automatically on immersion or manually using a pull tab. Many jackets can be set for automatic or manual-only inflation. They are very streamlined when not inflated and are comfortable and cool to wear. Once the jacket is inflated, you must replace the gas cartridge. Sailors on larger boats, who need a jacket only as an emergency measure if they fall overboard, often prefer inflatables for their superior comfort. You will need extra gas cylinders, and you should note that you may not be able to ship or carry compressed gas cylinders by air.
RIDE-UP?
Ride-up occurs when a life jacket moves up the wearer's body instead of lifting the body. If the shoulder straps are high above your shoulders and the front of the jacket is up under your chin, the jacket is riding up, and it's not floating you properly. Test for ride-up by pulling up on the shoulder straps. If you can lift them to your ears, tighten the side straps and the waist strap. If it still rides up, it's probably too large. A waist strap that tightens below the ribs can control ride-up effectively, but only if it's snug!
FEATURES
Life jackets offer numerous features, and you'll have to decide what's important to you. If you like gear on the outside of your jacket look for lash tabs and attachment points; if you'd rather stay streamlined, you'll prefer a range of pockets. If you sail in hot weather, ventilation is key; if not, it's a lower priority. Consider the type of sailing you do and the conditions you normally sail in and decide which features matter most to you.
POCKETS
Most life jackets have pockets, but the number, configuration, and accessibility may vary. Consider what you're likely to keep in the pockets and how many you'll need. Many boaters prefer to keep critical equipment like a knife or whistle in a dedicated pocket where they can't get mixed up with other items.
LEARN MORE
REI offers a useful guide to choosing a life jacket, and the US Coast Guard has helpful advice on how to choose and how to use a life jacket.
FEATURES EXPLAINED
COAST GUARD CLASSIFICATIONS
The US Coast Guard classifies life jackets in five types.
Type I and II jackets place most of their flotation in the front of the chest. This helps to turn an unconscious swimmer upright but leaves the jackets too bulky for most recreational use.

Type III jackets are preferred by most sailors and water sports enthusiasts. They have a minimum of 15.5 lbs of flotation and allow a wide range of movement. They will not turn an unconscious user face-up.

Type IV devices are throwable cushions or rings. In many states, boats over 16 feet are required to carry at least one type IV device.

Type V devices are specialized life jackets designed for specific purposes and certified only for those purposes. The label will specify the approved use of the device.
Annapolis Performance Sailing offers this more detailed guide to the types of life jackets.
FLOATATION
Flotation or buoyancy is the force needed to keep the wearer's head out of the water. Most adults need 7 to 12 pounds of flotation in calm water. This may vary with weight, body fat, lung size, and other factors, and you may need more flotation in rough water.
LASH TABS
Lash tabs are fixed points where you can attach a whistle, knife, strobe or other accessories that you might need in a hurry.
SIZES
Life jacket sizes are based on chest size, not height or weight. Measure your chest across the widest point, just below the armpits, and consult the manufacturer's size recommendations.
READ MORE
For more of our top sailing gear recommendations, check out these popular buyer's guides: