Updated on December 19, 2021
Improvements in technology and material selection has reduced tent weights dramatically over the years, allowing for significantly more lighter tent models to enter the ever evolving market. With all the options to choose from, we know that picking the best lightweight backpacking tents can feel like an overwhelming task.
Here at The Adventure Junkies, we pride ourselves on helping to take the stress out of gear shopping by finding the best product for your individual needs. In this guide, we'll walk you through the best lightweight backpacking tents on the market so you can get back to enjoying the great outdoors.
For a complete analysis of all backpacking tents, check out the buyer's guide Best Backpacking Tents.
Quick Answer

-

The Best Lightweight Backpacking Tents
Hyperlite Mountain Gear UltaMid 2
Comparison Table

-

Best Lightweight Tents for Backpacking

For the best experience turn your device horizontally
* Weight, floor area and price are shown for the 2-person models.
Reviews

-

Best Lightweight Backpacking Tents
Nemo Hornet Elite 2
Specs
Capacity

:

1P / 2P

Doors

:

2

Floor Area

:

27.5 sq ft

Weight

:

1 lbs 15 oz

Season

:

3-Season
Features
Well Ventilated
Great Wind Protection
Volumizing Clips Increase Space
Super Lightweight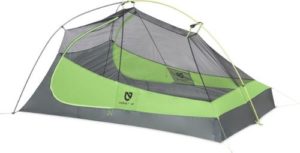 BEST ULTRALIGHT BACKPACKING TENT
The Nemo Hornet Elite 2 is a high-end, ultralight backpacking tent that is packed with thoughtful features, which is why it's our top choice for the best ultralight option. 
The poles have color-coded ends, which makes it easy to set up, especially in the dark. The dual stage stuff sack makes it easy to share the weight with your hiking partner. There's a light diffusing pocket in the ceiling. The dark mesh interior is great for stargazing on warm cloudless nights when you could sleep without the fly. Another nice feature is there is a little guy line with a hook attached to each side of the exterior of the tent that can attach to a loop on the vestibule. This opens up the interior of the tent a bit more and keeps the inner mesh away from your face when you sit up. Photographers and videographers might like the bright yellow fly color. It really pops in pictures but of course, it's not ideal for stealth camping. 
While it's physically possible for two people to sleep in this tent, both people can't sit up comfortably at the same time. It's really more of a spacious 1-person tent rather than a true 2-person tent. You could make it work if you're just going to go to sleep straight away and get right out in the morning, but you'll find it even annoying to take off or put on a layer without jabbing your tent partner. Another complaint is the fly bar design seems kinda flimsy. We're not sure how it will hold up over time. Having said that, NEMO has excellent customer service, so if something were to break, we're confident they will sort it out for you.
If this is your first time buying ultralight gear, something to keep in mind is it is delicate. You need to be more careful when you set it up and pack it down. If you're tough on gear, look at getting a more durable tent like the MSR Hubba Hubba NX. 
As with all ultralight tents, we highly recommend a foot print to protect the bottom of the tent from rips and tears.
Hyperlite Mountain Gear UltaMid 2
Specs
Capacity

:

2P / 4P

Doors

:

1

Floor Area

:

63.0 sq ft

Weight

:

1 lbs 07 oz

Season

:

4-Season
Features
Outstanding Durability
Exceptional Quality
Super Lightweight
Incredibly Roomy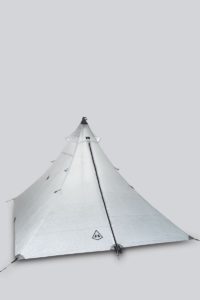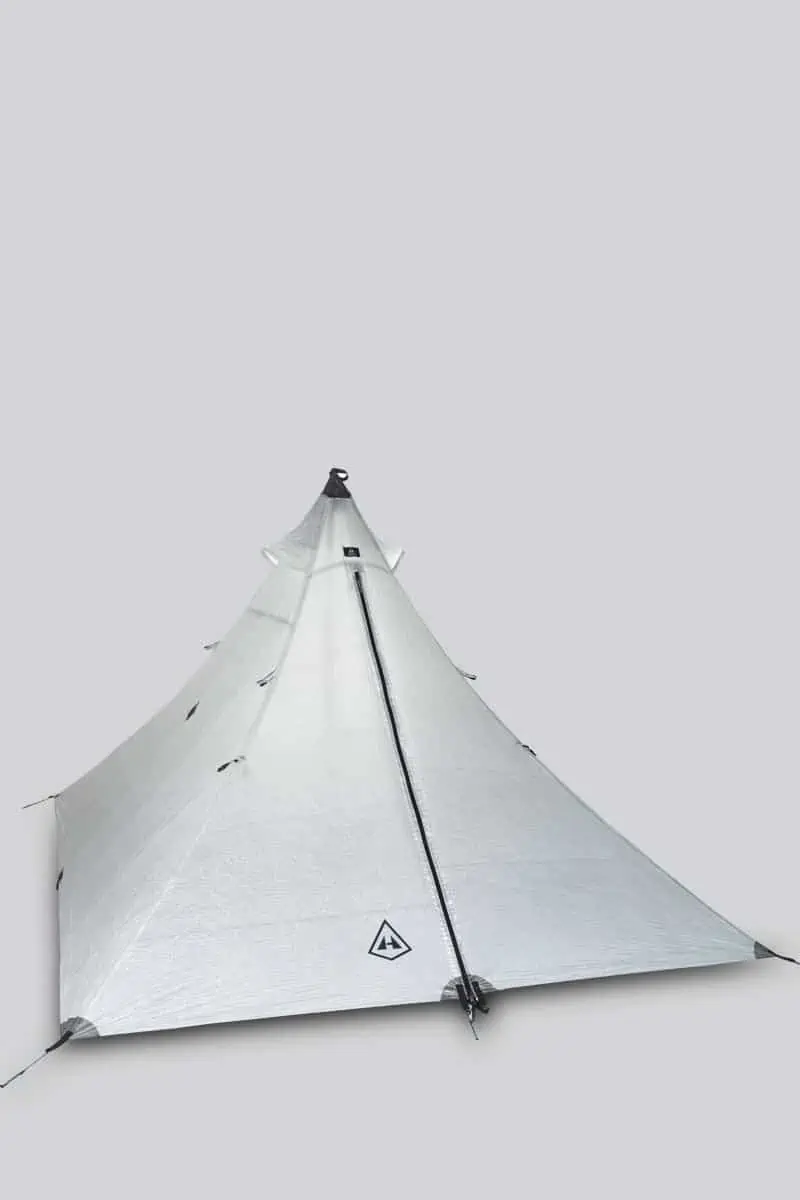 The Hyperlite Mountain Gear Ultamid 2 is a super light backpacking tent that weighs just over a pound. Unlike many other ultralight options, it doesn't sacrifice interior space to cut weight. It's a great option for any long distance adventure where your tent becomes your home for weeks, months, or maybe even years.
What we love the most about this tent is its spaciousness. It feels like the palace of light backpacking tents. It has a tepee, pyramid shape and is set up by placing two attached trekking poles in the middle of the tent. This makes it super roomy and gives you a ton of headroom, a thru-hiker or bikepackers dream. If you're camping with friends, be aware that your tent will most likely become the hangout space. The construction and design of the Ultamid 2 is top notch and well thought out. It's made of DCF (Dyneema composite fabric) which is super strong and has no stretch to it so it won't sag like nylon when it gets wet. 
All this spaciousness comes at a cost and not just when it comes to cash. The footprint of this thing is huge so you need a campsite that is large enough to be able to pitch it. If you plan to camp in the desert or in open plains it shouldn't be an issue but it can make it impossible to use in dense woods or forests. Another bummer is the pole support in the middle means no morning cuddles with your partner. 
Want an even bigger tent? Hyperlite also makes a 4-person version of the Ultamid. 
Zpacks Duplex
Specs
Capacity

:

1P / 2P / 3P

Doors

:

2

Floor Area

:

28.1 sq ft

Weight

:

1 lbs 12 oz

Season

:

3-Season
Features
Made with Dyneema Composite Fabrics
Rainbow zippers
Mesh pockets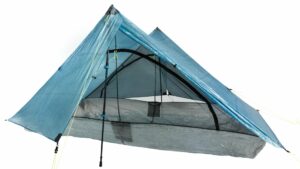 The Zpacks Duplex is a tarp style ultralight tent that is easy to pitch, well-ventilated, spacious, and packs down small. It's one of the lightest and most functional two-person tents we could find, making it easy to see why it's a favorite among thru-hikers.
What we love the most about this tent is that it is super light, only 19 ounces (539 grams). One of the reasons the Duplex is so light is that it doesn't come with tent poles, you use your trekking poles to pitch it instead. If you'd prefer to use a proper tent pole, you can buy it separately from Zpacks. The Duplex is made with Dyneema Composite Fabrics (DCF) which is a strong, highly waterproof material that doesn't absorb water or stretch overnight. Not having to pack away a soggy tent is a huge plus. One big concern we initially had with the Duplex was condensation build up, something common among single walled tents, but it proved to be well ventilated and this wasn't an issue. 
The stakes are not included with this tent. It takes eight stakes to fully set up this tent. You could get away with using only six if you don't set up the guylines. The Duplex has a high price tag, at $649.00. If you plan to use this tent for thru-hiking or any other long distance journey we think it is totally worth it. It's going to be your house for several months after all. 
Do you want the Duplex but prefer a freestanding tent? You can now transform your Duplex with Zpacks Flex Kit.
If you are tall, have a look at the Zpacks Duplex XL version. Zpacks also makes a 3 person version of this tent, the Triplex. 
Tarptent Double Rainbow
Specs
Capacity

:

1P / 2P

Doors

:

2

Floor Area

:

30.6 sq ft

Weight

:

2 lbs 08 oz

Season

:

3-Season
Features
Can be setup with trekking poles
Free-standing (with trekking poles)
Roomier than other minimalist tents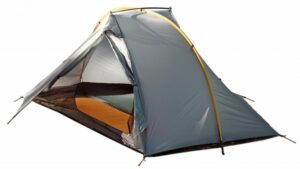 The Tarptent Double Rainbow is one of the top picks among ultralight minimalist backpackers, it offers a great balance between weight, packability, interior space, and durability, making it a great option for those who want to go light and fast. 
We liked how roomy the tent was compared to other minimalist ultra tents on the market. Two people can comfortably sit up side by side. You can make it freestanding by using your trekking poles on the ends at the head and the feet, instead of using stakes. This is useful if you end up camping somewhere where it is hard to get the stakes into the ground. We were also impressed by the overall construction and build quality of the Double Rainbow. You can only buy this tent directly from Tarptent, so we were a bit wary because we couldn't check it out at our local outdoor store before using it. 
One of the downsides of the Double Rainbow is the floor has low sides so if the wind picks up, you feel a draft and if it's dusty some dirt might come in. Also, the setup isn't super intuitive so we'd recommend you do some trial runs at home to avoid the stress of having to figure it out after a long day of hiking. 
If you're sold on the Double Rainbow but want an even light tent, check out the Double Rainbow Li.  If the single wall design puts you off, check out the double wall version, Double Rainbow DW. Want a 1-person tent, have a look at the Rainbow. 
Big Agnes Tiger Wall UL2
Specs
Capacity

:

1P / 2P / 3P

Doors

:

2

Floor Area

:

28.0 sq ft

Weight

:

2 lbs 03 oz

Season

:

3-Season
Features
Lightweight
Headspace For Two
Ample Pockets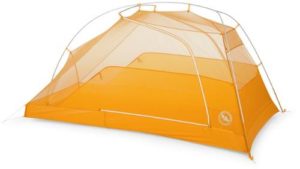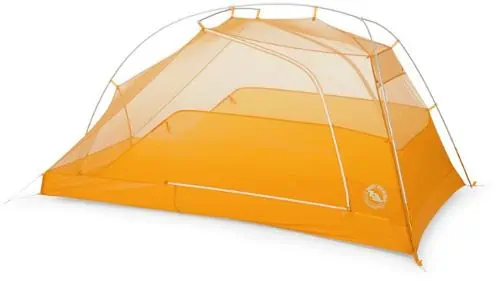 The Big Agnes Tiger Wall UL2 is an ultralight, technical backpacking tent that has some eco-conscious design features. It has a lot in common with the Big Agnes Copper Spur HV UL but it's a bit lighter. 
Big Agnes uses a solution-dyed fabric for the Tiger Wall UL2 which greatly reduces energy consumption and water use during manufacturing. It's better for the environment and improves the quality of the fabric. We also loved the color coded ends on the tent poles which makes set up super easy and straightforward, especially in the dark.  
If we had to nit-pick, the privacy wall is kinda see-through. Also, the white mesh interior isn't ideal for stargazing. 
If you're between the Tiger Wall and the Nemo Hornet Elite, this one is roomier for 2 people. The trade off is it is more expensive but you do get much more room, thanks to a little tent pole that runs perpendicular to the main pole. This makes the headroom larger so it is easier for two people to sit up at the same time.  
The Tiger Wall UL also comes in 1-person and 3-person versions.
REI Quarter Dome SL 2
Specs
Capacity

:

1P / 2P / 3P

Doors

:

2

Floor Area

:

28.7 sq ft

Height

:

38"

Weight

:

2 lbs 14 oz
Features
Color Coded Poles Simplify Setup
Semi-Freestanding
Two Large Vestibules Provide Additional Gear Storage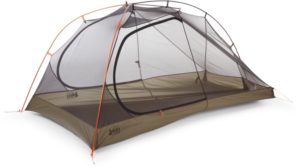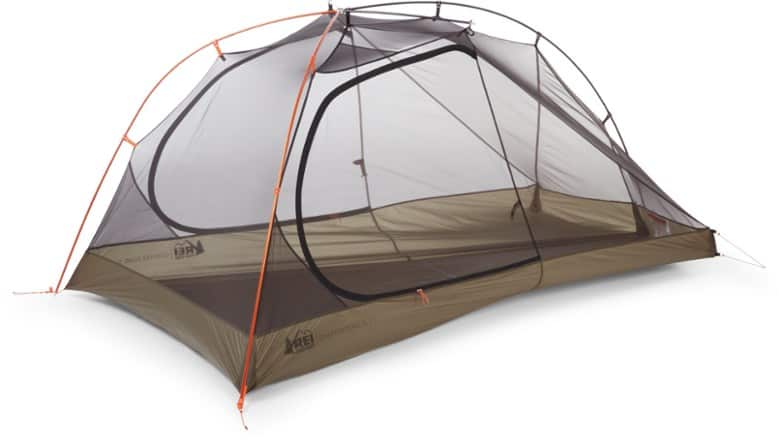 This budget-friendly tent is ideal for backpackers looking for a well designed, lightweight tent. Setup is a breeze thanks to color coding and its single pole design. The full mesh walls create ample breathability while virtually eliminating condensation.
The large dual vestibules eliminate the need to sleep with your gear in the tent. Trapezoidal in shape, the floorplan of the REI Quarter Dome SL 2 allows extra room at the shoulders while tapering to the feet.
THINGS TO CONSIDER WHEN BUYING A LIGHTWEIGHT BACKPACKING TENT
LENGTH AND DURATION OF TRIP
How long do you plan to be on the trail? Selecting the right tent for this reason can be a challenge. Lightweight (and ultra-lightweight) tents are typically designed for backpackers looking for a minimalist shelter that can drastically reduce their pack weight. While you can use lightweight backpacking tents for all camping endeavors, weight is not an issue and perhaps overkill for car camping.
SEASONALITY
Most lightweight backpacking tents are best suited for three-season use. The other option is a four-season backpacking tent which is designed to provide greater insulation from the cold. On clear nights when rain is not a possibility, consider setting up without the rainfly. The mesh inner tent provides a great option for sleeping under the stars while remaining protected from bugs.
COMFORT AND ROOMINESS
It's worth considering who will be using the tent and the addition of sleeping pads and sleeping bags. Taller individuals should consider peak height (determines ability to sit up inside the tent) when purchasing a tent. Cramped quarters can become a serious factor when spending multiple days or weeks on the trail.
COST AND DURABILITY
A well designed tent can be a significant investment. With proper care, it can last for many years. You should consider how often you plan to use the tent before deciding how much you want to invest.
WEIGHT
All of the tents in this list are under three pounds. While some of the manufacturers offer 1-person models of the same tent, the weight is still extremely low in comparison to other tents. Weight is only a serious consideration to backpackers who have to carry the weight of their shelter into the backcountry.
NUMBER OF DOORS
A single door isn't an issue until the person opposite the door has to answer nature's call during the middle of the night and proceeds to crawl across you to access the door. If two people plan to ever use the tent, it's advantageous to have dual entry and exit.
FREESTANDING VS SEMI-FREESTANDING
Once setup, a freestanding tent will retain its integrity regardless if you opt to move it to a different location around camp. It also allows you to pick the tent up while the doors are unzipped to shake out any debris before packing it up. A semi-freestanding tent is dependent upon its stakes to complete setup.
FEATURES EXPLAINED
Packed weight vs trail weight
Referring to product specs can often be confusing. Some provide multiple weights. The trail weight is the weight of the tent components that are necessary for setup and use. The packed weight is the weight of everything included with the product at the time of purchase.
Rainfly
With one exception in the list above, all the tents we've reviewed come with a rainfly. Many have mesh sides to the inner tent which will provide zero protection from the elements if it rains without the fly being placed over the tent.
While it's often nice on a clear evening to gaze at the stars through the mesh, nothing disturbs a backcountry snooze like raindrops on your face in the middle of the night. The rainfly provides waterproof protection from moisture above like the groundsheet (or footprint) protects from moisture below.
Groundsheet or footprint
While the bottom of some tents are waterproof, others are further protected by a groundsheet (a piece of plastic that is cut slightly smaller and the same shape as the bottom of the tent) or by a footprint (a ready made groundsheet offered by manufacturer to fit particular tent model). Keep in mind that the addition of a groundsheet or footprint will add to the overall weight of the tent.