Updated on January 9, 2022
Chilly weather shouldn't keep you from getting outside, but when you're camping in the cold, you need a sleeping bag that will keep you from freezing. A 0 degree sleeping bag is a great choice for camping in a variety of seasons, but how do you choose the right one to warm you up? Here at The Adventure Junkies, we've sorted through a variety of options to help you choose one of the best 0 degree sleeping bags to keep you cozy on your cold adventures.
For a complete analysis of all backpacking sleeping bags, check out the buyer's guide Best Backpacking Sleeping Bags.
Quick Answer

-

The Best 0 Degree Sleeping Bags
Western Mountaineering Kodiak MF

Sea to Summit Ascent AcIII
Comparison Table

-

Best 0 Degree Sleeping Bags

For the best experience turn your device horizontally
Weight and price are shown for the regular size.
Reviews

-

Best Backpacking 0 Degree Sleeping Bags
Western Mountaineering Kodiak MF
Specs
Fill Weight

:

30.0 oz

Insulation

:

Down

Weight

:

2.7 lbs

Shape

:

Mummy

Volume

:

14.4 L

Temp Rating

:

0 F

Fill Power

:

850
Features
Very comfortable
Full Down Collar
Spacing/Continuous Baffles


BEST WINTER BACKPACKING SLEEPING BAG
The Western Mountaineering Kodiak MF is a four season sleeping bag that was designed for backpackers who want to brave extreme conditions in comfort.
While there are plenty of excellent winter sleeping bags out there, the Kodiak MF is our top choice because it is seriously warm and comfortable. While other bags are equally as toasty, they have a narrower fit that makes them constricting. When it is cold out, we tend to spend more time inside our bags and appreciate the extra room. The Kodiak MF adds a few inches in the shoulders and is generously packed with down making it super lofty. The spaciousness also gives you the option to stuff in an extra quilt if you need to add some warmth. Considering how warm this bag is, it packs down incredibly well.
If you're just getting into backpacking the price tag might seem ridiculous but for serious backpackers who value high end gear, it's a worthy investment. Also, like with all proper winter sleeping bags, the versatility of the Kodiak is limited. It would be way too warm for summer backpacking trips and overkill in mild Spring weather.
The Kodiak MF is also available in a 6 foot and 7 foot version.
Marmot Trestles 0
Specs
Insulation

:

Synthetic

Weight

:

4.6 lbs

Shape

:

Mummy

Temp Rating

:

15 F

Shell

:

Polyester

Stuff Sack Size

:

9.5 x 21 Inches

Zipper Location

:

Left
Features
Fitted Hood Provides Warmth
External Stash Pocket Stores Your Valuables
Zipper Guard Prevents Bag From Snagging While Zipping And Unzipping
Vaulted Footbox Provides Warmth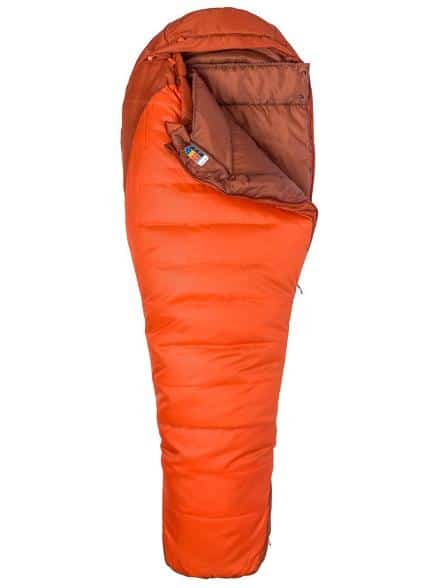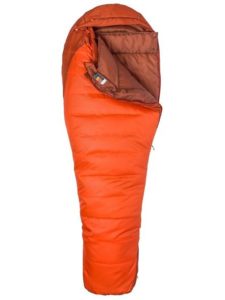 The Marmot Trestles 0 sleeping bag is a great option for someone looking for a bag that will keep them warm in frigid temperatures, but doesn't want to break the bank to invest in an expensive cold weather bag.
This bag is rated to keep you warm in temperatures down to 0°F, so it's a great bag to take with you to the Cascades in Washington or the Sierra Nevadas in California. The bag itself will keep you toasty and cozy and the hood of the bag will provide extra heat for you.
This bag is made with quality material, including a zipper guard to make sure it won't snag on your bag when you're zipping it up. A 3D foodbox at the bottom provides warmth, and will also keep you comfortable by providing enough space at your feet so you won't feel like you're sardined into a bag.
This bag is a bit heavy, with the regular size weighing in at about 4 ½ lbs, but it sells at a killer price point. It can be hard to find a reliable backpacking sleeping bag for under $150 and, which is why this is a great option for hikers on a budget.
Kelty Cosmic Down 0
Specs
Gender

:

Men's

Insulation

:

Down

Weight

:

4.5 lbs

Shape

:

Mummy

Temp Rating

:

2 Degrees F

Insulation Type

:

Down
Features
Soft Yet Durable Nylon Shell
Dual-Sliding Locking Zipper
Hand Pocket For Storing Overnight Essentials


If you're on a budget and looking for a highly affordable, cold-bearing sleeping bag, then definitely consider the Kelty Cosmic 0. This bag, although ringing in at a lower cost, will keep you warm down to 2 Degrees Fahrenheit and it comes equipped with all the features you need for a good night's rest. A draft collar ensures warmth around the neck while the water repellent coating easily wicks away moisture.
Pack this bag if you're thinking about a quick, cold weather expedition. You probably won't want to rely on this bag for long duration expeditions, where you may be spending a lot of time in your tent, but if a quick in-and-out journey is on the docket, then definitely consider saving yourself some money and going with the Kelty Cosmic 0.
Marmot Never Summer
Specs
Type

:

Mummy

Material

:

Nylon

Fill Weight

:

31.7 oz

Insulation

:

Down

Weight

:

3.1 lbs

Shape

:

Mummy

Volume

:

16.8 L

Water Resistant

:

Yes

Temp Rating

:

12 F

Fill Power

:

650
Features
Water-resistant Finish Protects The Down And Shell
Insulated Collar, Hood, And Draft Tube Allow You To Breathe Without Losing Heat
Internal Pocket Keeps Your Phone And Flashlight Within Reach
Generous Foot Room With Foot Warmer Pockets Keep Your Toes Toasty
Comes With A Stuff Sack And Storage Bag For Packing


If hiking is in your bones, your love of the sport doesn't magically end in the winter. Well, thankfully sporting goods manufacturers see your obsession and raise you the gear to match it. The Marmot Never Summer, for example, voids the idea of "stepping out of your comfort zone" with your very own comfort zone.
The sleeping bag makes you feel more like you're sitting on a rug in front of the fireplace than resting in sub-freezing temperatures. Your entire head will be covered by the hood of this bag and you can even put heating packs in the foot pockets, because it's impossible to fall asleep with cold feet. Plus, it's a lot easier to face tomorrow's summit after getting a good night's rest tonight.
Sea to Summit Ascent AcIII
Specs
Insulation

:

Down

Weight

:

2.9 lbs

Shape

:

Semi-rectangular

Zipper Location

:

Left
Features
Semi-rectangular Shape Gives You More Hip Room Than Mummy Shape
Additional Half Zip On One Side Offers Extra Ventilation
Can Unzip Completely To Use As A Quilt

With zippers galore for a variety of configurations, the Sea to Summit Ascent ACIII is a 0 degree sleeping bag that you can zip together with another bag or unzip completely to lay flat as a warm winter quilt. You can also unzip one side like a standard sleeping bag, half unzip the top layer if you need extra ventilation, or unzip just the foot-box if your feet start to sweat.
The Sea to Summit Ascent ACIII is designed with vertical baffles on the torso, which keep the insulation in place inside the bag and prevents cold spots. The semi-rectangular shape also provides a bit more room than a mummy-style bag, so you can sleep comfortably.
THINGS TO CONSIDER WHEN BUYING THE BEST 0 DEGREE SLEEPING BAGS
Although temperature ratings of sleeping bags are standardized, it can still be confusing to understand in what conditions a 0 degree sleeping bag will keep you warm. Your entire sleeping setup (clothing, sleeping pad, tent) can affect how warm and comfortable you'll actually feel at night, and, of course, each person's body regulates temperature a little differently. REI put together a guide explaining how sleeping bag temperature ratings work.
DOWN FILL POWER
Down fill power differs between 0 degree sleeping bags and makes a difference in both weight and warmth. But what exactly does it mean? Basically, it describes the quality of the down. A higher number provides better insulation (but is not necessarily warmer) and is usually much more expensive. This article from REI goes into more detail about down fill power.
BAG SHAPE
Many 0 degree sleeping bags are mummy-shaped, which means they fit tight to the body. This offers extra warmth while also cutting weight since it eliminates extra fabric and insulation. However, mummy bags can feel quite restrictive since you don't have much room to move.
Semi-rectangular bags give you a little more space so you're more comfortable when you sleep. These bags might weigh slightly more, but if they are well-designed, they should still be able to keep you warm.
ZIPPERS
Most sleeping bags have full-length zippers on just one side, so if you have a preference due to your dominant hand or the side of your tent the door is on, try to choose a bag that won't frustrate you with a zipper on the wrong side.
Many 0 degree sleeping bags also have a second partial zipper to give you extra ventilation. Some even have zippers at the feet or can unzip fully to lay flat if you need a blanket.
FEATURES EXPLAINED
Baffles
Fabric separators that keep down insulation in place.
Draft tube
A tube filled with insulation that backs the length of the zipper to block cold from entering.
Draft collar
An insulation-filled collar to provide extra warmth at the neck.