Updated on August 26, 2020
When you're out shredding the trails on your mountain bike, you want to make sure you've got the stopping power for whatever unfolds on the trail in front of you, no matter if it's a gravity-defying descent or pulling up quickly for a sharp corner. If you're buying a new bike or looking to upgrade some parts on your current bike, The Adventure Junkies MTB experts have you covered with the 5 best mountain bike disc brake options.
For more of our top mountain biking gear recommendations, check out the Best Overall MTB Brakes.
Quick Answer

-

The Best Mountain Bike Disc Brakes
Comparison Table

-

Best Mountain Bike Disc Brakes

For the best experience turn your device horizontally
Reviews

-

The Best Disc Brakes for Mountain Biking
Shimano SLX M7000
Specs
Weight

:

14.77 oz

Brake Type

:

Hydraulic

Rotor Size Compatibility

:

160mm
Features
Sleek Design
Lightweight
Tool-Free Lever Adjustability (so you can adjust the lever position without using tools)
Improved Feel and Feedback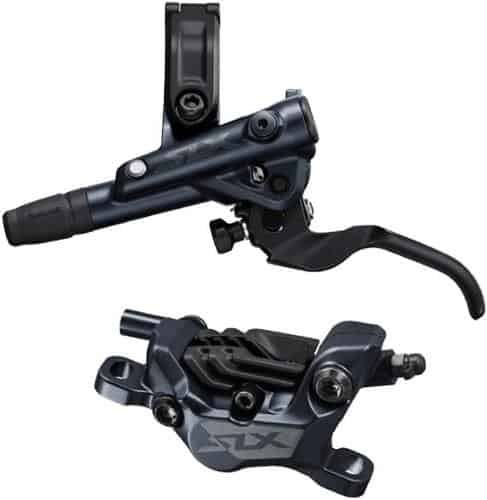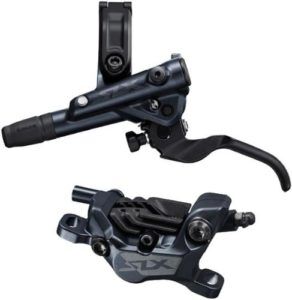 BEST FOR: CROSS COUNTRY MTB
Coming to a complete stop quickly on a mountain bike is harder than it sounds. The Shimano SLX BR-M700 provides powerful braking capabilities with smooth modulation even when you are ripping down trails at 30 miles an hour.
The Shimano SLX BR-M7000 has adopted many of the features from top-end technology. One example of this is the inclusion of an integrated master cylinder, where the hydraulic fluid is housed, to create a sleeker design and a more lightweight system.
If going uphill is just as important as going downhill for you, then this lightweight design is going to give you the best of both worlds.
Hope Tech 3 E4
Specs
Weight

:

14 oz

Brake Type

:

Hydraulic

Rotor Size Compatibility

:

160mm, 180mm, 183mm and 203mm
Features
Top Entry Pad Replacement (easy to replace brake pads)
Highly Durable
Adjustable Lever (for precise braking control)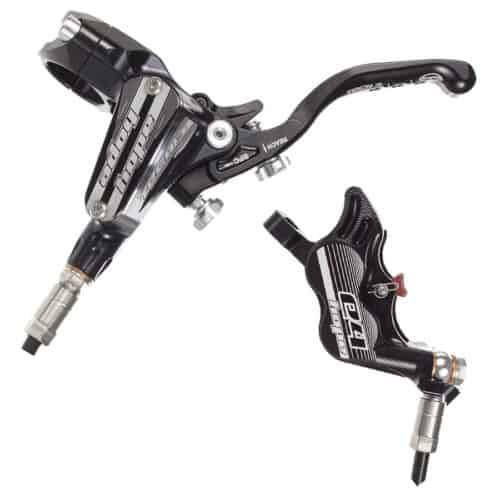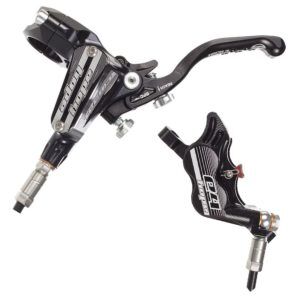 BEST FOR: ALL CONDITIONS, ALL TERRAIN
The Hope Tech 3 V4 calipers (the clamp that tightens around the rotor to bring you to a stop) are made out of a single piece of aluminum alloy, making them outstandingly strong and reliable. Available in a range of colors, these brakes are a serious bit of kit.
They are compatible with most rotor sizes, which makes them incredibly versatile for all styles of riding. Along with the smooth modulation and even braking power, these brakes will inspire confidence even on the most rugged trails.
Hope Tech 3 V4 mountain bike disc brakes are more expensive than the other options on this list, but they won't disappoint in their superior stopping capabilities.
SRAM Avid BB7
Specs
Weight

:

11.8 oz

Brake Type

:

Mechanical

Rotor Size Compatibility

:

160mm
Features
Adjustable Brake Pad Retraction (so you can choose how firm you want your brakes to feel)
Integrated Cable Stop (reduces cable drag to keep your brakes feeling good)
Brake Pad Inspection Window (easily see if you need to replace brake pads)
BEST FOR: RIDING IN THE WET
The SRAM Avid BB7's are considered, by many, as the gold standard for mechanical disc brakes.
These brakes are activated by a cable that is tensioned when you pull the brake lever, making them very low maintenance. They will suit riders who are not mechanically minded or simply don't want to use hydraulic brakes, which require more maintenance. The SRAM Avid BB7's could be everything you're looking for – reliable, powerful, and simple to use and maintain.
These brakes are easy-to-adjust and they do not require any tools to swap over brake pads. Plus they offer the ability to modulate the pressure settings so you can adjust how quickly the brakes activate depending on your personal preference.
Zipping down trails, no matter how wet, muddy, and slippery, you will have peace of mind knowing these brakes can handle any condition.
Magura MT7 Next 4-Piston
Specs
Weight

:

9 oz

Brake Type

:

Hydraulic

Rotor Size Compatibility

:

180mm and 203mm
Features
4 Piston Caliper (for increased stopping power)
Tool-Free Lever Adjustability (so you can adjust the lever position without using tools)
High Heat Stability (for consistent braking power, no matter the temperature)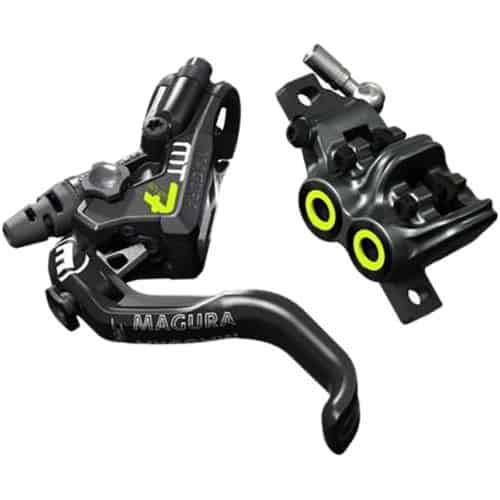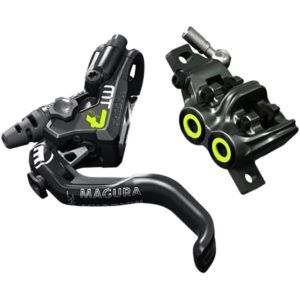 BEST FOR: DOWNHILL AND ENDURO
The Magura MT7 Next 4-Piston is a heavy-duty brake, engineered for riders that need the most stopping power. These brakes are great for people who like to ride down steep, long descents like downhill and enduro style riders.
The 4-piston design (the pistons push the brake pads into the rotor – standard brakes are designed with only 2 pistons) combined with superior heat dissipation from the brake pads offers quick and forceful braking capability with the Magura MT7. When you are bombing down a long and sketchy decent, you can be confident the Magura MT7's will have you stopping on a dime.
If this high end construction is something you are lusting after but find the price tag a little steep, Magura also offers an MT5 Next version at a more affordable price.
Hayes MX Comp
Specs
Weight

:

7.3 oz

Brake Type

:

Mechanical

Rotor Size Compatibility

:

160mm
Features
Lightweight
Easily Adjustable Brake Pads
Forged Aluminium For Added Strength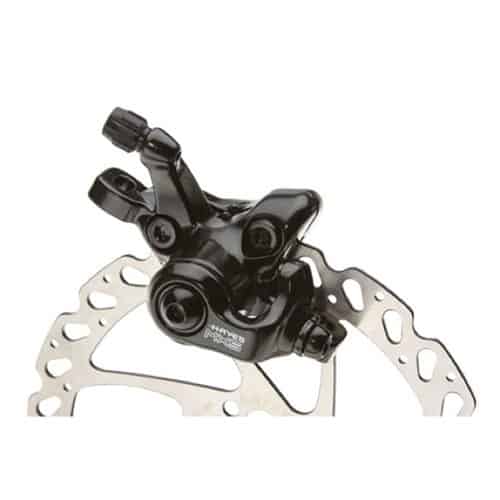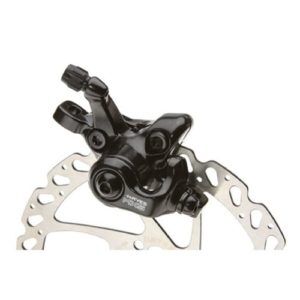 BEST FOR: BASIC TRAIL RIDING
If value for money is the name of the game, it's hard to look past the Hayes MX Comp disc brake. They are incredibly reliable, tough and lightweight mountain bike disc brakes, and they are available at a very reasonable price point.
These mechanical disc brakes are easy to maintain, with only a 5mm allen key required for brake pad adjustment – which most cyclists already have on their multi-tool set. Trail riders and cross country mountain bikers will be best suited to the Hayes MX Comp.
THINGS TO CONSIDER WHEN BUYING MOUNTAIN BIKE DISC BRAKES
It's essential to understand that not every mountain bike disc brake is built for the same conditions and the same style of riding. There are many things to keep in mind when buying disc brakes for your mountain bike, so make sure to read through the following things to consider before making your final selection from our list above.
COST
The cost can vary widely when it comes to bicycle components, and disc brakes are no exception. Disc brakes range from affordable options that will get the job done reliably to expensive bike bling and everything in between.
If you're a beginner, you might consider trying out a lower cost option as you're just getting started in the sport. This allows you to get a feel for the different styles and types of brakes before deciding on whether to invest in higher-end options.
MECHANICAL VS HYDRAULIC
Mechanical brakes are also known as cable brakes, due to the braking mechanism working with the use of a tensioned cable. Hydraulic brakes use hydraulic fluid instead of the cable to provide stopping power.
Mechanical brakes are often cheaper to purchase and simpler to service and maintain. While hydraulic brakes offer a smoother braking feel, they are often more expensive and can be more complex to service and maintain.
Beginner mountain bikers should consider how mechanically minded they are and if they plan on maintaining their own bikes as to whether they may choose the mechanical or hydraulic style of disc brakes.
INCLUDED PARTS
The inclusions when purchasing mountain bike disc brakes can vary dramatically. Some will include the entire set up: caliper, lever, cable or hose, and even the rotor. Others will simply include the caliper, which can be paired with different levers and existing rotors. Ensure you have all of the pieces necessary to complete your mountain bike disc brake set up when you make your purchase.
STYLE OF RIDING
Mountain bike disc brakes are designed and engineered for specific styles of mountain bike riding, due to the nature of their use. Downhill and enduro bikes will need to have larger rotors and more heavy duty brake requirements due to the long and steep descents that this style is based upon. Cross country and trail riders can have smaller rotors as the descents are typically not as long and steep, and therefore do not require as much hard stopping power.
ROTOR SIZE
Different styles of bikes come with differently sized rotors. Typically, the more braking force and stopping power required, the larger the rotor. Downhill and enduro style bikes will often have 180 – 200mm rotors while a cross country bike can have as small as 140mm rotors. Take into account the style of riding you do the most before deciding which mountain bike disc brake to buy based on the rotor size.
FEATURES EXPLAINED
CALIPER
This is the business end of the braking system. The caliper houses the pistons that push the brake pads into the rotor. The caliper is like a clamp that tightens on the rotor to slow the bike.
LEVER
The brake lever attaches to the handlebar and connects to the brake caliper. When you pull the lever it causes the caliper to tighten on the rotor.
ROTOR
The round metal braking surface of the brake that mounts on to the wheel and sits between the brake pads.
MECHANICAL BRAKES
Also known as cable due to the use of a tensioned cable that connects the brake lever to the brake caliper. Mechanical brakes are often easier to maintain and less expensive than hydraulic brakes.
HYDRAULIC BRAKES
Hydraulic fluid replaces the cable that is found in mechanical brakes. Hydraulic brakes can provide a more even brake feel, but they can require more maintenance.
MODULATION
This refers to how much braking force is applied when you pull the brake lever on the handlebars and how that translates into braking action. You want enough modulation that your wheel does not lock instantly when you pull the lever, but you don't want too much that your bike does not come to a complete stop when you pull the lever.
INTEGRATED MASTER CYLINDER
The master cylinder holds the hydraulic fluid. When the master cylinder is integrated, it becomes part of the brake lever on the handlebar. This can create a sleek and lightweight design.
READ MORE
For more of our top mountain biking gear recommendations, check out these popular buyer's guides: