Updated on August 26, 2020
As a mountain biker, you know that riding fast is one of the greatest feelings on earth. Unfortunately, that adrenaline rush can be pretty short lived if your brakes aren't able to keep up with your need for speed and your need for stopping power at the end of your breakneck descent. That's why The Adventure Junkies mountain bike experts have put together a list of the best mountain bike hydraulic brakes available on the market today, to keep you safe on every ride.
For more of our top mountain biking gear recommendations, check out the Best Overall MTB Brakes.
Quick Answer

-

The Best Mountain Bike Hydraulic Brakes
Comparison Table

-

Best Mountain Bike Hydraulic Brakes

For the best experience turn your device horizontally
Reviews

-

The Best Hydraulic Brakes for Mountain Biking
Shimano XTR 9120
Specs
Weight

:

255 g (Front), 270 g (Rear)

Rotor Size Compatibility

:

160mm and 180mm

Fluid Type

:

Shimano Mineral Oil
Features
Pre-Bled Unit (hydraulic fluid already in caliper and hose for easy installation)
Lightweight
Cooling Fin Design
Ergonomic Lever Design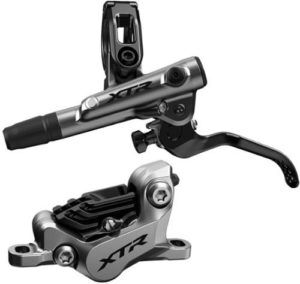 BEST FOR: TECHNICAL CROSS COUNTRY TERRAIN
Riding technical terrain requires the utmost confidence in your equipment. The Shimano XTR 9120 Trail hydraulic mountain bike disc brakes are some of the best on the market, offering reliable braking and perfect lightweight control.
Engineered with heat dissipating features on both the caliper and brake pads, these brakes are designed to stay cool and keep performing even under extreme braking. This ensures you have predictable and consistent braking power.
Highly adjustable levers and brake pads means you will always be able to get your brakes dialed to just how you like them. Riding technical terrain has never been more confidence inspiring than with the Shimano XTR 9120's. Shimano also offers a race version of the XTR 9120 that is slightly lighter, for those looking for every performance advantage.
SRAM Code R
Specs
Weight

:

395 g

Rotor Size Compatibility

:

160mm, 170mm, 180mm, and 200mm

Fluid Type

:

DOT 5.1
Features
4 Piston Design (offers increased stopping force)
Pre-Bled Unit (comes ready to ride - see sections below for more information about pre-bled and bleeding brakes)
Tool-Free Lever Adjustability (so you can adjust the lever without the need for tools)
Easy Servicing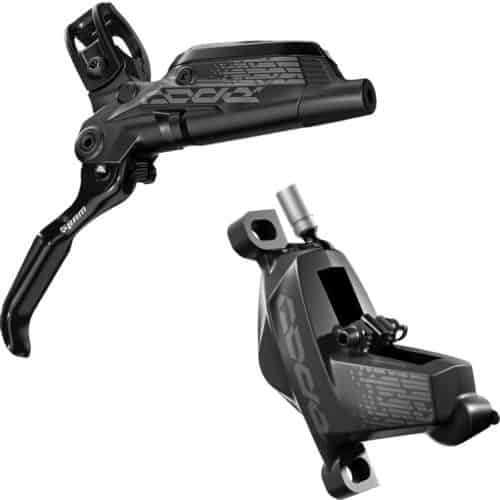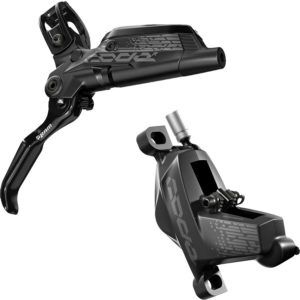 BEST FOR: ALL MOUNTAIN RIDING
If gravity descents are your jam, then the SRAM Code R disc brakes could be for you. The heavy duty design means these hydraulic disc brakes pack a punch when it comes to stopping power.
The even braking modulation allows you to quickly reduce your speed with completely locking up your rear wheel, meaning you are in complete control of your braking. The SRAM Code R's use specific features to keep your brakes cool so they will stay reliable and consistent even under heavy use.
With adjustable levers and easy-to-service and install brake pads, this is a solid package for its price point for anyone looking to buy hydraulic brakes for their mountain bike.
Hope Tech 3 E4
Specs
Weight

:

397 g

Rotor Size Compatibility

:

160mm, 180mm, 183mm and 203mm

Fluid Type

:

DOT 5.1
Features
Pre-Bled Unit (comes ready to ride - see below for more information about pre-bled units)
Adjustable Lever (the lever can move closer or further away from the handlebars to suit your hand)
Top Entry Pad Replacement ( so you can easily replace brake pads)
Highly Durable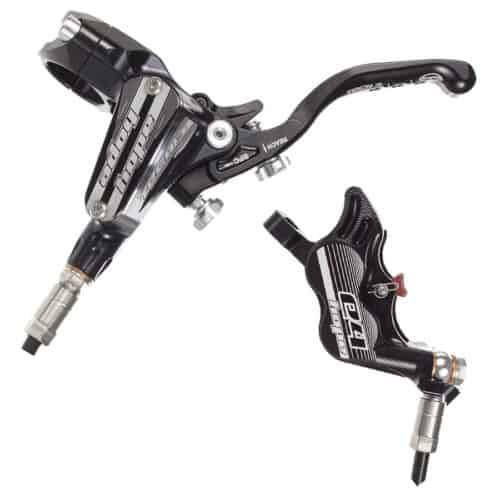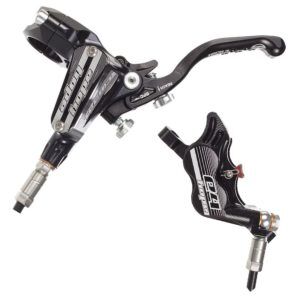 BEST FOR: ALL CONDITIONS, ALL TERRAIN
The Hope Tech 3 V4 calipers are a high-end hydraulic brake that are super tough and durable. This is achieved through clever engineering, with the caliper made from a single piece of aluminum alloy.
The adjustable lever gives you ultimate comfort and peace of mind knowing this brake can be set up exactly as you like it. Paired with easy-to-replace brake pads and available in a wide range of colors, these brakes are seriously a good bit of kit.
Suitable for all styles of riding due to their compatibility with most rotor sizes, they offer even braking force that will inspire confidence on any terrain.
Shimano SLX M7000
Specs
Weight

:

418 g

Rotor Size Compatibility

:

160mm

Fluid Type

:

Shimano Mineral Oil
Features
Sleek Design (minimal and compact design)
Pre-Bled Unit (comes ready to ride - see below for more information about pre-bled units)
Tool-Free Lever Adjustability (adjust the lever without the need for a tool)
Improved Feel and Feedback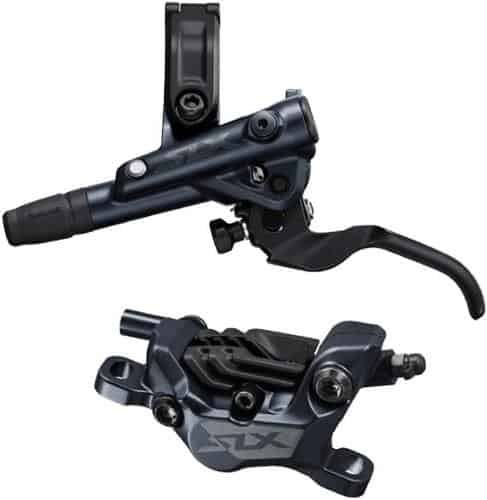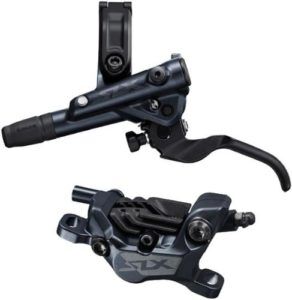 BEST FOR: TRAIL RIDING
If you're looking for brakes that won't break the bank and are highly reliable, then the Shimano SLX BR-M700 disc brakes could be what you are looking for.
Don't be fooled by the price tag as these brakes are no slouch. They come from a very reputable brand, and the top end technology has filtered down to their base models. This includes the sleek and lightweight design, the fact that they're easy-to-maintain and service, as well as long-lasting durability.
The Shimano SLX M700 provides powerful braking capabilities with smooth modulation even when you are ripping down trails at high speed.
Magura MT7 Next 4-Piston
Specs
Weight

:

255 g

Rotor Size Compatibility

:

180mm and 203mm

Fluid Type

:

Royal Blood
Features
4 Piston Caliper (for extra stopping power)
Tool-Free Lever Adjustability (so you can adjust the lever without the use of a tool)
High Heat Stability (for consistent braking power)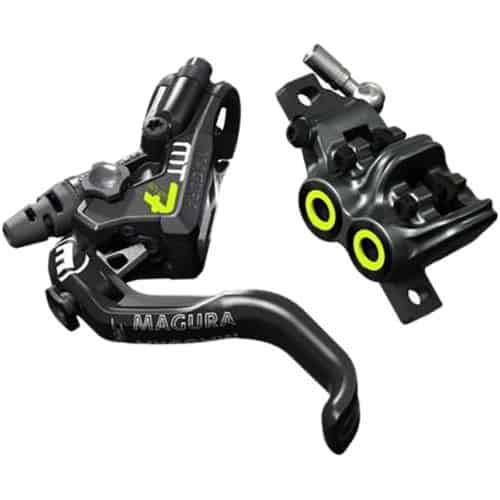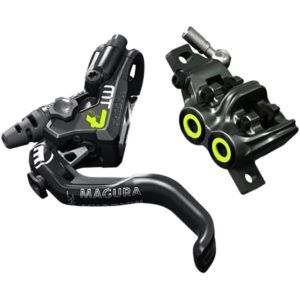 BEST FOR: DOWNHILL AND ENDURO
The Magura MT7 Next 4-Piston is engineered for riders that require heavy duty stopping power, such as those who love going downhill, fast!
Downhillers and enduro style riders will be impressed with the quick braking feel that comes from the 4 piston design. The brake pads are pushed into the rotor with 4 pistons instead of the standard 2, which increases braking force. This means that if you're bombing down a hill, you can be sure to stop on a dime as soon as you pull the brake lever.
THINGS TO CONSIDER WHEN BUYING MOUNTAIN BIKE HYDRAULIC BRAKES
Mountain bikes are more capable than ever before, tires are getting better, mountain bike parks and challenging terrain are all around us, not to mention our skills as riders are ever increasing. No matter if you're a rider that is looking for race performance or simply want to feel safe and secure, mountain bike brakes need to live up to all of these expectations.
Although all of the brakes listed above are specifically for mountain biking, they have various capabilities and functionality. Some are specifically designed for ripping down long gnarly descents, so they're heavy duty with maximum stopping capability. Others are designed to be lightweight and suited to cross country or simple trail riding.
Choosing the brakes that are right for you will ultimately come down to your style of riding and how much money you want to spend. Read on to learn about everything we think you should consider before buying hydraulic mountain bike brakes, then get back to shredding some gnar!
COST
The cost can vary significantly when it comes to bicycle components and hydraulic disc brakes are no exception. If you are solely looking for the best mountain bike hydraulic brakes on the market, then expect to part with some substantial cash. There are certainly some great value for money options out there, but you may need to compromise on them being lightweight, micro adjustable, or perfectly ergonomic.
WHAT'S IN THE BOX
Take note of what is included in the package, as some brakes will include all the parts you need, such as the caliper, lever, hydraulic hose and rotor, while others may sell all the pieces separately. You will need all the pieces to complete your brake set-up.
STYLE OF RIDING
The style of mountain biking you're into will determine the brakes you should select. A downhill or Enduro style rider will be best suited to a heavy duty brake due to the need for more stopping power, while a cross country or trail rider can make use of a smaller and lighter weight brake.
ROTOR SIZE
The larger the rotor, the more braking force and stopping power can be applied. Downhill and Enduro style bikes, where you ride on longer and steeper descents, typically have larger rotors – 180mm – 200mm. Cross country and trail style bikes, where the descents can be shorter and not so steep, typically have smaller rotors 140mm – 180mm.
FEATURES EXPLAINED
BRAKE CALIPER
This is the business end of the braking system, the caliper houses the pistons that push the brake pads into the rotor. The caliper tightens around the rotor to bring you to a stop.
PISTONS
These are housed within the caliper and they are what force the brake pads to push against the rotor. Typically, the more pistons, the higher the braking power. For example, a downhill or Enduro style brake usually comes with 4 pistons while a cross country or trail bike may only have 2 pistons.
ROTOR
Also known as a disc (disc brake) – this is the circular metal surface that attaches to your wheel and it's what the caliper tightens around to bring you to a stop.
HYDRAULIC FLUID
The fluid that actuates the braking force. Each braking system will specify the type of fluid required. This fluid is specific to each particular brake, so you generally can't replace it with something else.
MODULATION
This refers to the feeling between how hard you pull the brake lever and how quickly you stop.
A brake that requires very little pull on the lever has no modulation and is too firm, which means you will lock your rear wheel.

A brake the requires you to pull the lever very far towards the handle bars before you can feel braking has too much modulation and is too soft.
You want to look for a brake that sits in the middle – think about it like Goldilocks, not too firm and not too soft.
PRE-BLED
If a brake is listed as "pre-bled", then it means that the hydraulic fluid is already inside the brake caliper, lever and hose. If the brakes are not pre-bled then you will need to bleed the system, meaning you'll need to fill them with fluid. If you're not familiar with this process, it is recommended you get a professional to do this for you. Incorrectly bleeding a system can result in the brake not working. Check out more information about bleeding brakes here.
READ MORE
For more of our top mountain biking gear recommendations, check out these popular buyer's guides: