Updated on June 16, 2022
A high quality mountain bike, kitted out with good components and a brand name you can trust, all for under $1,000? Sounds too good to be true, right? Plus you want to make sure you're not missing out on any style points out on the trails either…is it possible? Absolutely!
We've done the hard research for you to find the best mountain bikes under $1,000. We even managed to include quite a few that are well under that price tag too. There are some excellent entry level bikes that are perfect for beginner mountain bikers, right through to mountain bikes spec'd with high end features that have our experts shocked at the low price. We know you will find something in this list that is exactly what you're looking for, and since I'm pretty sure the trails are calling your name, you'd better get reading so you can start riding!
For more of our top mountain biking gear recommendations, check out the Best Mountain Bikes Under $500.
Quick Answer

-

The Best Mountain Bikes Under $1000
Comparison Table

-

Best Mountain Bikes Under $1000

For the best experience turn your device horizontally
Reviews

-

Best Mountain Bikes Under $1000
Co-Op Cycles DRT 1.2
Specs
Frame Material

:

Aluminum

Wheel Size

:

27.5"

Suspension

:

Hardtail

Drivetrain

:

2x9

Purpose

:

Trail

Brakes

:

Hydraulic Disc
Features
18 Gears For The Ultimate Terrain-Tackling Ability
Cable Routing Protects Brake And Shift Cables From Dirt And Damage
High Front Suspension For Extra Cushioning On Tough Stuff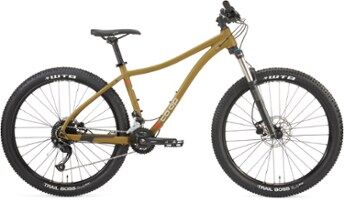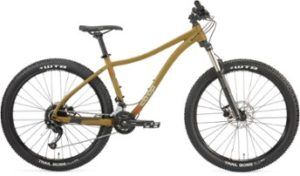 BEST FOR: OVERALL PERFORMANCE
The Co-op DRT 1.2 Bike is not one to take lightly. It's a great overall performer and one that you will feel confident about on all types of terrain. From its powerful stopping power to its sneaky rear derailleur (placed to deliberately avoid trail obstacles and snags), this bike will treat you right.
It features a 2×9 drivetrain so you have plenty of gearing options to navigate steep hills and varying terrain. It also has great front suspension to keep you comfortable on your high-impact rides, and some fancy extras like internal cable routing that protects your brake and shifter cables and enhances the longevity of the machine. Know that a bike this sleek comes at a cost — as far as bikes under $1,000 go, this one is pretty much as expensive as it gets.
Co-Op Cycles DRT 1.1
Specs
Frame Material

:

Aluminum

Wheel Size

:

27.5"

Suspension

:

Hardtail

Drivetrain

:

3 x 7

Purpose

:

Trail

Brakes

:

Hydraulic Disc
Features
Shimano Drivetrain For Smooth Shifting
Hydraulic Disc Brakes For Superior Stopping Ability
Great Bike For Beginners And Inexperienced Riders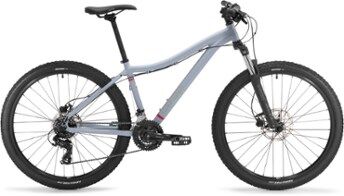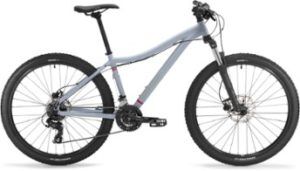 BEST FOR: BEGINNER MTB
The Co-Op Cycles DRT 1.1 is an excellent bike to choose to put down the first pedal strokes on the trail. It has everything you need for a first bike without being too extravagant to drive the price up.
Manufactured with a sturdy aluminium frame and aluminium wheels, it's ready for those beginner mountain bike experiences. This bike is kitted out with good quality components such as hydraulic disc brakes for powerful stopping and a large gear selection that will make climbing hills a bit easier. This bike will inspire confidence and have you feeling in control from your very first MTB ride, to your second, third, and beyond.
Cannondale Trail 6
Specs
Frame Material

:

Aluminum

Wheel Size

:

27.5 - 29"

Suspension

:

Hardtail

Drivetrain

:

1x8

Purpose

:

All Mountain

Brakes

:

Hydraulic Disc Brake
Features
SmartForm C3 aluminum frame
SR Suntour XCT suspension fork offers 100 mm of travel
SAVE micro-suspension
A slacker-than-average 68° head angle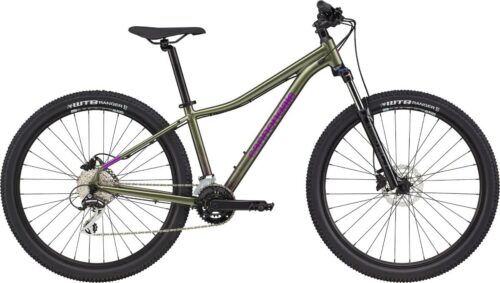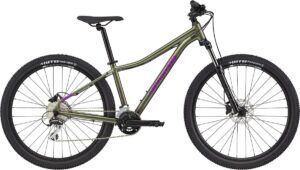 BEST WOMEN'S-SPECIFIC MODEL
If you're a woman having a hard time fitting unisex bikes, you should give a women's specific model a try — and Cannondale's Trail 6 is a quality option.
The hardtail Trail 6 features an aluminum construction with middle-of-the-pack components that perform well on cross-country terrain. This bike is equipped with a Suntour XCT fork and a hydraulic lock-out feature and the 8-speed drivetrain is paired with Shimano front and rear derauilleurs.
What I like most about the Cannondale Trail 6 is that it offers a centered, well-balanced ride that is ideal for beginners.
Marin San Quentin 1
Specs
Frame Material

:

Aluminum

Wheel Size

:

27.5"

Suspension

:

Hardtail

Drivetrain

:

1x9

Purpose

:

Trail, All Mountain

Brakes

:

Hydraulic Disc
Features
Tubeless-Ready Wheels Protect You From Flats
Ample 120mm Suspension Makes For An Extra Comfortable Ride
Frame Can Handle Fat Tires For When You Want Added Traction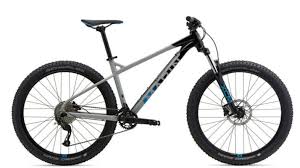 BEST FOR: EXTREME TERRAIN
This rowdy bike takes its name from the Marin County San Quentin Prison in Marin County, CA. The Marin San Quentin is designed to handle it all — from steep rocks to bold jumps, fast berms, and everything in between. So if you're the type who wants to tackle those extreme rides, this bike is a great choice for you.
The bike's tough aluminum frame is built to take a beating, and its powerful front suspension will make sure you don't. Its tubeless-ready wheels protect against flat tires on rocky terrain and they also provide great traction. Plus, when you need the bike to give you even more, you just have to switch to fat tires because the frame is compatible with those, too. This bike is definitely one of (if not THE) most durable for its price tag.
Cannondale Trail 8
Specs
Frame Material

:

Aluminum

Wheel Size

:

29"

Suspension

:

Hardtail

Drivetrain

:

3 x 7

Purpose

:

Trail

Brakes

:

Mechanical Disc
Features
Plus-Sized Tires For Extra Traction
Stiff Frame Provides Superior Control
Great Value Makes MTB Accessible To Those With A Lower Budget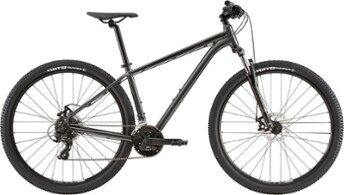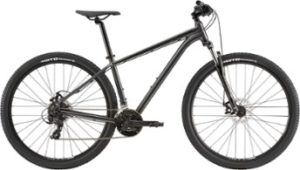 BEST FOR: MESSY RIDES
A little bit of dirt and mud never hurt anybody, did it?? We sure don't think so, and if you're with us, then you may want to take a look at the Trail 8 Bike from Cannondale. It's built to take on dirt and mud like a champ so you can ride without worry. You can't go around it, you have to go through it!
Featuring a bigger wheel size for exceptional traction, cable routing for damage protection, and a modern frame shape built for dirty, muddy conditions, this bike is sure to please the most ambitious of dirt hunters. This bike also has an incredible value. There is just one notable downside — it has less suspension travel than some of the other bikes on our list (75mm), so if you plan to hit the bumps a lot, be prepared to invest in a seat cushion or brace for impact.
Mongoose Tyax Expert
Specs
Frame Material

:

Aluminum

Wheel Size

:

27.5"

Suspension

:

Hardtail

Drivetrain

:

2 x 9

Purpose

:

Cross Country

Brakes

:

Hydraulic Disc
Features
Hydraulic Disc Brakes For Superior Stopping Ability
Durable Aluminium Frame
Strikes The Perfect Balance Between Its Lightweight Nature And Durability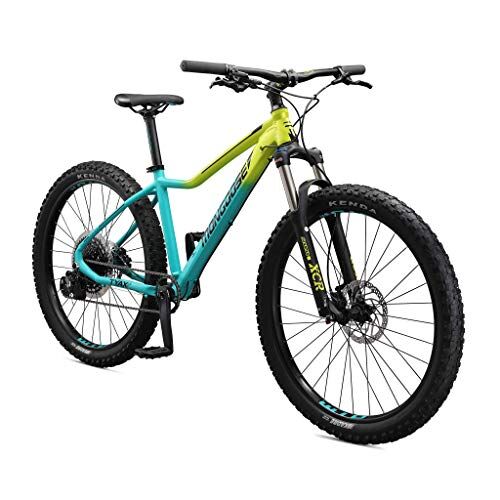 BEST FOR: EASY TRAILS
Looking for a bike to take out on some easy trails and perhaps go for a ride with the family? The Mongoose Tyax Expert is the perfect bike for the job. The durable aluminium frame makes this a great rough and tumble bike so it's ready for some fun. While you may find some limitations with the lower-spec componentry, it is still good value for money with a 100mm travel front fork, hydraulic disc brakes, and relatively low weight. You will have plenty of gears, with the 2 x 9 drivetrain so you'll be comfortable and confident whether you are climbing hills or cruising along the flats.
Cannondale Trail 5
View Women's Version
Specs
Frame Material

:

Aluminum

Wheel Size

:

27.5" And 29"

Suspension

:

Hardtail

Drivetrain

:

2 x 9

Purpose

:

Cross Country

Brakes

:

Hydraulic Disc
Features
Trail Specific Frame Geometry
Wide Handlebars For Excellent Control
Fits A Wide Tire For Improved Traction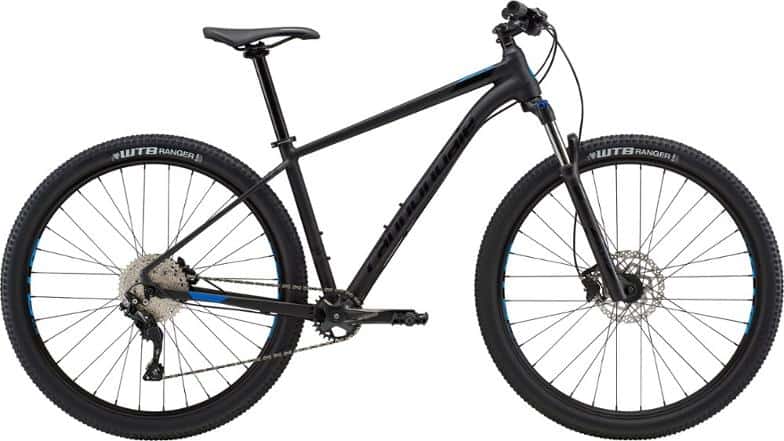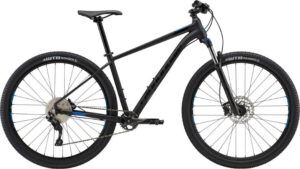 BEST FOR: TAKING YOU FROM BEGINNER TO INTERMEDIATE
There is nothing worse than out-skilling your bike, but with the Cannondale Trail 5, you will enjoy it whether you are a beginner or intermediate level rider. The bike is designed with trail specific geometry, wide bars, and short chainstays that all help to deliver an agile yet stable platform that will have you ripping trails with confidence.
The Cannondale Trail 5 is made for climbing with a wide range of gearing and is also awesome for descending with the 100mm front suspension. Not to mention it's kitted out with high quality wheels and tires! You would be hard pressed to be disappointed with this bike.
Co-Op Cycles DRT 1.0
Specs
Frame Material

:

Aluminum

Wheel Size

:

26"

Suspension

:

Hardtail

Drivetrain

:

3 x 7

Purpose

:

Trail

Brakes

:

Hydraulic Disc
Features
Plus-Sized Tires For Extra Traction
Shimano Rear Derailleur Provides Precise Shifting Capabilities
Hydraulic Stopping Power Works Well Even In Wet Weather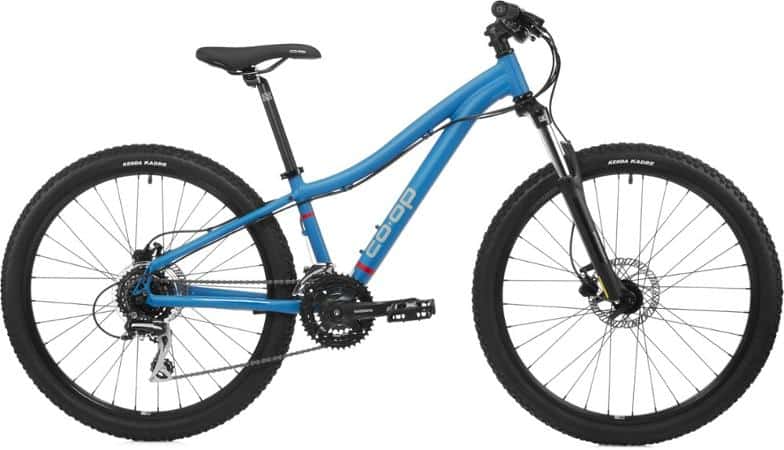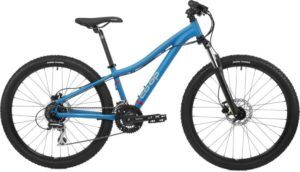 BEST FOR: BRAKING ON A BUDGET
Hold up, wait a minute…this bike offers the "gold standard" mountain bike braking system — hydraulic disc — at a super reasonable price. You won't likely find another bike with these sweet brakes at such an affordable cost.
A bike like this one is great for beginners and intermediates alike, because who doesn't want to have the ability to stop on a dime out there on the trails? Whether you're new to the sport and are still a little bit hesitant, or you've been in the game for a while and are beginning to conquer more difficult terrain, this bike can help you feel safe and confident at whatever level you're riding. Plus, it has a huge gear range (21 to be exact) to help you take on climbs and descents like a pro, 100mm of suspension travel for a super smooth ride, and a cool blue finish that will have you looking fly as ever out there. There's not much to hate on with this bad bunny.
THINGS TO CONSIDER WHEN BUYING A MOUNTAIN BIKE UNDER $1000
FIT FOR PURPOSE
One of the distinguishing characteristics of mountain bikes is their individual geometry. Different frames are intended for different purposes, such as trail, cross country, and downhill (see below for an explanation of each). Entry level and cheaper bikes, like the ones on this list, are almost always tailored to the trail or cross country rider. Those seeking a high-impact downhill bike may need to seek a different type of bike than can be found on this list.
RIDE STYLE
Think of Trail Riding as the most casual and beginner-friendly style of mountain biking. This is a less technical style of riding, and may include a variety of low intensity terrain styles such as wide trails and dirt roadways. Both hardtail (front suspension) and rigid (no suspension) bikes work for this ride style.
Cross Country Mountain Biking is your next step up in terms of rider skill level. Think steeper climbs and more rugged terrain. Again, both hardtail and rigid bikes can work for this style of ride.
Downhill Mountain Biking is an advanced style of riding that includes steep drops and intense terrain. It typically requires a top tier bike to go with it, which comes at a higher price than those found on this list.
FRAME MATERIALS
Aluminum is the most common frame material. It is both cheap and easy to manufacture, but that doesn't mean it is low quality. In fact, aluminum is considered to be an industry standard, especially on entry-level bikes, and is both strong and lightweight.
Steel is super strong and extremely flexible, but is used less commonly because it is more expensive and more difficult to manufacture than aluminum.
Carbon Fiber is very light and very strong and is used primarily in high-end bikes. None of the bikes listed here are manufactured with Carbon Fibre.
SUSPENSION
Think of suspension like the "shocks" on your car that reduce the impact of bumps on the roadway. Suspension on a bike performs the same job — it reduces the impact of trail irregularities such as roots, rocks, and other debris.
Rigid bikes have no suspension. They're great for terrain that has few irregularities, like flat dirt trails. Many riders also prefer this style of suspension even on tougher terrain because they feel it gives an added sense of control. Plus, rigid bikes tend to be cheaper than bikes featuring the other suspension styles.
Hardtail bikes have front suspension only. They're a great "in-between" bike that is not 100% rigid. They also don't come with the high-end price tag of full suspension bikes.
Full Suspension bikes have shock absorbing properties on both the front and rear. They're typically much more expensive, and for that exact reason are not included on this list.
WHEELS
Choosing the right size wheels for your mountain biking needs will ensure that your ride is smooth and enjoyable every time and is an essential part of choosing which bike is right for you.
29' Wheels aid in speed and getting through/over trail irregularities. They are usually tailored to the cross-country rider since they perform well on higher-level terrain and riding style. They're also suitable for the taller mountain biker since they make the bike a bit bigger than the smaller wheel sizes.
27.5" Wheels are a bit easier to control than the big, bad 29-incher's, which is why they are better suited to narrower, more technical terrain. They're also great for shorter mountain bikers because (in just the opposite way of bigger wheels) they make the bike a little bit smaller.
Plus-Sized or Oversized Tires are most common on 27.5" wheels. Plus-size tires are larger than normal tires and can be run at lower pressures. They absorb shock and grip the trail, but are heavier than a standard tire.
Tubeless Tires do not have an inner tube; instead they use a sealant. This helps to reduce flat tires when riding. These can be run at a lower pressure and are often lighter weight.
FEATURES EXPLAINED
TRAVEL
"Travel" refers to how far the suspension moves up and down while riding; The higher the travel, the more "give" you have, and therefore the softer the impact. Not sure what to look for? You can check out this article on how much travel you need to learn more.
DRIVETRAIN
Drivetrain is the complete bike mechanism that works to help you make forward progress. It includes a few different parts, but when deciding on your drivetrain, the most important thing to know is the cassette.
In this article, the numbers you see listed next to the "Drivetrain" spec (2×8, for example) refer to the number of gears on the front and back of the bike. Multiply these numbers together to find how many gears the bike has all together. For example, a 2×8 drivetrain would have 16 gears.
DROPPER POST
This is a style of seat post that raises and lowers the seat automatically through a control button on the handlebar. It comes in handy when you're climbing and descending a lot of hills so you can adjust your seat height on-the-go.
DISC BRAKES
A new age style of bicycle brake in which a clamp-like mechanism grips a stationary disc on each wheel to bring the bike to a halt. There are two main types of disc brakes-mechanical and hydraulic.
Mechanical disc brakes work like a style of brake you might be used to. When you pull on your brake handle, a cable tightens up, causing the brake clamp to close down on the disc and bring the bike to a stop.
Hydraulic disc brakes work in a similar way, but they use fluid to activate the brake. They are the most effective brake style for mountain bikes (and other bikes, too).
Read more about disc brakes here.
INTERNAL CABLE ROUTING
The cables and hoses that control the gears and brakes are routed through the frame instead of on the outside. This makes servicing the bike easier and quicker. It also looks aesthetically more pleasing.
BERM
A curved bank found on mountain bike trails meant for riding on!
READ MORE
For more of our top mountain biking gear recommendations, check out these popular buyer's guides: