Updated on June 2, 2021
When we think of a mountain bike, we think of full suspension. The combination of front and rear suspension sucks up the impact of roots, rocks, and bumps, lets us drop and jump without taking the full impact on our bodies, and keeps the tail on the trail no matter how percussive the ride gets. There are full suspension bikes on the market that suit just about any conditions and riding style. This guide to the best mountain bikes with full suspension should help you choose the one that's right for you!
Disclaimer: Full-suspension bikes are complex products involving dozens of components. The jargon can get confusing! We'll try to keep it simple, but if you see terms you don't understand, scroll down to the Features Explained section that follow the reviews. There you will find a list of explanations of every term we use here, along with links for further information.
For more of our top mountain biking gear recommendations, check out the Best Mountain Bikes.
Quick Answer

-

The Best Mountain Bikes with Full Suspension
Comparison Table

-

Best Mountain Bike with Full Suspension

For the best experience turn your device horizontally
Reviews

-

The Best Full Suspension Mountain Bikes
Marin Hawk Hill 1
Specs
Frame Material

:

Aluminum

Wheel Size

:

27.5"

Seatpost

:

Fixed

Drivetrain

:

1x12 Shimano Deore

Fork Travel

:

130mm

Head Tube Angle

:

66.5°

Rear Suspension

:

120mm Travel
Features
Tubeless-Ready Wheels For Fewer Flats
Shimano Hydraulic Disc Brakes For Superior Stopping Ability
Geometry Suited For Both Cross Country And Enduro Riding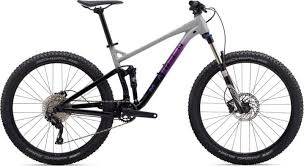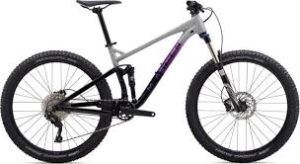 BEST BUDGET 27.5" FULL-SUSPENSION BIKE
Full-suspension bikes cost a fortune, right? Not always. Marin is known for bikes that deliver a lot of ride for the price, and the Hawk Hill is a great example. This is an all-around bike: the angles are slack enough to keep you secure on steep stuff without cutting into your control on climbing. The Shimano component package isn't premium, but all the parts are solid and you can upgrade them as you go along. If you're looking for a capable introduction to full-suspension riding, this is a way to get it at a price that wouldn't be out of place on a hardtail!
Marin Rift Zone 2
Specs
Frame Material

:

Aluminum

Wheel Size

:

29"

Seatpost

:

Dropper

Drivetrain

:

1x10 SRAM SX

Fork Travel

:

130mm

Head Tube Angle

:

65.5°

Rear Suspension

:

125mm Travel
Features
Dropper Post For Easy Transition Between Climbing And Descending
RockShox Suspension For A Smooth Ride
Aggressive Geometry For Trail And Enduro Riding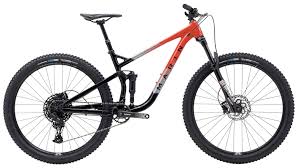 BEST BUDGET 29" FULL-SUSPENSION BIKE
If you're looking for an affordable full-suspension bike and you prefer 29" wheels, Marin has you covered. The days when 29" bikes were limited to the cross country niche are long gone. The Rift Zone 2 is part of a new generation of slack angled 29" aggressive trail bikes, combining the ability to roll over obstacles with geometry designed to keep you on the bike when the going gets steep. The dropper post seat, Shimano hydraulic disc brakes, RockShox suspension, and SRAM drivetrain might leave you thinking that this is an expensive bike, but Marin brings it in at a very accessible price!
Ibis Ripmo AF
Specs
Frame Material

:

Aluminum

Wheel Size

:

29"

Seatpost

:

Dropper

Drivetrain

:

1x12 NX Eagle

Fork Travel

:

160mm

Head Tube Angle

:

64.9°

Rear Suspension

:

145mm Travel
Features
Long Travel Suspension And Aggressive Geometry For Hard Core Riding
SRAM Brakes And Drivetrain Deliver Quality And Performance
DW-Link Suspension Eliminates Bob For Efficient Climbing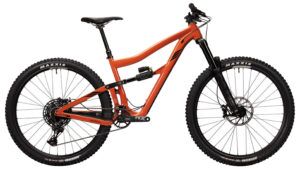 BEST AFFORDABLE 29" AGGRESSIVE TRAIL BIKE
This is a 29" bike that's built for the rough stuff: super slack angles, long-travel suspension, and provision for tires up to 2.6" wide hand you a package that's designed for rough terrain, jumps, and drops. The SRAM brakes and drivetrain are reliable, smooth, and bring high-end performance at a mid-range price. If you're looking for a true aggressive trail ride using 29" wheels and you're not ready to move into the luxury bike market, this one delivers the goods.
Intense Primer Expert
Specs
Frame Material

:

Carbon Fiber

Wheel Size

:

29"

Seatpost

:

Dropper

Drivetrain

:

1x12 SRAM NX Eagle

Fork Travel

:

150mm

Head Tube Angle

:

65.9°

Rear Suspension

:

140mm Travel
Features
Balanced Geometry For Climbing And Descending
Fox Front And Rear Air Suspension Is Effective And Adjustable
Strong, Light Carbon Fiber Frame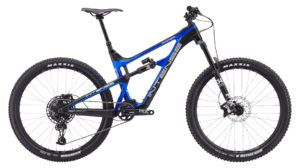 BEST MID-PRICED 29" TRAIL BIKE
Intense is synonymous with lavishly built bikes that blend top-level components, cutting edge design, space-age materials, and astronomical prices. The Primer Expert breaks that mold, blending a sleek carbon fiber frame with a respectable component set and delivering impressive performance at a price that's not exactly cheap, but is far lower than you'd expect for a bike with this pedigree.
The Primer is the newest all-around trail ride from Intense: it's made in 29', 27.5", and hybrid 29" front/27.5" rear combinations. There are differences in the frames, so you can't just swap out the wheels. The light but capable identity and middle-of-the-road travel on the Primer seem ideally suited to 29" wheels, but if you like the build and prefer other wheel sizes, they are available! Whatever your choice of wheels you'll find yourself on a light, capable bike that will perform well on both climbs and descents.
Niner RIP 9 RDO 2-Star
Specs
Frame Material

:

Carbon Fiber

Wheel Size

:

27.5"

Seatpost

:

Dropper

Drivetrain

:

1x12 SRAM SX/NX Eagle

Fork Travel

:

150mm

Head Tube Angle

:

65°

Rear Suspension

:

140mm Travel
Features
Carbon Fiber Frame For Lightweight Strength
Internal Cable Routing Keeps Cables & Hoses Out Of The Way
Aggressive Trail Geometry And Suspension
Sag Indicator Lets You Dial In Your Suspension Easily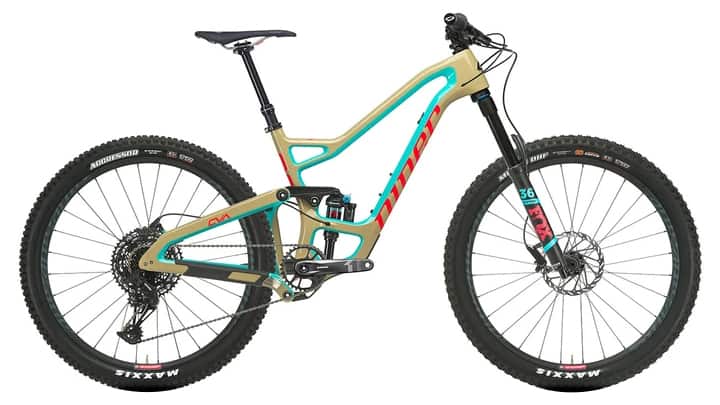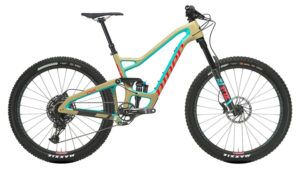 BEST MID-PRICE 27.5" TRAIL BIKE
Niner made its reputation and its name leading the market for 29"-wheeled bikes, so when they introduced a 27.5" version of their trail-slaying RIP frame the industry sat up and took note. The result of that move is not just a modified 29" frame. The 27.5" RIP is long, slack, low and designed from the ground up for aggressive trail riding.
The frame sports Niner's proprietary and proven RDO carbon fabrication technology and Constant Varying Arc suspension, which to the layman means that it's light, strong, efficient, and plush. The component selection leans to the premium side, built around Fox front and rear suspension and SRAM drivetrain and brakes, but stays modest enough to avoid pushing the bike into the pricing stratosphere. If you're looking for a 27.5" ride that's ready to rip into almost any terrain, here it is.
Ibis Mojo HD5 GX Eagle
Specs
Frame Material

:

Carbon Fiber

Wheel Size

:

27.5"

Seatpost

:

Dropper

Drivetrain

:

1x12 SRAM GX Eagle

Fork Travel

:

170mm

Head Tube Angle

:

64.2°

Rear Suspension

:

153mm Travel
Features
DW-Link Suspension Delivers Efficient Pedaling And Plush Ride
Fox Air Suspension Smooths Bumps And Stays Light
Internal Routing Keeps Cables And Hoses Safe
Custom-Tuned Suspension For Great Traction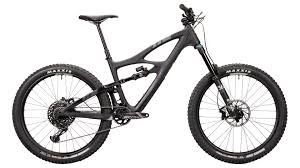 BEST HIGH END 27.5" TRAIL BIKE
The Ibis Mojo was one of the first true carbon fiber trail bikes and helped to prove that carbon fiber was strong enough for high impact riding. Doubts about carbon's durability have long since faded away, but the Mojo remains one of the most impressive all-around trail/enduro bikes on the market. This build comes with a 170mm Fox Float fork to soak up even the largest hits, and with SRAM Guide brakes and NX Eagle drivetrain to slow you down or speed you up in style.
The HD5 also features a "Traction Tuned Suspension" system designed to fully exploit the advantages of the DW-link suspension design and maximize traction on all kinds of terrain. This is by no means an inexpensive bike but for a premium trail bike that's fully capable of taking big jumps and drops, it's a very reasonably priced package!
Niner RIP 9 RDO
Specs
Frame Material

:

Carbon Fiber

Wheel Size

:

29"

Seatpost

:

Dropper

Drivetrain

:

1x12 Shimano XT

Fork Travel

:

150mm

Head Tube Angle

:

65°

Rear Suspension

:

140mm Travel
Features
Short, Compact Rear Triangle Increases Frame Stiffness
Shimano XT Drivetrain And Brakes For Proven Reliability
Aggressive Trail Geometry And Suspension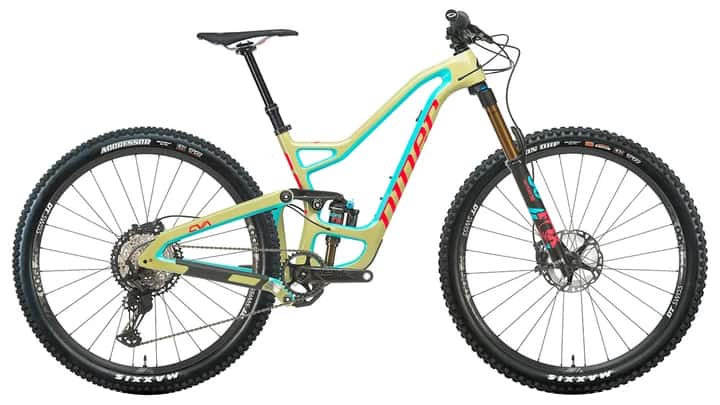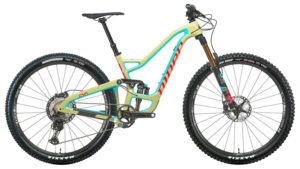 BEST HIGH END 29" TRAIL BIKE
29" bikes are officially not just for cross country riding anymore. Niner has put that reputation to rest with a bike that combines the rolling efficiency of big wheels with the long suspension travel and low, slack angles that we're accustomed to seeing on aggressive 27.5" park bikes. The result is a 29" bike that is ready and raring to tear up the roughest terrain you can find, without compromising its ability to eat up distance. Fox suspension and Shimano's renowned XT drivetrain and brakes round out a very capable component set that fully justifies the price tag that this bike carries.
Yeti SB150 Turq T2
Specs
Frame Material

:

Carbon Fiber

Wheel Size

:

29"

Seatpost

:

Dropper

Drivetrain

:

1x12 SRAM X01

Fork Travel

:

170mm

Head Tube Angle

:

65.5°

Rear Suspension

:

150mm Travel
Features
SRAM X01 Drivetrain And Code Brakes
Yeti Switch Infinity Suspension Smooths Out The Roughest Rides
Premium DT Swiss Wheelset
Turq Carbon Frame Is Rigid, Responsive, And Durable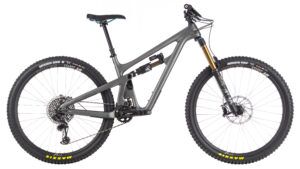 BEST HIGH-END 29" AGGRESSIVE TRAIL BIKE
This bike isn't for everyone. If you like 29" bikes and you have the skills and desire to push a trail/enduro/light freeride bike to its absolute limit, you'll want it. If you're willing and able to spend the price of a used car on a bicycle, you can have it. Those who do take the plunge will be riding the best hardcore 29" bike money can buy.
Everything about this ride is top of the line, from Yeti's proprietary Turq carbon fabrication to the patented Switch Infinity suspension system to the all-premium component selection. The people who put this bike together were not thinking about trade offs or price points; they set out to build the best possible aggressive 29" mountain bike. The product that emerged from that process is a very expensive mountain bike that lives up to its price tag in every way. If you want a 29" bike that can ride not only anything you can but anything anybody can, here it is!
Yeti SB165 Turq T3
Specs
Frame Material

:

Carbon Fiber

Wheel Size

:

27.5"

Seatpost

:

Dropper

Drivetrain

:

1x12 SRAM XX1

Fork Travel

:

180mm

Head Tube Angle

:

63.5°

Rear Suspension

:

165mm Travel
Features
Top Of The Line SRAM XX1 Drivetrain
Top Of The Line SRAM Code RSC Brakes
Top Of The Line DT Swiss EX-17 Wheelset
Top Of The Line Everything Else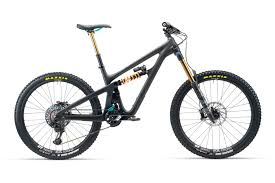 BEST AGGRESSIVE 27.5"
You've chewed up every double black diamond trail on every bike park you can find. You're looking for the gnarliest gnar you can find outside the tape. And you've won the lottery. What bike do you buy? Don't worry, dude, Yeti has your back, with a bike designed, built, and assembled precisely to solve your problem. Everything about this bike, from the plush coil shock to the long suspension travel to the outrageously slack 63.5° head angle, is there to help riders at the top of the skill pyramid attack the most unrideable terrain. Every component is chosen to be the best available in its niche. If you want a bike that fits right in at a Red Bull Rampage event or a World Cup downhill race, here it is. The only downside is the cost, but perfection doesn't come cheap!
Orbea Occam H30
Specs
Frame Material

:

Aluminum

Wheel Size

:

29"

Seatpost

:

Dropper

Drivetrain

:

1x12 Shimano SLX

Fork Travel

:

140mm

Head Tube Angle

:

66°

Rear Suspension

:

140mm Travel
Features
Shimano SLX Drivetrain For Smooth, Reliable Shifting
Asymmetric Frame Cuts Weight Without Compromising Rigidity
12-Speed Shimano Drivetrain Gives A Huge Gear Range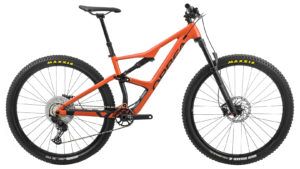 BEST AFFORDABLE 29" TRAIL BIKE
Orbea is a Spanish frame maker that's made waves in the global market with capable, unique designs sporting highly competitive component selections. The Occam H30 is a versatile 29" trail build designed for all-purpose riding, with components that will do their jobs well without shattering your bank balance.
Shimano's SLX drivetrain and MT201 brakes keep you going and stopping on any terrain, and a custom-tuned Fox rear shock and Marzocchi fork keep the bumps under control. The Occam rolls fast and climbs effortlessly, thanks to a relatively steep seat tube that places the rider over the pedal axis, but a thoroughly modern 66° head tube angle keeps things under control on the downhills as well. If you're looking for an affordable 29" trail build this will be one of your top options.
THINGS TO CONSIDER WHEN BUYING A MOUNTAIN BIKE WITH FULL SUSPENSION
Bike suspension can be as complicated or as simple as you want it to be. There are all kinds of adjustments and suspension designs, and if you want to become a suspension geek you'll find reams of fascinating information on the subject. If you don't want to become a suspension geek you can rejoice in the knowledge that most modern full-suspension bikes will serve very well straight from the box with minimal adjustment. Start with a bike that suits your needs and you'll soon figure out how to make the most of it!
UNDERSTAND MOUNTAIN BIKES
We often think of a mountain bike as a single product. In reality, it's an assembly of many products: a frame, a fork, wheels, a drivetrain, a seatpost, saddle, stem, handlebar and more. Many of these components are available in many different types and models. Not all of them are compatible but there's always a wide selection available. Any bike frame can be assembled into different "builds" using different components. Manufacturers often identify their builds by the frame and drivetrain. For example, the Ibis Mojo HD5 GX Eagle described above is an Ibis Mojo HD5 frame with the SRAM GX Eagle drivetrain. You will see the same frame listed in a catalog with different builds, often at very different prices.
It's easy to get carried away with high-end bike components and imagine that better parts will make us better riders. Most component manufacturers make very good parts even in the low to mid-priced range, and most quality manufacturers will not sell even their less expensive bikes with inadequate components. Getting a bike that fits you well and is appropriate to the conditions where you'll use it is often more important than buying high-end components, especially if you're new to the sport. You can always upgrade specific parts as you go along. Building stronger legs, lungs, and skills will improve your riding faster than any component upgrades!
UNDERSTAND SUSPENSION
A full-suspension mountain bike has suspension in the front fork and in the frame. The front suspension involves a suspension fork, the part that connects the frame to the front wheel. The rear suspension comes from a rear shock integrated with the fame. Front and rear suspensions offer a fixed amount of travel, which is the total distance the fork can compress under maximum load. In general, longer travel bikes are used for rougher terrain and for jumps and drops.
Front and rear suspensions can use coil shocks or air suspension. Coil shocks are considered "plusher" but weigh more. You may need to change the spring on a coil shock if you are unusually heavy or light. Modern air shocks are very plush and can easily be tuned to different weights by adding or releasing air. Most manufacturers use air shocks because of this greater flexibility. You'll need to buy a shock pump if you are buying a full-suspension bike with air shocks.
Modern suspension designs offer a huge range of adjustments. The only one you'll need to set from the start is "sag", which is the distance the bike compresses under your weight. This is usually expressed as a percentage of the travel: a typical trail bike will use between 20% and 30% sag. Check your manufacturer's recommendations! You can experiment with other settings as you go along.
KNOW HOW YOU'LL RIDE
Riders use their bikes in different ways. A cross country racer and a downhill racer ride very differently and use very different types of bikes. Before you buy a bike think about where you'll ride and what conditions you'll face. Be realistic. If you're just starting out it will be a while before you'll be taking on massive jumps and drops!
Most new riders choose an all-purpose trail bike, which is an ideal platform for learning skills and deciding whether you want to commit to a specialized form of riding.
LEARN MORE
REI has a good guide to how to choose a mountain bike and MEC chimes in with their own advice on choosing a mountain bike. If you'd like to know more about suspension REI offers this guide to bike suspension basics and Jenson USA has a discussion of mountain bike suspension. Red Bull offers a review of hardtail vs suspension bikes if you're still making up your mind!
FEATURES EXPLAINED
FRAME MATERIALS
Almost all modern mountain bikes are made of aluminum or carbon fiber. Neither is necessarily better, but high-end manufacturers are leaning more to carbon for its combination of low weight and high strength. Some manufacturers advertise proprietary carbon construction processes. The details tend to be very technical, but most of them are very good.
WHEELS
Different wheel sizes used to be preferred for different types of bikes. Cross country riders liked 29" wheels for their ability to hold speed and roll over smaller obstacles. Trail riders preferred the versatility of 27.5" wheels. Downhill racers stayed with the control of the old 26" wheels.
Those days are gone. Manufacturers now make all types of bikes in both 27.5" and 29" styles. 29" bikes are being built with long travel and slack angles and riders are charging the roughest terrain on big-wheeled bikes. The choice of 27.5" or 29" is increasingly about personal preference rather than riding style. Overall 29" wheels are still more about rolling over obstacles than dodging around them and are preferred by taller riders. 27.5 offers more rider height flexibility and more agility. The lines are increasingly blurred, though, and you'll see all types of riders riding all types of wheels on all types of terrain!
Traditional bike tires used inner tubes to hold air, but tubeless tires are rapidly gaining traction. Tubeless tires use a sealant to control flats. They are lighter than tires with tubes and you are less likely to have to dismount and repair a flat!
SUSPENSION TRAVEL
Modern mountain bikes fall into three basic categories:
Cross-country bikes are designed for speed on relatively smooth trails. They are light and prioritize climbing ability. Full-suspension cross-country bikes will typically have from 100-130mm of suspension travel.
Trail bikes are jacks of all trades, ready to climb or descend and able to take on rough terrain and light drops. Full-suspension trail bikes range from 130-160mm of travel. Bikes at the lower end of the range are said to lean toward XC, bikes at the higher range lean toward "enduro" or "freeride" styles.
Gravity bikes are designed for really rough terrain with large jumps and drops. They typically have over 160mm of front and rear travel.
The suspension market is dominated by RockShox and Fox and most major manufacturers use their products. Other manufacturers make quality shocks as well.
GEOMETRY AND HEAD TUBE ANGLES
Bike geometry is said to be steep or slack. Steep geometry places the seat above the pedals and places the front wheel under the handlebars, giving power and control while climbing. Slack geometry angles the seat back behind the pedals and places the front wheel farther ahead of the handlebar for control on steep descents and big drops.
The head tube angle is a good general indicator of the type of riding a bike was designed to do.
A quick guide to head angles:
68° or aboveis a pure cross country bike.
66° – 68°is for all-purpose trail bikes.
65° – 66°is for "enduro" style bikes used on steep trails and big drops.
65° and belowis for pure gravity riding: very steep trails, jumps, and big drops.
SEATPOSTS
Keeping a seat high lets you put down more power for climbing, but when the trail turns down you'll want to drop the seat and stand up on your pedals for control. If you're using a rigid seatpost, you have to get off the bike and adjust the seat every time you move between climb and descent. Dropper seatposts move up and down, controlled by a button or lever on the handlebar, and let you transition seamlessly from uphill to down. They are a bit heavier and more expensive, but if you ride rolling terrain a dropper post is a great asset that will help you keep the flow in your ride.
DRIVETRAIN
The drivetrain delivers power from the pedal through a crank to a chainring to a chain to a rear sprocket or cassette to the rear wheel. Derailleurs move the chain from one gear to another and shifters control the derailleurs. Most modern bikes now use a single front chainring with no front derailleur and from 9 to 12 gears in back.
Most manufacturers use SRAM or Shimano drivetrain parts. Both dominant manufacturers make many models at many price points. The drivetrain parts, sometimes called the "group", are a major part of a bike's cost and manufacturers often identify their builds by the drivetrain they use.
BRAKES
Almost all full-suspension bikes use hydraulic disc brakes made by SRAM or Shimano, though a few other manufacturers are also in the market. Hydraulic brakes offer great control with very little pressure from the hands and give you the ability to "modulate" your braking between fully open and full stop. Brakes use rotors from 160mm up to 200mm. Larger rotors give more stopping power, though many riders believe that braking technique is more important than rotor size! Many bikes use larger rotors on the front wheel, which takes most of the braking duties on a fast stop.
CABLE AND HOSE ROUTING
Derailleurs, brakes, and dropper seatposts are all connected to their controls by cables or hydraulic hoses. These hoses can snag on obstacles or come loose and get in your way. Some riders prefer to secure them with cable ties, leaving them accessible for easy maintenance. Some frames allow internal routing, running the cables and hoses inside the frame tubes. This gives a cleaner appearance and protects cables and hoses from damage, but can make maintenance more complicated.
READ MORE
For more of our top mountain biking gear recommendations, check out these popular buyer's guides: