Updated on January 26, 2022
When you are heading out into the mountains, you need to be prepared for not only your trip needs, but for whatever Mother Nature throws at you. With that in mind, you need to make sure your mountaineering backpack has all the features you need to make your trip a success. But with so many to choose from, we know your decision can feel harder than reaching the mountain summit you have in mind! That's why our team of dedicated mountaineer experts condensed the choices down to the ten best mountaineering backpacks, so you can find the one that best suits your needs.
If you are looking for a lot of volume for a long adventure or just a mid-sized-pack for a long weekend or ice climbing adventure, this list has a pack that will fit you needs, and all of your equipment into it. And if you are planning a high alpine adventure such as Denali, well, we've got you covered for that as well.
For more of our top mountaineering gear recommendations, check out the Best Mountaineering Helmets.
Quick Answer

-

The Best Mountaineering Backpacks
Deuter Aircontact Lite 60 + 10 SL
Comparison Table

-

Best Mountaineering Backpack

For the best experience turn your device horizontally
Reviews

-

The Best Backpacks for Mountaineering
Osprey Mutant
Specs
Accessibility

:

Top

Weight

:

4.19 lbs

Volume

:

52 L

Removable Top Lid

:

No, Attached Top Lid

Hydration Compatibility

:

Yes
Features
Removable Plastic Sheet on Back Panel for Extra Support with Heavy Loads
Helmet Carry on Top of Lid
Gear Loops on Pack for Gear You Need to Access Easily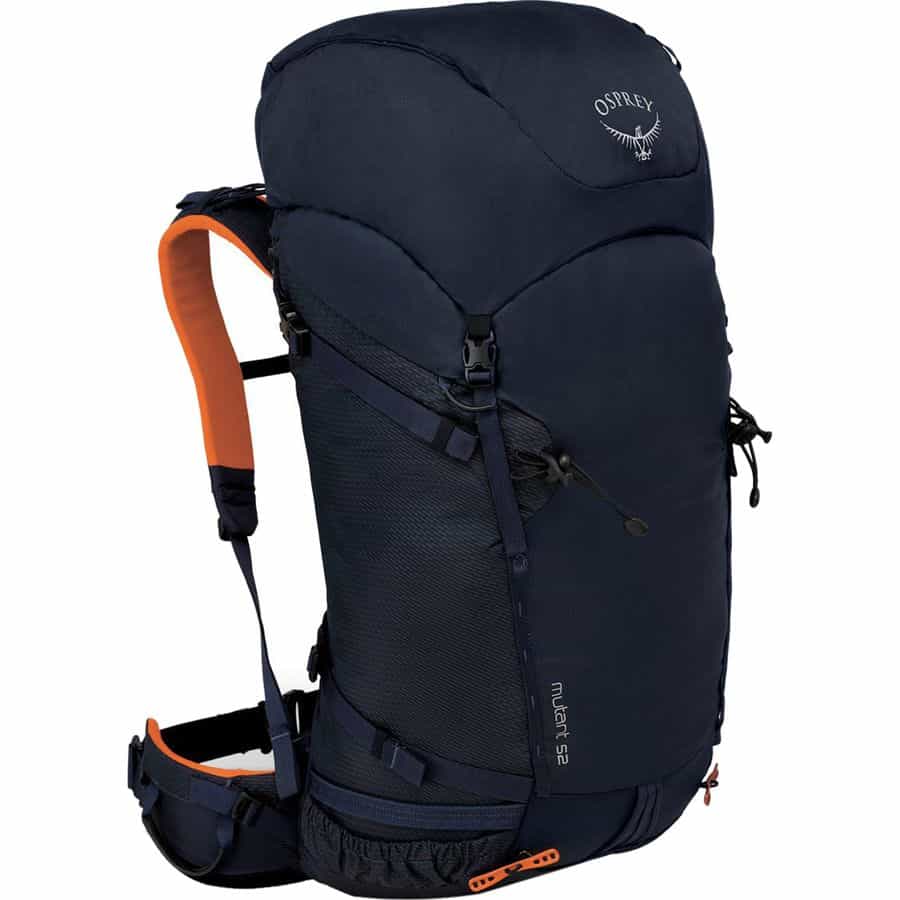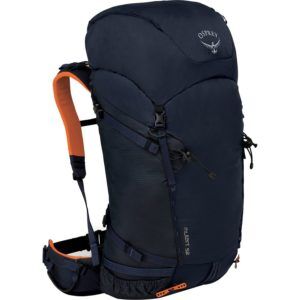 BEST FOR: LONG, COLD CLIMBS
The Osprey Mutant is popular in the larger size and the smaller 38-liter size, so Osprey decided to create a new 52-liter pack. Perfect for longer, colder climbs than the 38-liter, but not as heavy for the more demanding steep climbs, the 52-liter pack is up for any mountaineering challenge, even for a multi-day trip.
Designed for comfort and support, the back panel has a removable plastic sheet on it that can provide extra support along the hip belt and lower back when you are carrying a heavier load which can be removed for less demanding treks. There is also a removable piece of foam in the back panel that can make things super comfortable on long days.
For your climbing needs, the waist belt has gear loops, making it easy to access your cams and other climbing gear. And the lid, when not detached, features an elastic strap to secure your helmet onto, so you will never leave it behind. While there is some ongoing debate as to whether this is a true 52-liter or 50-liter pack, you will still have ample storage space and will not risk over-packing, which we know is important to mountain folks. True to the name, the Mutant is a very versatile pack.
Gregory Denali 100
Specs
Accessibility

:

Top, Panel, Side

Weight

:

6 lbs 10 oz

Volume

:

100 L

Removable Top Lid

:

Yes

Hydration Compatibility

:

Yes
Features
Multi-use Spare Daisy Chain
Bivy Pad to Sleep On
Removable Frame to Lighten Pack or Make it More Pliable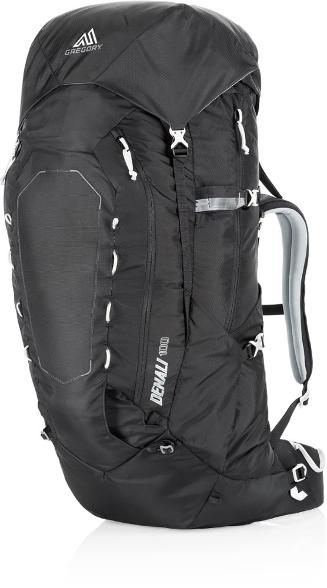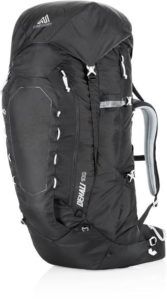 BEST FOR: BIG MOUNTAINS
As the name implies, the Gregory Denali is made for high peaks in big mountains, such as Denali which inspired the design and features of this pack. Though this is a gargantuan 100-liter pack, it only weighs 6lbs 10 oz. Because high alpine adventures are inevitably cold, you will need lots of layers, and therefore lots of access to said layers. With this pack, you can easily access anything you need from the top, panel, or side openings.
Equipped with a bivy pad to sleep on, you will always have a place to lay off the cold and snowy ground. And to help you be even more prepared for the unexpected, the pack includes a multi-use spare daisy chain to assist you in situations where you need a little extra webbing. This pack is designed to sit comfortably on your back so you won't even notice the load you're carrying on your expedition.And where the pack crests your head, it will not interfere with your putting your head back to see, as a lot of packs do. When you have a lot of ground to cover, this means more than you know!
The North Face Prophet
Specs
Accessibility

:

Top

Weight

:

5 lbs 5 oz

Volume

:

85 L

Removable Top Lid

:

Yes

Hydration Compatibility

:

Yes
Features
Reflective Webbing for Aid in Low Light
Patent-pending Dyno Carry System to Adjust Back Panel on the Fly
Avalanche Tool Sleeve on Front of Pack for Easy Access
BEST FOR: HIGH ALPINE MISSIONS
A bigger ascent means you will need a bigger pack for the longer mission, and The North Face delivers with Prophet – an 85-liter pack. While not what we would call lightweight, you cannot expect to find an ultra light pack that has this level of volume. Designed with an oversized crampon pouch, you won't have to worry about the spikes cutting into the pack or your gear while they are stowed away.
It is also easy to get a comfortable fit with this pack. The hip belt molds to you, so there will not be any uncomfortable spots digging into your sides. Furthermore, it has a patent-pending Dyno Carry System which allows you to adjust the back panel on the fly, so you won't have to take the pack off to adjust it. And because you will most likely be using this pack in the high alpine, where you will be out for more than just a day and the sun will set eventually, reflective webbing on the outside of the pack can help you be seen in low light.
Gregory 50 Alpinisto
Specs
Accessibility

:

Top, Side

Weight

:

3 lbs 13 oz

Volume

:

51 L

Removable Top Lid

:

Yes

Hydration Compatibility

:

Yes
Features
Crampon Compartment
Removable Bivy Pad for Bivy Situations
Removable Features Such as Straps Reduces Pack Weight up to 35%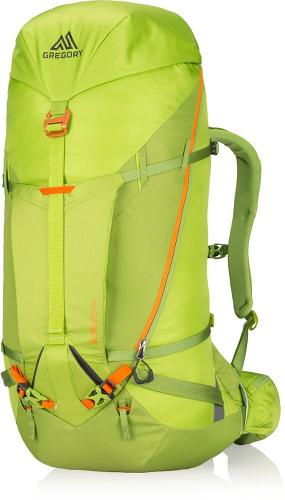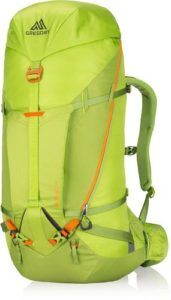 BEST FOR: LIGHTWEIGHT COMFORT
If lightweight comfort is what you desire most in a pack, Gregory has yet another pack for that specific need. The Alpinisto 50-liter pack is a good mid-sized back that will get you set on your alpine adventure without a ton of extra weight. But don't be fooled by the weight. This pack is super burly and can handle the loads you stuff into it for your alpine adventures.
Having all the essentials you need, including both ice axe attachments and a crampon compartment, you can take this pack on pretty much any adventure you have in mind. And if you find yourself in a bivy situation and having to stop for the night to make camp, the Alpinisto has a removable bivy pad just for that, so you have a comfortable place to lie on, but do not have to carry extra weight. And did we say this pack was lightweight? In case we didn't, a number of features such as straps can be removed from this pack, reducing the weight up to 35%!
Deuter Aircontact Lite 60 + 10 SL
Specs
Accessibility

:

Top, Bottom

Weight

:

4 lbs 3 oz

Volume

:

70 L

Removable Top Lid

:

Yes

Hydration Compatibility

:

Yes
Features
3D Air Mesh on Back Panel for Ventilation
Removable Hip Belt
Separate Bottom Compartment that Holds Sleeping Bag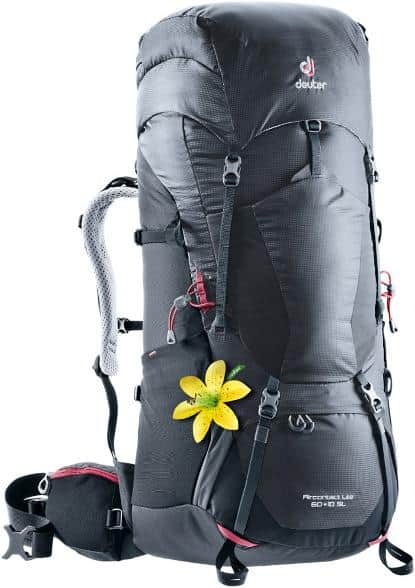 BEST FOR: WOMEN
Psst! Ladies! The German company, Deuter, has you specifically in mind when it comes to a mountaineering pack. And no, not just the pretty flower attached to the outside of the pack (although that is quite lovely!). If you are looking for a pack that will take you on a breathtaking weekend adventure, the Aircontact Lite is a decent sized pack, at 70-liters, that will take you there.
As the name suggests, the back panel is designed with 3D Air Mesh that will always allow for proper ventilation, so you won't find your load making your back super sweaty which means you won't have to worry about getting chilled later. And as for the Lite portion of the name? This pack weighs only 4 lbs 3 oz, which is incredible for a 70-liter. And updated from earlier versions, the hipbelt is designed with an Ergonomic Comfort Lock, which helps ensure an optimal load transfer, yet still maintains a compact fit. And as any woman knows, our hips are different from men's, so getting a pack secure and comfortable around the hips will help you log those miles in comfort and style.
Black Diamond Mission 75
Specs
Accessibility

:

Top, Panel

Weight

:

3 lbs 10 oz

Volume

:

75 L

Removable Top Lid

:

Yes

Hydration Compatibility

:

Yes
Features
Removable Hip Belt
Crampon Pouch on Front
Removable Lid to Reduce Weight When Not In Use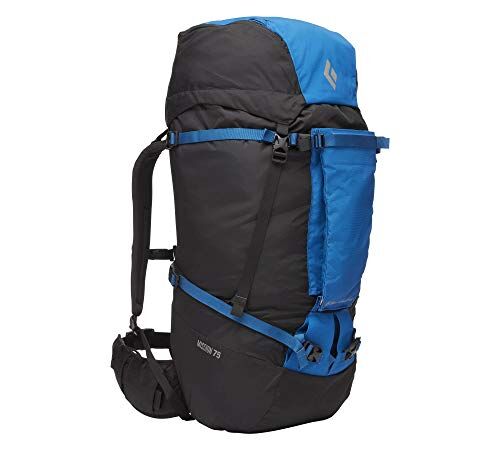 BEST FOR: ALL-AROUND MOUNTAINEERING
The Black Diamond brand is renowned for being comfortable on the mountains, and the Mission 75 backpack is designed to get all your equipment there. Designed with ice tool pick tip panels at the front base of the pack and straps to secure the handles of your ice picks, you won't have to worry about your tools falling off the pack during your alpine climb.
A front pouch can easily hold your crampons as well. And while this pack features a more simplistic design, you can easily access your equipment from the top and from a side panel. The hip belt can be removed if you need to wear a harness under the pack, so you won't be bulked up with extra gear loops. While this pack may be a bit bigger for your day trips, it is great for longer mountaineering trips up to three weeks.
Lowe Alpine Manaslu
Specs
Accessibility

:

Top, Front, Bottom

Weight

:

5 lbs 4 oz

Volume

:

55+10 L

Removable Top Lid

:

No, Attached Top Lid

Hydration Compatibility

:

Yes
Features
Hydration Sleeve
Numerous Pockets for Organization
Raincover
BEST FOR: ORGANIZATION
Lowe is becoming a more popular brand making its way into the mountaineering scene. The Alpine Manaslu is a 55-liter pack. If you are going to carry heavy loads and require a lot of organization, the Alpine Manaslu may be just the pack you are looking for. The pack has numerous pockets so you can easily organize all your gear and have all your essentials super accessible from the top, bottom, or the front.
The main pack itself is 55-liters, but with all the pockets, you can carry another 10-liters of stuff. While all these pockets add weight, it is still a good choice for weekend adventures. Designed with extra padding in the straps on the shoulders and hips, this pack can provide a lot of comfort.However, when not full, it can shift around, making it slightly uncomfortable. And even if you get caught in the rain, you don't have to worry about water seeping through all the zippers, as this pack comes with an integrated raincover.
THINGS TO CONSIDER WHEN BUYING MOUNTAINEERING BACKPACKS
COST
Packs can vary widely in price, however, you need to spend a little for a good quality pack that will last you many seasons and not tear or break while out in the mountains. The different types of features a pack has will all contribute to the cost, so it is essential to know what your needs are and what extras you can live without. For example, are you just winter camping or backpacking, or do you need a place for ice tools, etc.? Also, the size of the pack will influence cost, so if you need a larger liter bag for a longer trip, you are looking at buying a more expensive pack.
FIT
Packs usually come in small, medium, large, and sometimes, x-large sizes. Also, some packs are made in men's and women's. Getting a pack that fits can mean all the difference in your overall comfort for the load you are carrying on your trip. A pack needs to fit in the shoulder straps, sit well on your waist, be comfortable around the hip belt, and distribute the weight in the pack well. Take the advice of the American Hiking Society on fitting your pack.
ACCESS
If you are in cold weather where you are going to need to put layers on and take them off constantly, having easy access to your belongings can be important. Some packs only have top access, while other packs also have zippers to openings on the side, bottom, and in some panels. If you need to reach something in the bottom of the pack, you won't want to empty the contents onto the wet or snowy ground just to get to what you need. That's why it's important to consider how you can get into your pack, whether that's from the top, side, bottom, or even the back!
WEIGHT
You are going to be carrying some amount of weight regardless of what type of mountain adventure you are going on, so you don't want a pack that is contributing to an even heavier load. Some packs will weigh more with added features – lids, crampon pouches, ice hooks, internal frames, etc. – so if you do not need those features, you may be able to cut some weight. However, you can have some features and not break your back. REI can help you figure out how much your pack should weigh.
FEATURES EXPLAINED
LID
The lid (also commonly referred to as the "brain") is a top storage portion on the top of the pack that contributes to the overall volume of the pack. With either a top and/or bottom zipper access, the lid can store your smaller things in the pack that you will need to access more frequently. Some lids can be detached from the pack when not needed, cutting down on weight and volume.
HYDRATION SYSTEM
Similar to many daypacks, a hydration system in a mountaineering pack refers to a portion in the inside back panel of the pack where a water bladder like a Camelback can fit for water storage and have a slit where the hose can enter and exit.