Updated on November 25, 2020
Just about everybody gets blisters or some kind of foot pain when breaking into mountaineering. Finding the best mountaineering socks for you can be frustrating, because you want something that prevents discomfort instead of causes it. So where do you start?
Mountaineering boots are typically ankle length or taller, so mountaineering socks are usually a crew length (they reach to your calf) or knee height. This is to prevent your lower leg and ankles from chafing against your boots and causing abrasion. Taller socks also help keep you warm while you're hiking in the frigid mountain air. There are many factors to consider when choosing a reliable sock for snow travel, so we broke down the ten best options for you here.
For more of our top mountaineering gear recommendations, check out the Best Mountaineering Pants.
Quick Answer

-

The Best Mountaineering Socks
Smartwool PhD Ultra Light

Darn Tough Over-The-Calf Cushion

Smartwool PhD Light Elite

Smartwool PhD Light Elite
Comparison Table

-

Best Mountaineering Socks

For the best experience turn your device horizontally
Reviews

-

The Best Socks for Mountaineering
Smartwool PhD Medium
View Women's Version
Specs
Fabric

:

Majority Merino Wool

Height

:

Knee High

Cushioning

:

Medium
Features
Mesh Ventilation Zones
Strategically Placed Cushioning
Seamless Toes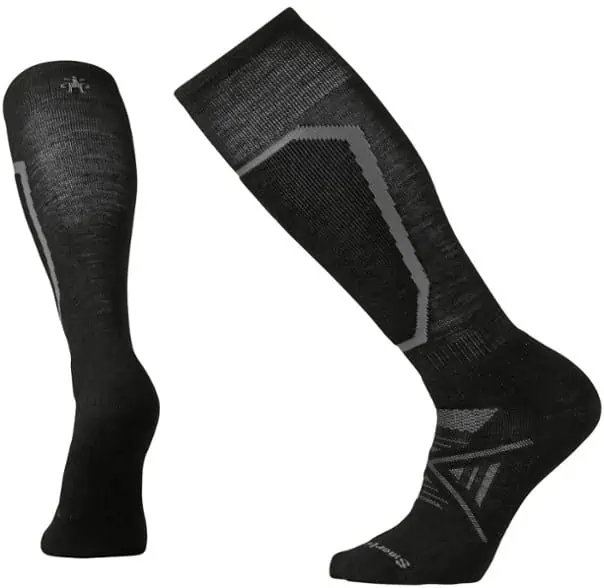 BEST FOR: MOUNTAIN CLIMBERS
The Smartwool PhD Ski Medium Socks have a popular reputation for keeping feet dry and warm in very cold/wet temps. These socks are known to keep their size and shape even after several washes, so you don't have to worry about them stretching out.
Smartwool strategically placed a cushion in the front shin of these socks to prevent abrasion from your boots while you're in the mountains. These form-fitting socks are true to size and won't take up too much room in your mountaineering boot.
Smartwool PhD Ultra Light
View Women's Version
Specs
Fabric

:

Merino Wool/Nylon

Height

:

Knee Length

Cushioning

:

Light
Features
Ultralight Sock
Virtually Seamless
Mesh Ventilation Zones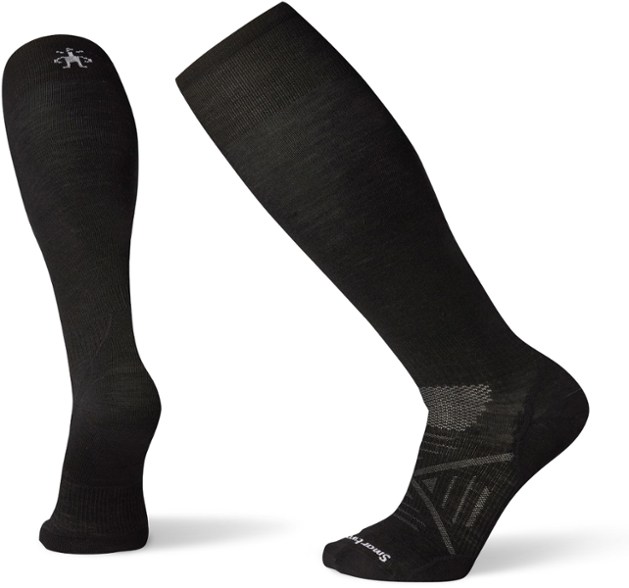 BEST FOR: THE MINIMALIST 
Smartwool is appealing to the ultralight community with this version of it's PhD mountaineering socks. Smartwool makes several mountaineering socks, all of which fit like a dream, but the ultralight version tends to be the most form fitting. These socks are made with a double elastic system that helps the sock stretch up and over your calf and the mix of wool and nylon is extremely soft and comfortable.
The Ultralight Pattern Sock is also known to be great for moisture management because it's lightly cushioned and has ventilation zones that increase breathability. This sock will keep you warm and it won't make you suffer from blisters induced by sweaty feet in floppy socks.
Darn Tough Over-The-Calf Cushion
View Women's Version
Specs
Fabric

:

Majority Merino Wool

Height

:

Knee Length

Cushioning

:

Medium
Features
Seamless Design
LIfetime Warranty
Mid-Level Cushioning Under Foot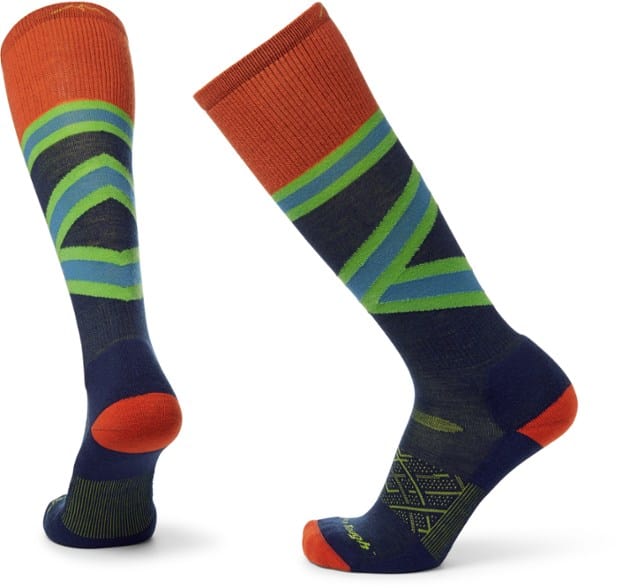 BEST FOR: ALL MOUNTAINEERS
Darn Tough makes an outstanding sock for mountaineering with their proprietary Over-The-Cushion design, and it also comes in some seriously rad styles. These socks have a performance fit with cushioning at the bottom of the foot, around the arch, and near the ankle, all of which helps prevent against slipping, bunching and blisters.
Merino wool is the main fabric used to make these socks. It's a quick drying material that's also antimicrobial and moisture wicking. All of these features will help your feet stay warm and dry when your boots get wet while walking through thick snow, crossing a stream, or during an unexpected snow storm.
Another bonus: Darn Tough has the same warranty for all of their socks. If you get a hole in them, you get a free pair on the house. If you've ever tried Darn Tough socks before, it's hard to go back to anything else.
Darn Tough Medium
View Women's Version
Specs
Fabric

:

Majority Merino Wool

Height

:

Knee Length

Cushioning

:

Medium
Features
Merino Wool Repels Water/Odor
Shin Cushioning (to prevent abrasions against your legs while you hike)
Lifetime Warranty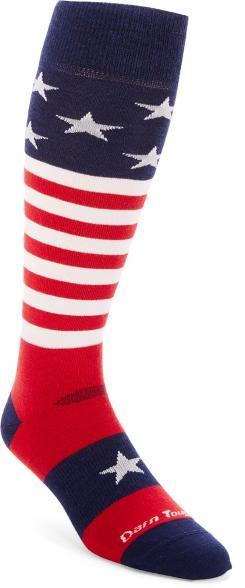 BEST FOR: BEGINNING MOUNTAINEERS
Darn Tough is back at it again displaying unique and colorful designs with these mountaineering socks. Similar to their Over-The-Cushion socks, these socks have a performance fit design so you can put the sock on and not have to worry about bunching, blisters, or slipping.
The fabric of these socks is naturally moisture-wicking and odor eliminating, which means that after you get to your tent after a long day in the mountains, your socks won't stink up the place.  These socks have it all: warmth, comfort, and odor eliminating fabric. Keep in mind that these socks are known to run large and are also versatile for more casual hiking.
Smartwool PhD Light Elite
View Women's Version
Specs
Fabric

:

Merino Wool/Nylon

Height

:

Knee Length

Cushioning

:

Light
Features
Elastic Stitching Allows Greater Stretch
Mesh Zones Create Ventilation
Virtually Seamless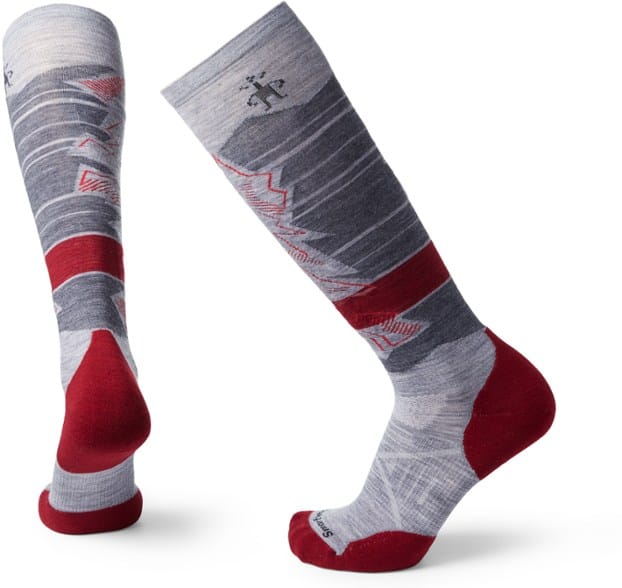 BEST FOR: THE AEROBIC MOUNTAINEER
My personal favorite option of Smartwool's PhD mountaineering socks is their Light Elite option. These socks provide a bit more padding than the ultralight version, but still won't bunch up while you tread through snow. These socks are warm and they're sure to keep your feet nice and toasty in your boots no matter how cold the temperature.
These socks are made virtually seamless, which makes them feel invisible after you put them on. The lack of an evident seam also reduces toe irritation (AKA blisters) because it prevents your sensitive toes from rubbing against an uncomfortable seam. These socks are known to be one of the most comfortable mountaineering socks available on the market today.
Burton Weekend
View Women's Version
Specs
Fabric

:

Majority Acrylic

Height

:

Knee Length

Cushioning

:

Medium
Features
Quick Drying
Low Profile Welted Cuffs (to keep the socks in place all day)
Elastic Arch and Leg Support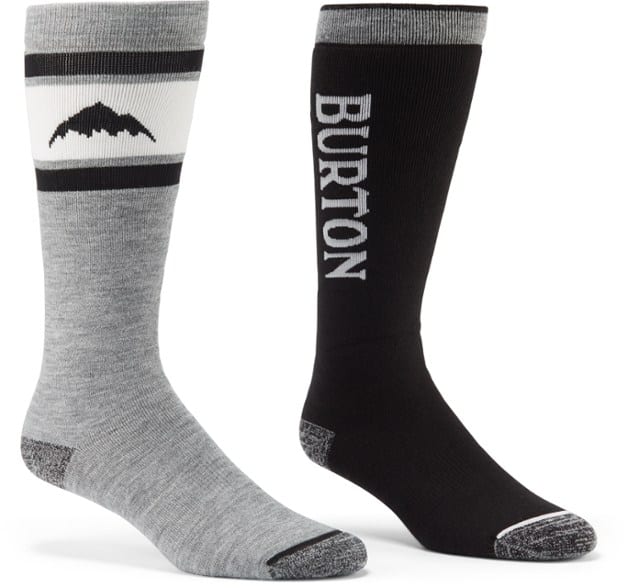 BEST FOR: SNOW SPORTS ATHLETE
Burton has a positive reputation among snow sport athletes for making reliable and durable snow gear. These Weekend Snowboard socks are no exception.
These are a good option for anyone who is looking for a mountaineering sock that isn't wool (possibly because you could be allergic), but will still keep your feet warm and dry. The acrylic fabric these socks are made of is quick-drying and has a flat-stitched toe seam to help decrease chafing and prevent blisters. Cushioning placed on the instep, shins, and calves also provides superior comfort in laced boots.
The welted cuffs feature on these socks describe an elastic band sewn into the cuff (top) of the sock that will help them stay up through a day of adventure. These socks come as a single pair or as a two-pack for double the savings.
Smartwool PhD Light Elite
View Women's Version
Specs
Fabric

:

Merino Wool/Nylon

Height

:

Knee Length

Cushioning

:

Light
Features
Lightweight Sock
IndestructaWool Technology Strategically Places Reinforcement Fibers (so your socks will have cushioning in all the right places and will last a lifetime)
Elastic Stitching Allows Greater Stretch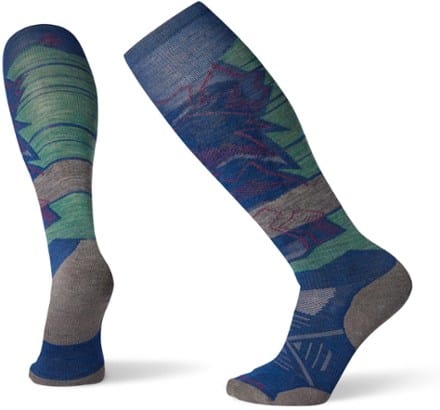 BEST FOR: THE LIGHTWEIGHT MOUNTAINEER 
Another lightweight option in SmartWool's PhD mountaineering sock line is the Ski Light Pattern. This style is similar to a compression sock, containing a touch more nylon fabric combined with Merino Wool than other SmartWool PhD options. The extra nylon keeps the sock feeling tighter than most, which can help to insulate your feet and keep the socks in place during long days on the trail or slopes.
The mapped out mesh zones in these socks also help aerate your feet in the backcountry. The virtually seamless design minimizes toe irritation and helps to prevent against blisters. The women-specific fit of these socks have a narrower profile than the male version.
Hotronic XLP PFI 50 Heat
Specs
Fabric

:

Nylon

Height

:

Knee Length

Cushioning

:

None
Features
Hotronic Battery Heating (a battery used to heat mountaineering boots)
Fit Provides Pressure Distribution (to keep your feet feeling comfortably balanced all day long)
Mesh Ventilation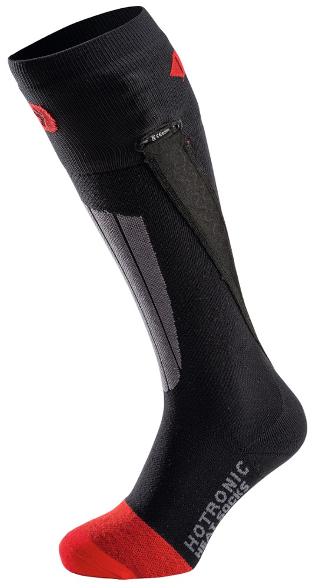 BEST FOR: THE COLD BLOODED 
Combined with the proprietary Hotronic battery pack, these socks are a sure thing for warmth in the snow. The double cuff at the top of the sock allows for the insertion of the battery pack, which distributes 13.5 hours of warmth throughout the lower leg, achilles, ball of foot, and toes.
There are four different heat settings built into these mountaineering socks. Most mountaineers keep the heat setting on 1 or 2, and advise heat setting 3 or the "turbo" (heat setting 4) to warm up very cold toes, possibly at night when you're no longer moving.
These socks are best when paired with a liner sock because the wiring underneath the foot can be uncomfortable or the heat can become too intense. Also, keep in mind that the socks are sold separately from the battery pack.
THINGS TO CONSIDER WHEN BUYING MOUNTAINEERING SOCKS
SOCK LINERS
The benefit of a sock liner is to have a thin layer between your feet and your mountaineering socks. Toe liner socks separate each of your toes, which prevents them from rubbing together Because toe liner socks keep friction to a minimum, they help to prevent nasty blisters from forming while trekking for long periods of time. If toe socks aren't your thing, there are plenty of other great liner sock options to choose from.
Let's be honest, during snow travel it's expected that your feet are going to get wet. Liner socks provide your feet with a little assistance to prevent abrasion. In the beginning of the season, many mountaineers choose to start their adventures with sock liners and when their feet develop calluses throughout the season, they no longer need them. Toe liner socks are definitely worth looking into if you're planning on mountaineering for any amount of time this winter.
FABRIC
The most common fabric for outdoor socks is usually Merino wool. Merino wool is derived from Merino sheep and is best known for being extremely soft and breathable. Merino wool is also moisture wicking, quick drying, and antimicrobial. What else could you ask for?
Some people are allergic to wool. Other great fabric options for mountaineering socks include nylon, polyester, acrylic, silk , spandex and others. Most outdoor socks are made of a few materials sewn together to create the most protective and comfortable sock. Finding out how your feet react to the elements and then finding a sock that caters to that is your best bet.
For example, if your feet are always cold and you can't wear wool, silk is known to be extremely warm and lightweight. If you like a tighter fitting sock, finding a sock made of majority nylon material would benefit you because of its ability to stretch without ripping holes in your socks.
For more info about hiking and mountaineering sock fabrics, check out this article from REI about how to pick socks for the outdoors.
SIZE
Keep in mind that some mountaineers have to go half a size or a full size up in their mountaineering boots to make room for swollen feet and thick socks.
Socks that are too thick can cause overlapping in the fabric that can lead to cold feet. An extra thick sock can also lead to your foot sloshing around in your boot, while an extra thin sock can leave your feet cold and unprotected. Make sure when you're trying on socks you are trying them on with your mountaineering boot to make certain it's a comfortable match for you. You want a pair of socks that feel comfortable and provide support to you in the spots you need them to. It is also nice to have a knee length sock if your boots are tall and you want to prevent against slamming your shin against your boot when you're walking.
INSOLES
A lot of people wear insoles with mountaineering boots in the backcountry.
An insole is a removable sole you can put in your shoes or boots. Insoles can help provide comfort and warmth, and also act as a deodorizer. Insoles can also help expand the life of your boots. Insoles can even assist with common foot conditions such as plantar fasciitis, structural misalignment, and over-pronation. Learn more here.
FEATURES EXPLAINED
CREW LENGTH
A crew length sock sits just above your ankle bone. It's a typical length for most hiking socks, but can be a little short for mountaineering.
INSOLE
A removable sole of a shoe that mountaineers often use for comfort or warmth. Insoles can also help treat several foot conditions including plantar fasciitis.
LINER
A liner sock is a thin sock that you wear underneath your actual mountaineering socks to prevent blisters and chafing.
ENGINEERED ARCH SUPPORT
Several of the socks featured above have engineered arch support. Engineered arch support can be achieved several ways, including thicker fabric sewn around the arch area of the foot. If you have high arches, this can be a huge advantage to make your feet more comfortable. If you have flat feet, engineered arch support probably isn't necessary. You can get your arches measured at an outfitter like REI and learn what type of support your foot needs.
SEAMLESS TOE CLOSURE
A seamless toe closure means that no two seams have been sewn together to create the toe box of this sock. This helps prevent against friction being created due to your foot or toes rubbing against that extra layer of fabric that would be there if a seam had been sewn.
REINFORCED HEELS AND TOES
Reinforced heels and toes are similar to engineered arch support, but the extra fabric is sewn specifically into the heels and toes of the sock. Heels and toes are common places where mountaineers can get blisters or experience pain when breaking in a new pair of socks or boots. Reinforced heels and toes means the socks have more cushioning around this area to aid in protection, comfort, and longevity.
INSTEP
The instep of the foot is the area between the ball of the foot and ankle. Knowing if you have a low or high instep will help you determine if you need arch support or not. REI employees can measure this for you.
WELTED CUFFS
A welted cuff is an elastic band that is sewn around the top rim of the sock to help the sock stay up while you're wearing them.
HOTRONIC BATTERY
A Hotronic Battery is a battery used to heat up the corresponding mountaineering sock through wiring placed throughout the sock.