Updated on October 8, 2020
When you spend a good portion of your life in the mountains, pushing your limits and seeking the thrills, the most important piece of equipment you should own is a reliable helmet. The best mountaineering helmets fit well, are comfortable to wear for hours on end, and are highly rated to protect your noggin from unexpected accidents. Head injuries are serious and having a protective helmet can mean the difference between life and death, so wearing one at all times is imperative when you are out on your mountaineering adventures.
We here at the Adventure Junkies know that there are a lot of choices out there when it comes to helmets. We want to make sure you have all the information you need when you're looking for a mountaineering helmet, which is why we've compiled a list of 10 of the best mountaineering helmets. These helmets have performed with excellence in some of the most popular climbing destinations around the world, and in various climates and weather conditions. So all you need to worry about is sending your project or summiting that 14er, not about your brain, because we've got that covered with these helmets!
For more of our top mountaineering gear recommendations, check out the Best Mountaineering Backpacks.
Quick Answer

-

The Best Mountaineering Helmets
Comparison Table

-

Mountaineering Helmets

For the best experience turn your device horizontally
Reviews

-

The Best Helmets For Mountaineering
Petzl Meteor
Specs
Material

:

EPS Foam with Polycarbonate Shell

Weight

:

8.46 oz (size M)
Features
Foam Pads to Comfort Head
Magnets in Chin Strap to Help Close
Elastic on Rear of Helmet Compatible with Ski Goggles' Headbands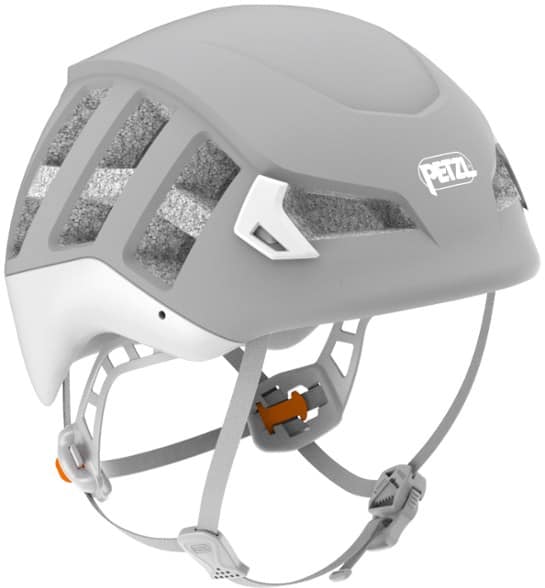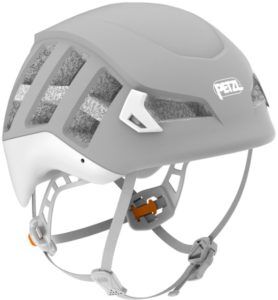 BEST FOR: VENTILATION
At around $100, the Petzl Meteor is an affordable choice for a helmet. The material is made with an outer shell of EPS, which is a lightweight material contributing to the minimal overall weight of this helmet. The under polycarbonate layer, however, makes this helmet super durable.
For many seasoned mountaineers, it is well known that the temperature of the head contributes largely to our overall temperature. And with the Meteor, there is more than ample ventilation. With 21 ventilation holes, a breeze can always be felt, helping to cool you down. Among those vents, there are two large and wide vents on the front of the helmet, allowing airflow in any direction. The Meteor is also equipped with 2 side clips in the front with small teeth for headlamp attachment. It also has a V-shaped bungee strap in the back of the helmet to further secure headlamps, but can also help secure your ski goggles, so you can take this helmet on your ski adventures too!
Black Diamond Half Dome
View Women's Version
Specs
Material

:

EPS Foam with ABS Shell

Weight

:

12.7 oz
Features
Various Straps to Adjust for Best Fit
5 Ventilation Holes on Either Side
Pony-tail Friendly Women's Design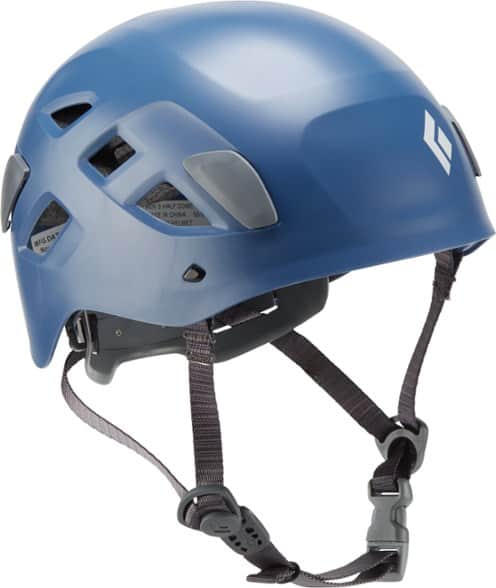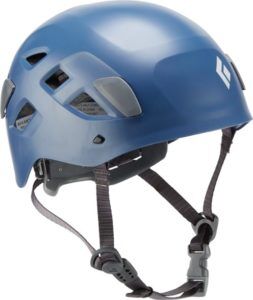 BEST FOR: BEGINNERS
While not the lightest helmet on the market with a heavy duty ABS shell, the Black Diamond Half Dome is super durable and able to withstand a hit. It's been used and positively reviewed by many climbers, making it an excellent choice for a helmet if you are just getting into the sport.
And coming in at just under $100, it is certainly an affordable choice for your adventures. The rear wheel dial on the back of the head easily loosens and tightens the straps around your head, so it's super simple to fit this helmet to your head. This helmet doesn't have quite as much ventilation as other helmets on our list, with five holes on either side to keep you cool.
The helmet also includes 4 clips – two towards the front and two towards the back – for your headlamp to attach to, should you be climbing in months with less sunlight or if you find yourself benighted or prefer to climb after dark.
Petzl Sirocco
Specs
Material

:

EPP and EPS Foam with Polycarbonate Shell

Weight

:

6.1 oz
Features
Extends Further Down Back of Head for More Protection
Magnetic Chin Buckle
Ultralight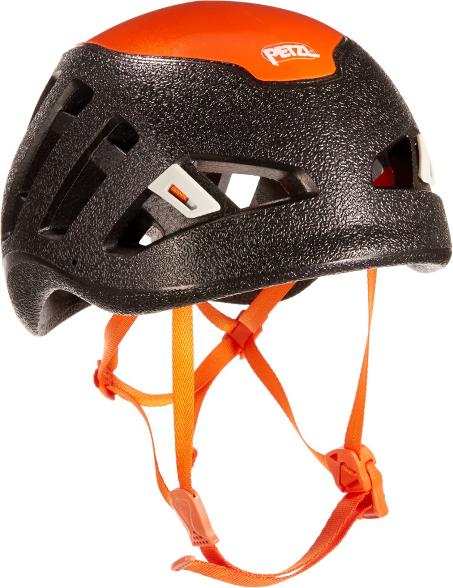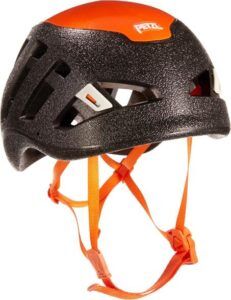 BEST FOR: LIGHTWEIGHT ALPINE ADVENTURES
If you are heading out on a long alpine adventure and really need to be light and fast, you cannot get a much lighter helmet than the Petzl Sirocco, weighing a mere 6.1 oz, which is worth the extra cost. With both light and durable materials, the EPP and EPS foam can withstand even hits from ice.
The magnetic chin buckle is also advantageous in an alpine setting when you are trying to secure your helmet while wearing gloves and the minimalist webbing is simple, although it can be a bit harder to adjust than helmets with adjustment dials. With ample ventilation, this helmet has 24 vents throughout, so you will never overheat. And similar to the Petzl Meteor, the Sirocco has two side clips and a rear V-shaped bungee for headlamp attachment.
Black Diamond Vector
Specs
Material

:

EPS Foam with Polycarbonate Shell

Weight

:

8.6 oz (M/L)
Features
Rigid Plastic Adjustment Band for a Wide Range of Sizes
Available in Women's Version (S/M)
Available with Separate Cooling Towel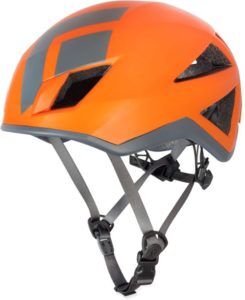 BEST FOR: VERSATILITY
If you are one of those people who has trouble finding a helmet to fit securely, you will be pleased with the Black Diamond Vector that has a rigid plastic adjustment band that can fit any head. And the ratchet system that is used to adjust the helmet sits lower than on other helmets, helping to eliminate any slipping and sliding on your head.
The headlamp attachments are simple and basic, including 4 clips (2 on either side) that you can slide the band of your headlamp under. While not quite as well ventilated as the Black Diamond Vapor, it still has great ventilation throughout the helmet. The EPS foam does cut down on the overall weight, but is also prone to some cosmetic blemishes from minor rock hits.
Mammut Wall Rider
Specs
Material

:

EPP Foam with Hard Plastic Top Piece

Weight

:

9 oz
Features
Circular Shape Offers a Low-Profile
16 Large Vents for Airflow
Fully Adjustable Chin Strap for Best Fit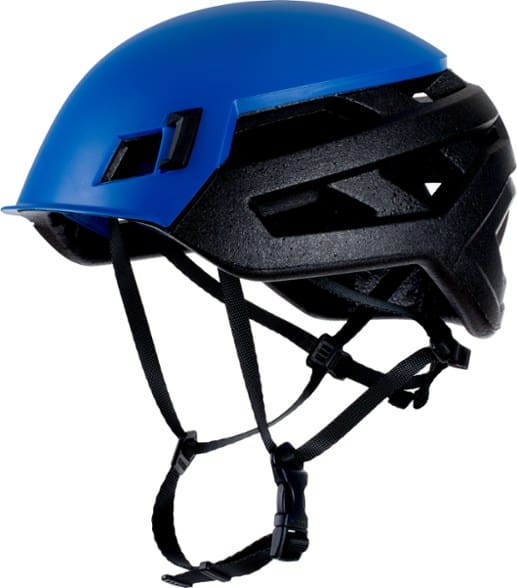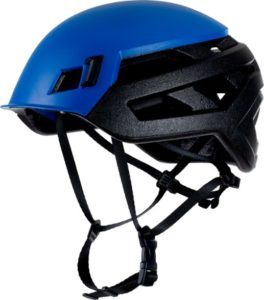 BEST FOR: LOW PROFILE FIT
While the EPP foam keeps this helmet light, it is slightly heavier helmet but very durable with the heavier plastic top shell that covers just the front half of the helmet, making it one of Mammut's top helmets. Equipped with multiple pads that attach via velcro inside the helmet, there is plenty of padding on the head. And the pads can easily be removed and washed out to prevent any funk from accumulating after a strenuous summit.
However, with 16 ventilation slots both on the sides and along the back, you shouldn't get too sweaty wearing this helmet. And for those that have a smaller head, the circular shape of this helmet has a shallower fit, making it a better fit for smaller noggins.
Grivel Stealth HS
Specs
Material

:

EPS Foam with ABS Shell

Weight

:

11.7 oz
Features
12 Vents for Airflow
Multi-faceted Design Allows the Helmet to be Thinner
Highly Adjustable Nylon Webbing so One Size Fits All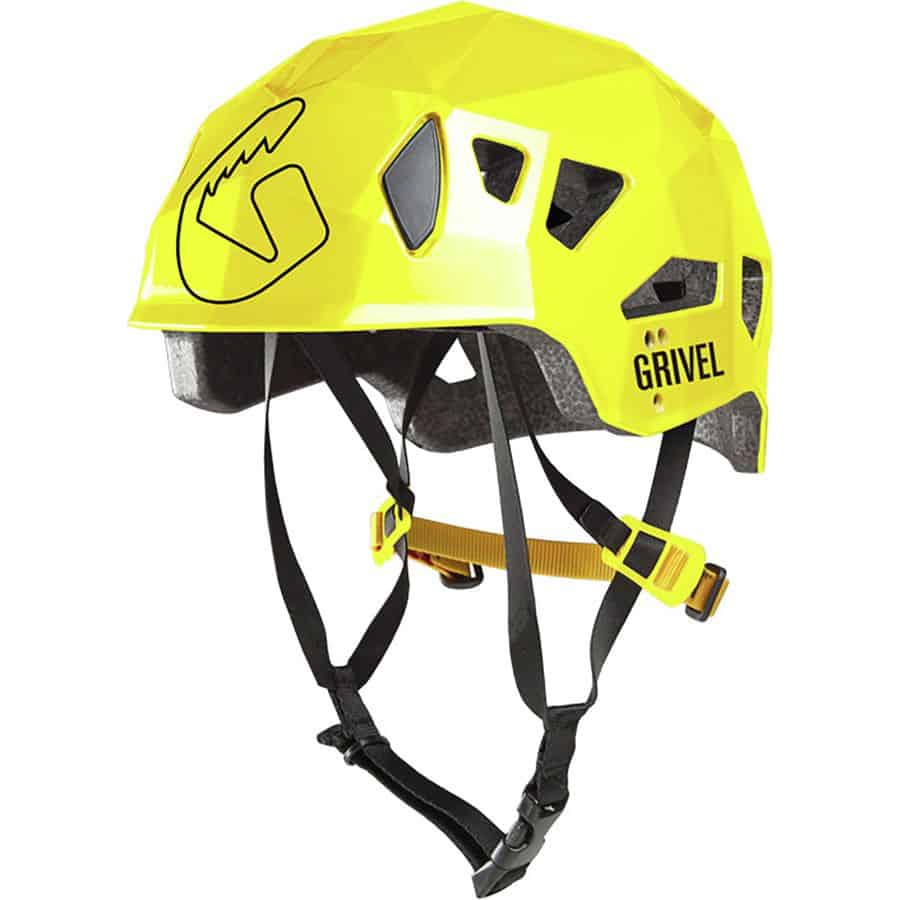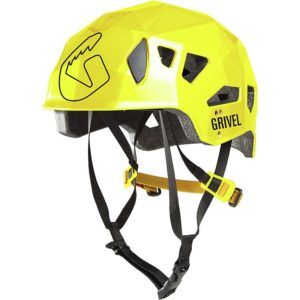 BEST FOR: ADDED PROTECTION
All the features you want with a hard shell helmet without all the weight is what you get with the Grivel Stealth HS. The Stealth comes in several varieties, but the HS (hard shell) is the most popular. The look is not what you normally see in most climbing helmets either. The Stealth is a multi-faceted design, which allows for the plastic to be thinner and ultimately, lighter. And with the flat planes in the design, your helmet is less likely to go rolling down the hill if you drop it accidentally. Both the sides and the back of this helmet are a bit longer than most helmets, so you get more coverage for that added protection should there be any impact.
C.A.M.P. USA Armour
Specs
Material

:

EPS Foam with ABS Shell

Weight

:

12.8 oz
Features
Click Wheel on Rear for Easy Adjusting
Fleece-lined Chin Strap for Comfort
Sliding Buckle on Chin Strap Allows it to be Moved to the Side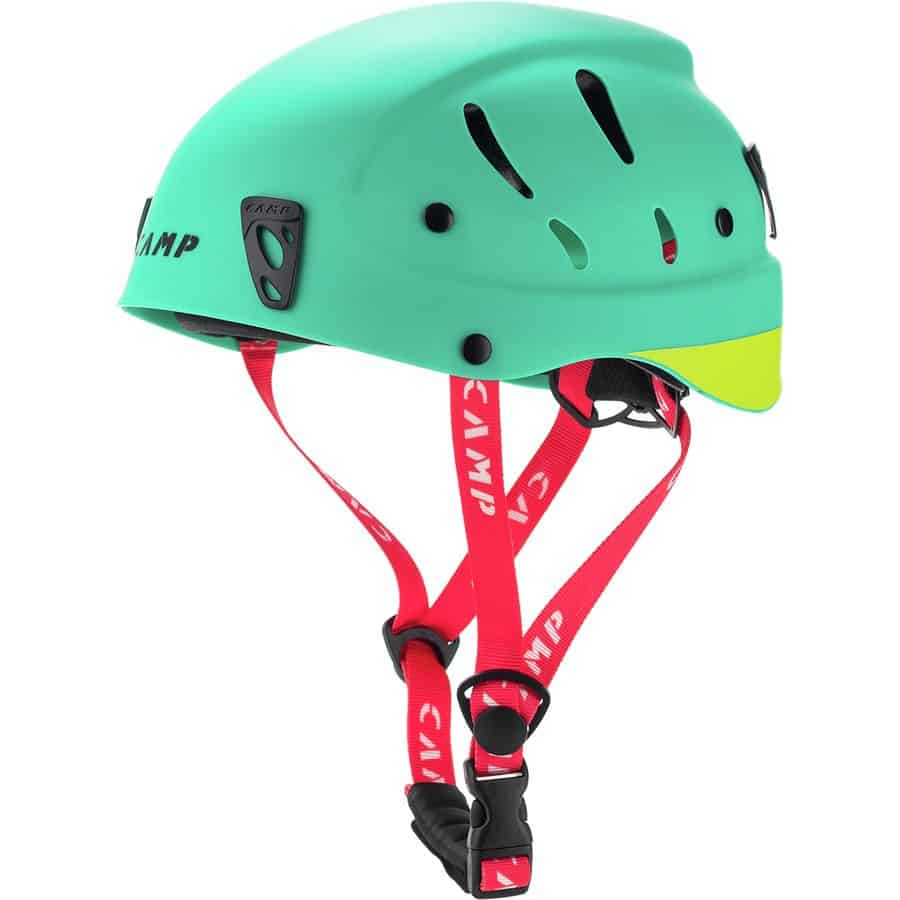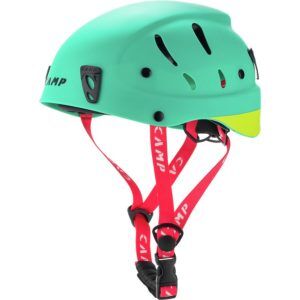 BEST FOR: AFFORDABILITY
The C.A.M.P. USA Armour is a very affordable but durable helmet. This helmet can be worn and dropped, and still come out unscathed and ready to keep performing with the hard shell outer portion and foam lining inside.
While it only comes in one size, the rear adjustment click wheel allows for easy adjusting to ensure that this helmet can fit any sized head. And recently updated, the new profile of this helmet is designed to sit lower on your head to limit sliding and provide a more secure fit. However, because it still sits slightly upward on your head, it allows for a decent amount of ventilation in addition to 10 integrated vents. This also makes wearing a thin hood under this helmet possible when it gets especially cold on your epic adventure.
Petzl Boreo
Specs
Material

:

EPP and EPS Foam with ABS Shell

Weight

:

11 oz (size 2)
Features
Covers all Vulnerable Head Features on Side, Top and Back of Head
Compatible with Eye Shield (Sold Separately)
Soft Headband Conforms to Shape of Forehead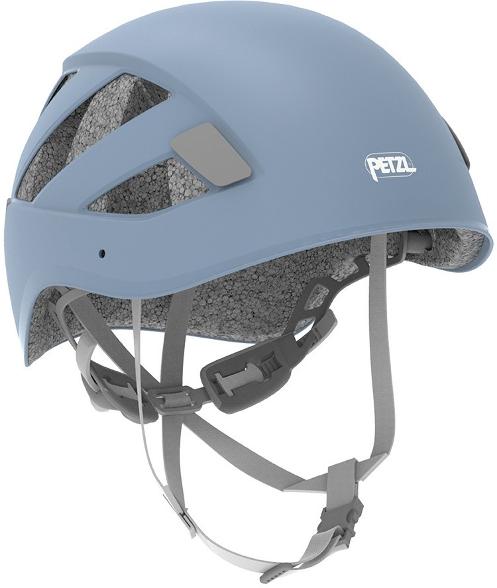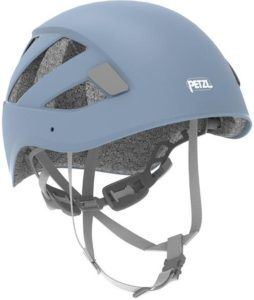 BEST FOR DURABILITY
The Petzl Boreo has you covered, literally, and protected against anything. With a softer foam on top, you are protected from any falling rocks and with a rubber foam on the rest of the helmet, your head is protected from any knocks or falls. With removable padding on both the head and forehead, any sorts of knocks on the head will help keep your helmet in place better, but also add to the overall comfort of the helmet. And Petzl makes an eye shield that is compatible with this helmet (sold separately), and attaching to the helmet can protect your eyes or glasses from loose objects.
Edelrid Shield II
Specs
Material

:

EPS Foam with Polycarbonate Shell

Weight

:

9.7 oz
Features
Unique Picture Designs on Helmet Shell
Large Click Wheel on Rear for Easy Adjusting
Adjustable Chin Strap with Closure System under the Ears for Added Comfort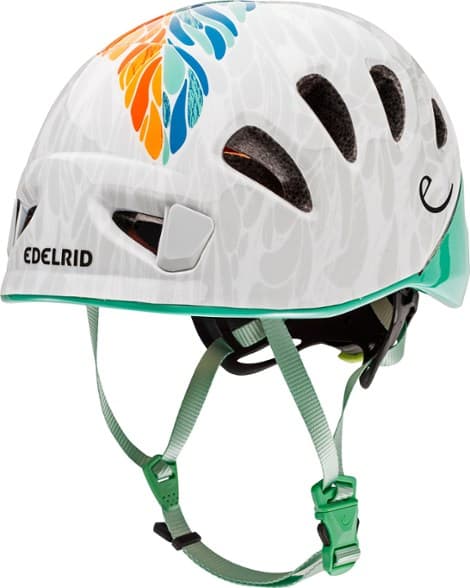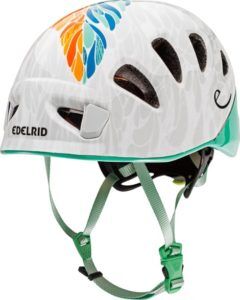 BEST FOR: ADJUSTABILITY
Quite possibly the most attractive helmet out there, the Edelrid Shield will not make you self-conscious while wearing it. I mean, because who doesn't feel like a rockstar with pictures of nuts, crampons, and icetools on her helmet? The large click wheel on the rear of the helmet makes adjusting this helmet simple, especially if you are wearing gloves and don't feel like removing them or fumbling around to adjust your helmet.
With vents on the front, side, and rear of the helmet, you can get a cross breeze to your head at anytime, keeping your head nice and cool, not drenched in sweat. But even if you find you are sweating, the removable padding in the top and forehead area will help absorb it. And like all good helmets, there are four plastic clips to attach your headlamp to, although sometimes they may pop out.
C.A.M.P. USA Storm
Specs
Material

:

EPS Foam with Polycarbonate Shell

Weight

:

8.7 oz
Features
Sliding Buckle to Secure Straps Around Ears
22 Vents for Maximum Airflow
Dial Adjustment Sits Low on Head for Maximum Comfort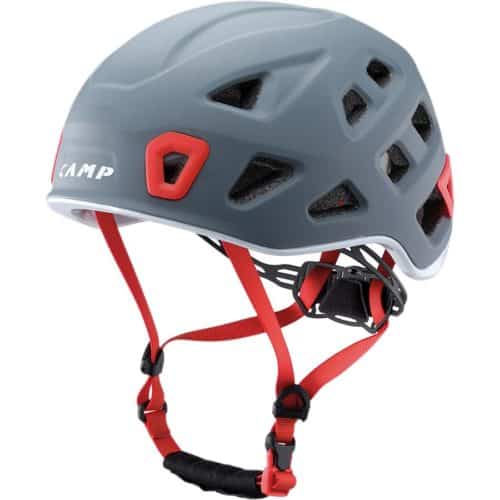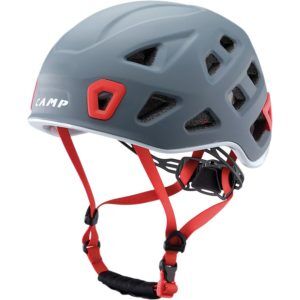 BEST FOR: TECHNICAL CLIMBING
C.A.M.P. has taken their Speed model and made it even lighter, making the Storm a good step up for more technical climbing. Fine tune adjustments are made easy with the rear dial on the straps so you can ensure a perfect fit. These adjustment areas also help keep the helmet positioned lower on your head for more protection, even if you make some pretty awesome dynamic moves. And with 22 streamlined vents all throughout the helmet, you can certainly count on this helmet to be well ventilated on those long alpine days.
Another nice feature of this helmet is the sliding buckles on the chin straps that help secure the strap around your ears, so you don't have to worry about it sliding around. These sliding buckles will keep your helmet in place nicely on your head to prevent any bunching of your hat or a buff you might choose to wear underneath.
THINGS TO CONSIDER WHEN BUYING MOUNTAINEERING HELMETS
COST
The sliding scale in the cost of mountaineering helmets is not as diverse as with other gear, but if you are on a budget, it is best to consider your options without cutting any corners when it comes to protection and durability. Saving a few bucks may not be worth compromising safety for.
VENTILATION AND MATERIAL
It's important to consider your trip details and overall needs when choosing a helmet. For example, if you are going somewhere warm or cold, ventilation is important to consider. If you are going to be encountering tough terrain, where the risk of rockfall, avalanche, etc. is higher, it's important to take a close look at the material the helmet is constructed of – both the shell and inner portion. Lightweight helmets can be constructed with a shell that may not be as durable, so it is important to make sure the under layer absorbs impacts well.
COVERAGE
It is best to choose a helmet that covers an appropriate amount of your head for the type of climbing you are looking to do. Some helmets will have more of a dome shape that covers more of your head, but can add to the overall weight. Lighter helmets may not provide as much coverage, but if you are not climbing on ice or in other more daunting alpine conditions, you probably won't need as much coverage to protect you from the unexpected.
In helmets, your forehead and as much of your occipital bone on the back of the head as possible should be covered to protect your precious brain. But is always important to look at all the options and consider your needs before choosing your helmet, and make sure you are you'll need to make sure you're wearing it correctly in order to prevent serious brain damage in case of an unexpected impact.
WEIGHT
If you are looking to climb hard and fast like on an alpine climb, you may want to consider investing in a lighter helmet. While a few ounces will probably go unnoticed by many, if you are wearing a helmet for hours on end, those few ounces may remind you of how tired and heavy your head is. But weight is never a reason to sacrifice safety.
ADJUSTMENTS
Getting the helmet fine tuned on your head will give the best fit with minimal slippage. Some helmets do a better job than others with this feature. The simplest form is tabs on webbing, which may require more time and manual manipulation that others that use adjustment dials or tabs. However, plastic can break, so sometimes webbing is more durable, even if it does take longer to adjust.
FEATURES EXPLAINED
EXPANDED POLYPROPYLENE (EPP) AND EXPANDED POLYPROPYLENE (EPS) FOAM
The foam is what takes the impact of a fall or hit, and it is lighter in weight compared to the hard plastic helmets. These foam materials are meant to take the impact, squish, deform, and can then sometimes crack, so the helmet may need to be replaced after a hard blow. EPS is the more common foam, made from packing peanut material, and can absorb hard or soft blows, but usually will need to be replaced after a hard blow. EPP is similar, but is more rubbery, meaning it can take more soft blows before having to be retired.
ACRYLONITRILE BUTADIENE STYRENE (ABS) AND POLYCARBONATE PLASTIC SHELL
A hard shell is what is on the outside of the helmet, strengthening durability, as well as giving you all the pretty colors. ABS is plenty durable, but most helmets are being made with polycarbonate because it is more so, but polycarbonate is stronger and more flexible, so thinner sheets can be used, making the helmet last longer since it will not be as brittle.