Updated on March 29, 2022
Whether it's your first time climbing or your 100th, when the slope is steep or there's ice and hard pack underfoot, there's one thing you need more than anything: crampons. Crampons are a series of sharp metal teeth that attach to your boot and bite at ice or hard snow for added traction. You need them when ice climbing and for rugged backcountry skiing because you may not be able to ascend without them. Quite literally, crampons could save your life.
With such a life-saving piece of equipment, the last thing you want is a cheap pair of crampons that breaks halfway-up the mountain and leaves you stranded with now way to descend. Fortunately, to ease that worrying mind of yours, we here at The Adventure Junkies have put together a list of the ten best crampons out there. Read through the options below to find out which crampons will be the best for you.
For more of our top mountaineering gear recommendations, check out the Best Mountaineering Boots.
Quick Answer

-

The Best Mountaineering Crampons
Black Diamond Sabretooth Pro
Comparison Table

-

Best Mountaineering Crampons

For the best experience turn your device horizontally
Reviews

-

The Best Crampons for Mountaineering
Black Diamond Sabretooth Pro
Specs
Material

:

Stainless Steel

Weight

:

890 Grams

Entry

:

Step-In
Features
Increased Rocker On Front To Better Accommodate Modern Boots
Micro-Adjust Heel For Precision Fit
Anti-Stick Snow Plates On Rear And Front Of Crampon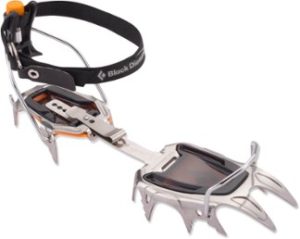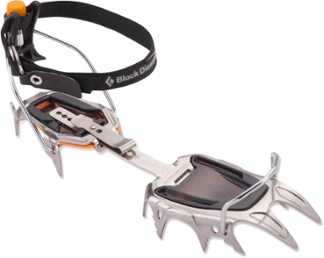 BEST FOR: SNOWY ENVIRONMENTS
Black Diamond has been a leading producer of mountaineering gear since the birth of the sport itself and their crampons are no exception. The Sabretooth Pro Crampons are a phenomenal all-around crampon built to function highly on alpine faces and snowy ascents. Outfitted with two steel plates underfoot that prevent snow from sticking to your tread and an adjustable heel to guarantee precision fit, these crampons will fit snug and strong for your climb. 
We highly recommend these to climbers and mountaineers of all ranges looking for a crampon that they can take into any environment with confidence.
Petzl Dart Crampons
Specs
Material

:

Steel/Nylon

Weight

:

820 Grams

Entry

:

Step-In
Features
Lateral Reinforcements Provide Stability On Different Kinds Of Ice
Easy-To-Change Length And Width
Replaceable Front Points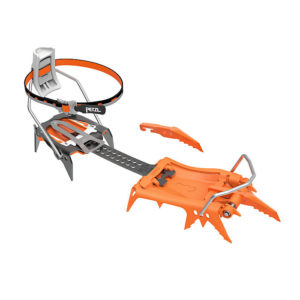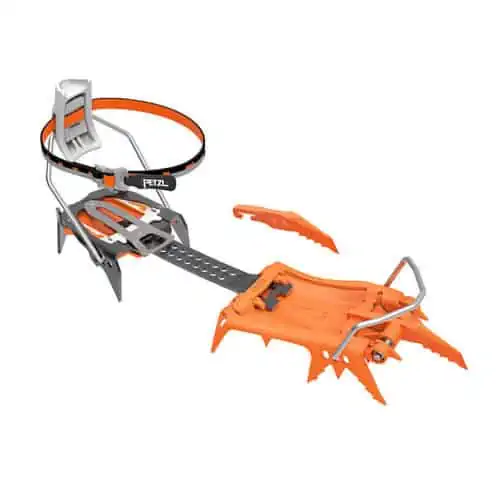 BEST FOR: ROUGH CLIMBING
With replaceable front points and a lightweight, streamlined fit, these crampons are best in dry, icy environments where you may have to battle through some black ice and rocks. The additional lateral points provide added stability for thin and invisible ice while the unique design means you can use this crampon on a wide variety of surfaces. 
Though capable of getting you up and over any terrain, we highly recommend these crampons specifically for rough and rocky climbing because once worn down, you can replace the front section and extend their lifespan.
Grivel G10 New Classic
Specs
Material

:

Chromoly Steel

Weight

:

822 Grams

Entry

:

Strap-On
Features
Usable With Leather, Plastic, Or Synthetic Boots
Single Strap Closure Keeps Binding In Place
10-Point Cramp For Maximum Traction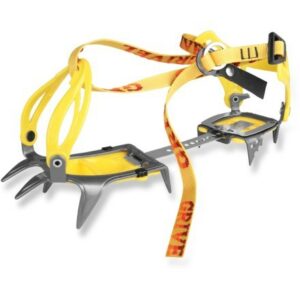 BEST FOR: BACKCOUNTRY SKIING
Great for deep powder and backcountry skiing, the Grivel G10 New Classic Crampons are often referred to as an excellent hill-climbing crampon. Built to withstand mild ice and prevent snow build-up, these 10-point crampons will work with any type of mountaineering boot and should stay flexible in cold temperatures as well. 
Unlike other boots, you can also remove their anti-stick snow plates for drier climates. We highly recommend them to beginner or intermediate climbers looking to attack moderate terrain.
Camp USA Stalker
Specs
Material

:

Chromoly Steel

Weight

:

940 Grams

Entry

:

Strap-On
Features
12-Point Crampon For Superior Traction On Slippery Rock And Ice
Universal Binding Fits Most Boots
Carrying Case Included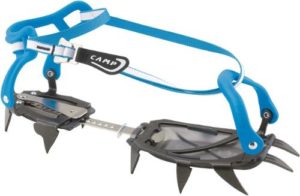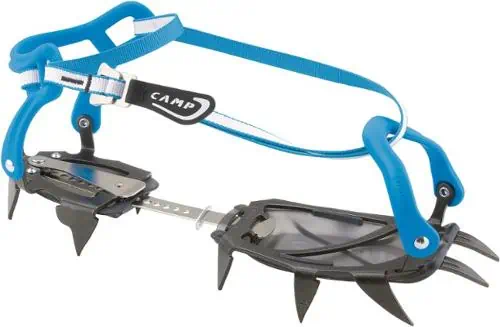 BEST FOR: MILD MOUNTAINEERING
This sturdy, 12-point crampon is made from chromoly steel for excellent strength, grip, and durability on the mountain side. The unique design requires no tools for adjustment and these crampons even come with a carrying case to separate them from your clothes while they're stored away in your backpack. 
Like most other crampons, the anti-balling, or anti-stick, plates prevent snow and ice from building up in your tread while the nylon straps hold these crampons tightly to your foot. We highly recommend these crampons for all mild mountaineering adventures.
Black Diamond Cyborg
Specs
Material

:

Stainless Steel

Weight

:

1,078 Grams

Entry

:

Step-In
Features
Semi Rigid Construction Allows For Two Bases Or One Underfoot
Micro-Adjust Lever For Precision Fit
Anti-Rust Metal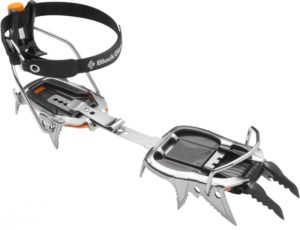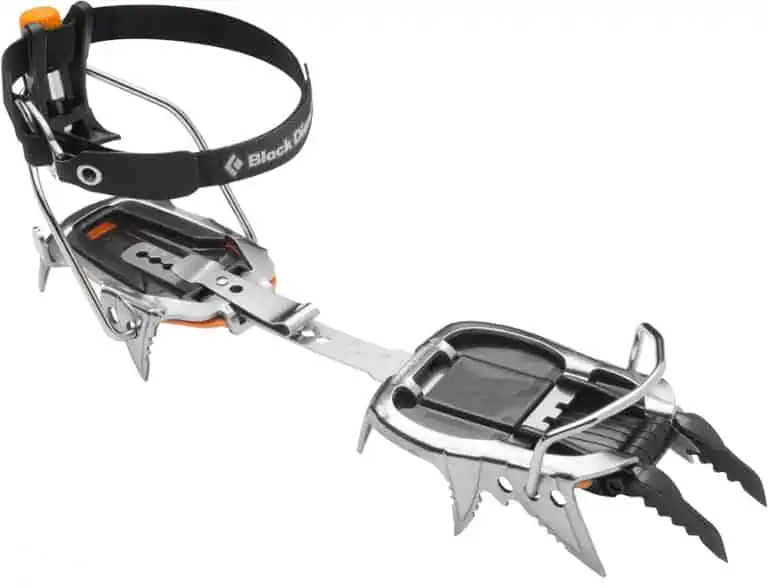 BEST FOR: ICE CLIMBING
These jagged edged crampons are strong, sharp, and long-lasting. Made without the toxic coatings of other crampons that wear off in the elements, the Black Diamond Cyborg crampons are built to prevent rust and other corrosion. Their low-profile wheel adjustment on the rear enables quick tightening and loosening while climbing and the aggressive design ensures firm traction to any surface, no matter how vertical. 
We highly recommend these to ice climbers looking to tackle some serious terrain. These will hold up against any sheet of ice, no matter how dense.
Petzl Leopard FL
Specs
Material

:

Aluminum

Weight

:

360 Grams

Entry

:

Strap-On
Features
Crampons Condense To A Smaller Size For Transportation
Carrying Pouch Included
Usable With Shoes And Mountaineering Boots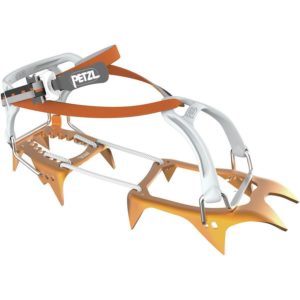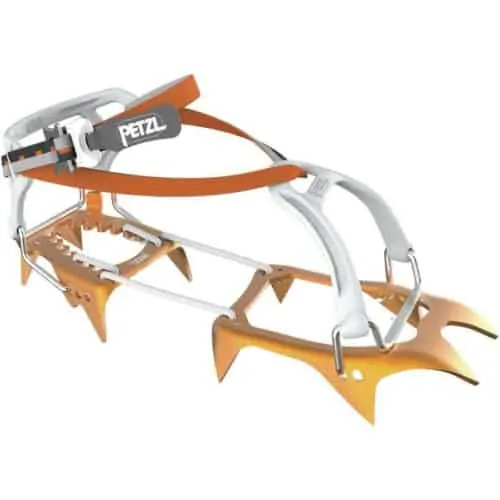 BEST FOR: MINIMALISTS
If a lightweight crampon is what you need for your next expedition, then look no further. Petzl's Leopard FL Crampon may not be the most durable model out there, but weighing only 360 grams, this is by far one of the lightest crampons on the market. With a compact design that squeezes together for easy transportation and a tool-less, adjustable structure, you'll be able to store these away for any trip and adjust them as needed on the fly. 
We highly recommend these crampons to minimalist hikers and climbers looking for an extremely lightweight crampon that will pack away in the tiniest corners of their bag. The only aspect to note is that the drop in weight may result in less durability, so if you're anticipating putting a lot of stress on your crampons, you may want a tougher model.
Petzl Lynx
Specs
Material

:

Tempered Steel

Weight

:

1,080 Grams

Entry

:

Step-In, Hybrid
Features
Interchangeable Front Bindings Adapt To Most Boots
Anti-Snow Plates Prevent Snow From Sticking To Foot
Modified With One Screw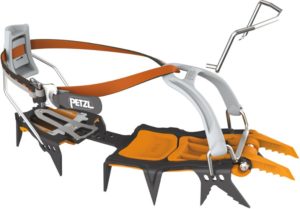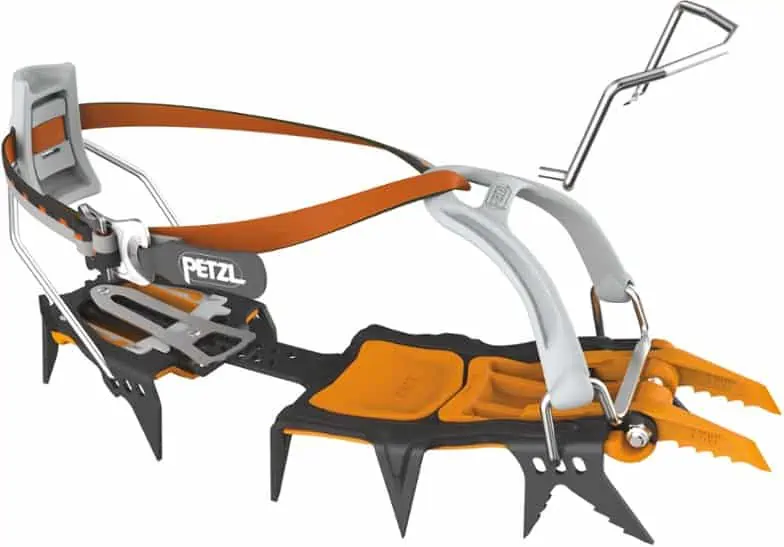 BEST FOR: EXPERT CLIMBERS
As one of the more expensive models on our list, the Petzl Lynx Crampons are built for high-level ice climbers and mountaineers adventuring in extremely rugged terrain. These crampons come with interchangeable front bindings so that you can wear them with several different variations of boots. You'll also notice that they have a thin, but well designed under-plating that prevents snow from balling up on your foot. 
These are by far one of the most versatile and durable crampons on the market and we highly recommend them to expert mountaineers looking to tackle difficult terrain.
Grivel G-12 New-Matic
Specs
Material

:

Chromoly Steel

Weight

:

950 Grams

Entry

:

Hybrid
Features
Anti-Snow Plates Prevent Snow From Sticking To Boot
Straps Anchor Toes While Clip-In Design Secures Heel
Adjustable Without Tools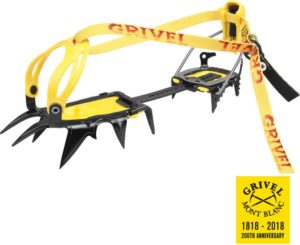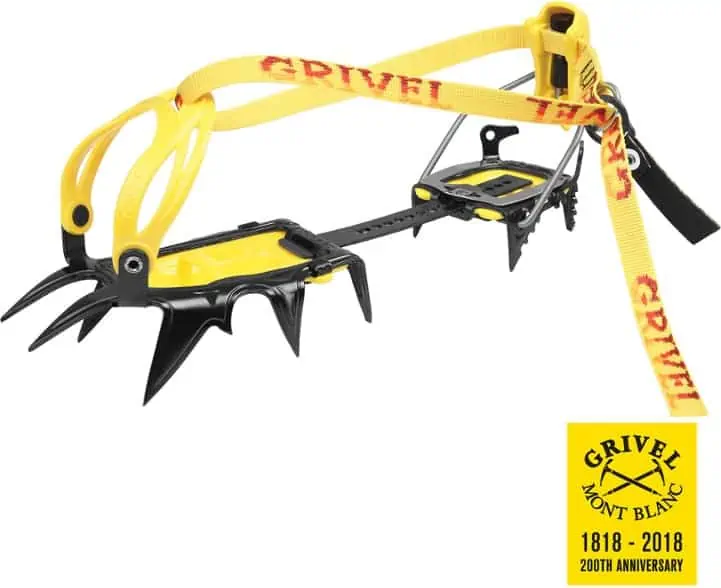 BEST FOR: ALL MOUNTAINEERING
A unique hybrid construction affords the Grivel G-12 New-Matic Crampons a more secure fit to the boot. Whereas other crampons may come with only two points of security, the G-12 crampons utilize a front strap, ankle strap, and rear clip-in design to secure the crampon to your boot. And to make matters easier, if you do need to adjust them on the fly, a tool-less design means you won't need to carry a screwdriver while trekking. 
Stronger than aluminum crampons but not quite as strong as tempered steel, the G-12 crampons are a high-level, durable crampon that will work well in just about any environment.
Petzl Vasak
Specs
Material

:

Tempered Steel

Weight

:

810-875 Grams Depending On Style

Entry

:

Hybrid
Features
Anti-Snow Plates Prevent Snow From Sticking To Boot
12-Point Crampon For Superior Traction On Ice And Snow
Compatible With Or Without Toe Welts (Small Bump On Boot)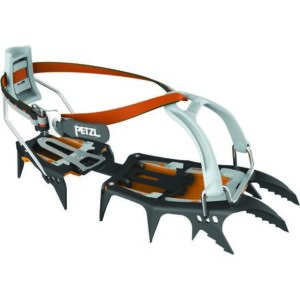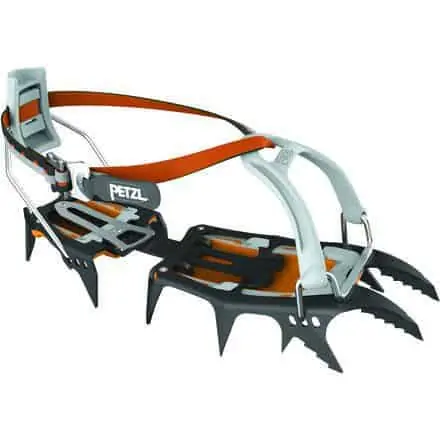 BEST FOR: CLASSIC MOUNTAINEERING
Compatible with hiking, ski, and alpine boots, the Leverlock Vasak can attach to your foot with either a clip-in or strap-in design. This gives you the freedom to adventure into otherwise inaccessible territories and the freedom to do so with any boot on your foot! The 12-point and tempered steel construction makes these some of the most durable and gripping crampons on the market.
Surprisingly lightweight for such a strong, versatile, and extremely durable crampon, we highly recommend these to classic mountaineers in snowy and icy environments.
THINGS TO CONSIDER WHEN BUYING MOUNTAINEERING CRAMPONS
When things get serious, crampons will keep you rooted to the ground or rockface, so you should definitely take your time picking them out. Some do better on rock, others on ice or snow, and a few moderately on everything. Take a moment to read through what REI has to say on how to buy crampons and what Rock And Ice suggests on buying crampons as well. Once you're all set with that, take a minute to read through some of the key points to consider when buying the best mountaineering crampons for you below.
MATERIAL
What are the crampons made of? Aluminum, chromoly steel, tempered steel? Make sure you know exactly what your crampons are made of and relate that back to the environment you plan on using them in. Aluminum crampons are going to run lighter than others, but won't be as durable. Tempered steel crampons, on the other hand, are much heavier but by far the most durable. And finally, chromoly steel crampons sit somewhere in between. If you're heading into really rugged terrain, you're going to want the most durable crampon possible, which would be crampons made of tempered steel.
ENTRY
How does the crampon attach to your boot? Do you clip-in or use straps to tighten it in place? The attachment style will have an affect on which pair of boots you choose to use for your mountaineering adventure. Hiking boots don't have toe and heel welts (attachment bumps), so if you plan on hiking, you're going to need a strap-in style crampon. Consider the same points for alpine, telemarking, and mountaineering boots as well. Make sure the crampon can attach to your boot.
WEIGHT
Weight doesn't factor in too much with crampons, but if you're a minimalist looking for a light model, recognize that in most cases, you'll be sacrificing some of the crampon's rigidity and durability for that light weight.
FEATURES EXPLAINED
WELTS
The small bumps on the heel and toe of your boot meant to secure crampons in place by clipping into them.
STEP-IN OR CLIP-IN
The crampon attaches to your boot by means of a clip-and-lock system that attaches to the toe and heel welts of your boot.
BAIL
A small bar, often metal, that hooks over and around the toe and heel welts of your boot to help secure the crampons to your feet.
HYBRID
A hybrid attachment system means that the crampon will utilize both straps and clip-in features to attach to your boot.