Updated on October 30, 2020
Whether you're backcountry skiing or high-altitude mountaineering, you may not be able to reach the summit (or the ground) without a trusty ice axe by your side. Held tightly to your body with a strap around your wrist, an ice axe will not only help you to dig your way up sheer, vertical glaciers but it will also save your life at a moment's notice. So whenever you set out on an icy adventure, we highly recommend bringing along the best mountaineering ice axe you can find.
Unfortunately, finding the right ice axe for your needs can seem like a difficult task. For such a small piece of equipment, they're pretty expensive. And how could you possibly know which one is capable of saving your life? Fortunately, our experts here at The Adventure Junkies picked out our ten favorite mountaineering ice axes to help make your decision a little easier. So read through the list below to find out which is your next companion.
For more of our top mountaineering gear recommendations, check out the Best Mountaineering Boots.
Quick Answer

-

The Best Mountaineering Ice Axes
Comparison Table

-

Best Mountaineering Ice Axes

For the best experience turn your device horizontally
Reviews

-

The Best Ice Axes for Mountaineering
Black Diamond Raven
Specs
Material

:

Stainless-Steel And Aluminum Shaft

Pick Shape

:

Classic Curve

Shaft Shape

:

Straight
Features
Aluminum Shaft Reduces Weight Without Sacrificing Strength
Teeth Securely Bite Snow
Ergonomic Hand Hold Creates Secure Grip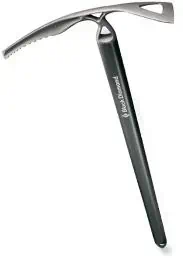 BEST FOR: EASIER ASCENTS
The classic design of the Black Diamond Raven gives climbers a secure and reliable tool for navigating icy slopes. Its sharp, stainless-steel teeth will bite into any surface and efficiently self-arrest you if you fall or glissade down a mountain face. The lightweight aluminum shaft will fit perfectly into any bag loop and won't weigh heavily on your hike. 
With this ice axe, however, note that while the structure will help with self arrests and glissading, you may want a more streamlined design for serious ascents. This ice axe may not be able to chew away at the toughest of ice falls, so we recommend a stronger, more powerful axe for serious mountaineers.
Petzl Summit Evo
Specs
Material

:

Aluminum/Steel/Polyurethane

Pick Shape

:

Classic Curve

Shaft Shape

:

Bent
Features
Thin Pick Is Toothed At Tip For Maximum Traction
Head And Spike Have Holes For Carabiner Attachment
Bent Shaft Creates More Power
BEST FOR: CLASSIC MOUNTAINEERING
The lightweight Summit Evo Ice axe is a versatile, strong tool that can dig into the roughest of surfaces. Easily held at the handle for strength or just under the pick for control, the Evo's pick is made thicker in the middle for soft snow and sharp toothed at the tip for thick ice. The stainless steel spike itself will last through many expeditions while the grip ensures a comfortable feel. 
This is a strong, reliable, and lightweight axe that may take a bit of experience to perfect in use, but in the long run, will pay endless dividends. We highly suggest this axe to strong mountaineers looking to scale some serious terrain.
Camp USA Corsa Nanotech
Specs
Material

:

Aluminum/Steel

Pick Shape

:

Classic Curve

Shaft Shape

:

Bent
Features
Nylon Spike Plug Keeps Ice Out Of Shaft
Indicator Warns When Pick Is Too Dull For Use
Separately Sold Leash Attaches To Shaft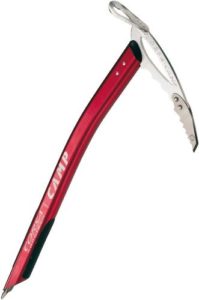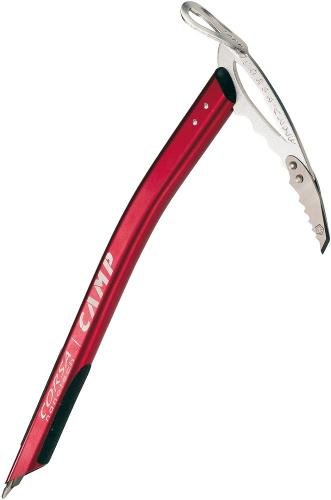 BEST FOR: SNOW TRAVEL AND SELF ARREST
Made uniquely with patented Sandvik Nanoflex steel, the Camp USA ice axe is 70% stronger and 20% more durable than normal steel ice axes. Even more impressive, this tradeoff does not result in an overly heavy ice axe, but rather a lightweight, bent tool that provides climbers with enough clearance to ascend without too much of a bent to irritate them. 
Other features include a separately sold leash that attaches to the shaft as well as a nylon plug that restricts ice from rattling around in the shaft of your axe. These small but useful features make the Camp USA stand out as one of the strongest and most reliable ice axes on the market. Take note, however, that with curiver ice axes, you may be able to get a bit more power than with this Camp axe.
Grivel Ghost Evo
Specs
Material

:

Carbon Steel

Pick Shape

:

Classic Curve

Shaft Shape

:

Bent
Features
Made With Strong Carbon Steel
Certified To European Health, Safety And Environmental Standards
Lightweight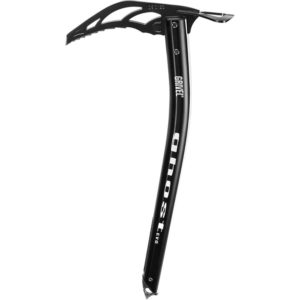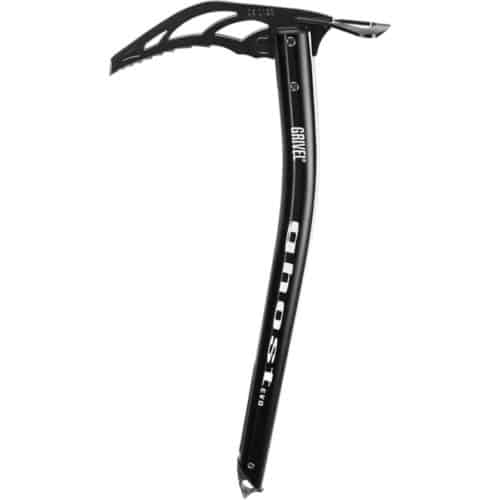 BEST FOR: INTERMEDIATE MOUNTAINEERS
The unique, bent design of the Grivel Ghost Evo Ice Axe grants climbers enough clearance to ascend the steepest of slopes while its sharp toothed, curved pick allows climbers to get technical with their ascents as well. The carbon steel material will withstand more impact and wear than most other ice axes and the pick itself, which is more curved than competing models, may dig deeper into ice chunks for added stability. 
We recommend this ice axe for beginners looking to tackle technical ascents. The design and weight of it make it an easy-to-use technical ice axe.
Black Diamond Venom Adze
Specs
Material

:

Aluminum/Stainless Steel

Pick Shape

:

Classic Curve

Shaft Shape

:

Bent
Features
Precise And Adaptable To Any Terrain
Interchangeable Pick
Sliding Pommel Lock Allows For Higher And Lower Grips Depending On Terrain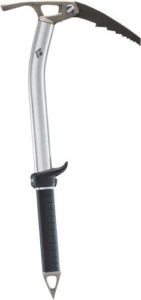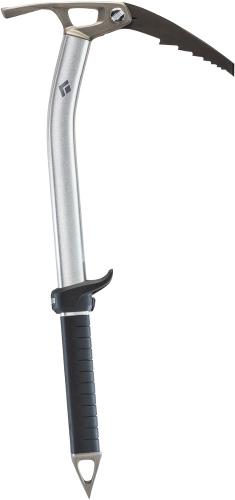 BEST FOR: MULTISPORT CLIMBERS
The Black Diamond Venom Adze Ice Axe may cost more than others, but with a uniquely versatile design, it's worth the investment. A light, fast shaft paired with a technical pick combines to make a super strong ice axe. And, with an adjustable pommel that you can slide up and down and lock into place with a small lever, you can use this tool on both steep and mild slopes. 
All together, it's features make the Venom Ice Axe a well-rounded tool for mountaineering, back-country skiing, and snow climbing. Other axes may be more specialized, but if you have a wide variety of interests, we recommend the Venom Ice Axe for all your needs.
Cassin X-All
Specs
Material

:

Aluminum/Chromoly Steel

Pick Shape

:

Reverse Curve

Shaft Shape

:

Bent
Features
Interchangeable Ice Pick
Easy-To-Adjust Grip
Easily Attaches To A Carabiner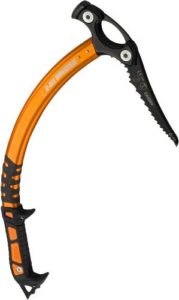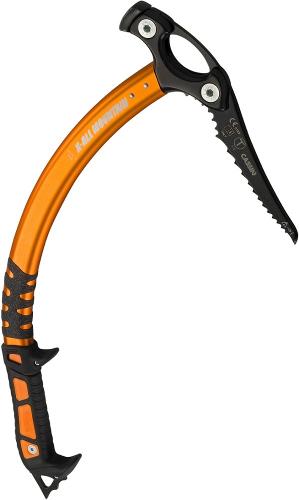 BEST FOR: LOW-ANGLE CLIMBING
There are few ice axes out there that come with a reverse curved pick and even fewer capable of digging into an ice fall when there's little to no angle. Fortunately, the minds over at Cassin have crafted a near-unbeatable all-mountain ice axe that functions particularly well in low-angle climbing. This pick, with a very unique design, uses chromoly steel for digging into the ice and an easily adjustable grip for all hand sizes. 
Made in Italy, we suggest this to extreme, muli-sport mountaineers looking to climb large overhangs and ice waterfalls.
Grivel G1/G1 Plus
Specs
Material

:

Carbon Steel

Pick Shape

:

Classic Curve

Shaft Shape

:

Bent
Features
Spiked Shaft To Aid Climbing
Lightweight Design
Certified To European Health, Safety And Environmental Standards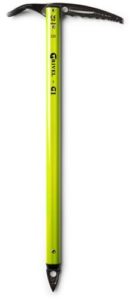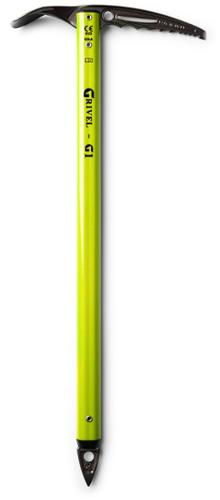 BEST FOR: BACKCOUNTRY SKIING
Much Like Black Diamond's Raven Ice Axe, the Grivel G1 and G1 Plus are classic, reliable ice axes for mild terrain and backcountry skiing. Unlike the Grivel G1, which boasts a straight shaft and curved pick, the G1 Plus adds in a slightly curved shaft to enhance mobility and power. So, if you're a beginning climber and you're looking for the most basic model out there, we recommend the G1, but if you're slightly more experienced and only foresee using your ice axe for backcountry skiing and self arrests, we suggest the G1 Plus. It won't weigh you down and is more than reliable for any moderate backcountry expedition.
Petzl Ergo
Specs
Material

:

Steel Head And Aluminum Shaft

Pick Shape

:

Reverse Curve

Shaft Shape

:

Bent
Features
Rubber Grip For Traction
Adjustable Handle For Multiple Grip Positions
Ultra-Curved For Extreme Clearance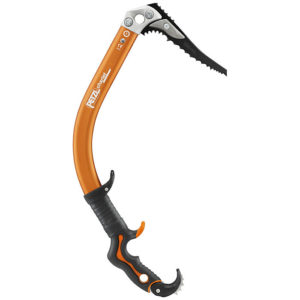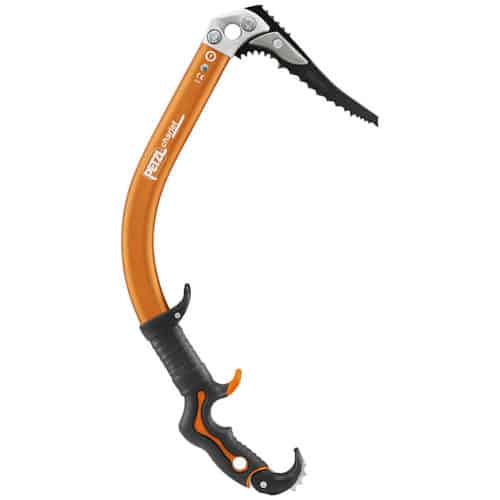 BEST FOR: EXPERT MOUNTAINEERS
Though it may be the most expensive ice axe on our list, the Petzl Ergo is by far the most advanced tool we've found. Built especially for high-end, steep slope, technical climbers and mountaineers, the Petzl Ergo offers an unrivaled clearance of terrain with a design that enhances mobility and strength. Other features include an interchangeable dry-weather pick as well as an adjustable handle for more control in steep environments. 
If ice climbing is not just a passion for you but a way of life, then we highly recommend investing in an ice axe such as Petzl's Ergo that can match your intensity.
Trango Raptor
Specs
Material

:

Aluminum, Steel And Rubber

Pick Shape

:

Reverse Curve

Shaft Shape

:

Bent
Features
One-Piece Molded Rubber For Grip
Deep Penetrating Pick That Cleans Easily
Removable Weights For Added Versatility
BEST FOR: ADVANCED MOUNTAINEERING
A well-crafted ice axe, the Trango Raptor sports a high quality, deep penetrating pick as well as a molded grip for comfort. This simple, yet effective ice axe can be counted on for any expedition and will do just fine on technical ascents as well as fitness-heavy climbs. With its curved design and reversed pick, it may not be best for backcountry skiers looking for a self-arresting ice axe, so we recommend this strictly to mountaineers and ice-climbers looking for a reliable tool to get themselves up the mountain.
Black Diamond Reactor
Specs
Material

:

Aluminum Shaft, Stainless Steel Head And Chromoly Steel Pick

Pick Shape

:

Reverse Curve

Shaft Shape

:

Bent
Features
Open Pick Angle Makes Climbing Ice Easier
Handle Offers Wide Grip And More Control
Short And Thin Pick Easily Digs Into Ice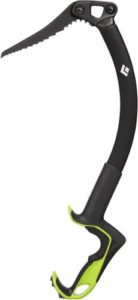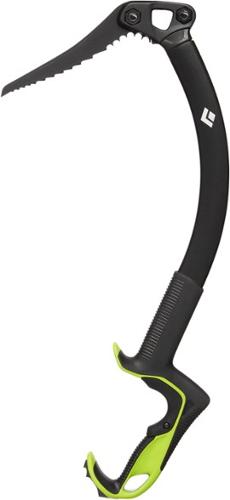 BEST FOR: HIGH-LEVEL ICE CLIMBERS
With an extra wide, offset handle for control, when you're climbing with the Black Diamond Reactor you'll be able to get more strength and power behind each swing. The pick is made thin and short so that when it collides with the ice, instead of knocking off a huge chunk, it'll slide right in like a needle. This design makes for a slightly heavier ice axe, but a much more reliable and precise one in the field of outdoor adventure. We highly recommend it to high-level ice climbers.
THINGS TO CONSIDER WHEN BUYING A MOUNTAINEERING ICE AXE
For such a pivotal piece of equipment, when you're buying your first or next ice axe, you're going to want to do some research to find out which is the best mountaineering ice axe for you. To get a good base, read through what REI has to say on Choosing An Ice Axe and the Ice Axe Knowledge EMS offers as well. Afterwards, take a quick glance through our list of key points to consider before buying your ice axe from the list above. 
ENVIRONMENT
Where and how do you intend on using your ice axe? The environment and weather conditions you plan on using your axe in will dramatically affect which one you should buy. Backcountry, snowy conditions will tend to a longer, lighter axe, while quick climbs and steep ascents will call for a shorter, sharper ice tool. 
LENGTH: ICE AXE VS. ICE TOOL
Though we've listed out all the above as ice axes, there is a technical distinction between ice axes and ice tools. Ice axes are often bigger and sport a more classic look. You'll use these in snowy environments or while backcountry skiing. Ice tools are meant especially for ice climbing and their primary purpose is to get you up an incline. These are more technical tools so they will often be shorter and sport a few more features to improve their handling. 
SHAPE
If you're ice climbing a waterfall, you're almost definitely going to want a curved shaft as it'll increase your control, but if you're simply backpacking or hiking through extreme terrain, a straight or only slightly bent shaft will do as the tool's primary purpose will be for an emergency self-arrest or added stability when traversing. 
COST
As a general rule of thumb, the cheaper the ice axe, the less technical the tool. Cheap ice axes will always work in snowy conditions, but if you find yourself climbing extensively, much like a cheap knife, they may not hold an edge as long. As always, if you're climbing serious terrain, invest the money in serious equipment. It could save your life. 
FEATURES EXPLAINED
CLASSIC CURVE PICK
Great for self arrest and holds better in ice.
REVERSE CURVE PICK
Removes quickly and easily from ice. 
BENT SHAFT
An ice-axe shaft may be curved or bend slightly at a point.