Updated on February 15, 2022
Life in the mountains is your passion, but getting there requires a good deal of equipment. Among the list of gear you need to venture safely into the alpine is a safe and reliable mountaineering harness. That crag or gym harness you wear repeatedly throughout the year probably isn't an ideal choice when you decide to undertake your first (or umpteenth) alpine adventure. That's why our team of mountaineers at The Adventure Junkies created a list of the best mountaineering harnesses, to help you choose a new faithful harness that will work tirelessly for you in the mountains as your other harness does for you on the rock (or plastic).
While there are many harness choices to select from, it is best when purchasing a mountaineering harness to know what your needs will be. Whether you are ice climbing, mixed climbing, or simply heading out on a long alpine adventure in unknown terrain, there is a harness that will get you there. Bring on the summits!
For more of our top mountaineering gear recommendations, check out the Best Mountaineering Backpacks.
Quick Answer

-

The Best Mountaineering Harnesses
C.A.M.P. USA Alpine Flash
Comparison Table

-

Best Mountaineering Harnesses

For the best experience turn your device horizontally
Reviews

-

The Best Mountaineering Harnesses
Black Diamond Couloir
Specs
Adjustable Leg Loops

:

Yes

Haul Loop

:

Yes

Ice Clipper Slots

:

4

Weight

:

7.6 oz

Waist Belt Construction

:

Fusion Comfort Technology

Gear Loops

:

2
Features
Speed Buckles For Easy On/Off With Skis Or Crampons
Hydrophobic Fabric Prevents This Harness From Absorbing Water And Weighing You Down
Very Lightweight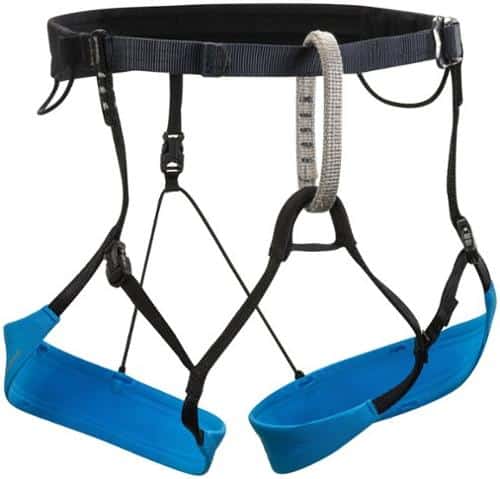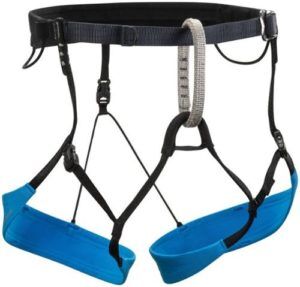 BEST FOR: CREVASSED SKI TERRAIN
The Black Diamond Couloir – a harness that is right at home on technical adventures. With speed buckles, this harness can be put on or taken off quickly, eliminating the need to remove your skis or crampons every time. Weighing in at only 7.6 oz, this harness is an ideal option for adventures where you need to go light and fast.
Designed with only two gear loops, it might not be the best choice for ice climbing, but with four ice clipper slots, you have room for some screws and your axes in the high alpine or glaciers. This harness is made with Black Diamond's proprietary Fusion Comfort Technology, making it extremely comfortable for any climber. It's also constructed with hydrophobic (re: water repellent) fibers, so it will not absorb water in snow travel, eliminating the worry of it becoming wet, heavy, and frozen! And best of all, the Couloir harness packs down into the size of an orange, so it takes up no space in your pack.
Petzl Altitude Orange
Specs
Adjustable Leg Loops

:

Yes

Haul Loop

:

Yes

Ice Clipper Slots

:

No

Weight

:

5.3 oz

Waist Belt Construction

:

Wire Frame Technology

Gear Loops

:

4
Features
Clips On The Leg Loops Mean That This Harness Can Be Put On With Both Feet On The Ground
Bright Orange Color Makes You Super Visible In The Snow
Light Weight Makes This Harness Ideal For Ultralight Alpine Adventures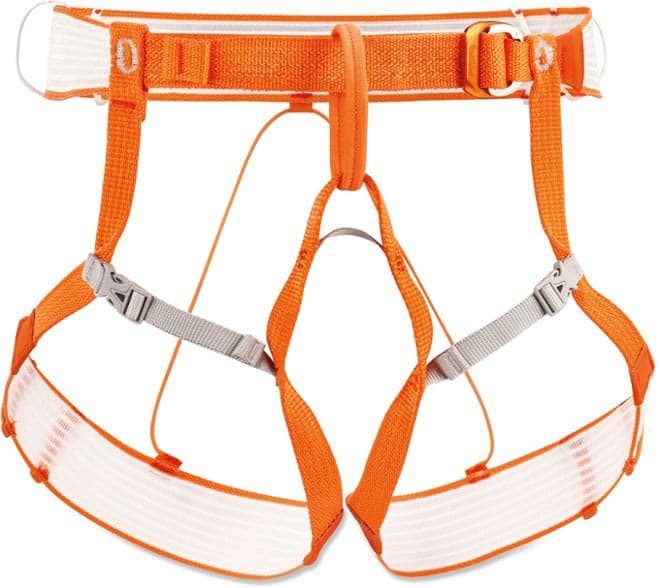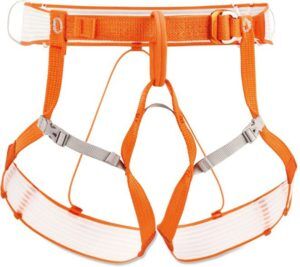 BEST FOR: ALPINE SKIING
So thin and so lightweight, the Petzl Altitude is a harness than can be worn comfortably all day long. Clips that can be opened and closed on the leg loops is a huge bonus of this harness when it comes to skiing – you don't ever have to take your feet off the ground to put it on or take it off!
Designed with four gear loops, you have space for all the necessary equipment to get you to the top of your ski or alpine destination. However, to cut down on weight, the loops are slightly floppy, which can make it harder to clip carabiners to. The Altitude harness is ultralight, weighing only 5.3 oz, and it packs down super small. And as the name denotes, it is a bright orange, which can be an added safety feature when out in snow travel.
Petzl Sitta
Specs
Adjustable Leg Loops

:

No, Elastic

Haul Loop

:

Yes

Ice Clipper Slots

:

2

Weight

:

9.7 oz

Waist Belt Construction

:

Wire Frame Without Foam

Gear Loops

:

4
Features
Ultralight
Front Gear Loops Contain Spacers To Effectively Organize Gear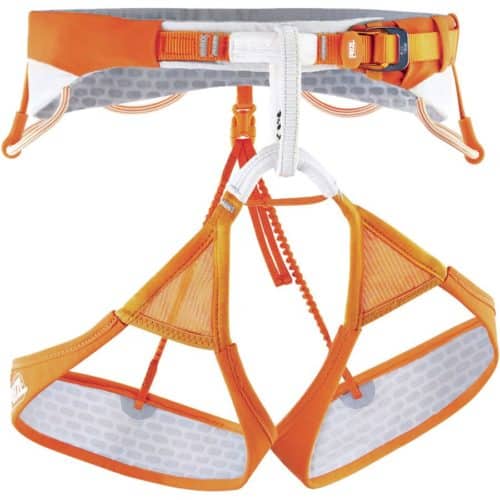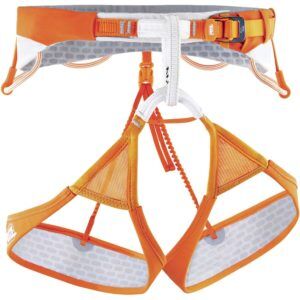 BEST FOR: MINIMALIST MOUNTAINEERING
When every ounce counts, the Petzl Sitta is your harness. Weighing just 9.7 oz (size medium), you will hardly even notice you are wearing this harness. And if you need to move fast in the mountains, you know lightweight equipment is essential and worth the investment this slightly higher price tag carries.
Equipped with two ice clipper slots, you have the ability to put clippers on the harness to hold your tools and/or screws. And with two gear loops on either side that lay flat, you still have plenty of space to rack up. Plus, with a spacer on the first loop, you can keep all your gear well organized and easily accessible for fast placement.
The waist belt of this harness is made from several strands of a lightweight and durable material called "dyneema." Petzl's proprietary Wireframe construction helps to diffuse your weight while wearing this harness, making it very comfortable for hanging in while on the wall. To further cut down on bulk, the leg loops are unpadded and do not have buckles for adjustment, but rather, they are made out of elastic. Just make sure you put your big boots on after donning the harness, or you may be in for a struggle.
Black Diamond Technician
View Women's Version
Specs
Adjustable Leg Loops

:

Yes

Haul Loop

:

Yes

Ice Clipper Slots

:

4

Weight

:

13.8 oz

Waist Belt Construction

:

Fusion Comfort Technology

Gear Loops

:

5
Features
Extra Gear Loop So You Have Space To Carry All Your Pro
Speed Buckles On Legs And Waist For Easy Fit Adjustment
Slim Design Means The Gear Loops Don't Protrude Out From The Harness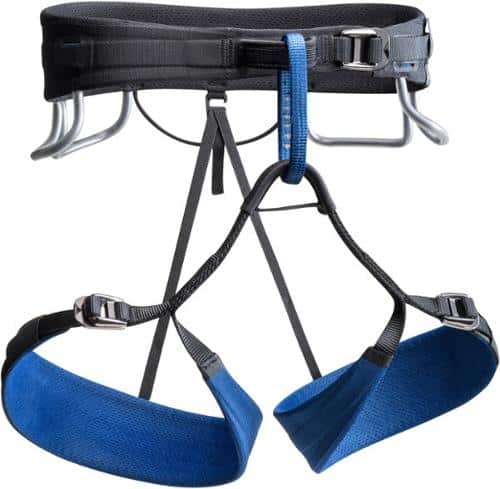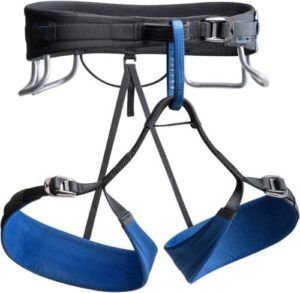 BEST FOR: MULTI-PITCH ICE CLIMBING
Made with the traditional Black Diamond Fusion Comfort Technology beloved in all their other harnesses, Black Diamond brings you the Technician. This innovative harness fills the gap in their line-up of harnesses with one that can be used anywhere, anytime, including the alpine!
While using the same material as other well-loved Black Diamond harnesses, this one does seem to be a bit stiffer than its predecessors. With the additional fifth (yeah, that's right!) gear loop, this harness is ideal for longer ice climbs where you need space for a full rack. The fifth loop can also be used for hauling gear, although there is a small haul loop on the back as well.
And with four ice clipper slots, you can add on four clippers for your tools as well as ice screws. The gear loops on the Technician aren't as rigid as the loops on other Black Diamond harnesses, so they don't protrude out, which prevents them from getting snagged on objects or making you feel even bulkier in your layers.
Petzl Corax
Specs
Adjustable Leg Loops

:

Yes

Haul Loop

:

Yes

Ice Clipper Slots

:

2

Weight

:

15.4 oz

Waist Belt Construction

:

High Strength Polyester Webbing and Closed-cell Foam Padding

Gear Loops

:

4
Features
Two Waist Buckles For Equal Adjustment And Comfortable Fit
Budget Friendly For A High Quality Mountaineering Harness
Adjustable Leg Loops Makes It Easy To Fit This Harness Over Layers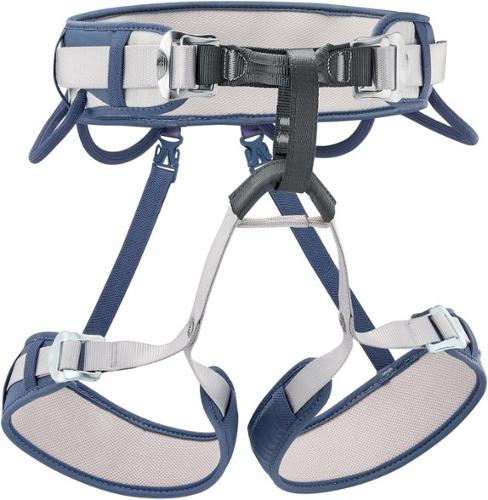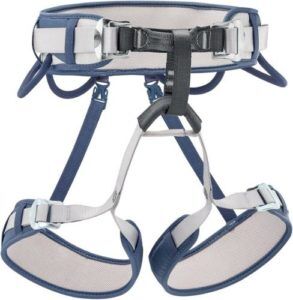 BEST FOR: ADJUSTABILITY
You don't have to break the bank for a great harness, and that's where the Petzl Corax comes in. A unisex harness that comes in two sizes, the Corax has everything you need for mountaineering adventures, even though it's popular for indoor gym climbing as well.
With adjustable leg loops, you can easily fit this harness over all your winter layers. The waist is made of a high strength polyester, making the harness super durable for rugged adventures. The waist also includes two double-backed buckles to make fine tune adjusting effortless, all while keeping the belay loop centered in place. Designed with two ice clipper slots, this harness can be used for ice climbing, but you might find it a bit cramped without any extra loops for holding ice screws.
C.A.M.P. USA Alpine Flash
Specs
Adjustable Leg Loops

:

Yes

Haul Loop

:

Yes

Ice Clipper Slots

:

4

Weight

:

10.6 oz

Waist Belt Construction

:

3 mm EVA Foam Padding

Gear Loops

:

5
Features
Adjustable Leg Loops Include Auto-locking Steel Buckles For Maximum Safety
Gear Loops Are Wrapped With Rubber Sleeves For Durability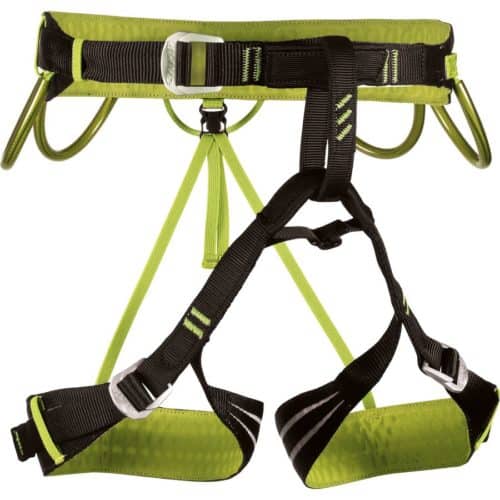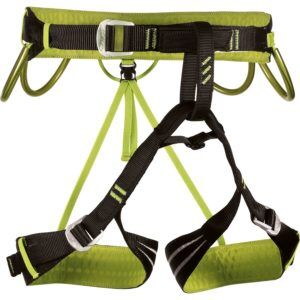 BEST FOR: TECHNICAL ALPINE AND ICE CLIMBING
Why have only four gear loops when you could have five? That's what C.A.M.P. must've thought when they designed the Alpine Flash mountaineering harness. As the name suggests, this harness is truly made for the alpine. Everthing you could possibly need for technical climbing in the alpine fits easily on this harness.
The fifth gear loop is perfect for all the smaller things you don't need on every pitch, such as a prussic, nut tool, etc. The adjustable leg loops make it easy to fit the Flash over your boots and crampons, and with auto-locking steel buckles, you can ensure the loops are secure.
Weighing in at just 10.6 oz, this harness is in the middle of the weight spectrum, but still packs down super small, so it can easily fit in your pack. Made with hydrophobic (re: water repellent) webbing, this harness will stay drier and lighter on all your snowy alpine ascents. If you need to cut down on weight even further, the rubber sleeves on the gear loops can be cut off.
Black Diamond Vision
Specs
Adjustable Leg Loops

:

No, elastic

Haul Loop

:

Yes

Ice Clipper Slots

:

4

Weight

:

7.9 oz

Waist Belt Construction

:

Hydrophobic, Flexible, Vectran Fibers

Gear Loops

:

5
Features
Fixed Leg Loops With Elastic Risers For A Snug Fit
Shell-less Design Cuts Down On Weight
Quick-drying And Very Compactable For Easy Packing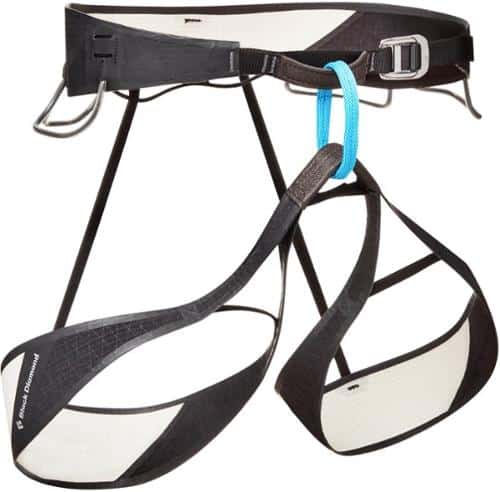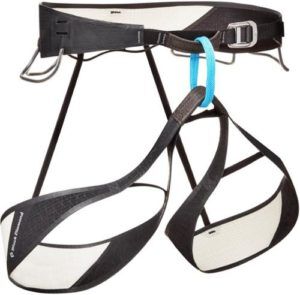 BEST FOR: EVERYTHING ALPINE
Another ultra-light harness by Black Diamond, the Vision comes in at just 7.9 oz. It's also super packable and quick-drying with its shell-less design. This harness will keep you going light and fast without sacrificing the essential gear features required by a true alpinist.
Built with the usual four side gear loops, it also includes a rear fifth gear loop. And for all your screws and tools, there are four ice clipper slots, ensuring you leave nothing behind.
A speed waist belt makes it quick and easy to put this harness on. Although the leg loops are not adjustable, they are designed with an elastic riser to give some stretch while putting the harness on. But it's still probably best to harness up before putting on your big boots and crampons so you don't risk tearing the leg loops accidentally.
Black Diamond Alpine BOD
Specs
Adjustable Leg Loops

:

Yes

Haul Loop

:

Yes

Weight

:

14 oz

Waist Belt Construction

:

Nylon

Gear Loops

:

4
Features
Highly Adjustable Leg Loops
Great For Beginners And Climbers Looking For Simplicity From Their Gear
Very Durable Construction Means This Harness Will Last For A Very Long Time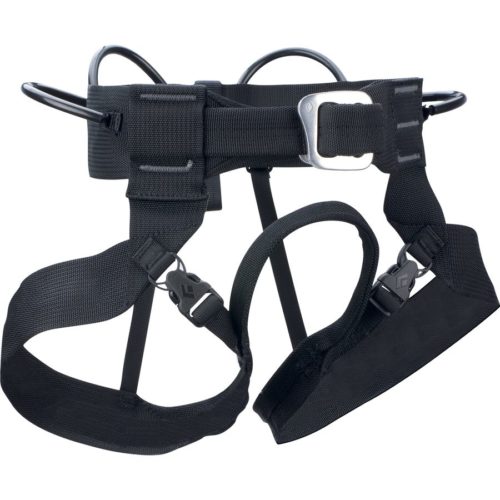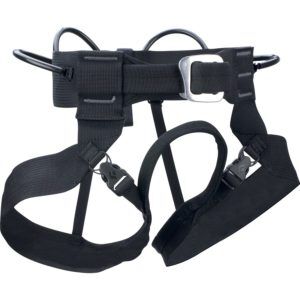 BEST FOR: BEGINNERS
This harness is basically the Black Diamond BOD without the padding, making it a into a convenient alpine version. A veteran to the alpine world, the Alpine BOD is light, simple, and inexpensive. And not to mention, since it's been put to the test time and time again, we know that it's really hard to wear this harness out.
Although this isn't the lightest harness on the market, it's features and adjustability make it worth the purchase. The highly adjustable leg loops make putting this harness on very simple, without needing to take off your boots and crampons. This is also a desirable feature when teaching new climbers, as they won't have to struggle with figuring out how to put it on properly when they're first starting out. The simplicity of this harness overall makes it a good choice for beginner alpine climbers, and because of the lack of ice clipper slots, it is best suited for snow travel.
THINGS TO CONSIDER WHEN BUYING MOUNTAINEERING HARNESSES
COST
A good thing to note when buying your first (or fifth) mountaineering harness is that a good harness is not always a costly harness. A harness is not a piece of gear that should be your most expensive, but it is important to make sure that it has all the features you will need for your mountaineering adventures.
That said, there is some cost differences if you are looking for something light or if you are willing to carry a few extra ounces. Make sure to consider how often you're planning on mountaineering and where you tend to go before deciding which harness to buy and never let the cost deter you from getting just what you need out of your mountaineering equipment.
CLOSURE AND FIT
You will want a nice fit at both the waist and leg loops on a mountaineering harness. Two adjustable buckles at the waist can be a helpful feature to ensure an equalized fit, with the belay loop remaining in the center. However, the extra buckle can add a few extra ounces, so if you're concerned with weight then consider a single waist adjustment style instead.
The single buckle on the other hand, not only cuts down on weight, but can also cut down on the time it takes to put the harness on, which can be important in extreme alpine conditions.
The same goes for leg loops – buckles can add weight, but if you looking for a harness that you can fit over your boots and crampons, when ice climbing, for example, you may want to consider buying a harness with adjustable leg loops.
And if you are planning to ski into your approach and you need to keep both feet on the ground while putting a harness on, you may want leg loops that can open and close.
LOOPS
Loops on a harness are essential for holding all your important gear when mountaineering. In a harness, you want to make sure you have enough gear loops to hold your draws, cams, screws, etc. with even weight distribution, and you definitely don't want everything to be all bunched together because there's not enough space for gear on the loops.
Most mountaineering harnesses come with a minimum of two gear loops, but for more technical climbs and ice, you may look to have four or even five, to ensure you have adequate space.
Ice clipper slots are very important, too, especially if you're ice climbing. You will want to obtain ice clippers to insert into the slots to hold ice screws for easy access as well as for a place to hold your ice tools when they are not in use. In this sense, it is best to gauge what type of activity you will be doing as to whether two or four ice clipper loop slots are necessary.
WEIGHT
When it comes to mountaineering, light equals fast, in most cases. If you are looking for a harness to use in extreme, technical alpine conditions where moving fast is essential, ounces count. In this instance, there are many durable, comfortable, ultra-light options to choose from when selecting a harness. If you don't mind carrying a few extra ounces, and your alpine adventures aren't about racing the clock, a harness with a few extra ounces may prove to hold up better in the long run.
FEATURES EXPLAINED
ICE TOOL CLIPPER SLOTS
Ice tool clipper slots are specifically designed slots in the waist of the harness – either behind the buckle and belay loop or between gear loops, or both (if there are four slots).
These slots are essential for putting the actual ice tool clipper into, which is important to keep your tools out of the way when you are not using them. They are also ideal to rack your ice screws on in an organized manner.
DRY TREATED
This is the same concept as in climbing ropes – "dry treated" describes the way the material is woven to prevent it from absorbing water. The advantage to this is not only that the treatment will keep you harness dry, but it will also keep your clothes dry, since they will be next to the harness while you climb. Keeping moisture out of the harness will also prevent it from freezing and overall will cut down on the drying time and minimize water-logged weight.