Updated on January 18, 2022
Winter, water, and wind – oh my! We both know you need to be prepared for whatever mountaineering adventure you're planning on embarking on with the best mountaineering jacket. There are so many choices for so many adventures, which is why our team of expert mountaineers here at The Adventure Junkies have taken it upon ourselves to help you in your selection by highlighting ten of the best mountaineering jackets available on the market today.
When you're tackling your next alpine peak, you'll need a jacket that will keep you warm when you need it and cool when you are heating up. Just as much, you'll need a jacket that will keep you dry from both the rain and your own sweat. And on top of that, you'll want a jacket that won't allow the wind to cut you in half. Rest assured, we've got you covered – literally!
For more of our top mountaineering gear recommendations, check out the Best Mountaineering Pants.
Quick Answer

-

The Best Mountaineering Jackets
Outdoor Research Skyward II

Outdoor Research Interstellar

Mountain Hardwear Cloudseeker
Comparison Table

-

The Best Jackets For Mountaineering

For the best experience turn your device horizontally
Reviews

-

Mountaineering Jackets
RAB Kinetic Plus
View Women's Version
Specs
Material

:

Propriety Proflex Waterproof Membrane 2.5L

Gender

:

Both

Weight

:

13.8 oz

Pockets

:

2

Helmet Compatible Hood

:

No
Features
Stuff Sack
Two-layer Hood
Slim Fitting for No Extra Bulk
BEST FOR: MOBILITY
Almost unparalleled in mobility, Rab has put forth the Kinetic Plus alpine jacket. The Proflex membrane not only offers dryness, but is also what makes this jacket stretchy, giving you freedom of movement. The low profile wrist cuff not only keeps the fit snug and prevents water from leaking down your arms, but also prevents you from snagging on anything out in the alpine. 
Although the hood on this jacket is not helmet compatible, it does offer a unique design, with two layers. The first, outer layer is a hood with a brim, while the inner layer wraps around your head like a gaiter or buff, reinforced with an elastic band. A single velcro tab on the back of the hood can be used to tighten the entire thing. 
Designed with a slim fit, this mountaineering jacket is intended for athletic feats, but there is still room for a fleece or other base layer underneath. Two hand pockets are incorporated, so you'll still be able to carry all the necessities with you. And this jacket includes a stuff sack, where it packs down to the size of  a Nalogene bottle, so it's definitely up for any mountain adventure!
Outdoor Research Skyward II
View Women's Version
Specs
Material

:

Nylon/Spandex

Gender

:

Both

Weight

:

1 lb 9.8 oz

Pockets

:

7

Helmet Compatible Hood

:

Yes
Features
Media Port for Headphones to Connect Inside Jacket
"Hood Lock" System to Cinch Hood With or Without Helmet
Pockets Thoughtfully Placed so No Interference with Harness or Backpack Hip Belt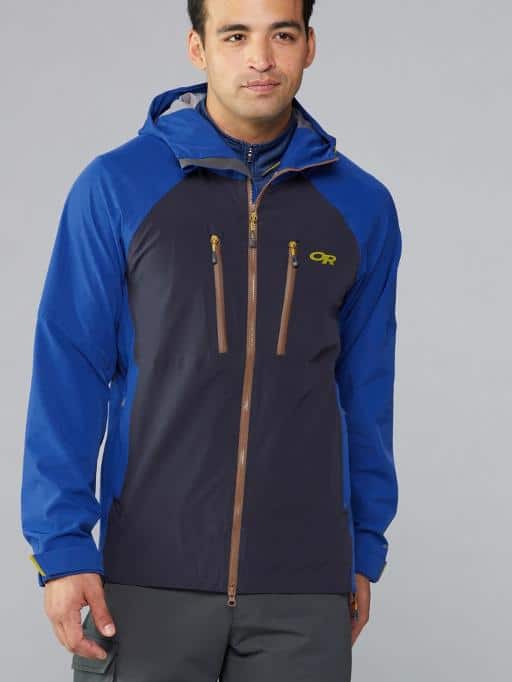 BEST FOR SKI ADVENTURES
A skier's delight, the Skyward II by Outdoor Research is totally waterproof and up for any amount of rain or snow you get into while on your adventure. You also have plenty of places to stash gloves, snacks, or your phone with two hand pockets, two chest pockets, one internal pocket, and two "shove it" pockets inside the jacket that are open and easy just to shove whatever you need to shove in them at that moment. 
A neat feature that sets this jacket apart is a media port which allows you to wear headphones and connected inside to a media device. While this jacket does not offer any insulation, when you are on the slopes or cruising through the backcountry trails, you will be creating some good heat. However, you don't have to worry about overheating and having to stop and remove the jacket, because, tada! Pit zips allow for a nicely ventilated ride. The Skyward II is not a form fitting or boxy jacket, but more "just right". And with a "hood lock" system, the hood will cinch down with or without a helmet.
Black Diamond Sharp End
View Women's Version
Specs
Material

:

Gore-Tex Pro 3L, 70d Nylon

Gender

:

Men's

Weight

:

16 oz

Pockets

:

4

Helmet Compatible Hood

:

Yes
Features
Large, Rigid Zipper Pulls That Are Easy to Grab
Stiff Molded Plastic Cuffs with Tabs for Easy Sealing
Brushed Microsuede Collar Lining for Added Comfort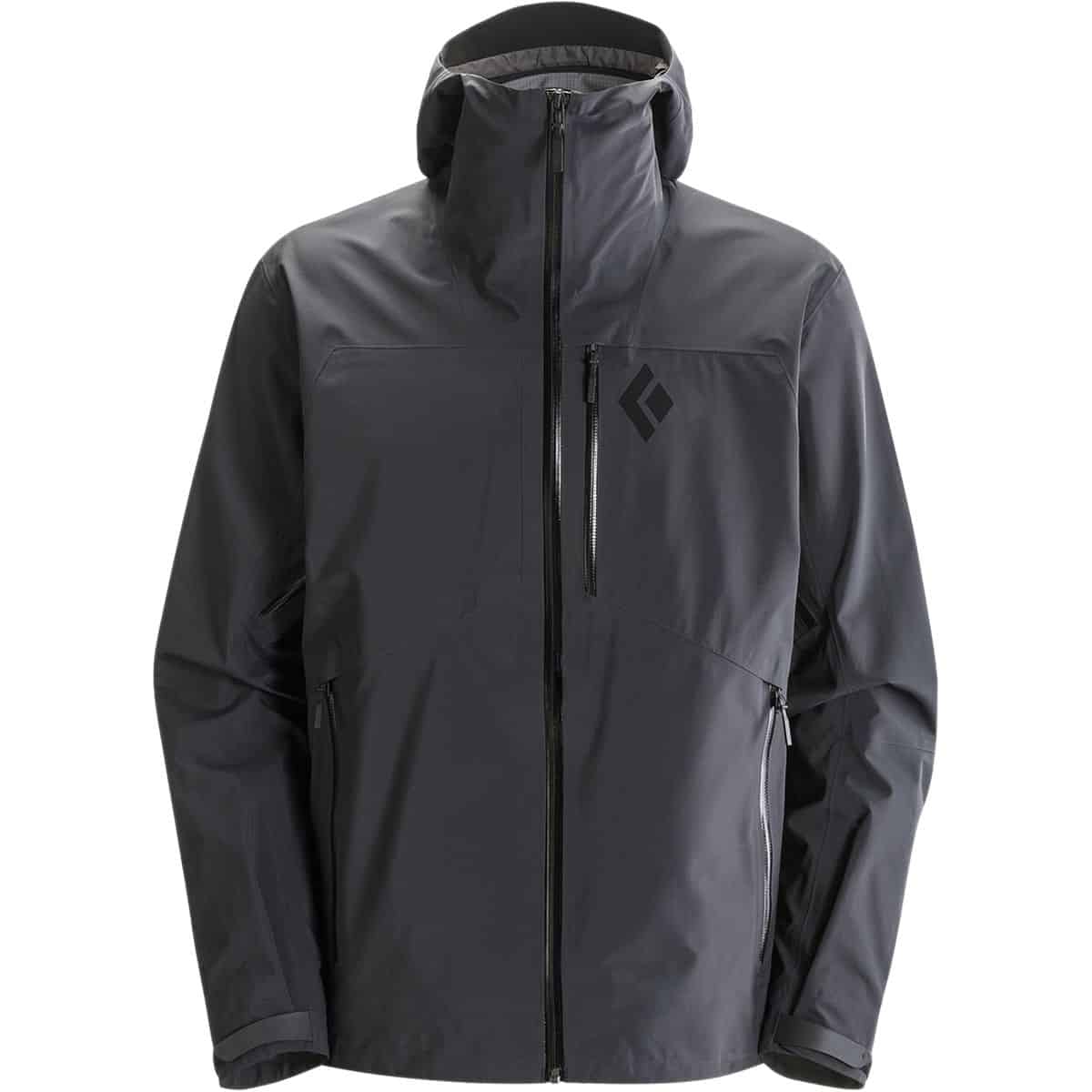 BEST FOR: VERSATILITY
Whatever your pleasure in the mountains is – skiing, climbing, alpine – the Black Diamond Sharp End Jacket will be your best friend. With the 70D nylon shell (D for Denier, a measure of mass for density), this jacket is super durable, but still maintains an overall lightness in weight for all those counting ounces. The shell combined with aGore-tex outer layer means you will always stay super dry, especially with the integrated pit zips! 
While the collar may fit a bit tighter than other jackets, there is ample room in the shoulders and torso to allow for movement of all sorts whether climbing, skiing, or just hiking. The wrist cuffs offer a molded plastic with a simple velcro tab that will prevent water or snow from running down your arm. And with the large, rigid zipper pulls, you can easily open and close pockets and the front zipper without having to remove your gloves. Though not easily packable, you will most likely take this jacket with you on days that warrant wearing it all day. So, it is well worth the investment in both weight and cost.
Patagonia Pluma
Specs
Material

:

Recycled Nylon with a Gore-Tex PRO Shell and Durable Water Repellent (DWR) Finish

Gender

:

Men's

Weight

:

14.2 oz

Pockets

:

4

Helmet Compatible Hood

:

Yes
Features
Two Side-of-the-face Pull Cords on Outside of the Collar
Durable Buckles on all Five Pull Cords
Minimal Seams for Less Chance of Water Leaking In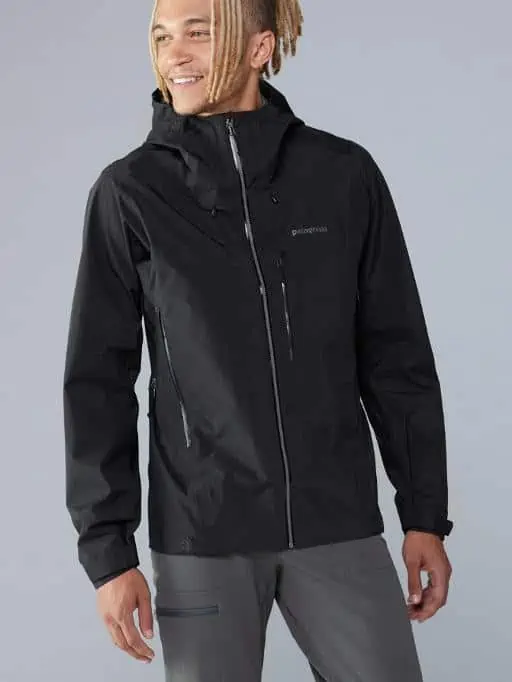 BEST FOR: SUPER WET WEATHER
If you know the weather is not going to be on your side or you just live somewhere where it  is notoriously wet, the Patagonia Pluma with it's Gore-tex PRO shell is what you want to be carrying and wearing. It is versatile enough for any mountain activity you want to do, and you are guaranteed to stay dry when you're wearing it. 
Featuring one internal and one external chest pocket for storing valuables, this jacket also has two hand warmer pockets to get your fingers warmed up. There are also five pull cords sewn throughout the jacket, each of which are equipped with hard, plastic covered (Cohaesive) buckles on the end to make them easy to grab and pull. And the collar has pull cords on both sides of the face, making sure you get as much of your face covered during those wet and nasty cold situations as possible. 
While the hood of this jacket will fit over your helmet, it is not as deep as other jackets, which may make it a bit of a squeeze for some safety approved helmets. But when well fitted, the hood offers an awesome brim to keep the rain running right off your head and not down onto your face.
Arc'teryx Beta AR
View Women's Version
Specs
Material

:

Majority Gore-Tex

Gender

:

Both

Weight

:

15.6 oz

Pockets

:

3

Helmet Compatible Hood

:

Yes
Features
Four-point Adjustable Storm Hood with Water-tight Zippers
Collar is Separate Material from Hood to Wrap and Seal Neck
Fully Taped Seams to Prevent Water Leakage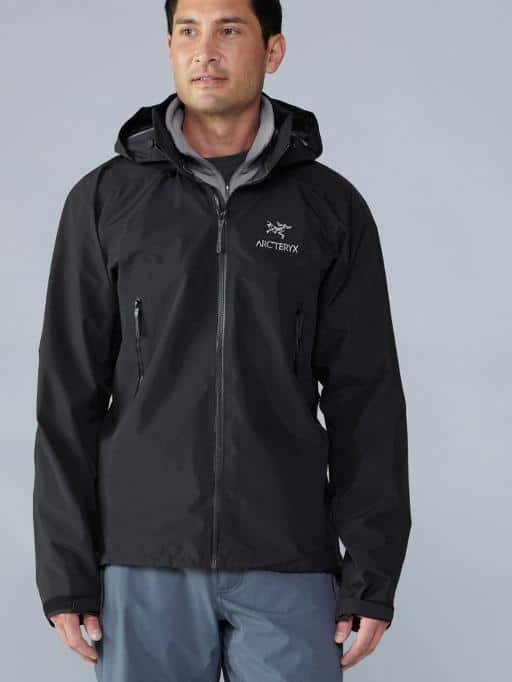 BEST FOR: ALL-AROUND MOUNTAINEERING ADVENTURES
Whether you are looking for a jacket that will protect you from the elements or a jacket that is super durable for whatever mountain mischief you are looking to get into, the Arc'teryx Beta AR will not disappoint. The hood easily fits over your helmet, but has plenty of space to keep your face well protected from the weather with the four points of adjustment on it. And the collar is actually a separate piece of material from the hood, so you're able to wrap and seal your neck so you stay warm and don't have to worry about any water running down your front. 
Although the collar is tall, it will not cut into your chin and bother you constantly. With an athletic cut, this jacket leaves plenty of room for wearing other warm layers underneath. While not the lightest jacket out there, and although it may make some crackling noise due to the Gore-tex material that makes it a more traditional hardshell, it is worth investing in this jacket to ensure you  don't have a wet and miserable time outside. 
Dynafit Radical
View Women's Version
Specs
Material

:

Gore-Tex

Gender

:

Both

Weight

:

14.8 oz

Pockets

:

5

Helmet Compatible Hood

:

Yes
Features
Sleek and Simple Design
Sturdy, Rip-stop Fabric
Dual Mesh Stash Pockets for Ski Skins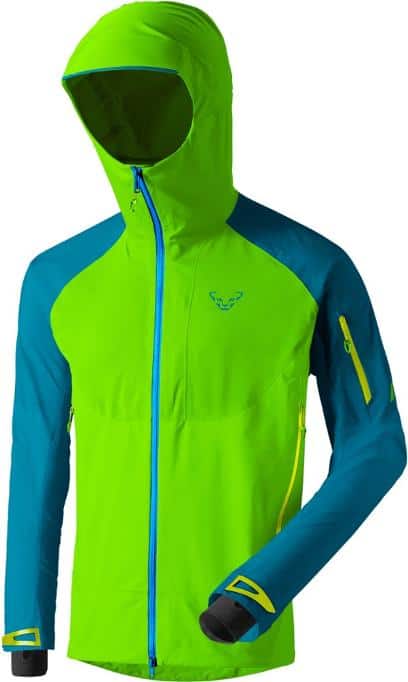 BEST FOR: LONG HAUL SKIING
While there are many hardshell jackets that can be used for skiing, if you are in it for the long haul in the backcountry, the Dynafit Radical is a little known brand you may want to check out.  The sleek and simple design of this jacket allows you to move freely without all the extra bulk and material bunching up and causing you discomfort while you're navigating the trails. The inside of this jacket includes two stash pockets which are perfect for storing your ski skins when you need to take them off. 
Created out of European-style skiing, this jacket is super burly in bad weather with a heavy duty Gore-tex lining, but there really isn't anything this jacket won't do. And the backing on the jacket is made with another waterproof material but a blend that quiets the Gore-tex portion, so you move with less noise. The hood will fit over your ski or climbing helmet, and with the small wire in the brim, you'll be able to mold it so that water will run off the hood and not down your face. While the sleeves may be a bit long, it will help ensure that they don't ride up, leaving your arms exposed on those cold, backcountry trails. 
Outdoor Research Interstellar
View Women's Version
Specs
Material

:

100% Nylon Inner and Proprietary AscentShell Waterproof Exterior

Gender

:

Both

Weight

:

11.5 oz

Pockets

:

3

Helmet Compatible Hood

:

Yes
Features
Stuff Into Its Own Pocket
Stretchy Ripstop Material for Excellent Mobility
Pockets Rest Above the Harness for Easy Access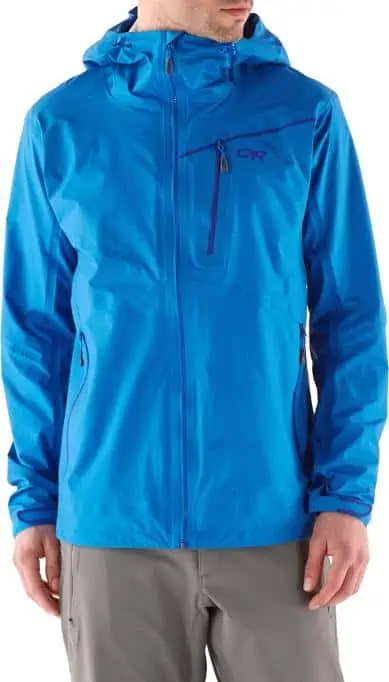 BEST FOR: ICE CLIMBING
If you're not a fan of super wet weather, and just want a lightweight, breathable jacket for your aerobic ice climbs, Outdoor Research once again has you covered with the Interstellar. Weighing in at only 11.5 oz, you won't have a lot of extra weight to carry in addition to all your ice gear and this jacket is thin enough to fit easily under your harness. 
A basic design of three pockets – two hand warmer and one chest pocket – allows you to store energy bars or a phone for some optimal summit photos. While the hood does cover your helmet, it tends to come up a bit short. But the brim of the hood can be molded around your head/helmet to help water run off of it rather than down your front. 
Similar to other Outdoor Research jackets, the Interstellar is made with stretchy  ripstop material, so you have plenty of freedom to move your arms, which is a crucial component in ice climbing. And if things really heat up, this jacket folds up small and tight into its own pocket, so you can quickly throw it in your pack or attach it to your harness in case you catch a chill.
Mountain Hardwear Cloudseeker
Specs
Material

:

100% Nylon Stretch Ripstop Fabric

Gender

:

Women's

Weight

:

22.4 oz

Pockets

:

5

Helmet Compatible Hood

:

Yes
Features
Flow-through Vents on the Back of the Upper Arms in Lieu of Pit Zips To Keep You Cool
Hard-backed Chest Pocket and Internal Pocket Each with Media Port for Headphones
Avalanche Reflector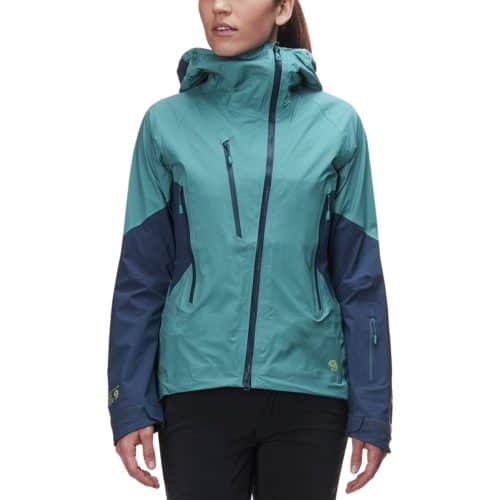 BEST FOR: VENTILATION
When you are out in the backcountry, you need to keep moving without worrying about taking a break to de-layer.Mountain Hardwear knows this and designed the well ventilated and lightweight Cloudseeker jacket exactly for the purpose of mountaineering. 
While there are no pit zips for ventilation, there are flow-through vents on the back of the upper arms to give you a cross breeze and prevent moisture from building up and making you wet and chilled. Additionally, the two large front chest pockets are backed with mesh, so they can be unzipped and act as two other ventilation systems. 
And if that wasn't enough, the two-way front zipper allows you to unzip the jacket from the bottom or the top, to get airflow whatever direction you need it at the time. And if you are looking to listen to some tunes or a podcast while you're scrambling up the side of the mountain, there are two different pockets with a port to allow your phone and headphones to connect.
RAB Firewall Jacket
Specs
Material

:

Proprietary Pertex Shield + Stretch Fabric That Acts Like Gore-tex

Gender

:

Women's

Weight

:

17.4 oz

Pockets

:

3

Helmet Compatible Hood

:

Yes
Features
Full-length Arm Vents
Velcro Tab at the Back of Neck to Roll Up Hood When Not in Use
Low-profile Buttons on Tabs Inside to Attach to Pant Belt Loops to Prevent Riding Up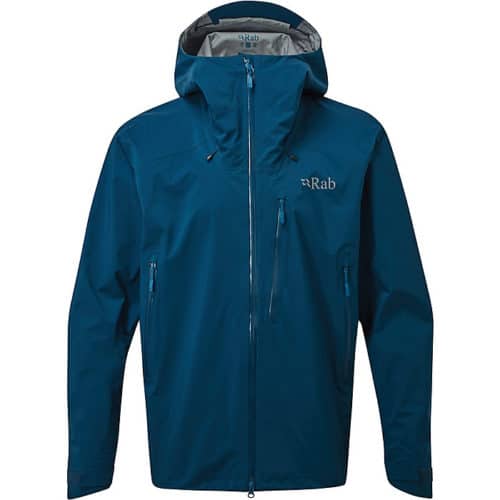 BEST FOR: MOUNTAINEERING ON A BUDGET
If you are looking for a durable hardshell on a budget, you still have an excellent option thanks to the Rab Firewall. In addition to being able to withstand the mountain elements, you'll also have excellent ventilation when wearing this lightweight jacket. Pit zips are not the only ventilating feature -the Firewall also has full-length arm vents to keep you cool and dry. 
The hood is compatible with a helmet and offers enough protection for water to flow off, although the collar is a bit wide, so make sure you get it as secure as you can to prevent water from running down your front. A really unique feature of this jacket is the velcro tab at the back of the neck, so when you are not using your hood, you can roll it up and secure it to keep it from flap-slapping you.  The inside of this jacket has two low-profile buttons on tabs that can attach to your pant belt loops so you don't have to worry about the jacket riding up with whatever activity you are doing. And hey, it may keep your pants up too!
THINGS TO CONSIDER WHEN BUYING MOUNTAINEERING JACKETS
COST
Cost is always a factor to consider when buying outdoor adventure gear, and it is no different when it comes to mountaineering jackets. As we're sure you know, buying the cheapest thing available is often not the best option. But that doesn't necessarily mean that buying the most expensive option is the best idea either. A good mountaineering jacket will be an investment, but one you hope will last for several seasons. Prepare to invest a solid chunk of cash into your new mountaineering jacket and you will be rewarded with a cozy friend that will keep you warm in the alpine for years to come.
POCKETS
You learn quickly when you are out in the mountains that having pockets is pretty important, not just for your hands, but for many other things as well. Hand pockets are good for stashing extra gloves and snacks.Internal pockets are useful for storing things like your phone, glove liners, and well, more snacks – or anything else that you need keep close to you body for more warmth (like your car keys, for example). You also will probably need pockets that zip to prevent your valuables from falling out.
SHELL MATERIAL
When in comes to mountaineering jackets, you need a reliable layer that will protect you from the elements no matter what. A good shell that will not allow water in is a must. Hardshells are the most traditional type of shell out there. They often made of a material like Gore-Tex that is not as breathable, but soft hardshells are more popular these days. These jackets do the job of a hardshell but the material is softer and more breathable. Outdoor Research has a lot of options and also wants to make sure you know all about shells.
FEATURES EXPLAINED
HARDSHELL/SOFTSHELL
The two are used interchangeably today, but the traditional hardshell is usually made with a less breathable, louder sounding material such as Gore-tex. But today, to allow for more breathability and less noise, shells are being combined with other materials, which also makes them softer, but still weather resistant like a hardshell. These have been called softshells or soft hardshells. Each jacket is different, so it's best to look closely at the differences between softshells and hardshells to see which type of shell is best for you.