Updated on October 2, 2020
A good sleeping bag is essential to ensure that you get your well-deserved sleep during your adventures – whether it's a trip through South America, a trek in the Himalayas or a bike ride along the Balkan coast. The best mummy sleeping bags offer maximum protection from the cold while occupying the minimum amount of space when packed down.
Today, brands have developed new technologies to create extremely light and compact products, offering great comfort even at the lower temperatures. We have selected the five best mummy sleeping bags for every season, so you can go hiking anywhere without worrying about nighttime comfort.
For more of our top backpacking gear recommendations, check out the Best Backpacking Sleeping Bags.
Quick Answer

-

The Best Mummy Sleeping Bags
Comparison Table

-

Best Mummy Sleeping Bag
Reviews

-

The Best Mummy Sleeping Bags for Backpacking
Marmot Col
Specs
Fill

:

800-fill-power goose down

Insulation

:

Down

Weight

:

4 lbs. 9 oz.

Packed Size

:

19.9 liters

Temperature Rating

:

-20 Degrees (F)

Shell

:

Nylon

Zipper Location

:

Left
Features
Hidden Pocket For Stashing Nighttime Essentials
Nautilus 6-baffle Hood For Superior Warmth
Waterproof Breathable Fabric For Increased Weather Resistance And Durability

BEST FOR: THE MOUNTAINEERING MANIAC
If you crave the adventure of climbing to the peak of a mountain, but worry about your sleeping choices once you're on top of the world, look no further than the Marmot Col sleeping bag. With a waterproof shell and soft goose down inners, you'll stay dry and warm in temperature drops up to -20°F no matter how high up in the treetops you are. 
This Marmot sleeping bag is equipped with cross baffle construction, meaning that the material keeping you warm won't be able to shift and leave you with any cold spots. Being a mummy sleeping bag means you're able to be totally secured and warm all over, meaning you won't end up with any fingers or toes dropping off because they've been sticking out all night. This sleeping bag even holds a hidden pocket, allowing you to stash your nighttime necessities within it.
NEMO Sonic Down
Specs
Fill

:

800-fill-power Hydrophobic Down

Insulation

:

Down

Weight

:

2 lbs. 4 oz.

Packed Size

:

12.47 liters

Temperature Rating

:

-20 Degrees (F)

Shell

:

20-denier Ripstop Nylon

Zipper Location

:

Left
Features
Draft Tubes Protect Against Cold Air
Stretch Construction At The Knees Allows Side Sleeping
Waterproof/breathable Footbox Designed For Foot Comfort

BEST FOR: A COMFORTABLE NIGHT ON THE PEAK
There is nothing worse than laying down for some much-needed rest, only to find yourself feeling extremely confined and claustrophobic within the walls of your sleeping bag. Many mummy shaped sleeping bags do not allow much room for movement, nor do they give you the ability to get properly comfortable. 
The Nemo Sonic Down -20 sleeping bag, however, gives you just that little bit of luxury you deserve. The fabric around where your knees sit is constructed to be stretchy, allowing you to move around and even sleep on your side if that is more comfortable for you. Unlike some bags that use goose feathers as lining, this sleeping bag has a Responsible Down Standard certification which ensures that the down lining used has been humanely sourced and treated. This bag is also water-resistant, ensuring that you don't wake up soggy from a night spent in the elements.
The North Face Inferno
Specs
Fill

:

800-fill-power ProDown

Insulation

:

Down

Weight

:

3 lbs. 9 oz.

Packed Size

:

10 liters

Temperature Rating

:

-20 Degrees (F)

Shell

:

Synthetic

Zipper Location

:

Front
Features
Full Draft Collar And Integrated Draft Overlap To Prevent Heat Loss
Central Zipper For Easier Access
Compression Sack And Storage Sack Included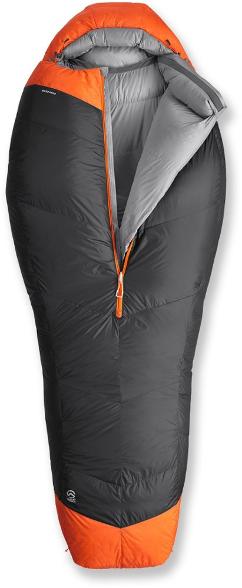 BEST FOR: WET WEATHER ADVENTURES
One of the worst things you can experience when you're stuck sleeping on a mountain top is being left with a soggy sleeping bag due to a bit of unpleasant weather. The North Face Inferno -20 sleeping bag is equipped with a hydrophobic finish, meaning that water literally runs off the surface when it comes in contact with it, allowing you to stay warm and dry no matter what conditions you're faced with. 
The hood cord allows you to fully synch the bag closed around your head, ensuring that the warmth is sealed inside. For further waterproof abilities, the fabric on the hood and the back of the bag is water-resistant, meaning that even if you're left sleeping on a wet surface, it won't impact insulating properties of the sleeping bag.
Big Agnes Flume UL
Specs
Fill

:

850-fill-power DownTek Water-repellent Down

Insulation

:

Down

Weight

:

1 lbs. 8 oz.

Packed Size

:

3.11 liters

Temperature Rating

:

30 Degrees (F)

Shell

:

Ripstop Nylon

Zipper Location

:

Left
Features
Compact Size When Packed
Anti-snag Draft Tube Prevents Heat Loss Along The Zipper
Ergonomic Foot-box Construction Provides Loft And Warmth

BEST FOR: THE LIGHT PACKER
Sometimes you have to be really concise in your packing, as you may not be able to carry a lot on your person when backpacking through different areas of the world. When you're concerned about how much space you've got in your pack, but still want to give yourself the best sleeping experience, look no further than the Big Agnes Flume UL 30 sleeping bag. 
This bag is lightweight and extremely easy to fold down into a small size for your pack. Being so easily portable does not mean that this bag skimps on features, as it is water repellant and has thermal fabrics that trap in and distribute heat with ease. The zippers are very minimal, helping to reduce the weight of the bag and also ensuring that you aren't left with any cold spots.
Big Agnes Skeeter SL
Specs
Fill

:

650-fill DownTek down

Insulation

:

Down

Weight

:

2 lbs. 7 oz.

Packed Size

:

5.05 liters

Temperature Rating

:

20 Degrees (F)

Shell

:

Ripstop Nylon

Zipper Location

:

Left
Features
Pad Sleeve Secures The Bag To The Sleeping Pad So You Don't Roll Off At Night
Contoured Hood Baffles Cradle Your Head For A Comfortable Fit
Mesh Storage Sack And Nylon Stuff Sack Included
BEST FOR: BACKPACKING
Worried about waking up soaking wet and freezing due to an unsatisfactory sleeping bag experience? Worry no more when you pick up a Big Agnes Skeeter SL 20 sleeping bag! The 'DownTek' insulation used in this bag absorbs 30% less water and is able to dry 60% faster than untreated down linings, ensuring that you stay warm and dry even if you're faced with some unsavory weather conditions. 
This bag also includes a pad sleeve, ensuring that you aren't left rolling off the pad in the middle of the night and therefore lose your chance at a comfortable night's sleep. Although the outer shell fabric is super light and soft, it has high tear strength which ensures you won't end up with a torn bag even when you're trekking it through harsh terrain.
THINGS TO CONSIDER WHEN BUYING A MUMMY SLEEPING BAG
TEMPERATURE RATING
Summer sleeping bags have a rating of 37°F and up. They are often light in weight because they provide less insulation and are highly packable. These are usually the more basic models, meant to protect you from the wind, but not ideal in very cold environments.
Three-season sleeping bags are best suited for traveling in spring and autumn but can also be used in summer, especially if you plan to pitch your tent in the high mountains where nights can be freezing. These models have more functionality than the summer ones: they often have hoods and other features to fight the coldest temperatures. The rating of these multipurpose bags is usually between 20°F and 32°F.
Sleeping bags with a rating below 20°F are meant to keep you warm in any environment, even in the snow. They have all the characteristics of the three-season sleeping bags, with an added layer of insulation to ensure greater protection. These bags are normally bulkier and heavier, but essential if you plan to sleep in environments where temperatures drop heavily during the night.
INSULATION TYPE
Sleeping bags made of synthetic materials do not absorb water and offer excellent protection from soil moisture or light rainfall. These types of sleeping bags are relatively cheap, but they can be bulkier and heavier than down sleeping bags.
Down insulation made from duck or goose feathers is the lighter in terms of weight. Down bags can be compressed to a smaller size than synthetic, and they offer the highest protection against the cold. Down sleeping bags are generally more expensive than their synthetic counterparts and do not offer insulation when wet.
WEIGHT
Any hiker knows how important it is to keep the pressure on their shoulders at a minimum, and therefore it is important to consider the weight of a sleeping bag before buying. Ultra-lightweight sleeping bags are best suited for backpacking, however, the reduced weight and bulk usually come at a high price. Summer sleeping bags are lighter than three-season and winter bags as they contain less insulating material, but consider the temperatures you'll be sleeping at before looking at the weight you'll be carrying.
PACKED VOLUME
When shopping for a sleeping bag, make sure you check how much space it will occupy in your backpack. Just because a sleeping bag is lightweight doesn't necessarily mean it is also highly compressible. The volume of a compressed sleeping bag is measured in liters and you should aim at a maximum of 3 liters if your priority is reducing bulk.
FEATURES EXPLAINED
DRAFT TUBE
The part of the sleeping bag running along with the zippers that is filled with insulating material to reduce the risk of cold air entering.
HYDROPHOBIC
A water-repellent material.
DUCK OR GOOSE DOWN
The soft plumage that ducks and geese hide under their feathers, used as the insulating material in sleeping bags to protect against heat loss.
SYNTHETIC INSULATION
Polyester fibers employed as the insulating material to prevent heat loss. A cheaper alternative to down.
SLEEPING BAG SHELL
A sleeping bag's outer layer, usually made of water-repellent nylon.
SNAG-FREE ZIPPERS
Zippers designed so that they don't catch the sleeping bag's fabric when pulled.
READ MORE
For more of our top hiking & backpacking gear recommendations, check out these popular articles: