Updated on June 22, 2022
If there is one thing you can never leave out of your camping checklist, it's a reliable sleeping bag that will keep you warm and dry while you spend the night under the stars. The best summer sleeping bags are highly compressible, packing down to a size that doesn't take up too much space in your pack. They are insulated to protect you against moisture and humidity, and they add minimal weight on your shoulders when backpacking. In order to help you choose among hundreds of different models, we have selected the five best summer sleeping bags available on the market, accounting for price, warmth and, of course, comfort.
For a complete analysis of all backpacking sleeping bags, check out the buyer's guide Best Backpacking Sleeping Bags.
Quick Answer

-

The Best Summer Sleeping Bags
Sea to Summit Spark SpI 40

Therm-a-Rest Space Cowboy 45

Sea to Summit Trailhead ThII 30
Comparison Table

-

Best Sleeping Bags for Summer

For the best experience turn your device horizontally
Temp ratings refer to the EN or ISO Comfort rating.
Weight and price are shown for the regular size.
Reviews

-

Best Summer Sleeping Bags
Marmot Nanowave 45
Specs
Insulation

:

Synthetic

Weight

:

1.8 lbs

Shape

:

Mummy

Temp Rating

:

56 F
Features
Draft tube keeps cold air from seeping through zipper
Zipper wraps around foot box
Synthetic insulation traps warmth even when wet


The Marmot Nanowave 45 is an affordable summer sleeping bag that won't take up too much room in your backpack. Not only is it cheap, it's also practical and functional.
In awarding it the winner of the best under $100 category, we realize it's not quite fair because most other bags on this list have a temperature rating down to around 20 degrees. However, if you're on a super tight budget and plan to camp from mid-spring to mid-fall, the Nanowave 45 is hard to beat.
Which leads us to the biggest downside of this bag, it is only good in mild weather. But, not everyone needs or wants a super warm bag and if you combine the Nanowave with an extra warm sleeping pad and a thermal liner, you might be able to extend the temperature range of this bag down a few degrees, making it much more versatile. If you're looking for a warmer budget backpacking sleeping bag, check out the REI Trailbreak 20.
The Marmot Nanowave is also available in a 55-degree and 35-degree version.
Nemo Forte 35
View Women's Version
Specs
Insulation

:

Synthetic

Weight

:

2.1 lbs

Shape

:

Semi-rectangular

Temp Rating

:

40 F
Features
80% postconsumer recycled content.
Unique Spoon™ shaped bags offer more room at the elbows and knees, allowing side sleepers to shift positions comfortably throughout the night.
Waterproof/breathable foot-box withstands tent condensation, keeping feet warm and dry.


The Nemo Forte 35 is an affordable synthetic sleeping bag that has plenty of room for those who love to sprawl out. This bag is a great option for mild weather adventures where you don't have to travel too far to get to your campsite.
What we love the most about this bag is its spacious dimensions. If you've ever felt trapped in a narrow mummy bag, you'll love the Forte's hourglass shape that is wider at the shoulders and feet and slightly tapered at the hips. This design is perfect for side sleepers or people who tend to move around a lot at night. We also loved what NEMO calls thermo gills, they are zips that let the insulation spread apart which is great for warm summer nights.
The biggest drawback of this bag is its weight and pack size. At 2lbs 2 oz, it's not the best choice for long distance backpacking but is manageable for overnight trips. The Forte uses Primaloft synthetic insulation which has its pros and cons. It doesn't pack down as small as down but it is far more affordable.
If you love the idea of this bag but wish it had down insulation, check out the Nemo Disco line.
This sleeping bag also comes in a 20 degree version.
The Nemo Forte also comes in a women's specific version in both 20 degree and 35 degree versions.
Kelty Cosmic 40
Specs
Insulation

:

Down

Weight

:

1.7 lbs

Shape

:

Mummy

Temp Rating

:

48 F
Features
Dual-slider locking zippers.
Zipper draft tube with antisnag design makes it easy to get in and out of the bag.
Stuff sack included.


The Kelty Cosmic 40 is an affordable summer down sleeping bag that is an excellent option for new backpackers who don't mind carrying a bit of extra weight and bulk to save some cash.
What we love the most about this bag is its overall value. The Cosmic's quality and warmth outshine other budget sleeping bags on this list. Of course, you can't compare the build and material quality of the Cosmic to the top of the line bags on this list but it is practical and comfortable enough, making it tough competition for other budget options.
The biggest downside of the Cosmic is it is much more heavy and bulky than other backpacking sleeping bags, but it might be a worthy trade off if saving cash is your biggest priority. The added pounds and pack size come from its 550 fill-power-down which isn't as performance minded as 800 and 900 fill-down found in high ticket bags. If you're just starting out and the idea of spending the majority of your budget on a sleeping bag is making you nervous, the Kelty Cosmic 40 might be a great choice to get you outside fast.
This bag is also offered in 20-degree and 0-degree versions.
The Kelty Cosmic 40 is available as a women's version in 20-degree and 0-degree options.
Sea to Summit Spark SpI 40
Specs
Insulation

:

Down

Weight

:

0.7 lbs

Shape

:

Mummy

Temp Rating

:

48 F
Features
Vertical chest baffles prevent down migration.
Superlight 7-denier and 10-denier fabrics offer minimal weight and packed size.
Treated with a water repellent treatment.


The Sea to Summit Spark SpI 40 is a super light and packable down sleeping bag that is great for those who want to go fast and light.
What we love the most about this bag is its warmth-to-weight ratio. This is thanks to its 850+ goose down insulation which is very fluffy and light. The down is treated with a water repellent treatment that keeps the feathers lofty even in humid conditions. We also liked the overall design of the bag and appreciated the vertical baffles on the chest that help to keep the insulation in place.
The clearest downside of the Spark SpI is its lack of versatility, with a comfort temperature of 48°F, and a lower limit at 40°F, it's really only a warm weather, summer sleeping bag. Also, to trim weight there are some features you might expect on a high end bag that are missing. There's no draft collar or draft tube and the zipper only goes half way. Having said that, if you're looking for a streamline bag that packs down tiny, it's hard to beat the Spark SpI.
There are five sleeping bags in Sea to Summit's spark series that range from a liner all the way to a winter expedition bag. They are the 0, I, II, III, and IV, the warmest being the IV.
Therm-a-Rest Hyperion 32
Specs
Insulation

:

Down

Weight

:

1.0 lbs

Shape

:

Mummy

Temp Rating

:

41 F
Features
Ergonomic shape and long zipper provide a human-friendly fit.
Shell fabric has been treated with a durable water repellent (DWR) to resist moisture.
Storage sack and compression stuff sack included.


The Therm-a-Rest Hyperion 32 is a lightweight top quality sleeping bag that was designed to help backpackers lighten their load.
What we love the most about this bag is its warmth to weight ratio. It's filled with 900 down which makes it so warm and light. It also packs down quite small, making it great for saving room in your backpack. A little feature we liked was there are two straps underneath it which you can attach to your sleeping pads to keep the bag from slipping off. The Hyperion comes with a compression bag which helps get the bag down to about the size of a water bottle. There is more insulation on top (70%) and less on the bottom (30%), this saves weight but it also means the design is optimized for sleeping on your back.
What this bag gains in weight saving, it pays for in comfort. The cut is slim, very slim. So, if you're a bigger dude or lady, you will probably feel constricted in this thing. The Hyperion is very narrow throughout and tapers down even more at the feet. The zipper only goes halfway down the bag, which does shave some ounces but it also means you can't vent your feet. And, while we're talking about the zipper, let's just say it has some room for improvement. There's a bit of fabric that runs along the zipper but it still snags from time to time.
The Hyperion 32 is excellent value for money and is cheaper than other high end bags on this list, but it is lacking some features like a draft collar that lets you seal the bag around your face. Also, while it's rated to 32 degrees, its comfort rating is 41 degrees. So we only recommend this bag for above freezing conditions. If you're the kind of hiker who doesn't mind sacrificing some comfort in order to go fast and light, the Hyperion 32 could be the perfect bag for you.
This bag also comes in a 20 degree version.
Therm-a-Rest Space Cowboy 45
Specs
Insulation

:

Down

Weight

:

1.2 lbs

Shape

:

Mummy

Temp Rating

:

52 F
Features
Snag Free Zipper
Highly Compressible
Cinchable Hood For Increased Warmth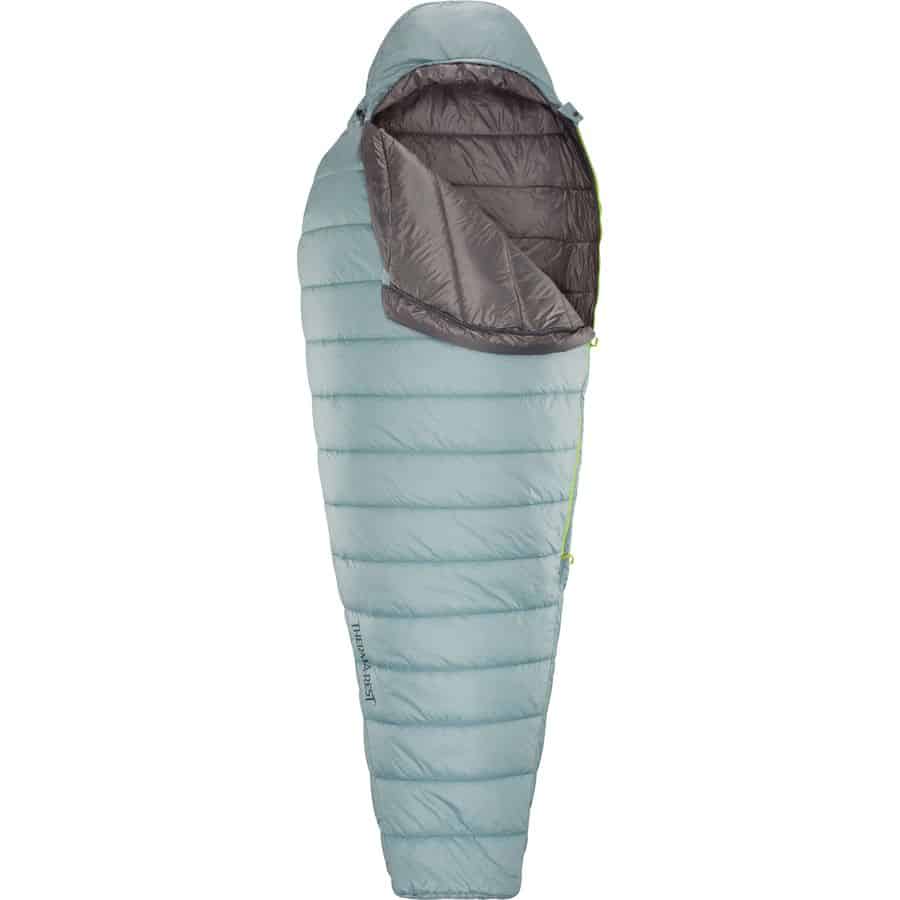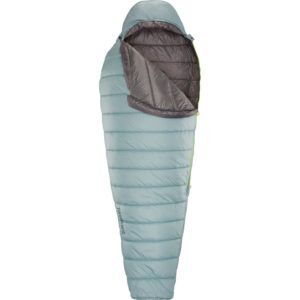 The Therm-a-Rest Space Cowboy 45 is one of the very few sleeping bags with water-resistant synthetic filling. This allows it to increase insulation – even when wet – while decreasing weight. However, it is designed for summer camping, as it withstands only 45°F. The bag features ThermaCapture zoned insulation that is strategically placed to catch your body's own rising heat. You can also cinch the hood down around your head for a snuggly, draft-free rest.
To increase versatility, this sleeping bag has loops that you can use to layer more quilts and blankets on it, making it useful in colder conditions. The zipper is snag-free to ensure its durability and ease of use. The Cowboy 45 weighs 1.5 lbs. – average for ultralight sleeping bags – but it can be compressed down to 2 liters of volume, saving lots of valuable space in your backpack.
Marmot Hydrogen 30
Specs
Fill Weight

:

10.9 oz

Insulation

:

Down

Weight

:

1.4 lbs

Shape

:

Mummy

Volume

:

06.8 L

Temp Rating

:

33 F

Fill Power

:

800
Features
Strong And Durable
Broad, Long, And Roomy
Extra Zipper On The Side


The insulating features of the Marmot Hydrogen Down Sleeping Bag will surely keep you warm even through colder nights. An insulated tube covers the 2-way anti-snag zipper to prevent any cold breeze from seeping in. A fold-down second zipper equips you with ventilation, so you won't overheat on warmer nights. Moreover, an insulated hood will warmly cradle your head thanks to its multi-baffle design that keeps the down from moving by separating it into different compartments. And cinching drawcords at the top of this bag allow you to secure the hood around your face to prevent wind from chafing your face all night.
Unlike a caterpillar cocoon, this mummy sleeping bag is durable and sure to live a long life. It has two hang loops for storing, drying, or just airing out the bag to help increase its lifespan with proper care. Another nifty feature includes an internal stash pocket perfect for keeping nighttime essentials and valuables nearby. Considering all these specs, the bag's super light weight of 1 lb. 7 oz. is almost unbelievable.
Therm-a-Rest Corus 32
Specs
Fill Weight

:

12.0 oz

Insulation

:

Down

Weight

:

1.2 lbs

Shape

:

Mummy

Volume

:

06.2 L

Temp Rating

:

32 F

Fill Power

:

650
Features
Compact Design
Water And Moisture Repellent
Fast Drying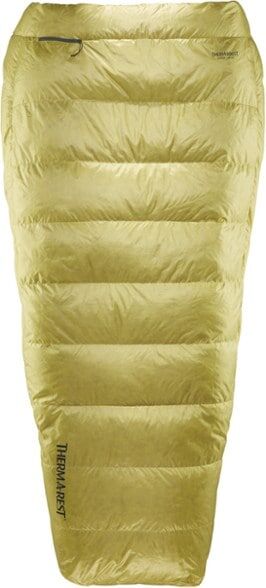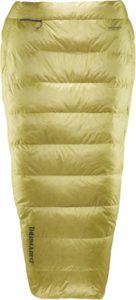 If you are looking to go on a camping trip in the summer, spring, or fall, the Therm-a-rest Corus 32 is a safe bet. It is fairly affordable, able to endure 32°F, and lightweight enough to reduce stress on your shoulders. While these aren't top notch characteristics, this product does provide a fantastic bag and pad connection system. With 8 snap loops, it is secure and easy to use, allowing you to layer other quilts with it. Plus, a loop kit includes 8 convenient stick-on patches to fasten a pad to the quilt.
Draft tubes line the sides of the quilt, guarding against cold air. Corus 32 also features an elastic foot-box that holds together your feet and your pad, securing warmth. The quilt has cords at the top that further let you snap the quilt shut with only your head poking out.
Sea to Summit Trailhead ThII 30
Specs
Insulation

:

Synthetic

Weight

:

2.3 lbs

Shape

:

Semi-rectangular

Temp Rating

:

40 F
Features
Extra Spacious
Second Zipper In Footbox
Full Length Zipper To Convert Sleeping Bag Into A Quilt


The Sea to Summit Trailhead ThII 30 is another synthetic sleeping bag that retains its insulation abilities even when wet. It uses a unique WaveLoft technique that tangles filling fibers for maximum heat retention up to 30°F. This bag has a tapered rectangular shape, providing you with comfort and room to move. An oversized anti-snag zipper draft tube will guard your whole body against cold chills when you snuggle down in this bag.
An important characteristic of the THII 30 is its versatility. Its full-length zipper lets you turn this sleeping bag into a quilt. Furthermore, there is a second zipper in the foot box, allowing ventilation for your feet and broad temperature adjustability. Plus, to prevent your frustration, the bag's lining fabric is directly attached to the shell fabric, which prevents zipper tangles. This sleeping bag is excellent for backpacking since it weighs about 2.5 lbs – not much more than most ultralight sleeping bags!
THINGS TO CONSIDER WHEN BUYING THE BEST SUMMER SLEEPING BAGS
Summer is for many the ideal season to go and explore the great outdoors, with comfortable temperatures even at higher altitudes and a lower risk of rainfall. But when it comes to camping, it is fundamental to choose the best sleeping bag to suit your needs. To get the proper amount of rest on the trail after a day spent walking in the backcountry, you'll need to choose the right sleeping bag for you while considering shape, size, weight, and temperature rating.
SLEEPING BAG SHAPE
Sleeping bags come in three different shapes: rectangular, semi-rectangular, and mummy-shaped.
Rectangular-shaped sleeping bags offer maximum moving space but minimum insulation, as cold air pockets are more likely to form in the empty areas. They are also bulkier, therefore less suitable for backpacking trips.
Semi-rectangular sleeping bags have a tapered shape that gets narrower around the legs and feet. They are usually still wide enough to allow for some movement, but tend to be lighter in weight, given they use less material in their production.
Mummy-shaped sleeping bags provide the most insulation with the minimum weight, but offer little or no moving space. Their shape is anatomical, meaning that they tend to wrap tighter around the body to reduce heat loss and bulk.
TEMPERATURE RATING
Most sleeping bags are tested by independent organizations in a laboratory to establish at what temperature they cease to be comfortable to sleep in. The number that accompanies the sleeping bag's name refers to the lowest temperature at which the average "cold sleeper" wearing one layer of clothing will be comfortable.
Summer sleeping bags have a temperature rating of 32°F and above, while three-season sleeping bags start at 20°F. If you are planning to hike at high elevation where temperatures drop close to freezing level even in summer, you will want to buy a 3-season sleeping bag with a temperature rating of 30°F or lower. If you intend to camp in a warm climate a sleeping bag with a rating of 40°F + will do perfectly fine.
INSULATION
The insulating material that fills sleeping bags is usually either down or synthetic fiber. Down-filled sleeping bags tend to be more expensive than those with synthetic insulation, they perform better in colder temperatures, and they weigh less.
On the other hand, sleeping bags with synthetic insulation dry faster, are non-allergenic, and protect against heat loss even when damp. In summer months, when much insulation isn't needed, synthetic sleeping bags are usually more than enough to keep you warm.
WEIGHT
As for most camping and hiking gear, weight can have a huge impact on the cost of the product. Ultralight sleeping bags often come at a premium price but are worth the investment if you are planning a multi-day backpacking trip, as they are highly compressible and won't put too much pressure on your shoulders. Summer sleeping bags are lighter than 3-season or winter bags, as less insulation material is required for the fill.
COST
Summer sleeping bags are less costly than winter or 3-season bags. However, prices vary widely as different materials and technologies are employed in their production. Prices for summer sleeping bags start at around $50. They go up into the hundreds depending on several factors. These are the quality of the insulating material, weight, brand name, and additional features such as extra pockets, double zippers, and waterproof coating.
FEATURES EXPLAINED
Temperature rating
The lowest temperature at which an average "cold sleeper" wearing one layer of clothing is comfortable. Summer sleeping bags start at 32°F.
Synthetic insulation
Synthetic insulation material consists of polyester fibers that fill the sleeping bag to prevent heat loss. The synthetic insulation materials vary in quality, with the best being comparable to duck or goose down in terms of heat-retention.
Duck or goose down
The soft, fine plumage that is found under the feathers of ducks and geese, working as an insulating layer on top of the skin. This type of plumage is often used to fill down sleeping bags for superior warmth and insulation.
Fill power
Most duck or goose down summer sleeping bags have a fill power (fp) that ranges between 600 and 700. This rating indicates the number of cubic inches one ounce of down occupies when compressed under a standard weight. In other words, this rating refers to the quantity of insulating material in the sleeping bag, not the quality. Mediocre fill power starts around 500, whereas high-end sleeping bags can have a fill power up to 900.
Sleeping bag shell
The outer material of the sleeping bag, usually made of polyester or nylon coated with a DWR (durable water repellent) finish.