Updated on October 28, 2020
Watches and sailing go together. Sailboat racers have very particular timekeeping needs, and premium watchmakers have long sought the cachet of association with high-end yacht races. That association produces some truly extravagant timepieces. If the $200,000 price tag on the Breguet Marine Equation Marchante 5887 seems excessive, you can always settle for the Rolex Oyster Perpetual Yachtmaster-II at a mere $18,750! Fortunately, watchmakers recognize that sailors of slightly humbler means also use sailing-specific watches, and they've responded with an array of affordable timepieces that can stand up to the rigors of sailing and provide many of the same features found on the most refined models. This guide to the best sailing watches should help you choose one that suits your needs.
For more of our top sailing gear recommendations, check out the Best Sailing Gloves.
Quick Answer

-

The Best Sailing Watches
Optimum Time Series 3 Sailing Timer

Timex Intelligent Quartz Yacht Racer
Comparison Table

-

Best Sailing Watches

For the best experience turn your device horizontally
Reviews

-

Best Watches for Sailing
Optimum Time Series 3 Sailing Timer
Specs
Water Resistance

:

To 50 meters/5 ATM

Battery

:

Replaceable CR2032

Display Size

:

65mm

Band

:

Elastic
Features
Multiple Specialist Race Timing And Countdown Options
Luminous Backlight For Use In The Dark
Can Be Mounted On A Mast Or Boom
Huge 16mm Digits For Easy Visibility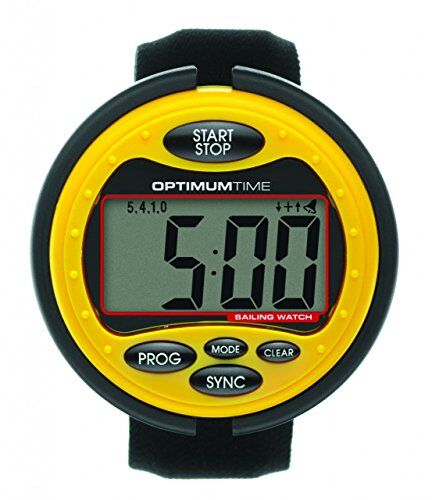 BEST BUDGET SAILING WATCH
Optimum Time brings you a full-featured sailing watch with an impressive array of features and a remarkably accessible price tag in the Series 3. The "big yellow watch" is well-known and popular, and you can look around almost any club race and spot a number of these mounted on wrists and ready for action! If you don't want to mount it on your wrist, there's a bracket for mounting on your mast or boom, and the massive display and audible countdowns make it easily usable from a distance. The face can be rotated 360 degrees to give you a clear view in any mounting situation.
There's a full range of pre-programmed countdown and count-up sequences also a re-sync feature that allows you to reset to race time if you miss the starting gun. We never do that, of course, but it's good to know we're covered if it happens!
Ronstan Clear Start
Specs
Water Resistance

:

50 meters/5 ATM

Battery

:

Replaceable CR2032

Display Size

:

50mm

Band

:

Silicone
Features
Large 13mm Digits Can Be Read At A Glance
Pre-Programmed Race Start Sequences
Multi-Line Display Shows Race Time And Real Time
Durable Fiber-Reinforced Resin Body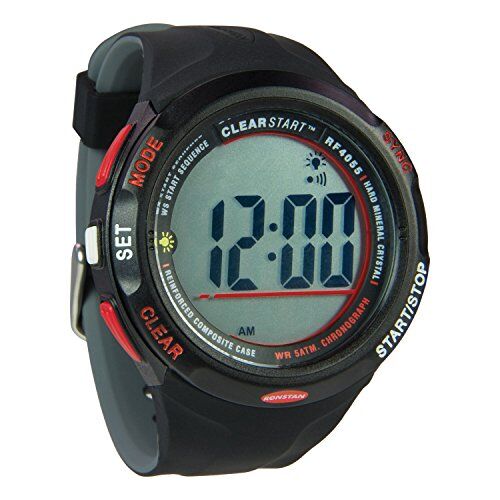 BEST VALUE RACING WATCH
Ronstan claims that the Clear Start is "the most popular sailing watch in the world", and it's hard to contest that claim. The latest generation of the Clear Start model packs a host of race-specific features into a well-planned interface that gives you fast access to key features and is easy to master. The watch is water and shock resistant and the case and crystal are solid enough to stand up to regular racing.
The Clear Start provides great value in a race-specific watch, but it is primarily designed for racing, and if you're a recreational sailor who prefers exploration to competition, it's probably not the best choice.
Timex Intelligent Quartz Yacht Racer
Specs
Water Resistance

:

100 meters/10 ATM

Battery

:

Replaceable CR2016

Display Size

:

45mm

Band

:

Silicon
Features
Dedicated 4th Hand For Compass Readout
Air Or Water Temperature Readings In Fahrenheit Or Celsius
Indiglo Night Light Illuminates Face In Low Light Conditions
Tide Tracker Counts Down To Next Low Or High Tide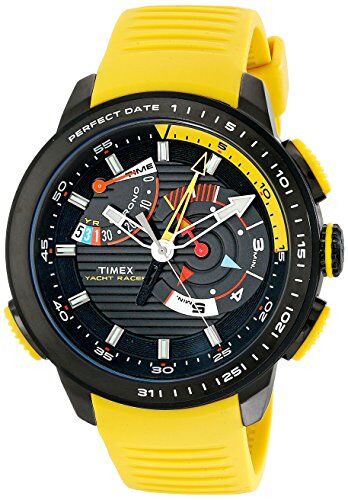 BEST IF YOU DON'T RACE
Not all sailors race and not everyone wants a race timer with a digital display. This offering from Timex delivers a sleek, traditional analog package that will appeal to non-racing sailors. The body is crafted from a solid steel casting and the watch combines durability with elegance. The race-specific timing functions are replaced by more general marine features that all boaters will find useful: an effective compass, a thermometer that will measure air or water temperature, and a tide tracker. It's an appealing package for the marine enthusiast who isn't all about competition.
Some reviewers found the multi-dial functions confusing, so you can expect to spend a little time with the owner's manual to master everything the watch can do. As with any watch offering temperature readings, you'll have to remove the watch from your wrist to get an accurate reading, as body heat can skew the results.
Tissot Sailing-Touch
Specs
Water Resistance

:

100 meters/10 ATM

Battery

:

Replaceable LR44

Display Size

:

45mm

Band

:

Stainless Steel
Features
Weather Forecasting Function Tracks 6-Hour Barometric Pressure Trends
Regatta Mode For Start Countdown And Time Synchronization
Integrated Compass and Speed Tracking
Tide Tracker Gives Current Tide State, Ebb Or Flow, And Time To High Or Low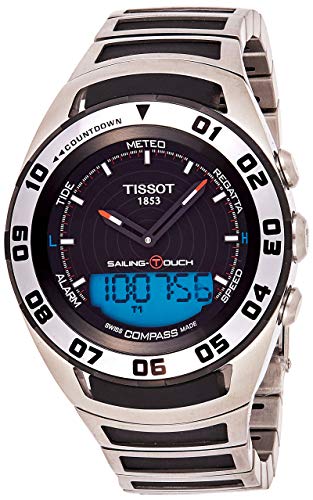 BEST ANALOG DIAL SAILING WATCH
If you prefer the look of a traditional chronograph but want a full range of sailing-specific functions, The Tissot Sailing-Touch will grab your attention. This Swiss manufacturer has a long history of making practical, elegant sailing watches, and the Sailing-Touch continues that tradition. You get start countdown and time synchronization functions for racing, a functional compass for navigation, and tide and weather tracking to keep tabs on sailing conditions. The whole package comes wrapped in a stylish, durable stainless steel case and combines the appeal of the traditional watch dial with fully modern functionality.
The Tissot Sailing-Touch delivers many of the features and much of the visual appeal that you'll find in sailing watches that cost many thousands of dollars and brings them to market at a reasonable price. It's a top pick for sailing enthusiasts looking for an affordable high-quality analog-dial sailing watch.
Garmin Quatix 6
Specs
Water Resistance

:

100 meters/10 ATM

Battery

:

Replaceable LR44

Display Size

:

30.5mm

Band

:

Silicon
Features
Multifunction Touch Screen
Bluetooth Connectivity To Your Boat's Garmin Navigation Instruments
Activity Profiles And Performance Metrics For Multiple Water Sports
Full GPS Navigation Capability
Garmin SailAssist Suite Of Sailing-Specific Functions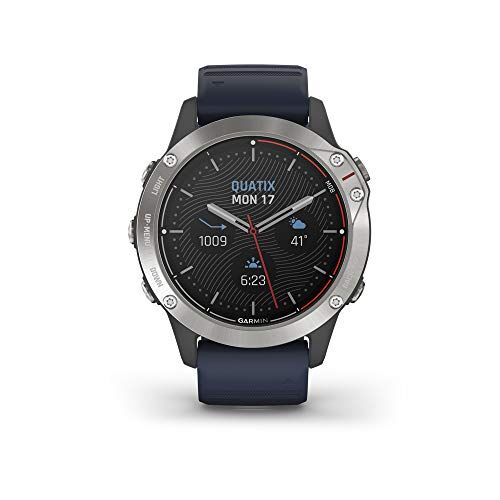 BEST GPS SAILING WATCH
They call it a smartwatch for a reason. Lots of sailing watches will give you a race countdown. The Quatix 6 will show you a virtual starting line, your distance from the starting line, your position relative to the starting line, your speed, wind direction and speed, and your tack angle. Other sailing watches will give you tide and barometric pressure data; the Quatix 6 gives you a continuous link to your boat's entire navigation suite (check for compatibility). You get GPS navigation and tracking functions, a 3-axis electronic compass, a wrist-based heart rate monitor and much more. It also tells the time!
The only real downside here is that the sheer number of functions and options can be overwhelming: if you like to keep it simple, this may not be the watch for you. If you're willing to spend some time working out what it can do and how to get it done, you'll have one of the most effective wrist-based information systems on the market!
THINGS TO CONSIDER WHEN BUYING A SAILING WATCH
All sailing watches are water-resistant. They usually offer a visual and often audible countdown designed to help racers time their approach to a starting line and set an ideal starting position. That's just the beginning. Many modern sailing watches can provide barometric pressure, tide data, compass bearing and much more. Some can double up as a GPS and take on advanced navigation functions. You can fit a lot of power on your wrist, and you don't need to spend a small fortune to get it!
DO YOU RACE?
What most manufacturers call a "sailing watch" might be better described as a "regatta watch": the niche is largely defined by race-specific functions. If you race or you're thinking about racing and learning how race starts work, these functions are important. If you don't race and don't intend to race, you'll be looking for a solid water-resistant watch that offers functions like barometric pressure readings, tide status, and even the navigation capacity offered by wrist-based GPS units.
GPS FUNCTIONS
If your sailing is more about journeys and exploration than competition, you may want to look for a GPS-equipped "smartwatch". Many sport-oriented smartwatches also offer race-specific functions. If you're interested in this type, check out this guide to choosing a GPS sports watch.
STYLE MATTERS
Most of us don't wear a sailing watch exclusively for sailing. You may not wear it every day, but it's likely to go on your wrist well before a race or an expedition and stay on it for a while after. If you have specific preferences in watch styling, take those into consideration! Some people like digital watches, some like analog, some prefer stainless steel bands, others silicon. Find a watch you like to look at, and wearing it will make you happier!
SPECS AND FEATURES EXPLAINED
WATER RESISTANCE
Manufacturers specify water resistance in different terms. Some state a specific depth of water, some cite pressure in ATM, which is the pressure equivalent to atmospheric weight. 10 ATM is 10x the weight and pressure of the atmosphere. One ATM is roughly equivalent to ten meters according to the depth rating criteria.
Note that a "50 Meters" rating does not mean that a watch is safe to use at that depth. Activity that moves the watch through the water greatly increases the pressure, especially if it involves significant speed, like a high dive into the water. In general, a 50m or 5 ATM rating is considered safe from splashing or rain, while 100m or 10 ATM is preferred for swimming, snorkeling, and other sports requiring sustained immersion. Remember that impacts can compromise water resistance, even if there's no visible damage!
For more information, check out this comprehensive guide to water resistance ratings.
RACE TIMING FUNCTIONS
Sailboat racing is unique in that much of what goes into winning happens before the race starts. Getting to the starting line at the right time and position relative to the wind, the course, and the other contestants often determines who wins and loses. If you're at the helm you need to keep an eye on the race countdown and your position on the water at the same time, which is why the sailing watch and its race-specific features are so important to racers. Race starts and the rules that govern them are complicated and take some time to master. Sailing World offers this advice on sailboat racing rules at the starting line and Yachts & Yachting contributes this advice on how to start faster.
BATTERIES
Most watches use a replaceable battery. The batteries typically last a long time, and it's easy to forget they are there until they finally run out! If watch batteries aren't readily available in your area, consider ordering extras with the purchase of your watch.
READ MORE
For more of our top sailing gear recommendations, check out these popular buyer's guides: