Updated on February 6, 2020
Many of us show up for our first sailing trip without a pair of gloves. If we aren't lucky enough to borrow a pair, they're likely to rocket up to first place on our post-trip "to buy" list. Sailing involves ropes, even if we call them lines. A lot of those lines are under tension and if we aren't experienced, we often find them moving in unpredictable ways. Even experienced sailors know well that a lot of things can happen quickly and unexpectedly on a sailboat, and many of those things can put your hands at risk of damage. The bottom line is that if you're going to sail, you need to protect your hands, and that means you need gloves. Choosing your gloves might look like a challenge, but this list of the best sailing gloves should give you a start.
For more of our top sailing gear recommendations, check out the Best Sailing Hats.
Quick Answer

-

The Best Sailing Gloves
Gill Champion Short Finger
Comparison Table

-

Best Sailing Gloves

For the best experience turn your device horizontally
Reviews

-

The Best Gloves for Sailing
WindRider Pro
Specs
Finger

:

Choose ¾ or Full

Palm Material

:

Amara Synthetic Leather

Mesh Inserts

:

Back

Wrist

:

Short, Inside Closure
Features
Designed For All Water Sports
High-Grip Padded Amara Palm Adds Comfort
Double-Stitched Seams For Durability
Choice Of Full or ¾ Finger Models
BEST BUDGET GLOVE
If you're looking for a basic all-around water sports glove that protects your hands, keeps your fingertips free for detail work, and generally does what a sailing glove needs to do without costing an arm and a leg (or even just a few fingers), this is a great choice. These versatile gloves are made of fast-drying elastic material and sewn with a mesh back for ventilation. 
While reviews of these gloves are overwhelmingly positive, a small number of reviewers do complain about durability issues and incorrect sizing. These are common issues with most relatively low-cost imported products, and if you want to be sure to avoid those downfalls, then you might want to look to higher-end models!
Gill Champion Short Finger
Specs
Finger

:

3 Finger

Palm Material

:

Dura-Grip Synthetic Leather

Mesh Inserts

:

None

Wrist

:

Wide Neoprene Wrist Band
Features
UV 50+ 4-Way Stretch Back For Comfort And Sun Protection
Wraparound Palm Eliminates Uncomfortable Side Seams
Offset Finger Seams Remove Pressure Points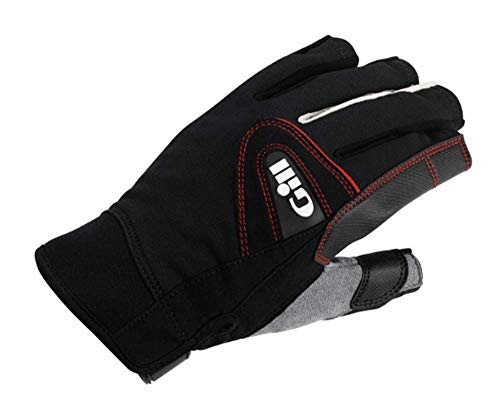 BEST ALL-AROUND 3 FINGER GLOVE
The 3-finger glove is a compromise. The tips of the thumb and first finger are left open for knot tying and other tasks requiring fine dexterity while the other 3 fingers are fully closed in for warmth. It's a proven, popular design, and Gill approaches it with the thorough design and top-level execution that we expect from a company that made its reputation delivering top quality sailing-specific gear. They are a favorite choice for serious racers and casual sailors alike, and they've earned their popularity!
These durable, comfortable gloves offer a long list of sailing-specific features, are available at an attractive price point, and will be a top choice for sailors looking for affordable quality equipment.
Harken Sport ¾ Finger
Specs
Finger

:

3/4

Palm Material

:

Synthetic Leather

Mesh Inserts

:

Base Of Fingers

Wrist

:

Short, Inside Closure
Features
Sticky, Abrasion-Resistant Palm And Finger Wraps For Superior Grip
Double Thickness Palm For Durability
Molded Rubber Guard Strips Protect Backs Of Hands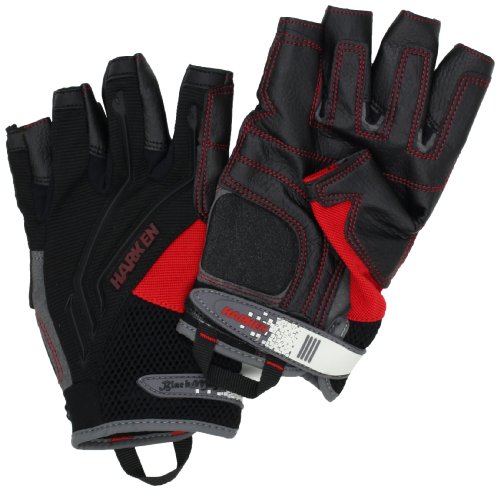 BEST ALL-AROUND SHORT FINGER GLOVE
Most sailors prefer short-finger gloves for warm weather sailing, and the Harken Sport Reflex is a perennial favorite. A double layer of Harken's proprietary Black Magic leather compound keeps the palms durable, sticky, and padded for superior line handling in wet conditions. Mesh vents at the base of the fingers keep the hands ventilated and cool in hot weather, and molded rubber guard strips protect the back of the hand and the wrist.
These will probably not be your first choice for cold-weather sailing, but if you're looking for warm-weather hand protection, they're a solid choice!
Dakine Full Finger
Specs
Finger

:

Full

Palm Material

:

Neoprene

Mesh Inserts

:

Back, Finger Backs

Wrist

:

Outside Velcro Closure
Features
Compression Molded Neoprene Back Panel For Durability
Breathable Mesh For Comfort
Non-Slip Palm Material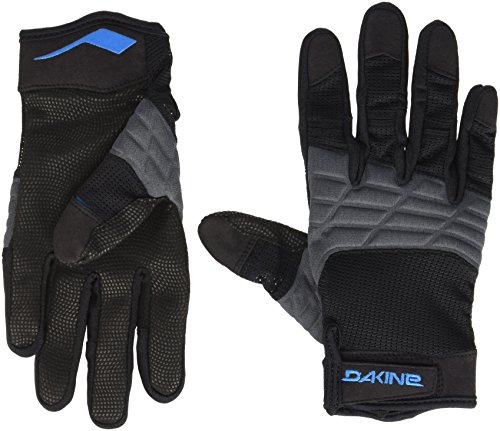 BEST FULL FINGER GLOVES
Some sailors still prefer a full-finger glove for maximum protection, and some prefer to keep a full-fingered pair in reserve for times when coverage is more important than dexterity. Dakine manufactures these gloves with sailors, windsurfers, and kitesurfers in mind; they're made for water and designed to drain easily and dry fast. Dakine prefers neoprene to the usual synthetic leather and applies a generous range of mesh for ventilation. The palms are padded and sticky and the wrist gives a tight seal.
Unlike most sailing gloves, the Dakine has the wrist closure tab on the back of the wrist, where it may interfere with the operation of a sailing watch. If you're racing and time management is critical, be aware of this feature!
Gill S/F Pro 3 Finger
Specs
Finger

:

3 Finger

Palm Material

:

Synthetic Leather

Mesh Inserts

:

None

Wrist

:

Short, Inside Closure
Features
Pre-Curved Fingers With Seamless Construction
Wrapped Palm Design Prevents Rope Burn
Thumb And Index Finger Balance Protection With Durability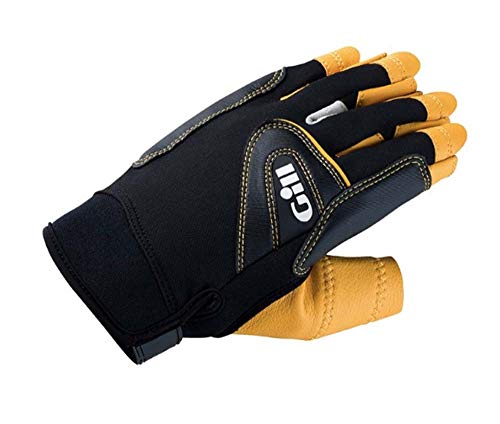 BEST TOP SHELF SAILING GLOVES
Some people carry their sports to the most extreme level, lay the highest possible level of stress on their gear, and need the finest products available. Some people just like to have really nice stuff. If you're in one of those categories and looking for a pair of sailing gloves, the Gill Professional is going to leave you with happy hands and the security of knowing that you have the best gloves money can buy. 
The seams and stitching on this glove may seem oddly placed, but everything is by design: those are "wrap-around" palm and finger protection materials stitched in a pattern that keeps seams away from any location where they might cause chafing or leave your hands exposed to unnecessary stress. Even the wrist closure is designed to avoid interfering with the controls of your high-tech racing watch!
There's a long list of features and advantages for this one, but it comes down to a pretty simple conclusion. If you want the best and don't mind paying a little extra for it, buy it.
THINGS TO CONSIDER WHEN BUYING SAILING GLOVES
Your gloves are there to protect your hands, and to keep them warm if you're sailing in cold conditions. Gloves can also get in the way, especially if you're tying or untying knots or performing other tasks requiring manual dexterity. To protect the hands while still retaining full use of the fingers we have a choice of gloves, from full-fingered to three-fingered to short-fingered, each leaving a bit more finger ready to work. 
What you need, and the type of material and features you select, will depend on your role in the crew and what you normally do onboard. If you aren't sure what that's going to be, many general-purpose gloves will do just fine. Don't worry too much about getting it wrong: hand protection is always better than no hand protection! Read through all the things we think you should consider before buying your first (or tenth) pair of sailing  gloves and then make your decision and get back to sea!
PURPOSE
All sailing gloves are designed for sailing, obviously, but they still serve different purposes. If you sail in warm weather, you'll be primarily interested in protecting your hands from rope burn. If you sometimes sail in cold weather, you'll want more coverage for warmth. If you regularly tie and untie knots, you'll want to look at gloves that leave fingertips open (3-finger or ¾ / short style). If you're at the helm in a race setting, you'll want to make sure that your gloves don't interfere with access to your watch or the controls of your watch.
Assess the conditions you'll sail in and your role in the crew, and choose your gloves accordingly!
MATERIALS
Like everything you wear on a boat, your gloves will be wet a lot. Gloves also tend to be padded for protection, and padding can interfere with drying and leave you with damp, smelly gloves that deteriorate fast. Specialist sailing gloves should be designed to dry fast and handle repeated wetting and drying!
LEARN MORE
Annapolis Performance Sailing has a good guide to choosing sailing gloves. Whitecaps Marine offers advice on glove materials and choosing gloves to fit your style of sailing.
SPECS AND FEATURES EXPLAINED
FINGERS
Sailing gloves come in three basic configurations.
¾ or short finger gloves cover the hand and the base of the fingers but leave all fingertips open for maximum dexterity. They are favored by warm-weather sailors and those whose main need is palm protection.
3 finger gloves leave the tips of the thumb and first fingers open but cover the other 3 fingers completely. They provide more warmth and protection while still preserving dexterity in the thumb and first finger.
Full finger gloves cover the fingers completely, delivering maximum protection and warmth but sacrificing dexterity.
Some high end gloves use "pre-curved" fingers with extra padding designed to combine protection with flexibility.
PALM MATERIALS
The palm is the most critical part of a sailing glove. Palms need to be sticky enough to give good grip on wet lines, padded enough to protect the hands from rope burns and impact, and durable enough to survive heavy friction. 
Most manufacturers use synthetic leather compounds for their palms, often in double thickness. Some also wrap the palm pad around the edge of the hand, because many sailors run lines over the edges of their hands.
MESH INSERTS
Mesh inserts are placed in low-friction areas to preserve durability while allowing ventilation. They are mainly used in products intended for warm-weather sailing.
THE WRIST
Users are sometimes surprised to find velcro closures on the inside of the wrist on sailing gloves, while most sport gloves have them on the back or outside of the wrist. This is to keep the closure from interfering with the visibility or controls of watches or wrist-mounted GPS units, which can be critically important in racing. For the same reason, many sailing gloves have a relatively short wrist and some use a cutout on the back of the wrist to allow space for a watch.
THE BACK
The back is arguably the least important part of a sailing glove, but it needs to stretch easily to assure free movement. Some manufacturers use hard rubber ridges for added protection on the backs of the hands.
READ MORE
For more of our top sailing gear recommendations, check out these popular buyer's guides: