Updated on October 1, 2020
Sun, wind, and salt spray are all parts of a perfect day on the water. They can also put a serious burden on your eyes, especially when direct sunlight combines with reflections and glare from water, sails, and polished white fiberglass hulls. Eye protection is a must for sailors, and your street sunglasses are probably not going to be enough. Fortunately for our windows on the world, we have a wide range of shades to choose from, many specifically adapted for water sports in general and sailing in particular. We've made the choice easier by selecting five of the best sailing sunglasses at a range of price points.
What kind of eye protection do sailors need? Look for wraparound styles that protect against glare from the sides and from below. Polarized lenses with full UV protection are preferred. Sailing glasses should be impact resistant and have non-slip pads on the nose to keep them in place. Floating glasses have the advantage, especially for aggressive small-boat sailors who often end up in the water, and if you don't have them (or even if you do) you'll want to add a retaining strap with flotation. Sunglasses are a personal choice and you'll want to choose a pair that suits your personal style, but these top picks make a good starting point for anyone looking for sail-specific eye protection!
For more of our top sailing gear recommendations, check out the Best Sailing Hats.
Quick Answer

-

The Best Sailing Sunglasses
Comparison Table

-

Best Sailing Sunglasses

For the best experience turn your device horizontally
Reviews

-

The Best Sunglasses for Sailing
SeaSpecs Classic Extreme
Specs
Lens Material

:

Polycarbonate

Polarized

:

Yes

UVA/UVB Protection

:

Yes

Floating

:

Yes
Features
Integrated Strap
Face-Hugging Design Keeps Water Out
Designed For Active Water Sports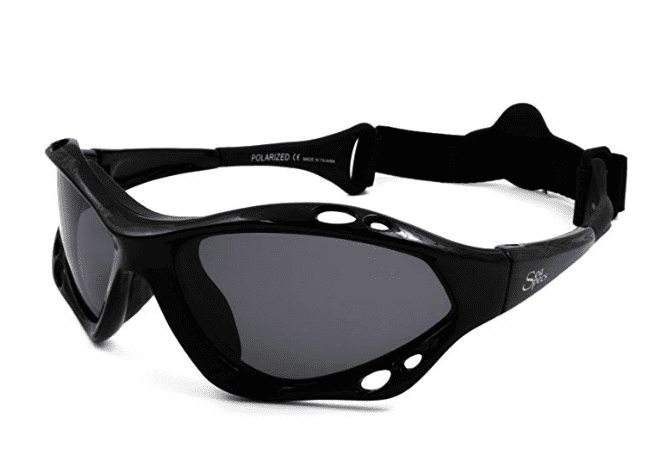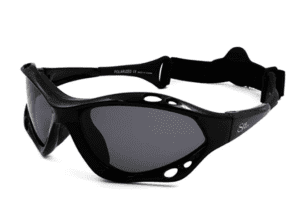 BEST FOR: AGGRESSIVE SAILING
Half sunglass, half goggle, SeaSpecs will be your eyewear of choice if your style of sailing has you out in a trapeze blasting a catamaran across a choppy beam reach. Designed for surfing, kitesurfing, windsurfing and other sports that have you in the water as much as on it, they feature a built-in retaining strap designed to keep them on your head even when things get wetter than expected! If they do come off they will float for easier recovery, but they're affordable enough that losing a pair isn't the end of the world. The accessible price also makes them a great choice for a spare pair of glasses to keep in the boat for backup use or if a friend needs a pair.
Reviews of the SeaSpecs are generally very positive, but a few users have reported issues with lenses popping out. On the other hand, with SeaSpecs priced at only a small fraction of what some of the higher-end glasses cost, a spare pair is a reasonable investment!
Bollé Python
Specs
Lens Material

:

Coated Polycarbonate

Polarized

:

Yes

UVA/UVB Protection

:

Yes

Floating

:

No
Features
Anti-Slip Nosepiece And Temples Keep The Glasses On Your Face
14% Light Transmission - Made For Bright Conditions
Wraparound Design For Wide Field Of Vision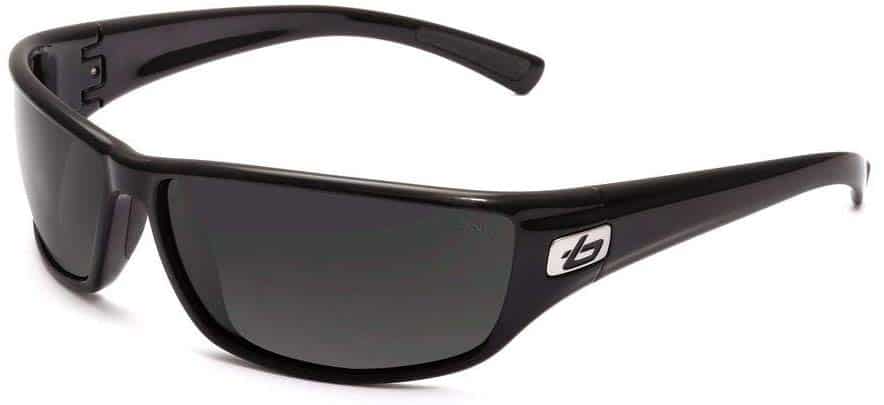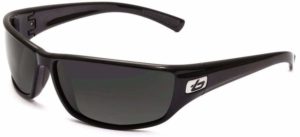 BEST FOR: STREET-TO-SAIL USE
If you're looking for a pair of sunglasses that are as comfortable on the street as they are on deck, check these out. Bollé is known for blending serious sporting credibility with appealing style, and the Python is right in line with that reputation. The Python gets high marks for quality optics, a wide field of vision, non-slip nosepieces and temple linings, and coated lenses that resist scratching, impact, wetting, and fog. These glasses cut a lot of light, and are best used in very bright conditions: if you like wearing sunglasses at night, use a different pair!
On the downside, they don't float, so make sure you have a retaining strap that does! A small minority of users report issues with the coating peeling off. Some fakes are reportedly circulating, so be sure to buy from a reputable source.
COSTA Brine
Specs
Material

:

Glass

Polarized

:

Yes

UVA/UVB Protection

:

Yes

Floating

:

No
Features
Lightweight Glass Lenses Provide Maximum Clarity
Cuts 99% Of Visible Glare
Environmentally Sensitive BioResin Frames


BEST FOR: LENS CLARITY
Glass lenses provide greater clarity than any other material, but most manufacturers shy away from them because they are usually heavier and bulkier than polycarbonate. Costa claims that their unique technology allows them to produce glass lenses that are 20% thinner and 22% lighter than those of any competitor, allowing them to maximize clarity without excessive weight and bulk. The Brine was designed for saltwater fishing but is highly adaptable to sailing, particularly if a clear view of the water is a high priority!
The glass lenses do leave these too heavy to float, so you'll need a floating retaining strap. They're also on the pricey side, but the quality is proportional to the price!
Maui Jim World Cup
Specs
Lens Material

:

Glass

Polarized

:

Yes

UVA/UVB Protection

:

Yes

Floating

:

No
Features
Waterproof And Oil-Resistant Coating
Added Contrast For Fog And Overcast Skies
Anti-Corrosion Spring Hinges
Embedded Nose Pads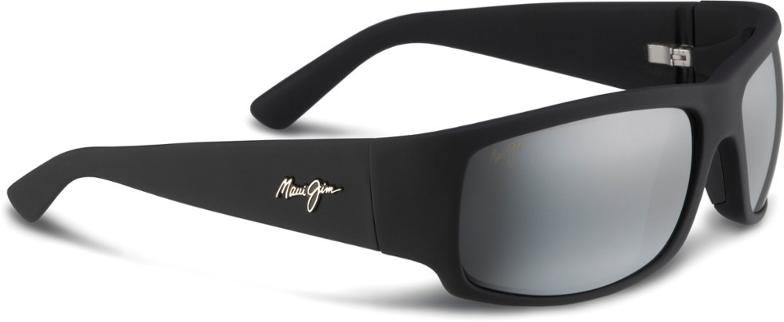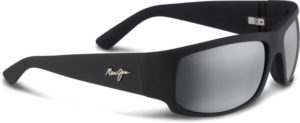 BEST FOR: VARIABLE LIGHT CONDITIONS
These are high-end sunglasses in every sense: Maui Jim has a great reputation among the saltwater set and the World Cup is one of their leading offerings. This version offers a neutral grey tint with a hint of bronze that combines exceptional bright-light performance with added contrast and superb color rendition in cloudy or foggy conditions, making it a great choice when you're not sure what the weather will dish out! The manufacturer claims that "patented PolarizedPlus2 lens technology wipes out 99.9% of glare, blocks 100% of harmful UV and boosts color", and a small army of satisfied customers backs up their claim!
As with most glass-lens sunglasses, these will not float, so be sure your retaining strap does!
Gill Classic
Specs
Lens Material

:

Coated Polycarbonate

Polarized

:

Yes

UVA/UVB Protection

:

Yes

Floating

:

Yes
Features
Hydrophobic And Oleophobic Coatings
Lenses Exceed EN (European Standards Organization) Safety Standards
Total UV Protection: UVA, UVB, And UVC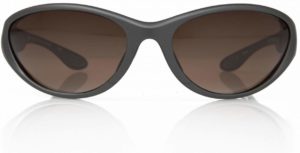 BEST FOR: ALL-AROUND VALUE
No list of sailing sunglasses would be complete without an entry from Gill: the company was founded by sailors, and while they are popular across the water sports spectrum, they are designed first and foremost for sailing. As you'd expect from sailing-specific eyewear these check all the usual boxes, and they get particular praise for a hydrophobic exterior coating that sheds water and salt residue and an oleophobic inner coating that resists fingerprints, sunscreen, and skin oils. The high-grade optics slash glare and reduce eye fatigue. They even look good, at least to our sense of style!
The downside? We're still looking for one!
BONUS PRODUCTS
Any sunglasses you use on the water need a retaining strap, and even if your glasses float, you'll want to add flotation to keep them on top of the water and visible. Tortuga Straps makes a high quality floating strap that consistently gets rave reviews!
If you already have a retaining strap you like, these bright yellow floats will add flotation and keep your fallen shades visible in the water! These are worth considering if you often lose glasses, or if you use an expensive pair of shades that you really don't want to lose.
THINGS TO CONSIDER WHEN BUYING SUNGLASSES FOR SAILING
DESIGN
Any sunglasses are better than no sunglasses, but if you're going to be spending much time on the water you will want a pair that is specifically designed for water sports. Look for a wrap-around design that gives you a broad field of vision and protects your eyes against glare from the sides and reflected light from below. You want glasses that hug your head and have non-slip nose and temple contact points: you need your glasses to stay on your head when you're moving quickly and exposed to wind and water. They should be comfortable: you'll be wearing them for hours at a time.
MATERIALS
Metal frames corrode quickly when exposed to salt water. Most makers of water sports glasses use corrosion-resistant materials with hardware designed to resist salt exposure.
Many entry-level glasses use acrylic lenses, which are inexpensive but easily broken and scratched, and prone to distortion. Polycarbonate lenses can be made to much higher standards, and many manufacturers have proprietary polycarbonate blends and manufacturing techniques. Glass provides the highest optical quality, at the expense of added weight and bulk.
PROTECTION
You wear sunglasses for protection from the sun, and that's the primary consideration. You want polarized lenses with the highest possible degree of UV protection. Remember that UV-protective coatings are colorless, so a dark tint doesn't necessarily translate to better protection! For extra UV protection, consider wearing a sailing hat, as well.
LEARN MORE
If you'd like to know more about sailing-specific sunglasses and how to choose them, try these detailed buyer's guides from West Marine and Sail & Leisure.
FEATURES EXPLAINED
UV PROTECTION
Ultraviolet light is invisible to the naked eye but can do serious damage to the skin and eyes. There are three wavelengths of light classified as Ultraviolet: UVAm UVB, and UVC. UVC has the shortest wavelength and most UVC light is absorbed by the atmosphere, but full UVA and UVB protection is a must for serious water sports eye protection. Remember that the tint on sunglasses has nothing to do with UV protection, and even dark-tinted glasses may be inadequate. Look for a specific UV protection rating!
If you want to know more about UV rays, their effects, and how to protect against them, this review from the World Health Organization will tell you all you need to know!
LENS COATINGS
Manufacturers use a variety of coatings to keep lenses clean and clear:
Hydrophobic Coatings repel water and prevent water stains and salt residue from forming on lenses. They are often used on the outer surface of a lens.
Oleophobic Coatings repel oils and prevent fingerprints and stains from sunscreen and skin oils. They are often used on inner lens surfaces.
POLARIZATION
Light reflecting off a flat surface can produce intense glare and is "polarized" into a horizontal plane. Polarizing lenses are treated with a special filter that allows only vertical waves to pass, cutting out that reflected glare. Reflected light is a major presence in marine environments, and polarizing lenses are a must! One downside of polarizing lenses is that you may be unable to read LCD screens and some instrument panels.
This article from the American Academy of Ophthalmology explains polarized light and how to protect against it in detail!
READ MORE
For more of our top sailing gear recommendations, check out these popular buyer's guides: