Updated on February 22, 2022
Are you ready to nail that trick you were so close to sending last season? This is the year, and a new freestyle board may be the upgrade you need. Freestyle boards are much different than all-mountain or alpine boards. The best freestyle snowboards don't tear up the slopes, but instead, shred up the park. Rails, jumps, and boxes are where the board performs best. Freestyle snowboards are much lighter than traditional boards. You'll be able to flick your board around easier, which is nice when doing spins in the park. Your board won't carve as well or travel as fast as the other types of boards, but you'll never get bored on a freestyle board.
Disclaimer: Snowboarders are known (and made fun of) for their use of slang. It may be your first time hearing boards being described with terms like flex, sidecut, and rocker. If you're confused, I recommend checking out the Features Explain section below! This section is meant to help you choose the right snowboard for your abilities.
For more of our top snowboarding gear recommendations, check out the Best Snowboards.
Quick Answer

-

The Best Freestyle Snowboards
Capita Birds of a Feather
Comparison Table

-

Best Freestyle Snowboards

For the best experience turn your device horizontally
Reviews

-

The Best Freestyle Boards for Snowboarding
Capita Ultrafear
Specs
Flex

:

Medium

Lengths

:

149 cm, 151 cm, 153 cm, 155 cm, 157 cm

Shape

:

True Twin

Sidecut Radius

:

8.1 m

Camber/Rocker

:

Flat / Rocker

Wide Size Available

:

Yes

Multiple Styles

:

Yes
Features
Elevated Contact Points For Precision Turning
Kevlar Body Armour For Dependable Durability
Skate Style Shape For Ultimate Pop
Quantum Base Absorbs More Wax

BEST INTERMEDIATE PARK BOARD
If you've had success with a Capita board before, you are going to fall in love with the Ultrafear. This new board features Capita's proven technology and adds a whole lot of durability. This board is powerful, which is why it's recommended for boarders transitioning from small jibs to big gaps. The Ultrafear is a great introduction to the potential of freestyle snowboards.
Lib Tech Skate Banana
Specs
Flex

:

Soft

Lengths

:

152 cm, 154 cm, 159 cm, 162 cm

Shape

:

True Twin

Sidecut Radius

:

8.4 m

Camber/Rocker

:

Rocker

Wide Size Available

:

Yes

Multiple Styles

:

No
Features
True Twin Base For Floaty Performance
The Edges Of The Snowboard Dig Into The Snow, Helping You Stay In Control
Shape Of The Board Allows For Jumping Without Much Effort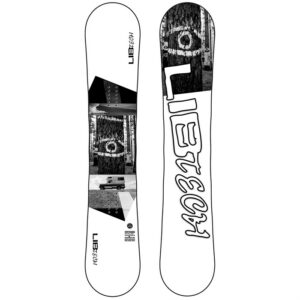 BEST BOARD FOR THE SKATEBOARDERS
Did your love of skateboarding get you into snowboarding in the first place? If so, you are going to fall in love with Lib Tech's Skate technology. There happen to be 7 different serrated edges throughout the board. This allows for for the snowboard to dig into the snow, which will make your turns more stable and controlled.  Jumping on this board does not require as much effort as other boards. For this reason, many skateboarders going from pavement to snow love this board.
Salomon Gypsy
Specs
Flex

:

Medium

Lengths

:

143 cm, 147 cm, 151 cm

Shape

:

True Twin

Sidecut Radius

:

7.4 m

Camber/Rocker

:

Camber / Rocker

Wide Size Available

:

No

Multiple Styles

:

No
Features
Made With Fiberglass To Make Board Lighter And Easier To Control
High Quality Base Makes The Snowboard Faster In Many Different Conditions
Makes Very Stable Sharp Turns At High Speeds
Carbon Added To The Construction Of The Board To Make Jumping Easier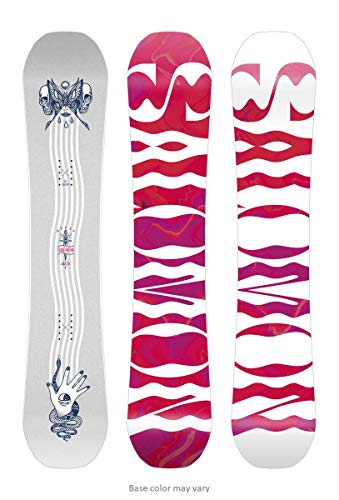 BEST LIGHTWEIGHT SNOWBOARD
The construction of this snowboard features two things that most snowboards don't have. The first is a carbon layer. This makes the board stiffer than others, which allows for you to jump easier. The second unique thing about this board construction is the use of fiberglass. Fiberglass makes the board extremely lightweight. The combination of both of these things makes the board great for freestyle snowboarders.
Jones Mountain Twin
Specs
Flex

:

Medium

Lengths

:

155 cm, 157 cm, 158 cm, 160 cm, 161 cm, 162 cm

Shape

:

True Twin

Sidecut Radius

:

7.9 m

Camber/Rocker

:

Camber / Rocker

Wide Size Available

:

Yes

Multiple Styles

:

No
Features
Traction 2.0 Technology For Confident Stability
Stable Wood Core Is Easy To Twist And Turn On The Snow And In The Air
Eco-Conscious Design
BEST FREESTYLE BOARD FOR FREERIDERS
Freeriding snowboarders know exactly what they need — a board that is extremely playful but also can give them confidence in the most intense lines. The best part of this board is its stability. It hauls down the mountain at top speed but maintains the same playfulness it has in the park. The core of this board is stiffer than other boards on the mountain. This makes the board easier to twist in the air!
Capita Birds of a Feather
Specs
Flex

:

Medium

Lengths

:

144 cm, 146 cm, 148 cm, 150 cm, 152 cm, 154 cm

Shape

:

True Twin

Sidecut Radius

:

7.5 m

Camber/Rocker

:

Camber

Wide Size Available

:

No

Multiple Styles

:

No
Features
Strong External Walls Of The Board Keep The Board Safe And Long Lasting
Core Of The Snowboard Is Lightweight And Makes Snowboard Easier To Control
Snowboard Is Very Stable At High Speeds
Made Sustainably With Less Wood And Less Energy

BEST FOR SUSTAINABILITY
This board is unique because of Capita's commitment to sustainability. If you want a board that respects your values, this may be the one for you. The snowboard also performs well. It has thicker external walls, which will keep your board protected if you find rocks or tough chunks of ice. The core of the snowboard is also powerful, which will keep the board stable at high speeds.
THINGS TO CONSIDER WHEN BUYING A FREESTYLE SNOWBOARD
Snowboards are some of the most diverse things on the slope. Every board is different and everyone has their own preferences. That being said, park riders love boards that do one thing well — pop. Weight, camber, rocker, core, and sidecut radius differentiate from board to board, and there isn't one combination that is proven best. If you really want to know what works best for you, demo boards before you buy one. The most serious of riders need a board that lasts season after season but also fits their style best. Before you spend more than $400 on a board, try it out!
FLEX
Flex is how easily your board will bend. This directly relates to how much control you will have over your board on the ground and in the air.
SOFT: More forgiving, but requires much more strength to navigate and toss around. Better for beginners.
MEDIUM: A nice middle-ground, which most freestyle riders prefer. There is a balance between forgiveness and maneuverability.
STIFF: The most difficult boards to ride. Beginners will feel out of control, but masters will love the micro-control they will have.
ROCKER / CAMBER PROFILE
In order to understand how your board's profile will affect it's riding ability, you need to understand what camber, rocker, and flat profiles mean. Warning, there are many different types and combinations, but the ones explained below are the most important for freestyle riding.
FLAT: Just like it sounds! There is no arc or curve in the board at all.
CAMBER: A very slight upward curve in the middle of the board with contact points near the ends of the board.
ROCKER: Camber turned upside down, the board is shaped subtly like an arc.
CAMBER/ROCKER: This is where things get a bit confusing. Boards shaped like this look like a big W. The board cambers in the middle, allowing you to pop, but rocks near the tips, allowing for more control on turns, rails, and jibs.
FLAT/ROCKER: These boards are flat in the middle, but are a rocking shape near the edges, which allows for more control.
SIDECUT RADIUS
Snowboards have a very unique shape. It may appear that the front and back edge are curved and the middle of the board is straight. However, that is not the case. If you look carefully, you'll see that snowboards actually have more of an arch-like shape. This shape is what allows for you to turn on the snow with control. In fact, each snowboard has a completely unique cut. The measurement of this cut is called the sidecut radius. If you imagine that a circle was drawn with the same circular shape of your board, the sidecut radius is the measurement of the radius in that circle. So what does this mean for you? Well, if you want to be a freestyle snowboarder, it is recommended to stick with a sidecut between 7 to 8 meters.
A smaller sidecut radius will allow you to make much sharper turns. Snowboarders who go back and forth on the slopes quicker, in a slalom like way, tend to look for the smallest sidecut possible. A longer sidecut radius will not allow for you to turn as sharply, but will give you more stability at high speeds. If you plan to go down steeper slopes, or consider yourself an intermediate snowboarder, this may be for you. Snowboards that have a sidecut longer than 8 meters are regarded as "big mountain" because they are used by experts in extreme environments.
SHAPE
Snowboards come in 2 different shapes. The traditional shape is like a skateboard. Snowboarders refer to this as "true twin". The other type of snowboard shape resembles more of a surfboard. This allows for a board to float more in deep snow.
Most freestyle boards are true twin shaped. Why? Well first and foremost, freestyle riders like to ride switch. "Riding switch" is when you ride in the opposite stance. So if you ride with your left foot forward, for example, riding switch would mean that your right foot would be in front. Freestyle snowboarders tend to ride switch often because they can do more tricks. Why? Well they will not have to lose speed switching back to their dominant stance after a landing. True twin shaped boards are also easier to twist. This means it will be easier to spin your board around and land 180s, 360s, and other spin tricks. Because true twin shaped boards allow you to ride switch without losing any performance. Directional boards may be better in powder or deep snow conditions, but true twin boards are preferred by freestyle snowboarders.
FEATURES EXPLAINED
ABSORBENT BASE
Bases with absorbing technology will hold wax much better than those without. This means you won't have to wax your board as often for it to perform at its best.
DIRECTIONAL-SHAPED BOARDS
Directional boards are best for beginners. Why? Beginners typically avoid learning how to ride switch until they have a season or two under their belt. So if you are just getting the hang of going down the slopes, get yourself a directional board for more control.
MOUNTAIN CORE FOR IMPROVED TORSIONAL RESPONSE
Boards that boast torsional response are for freestyle riders who love to spin. These boards respond to spin really well, making your board easier to flip around.
SQUEEZEBOX
Boards with this technology feature a unique core that gives more pop than other cores. It also tends to be a bit heavier. Snowboarders that hit large gaps should take advantage of boards with this technology.
ULTIMATE RIDE TECHNOLOGY
Burton boards boast this technology, which actually happens to be really useful. Burton overbuilds their boards and then puts them in a machine to break them in. Other boards take a few months to really break-in, but your Burton will be ready on the first day.
ULTRALIGHT CORE
Every snowboard boasts a unique core, however, there is no proven front-runner in terms of wood. Freestyle boards try and stay as light as possible, which is why the core is always boasted. Instead of focusing on the core material, compare the weights of your desired board length.
WIDE SIZE AVAILABLE
If you have really large feet (think size 12), consider buying a wide snowboard. This will prevent your heels and toes from dragging on the snow. Be careful though! Wide snowboards are also much more difficult to control.
READ MORE
For more of our top snowboarding gear recommendations, check out these popular buyer's guides: